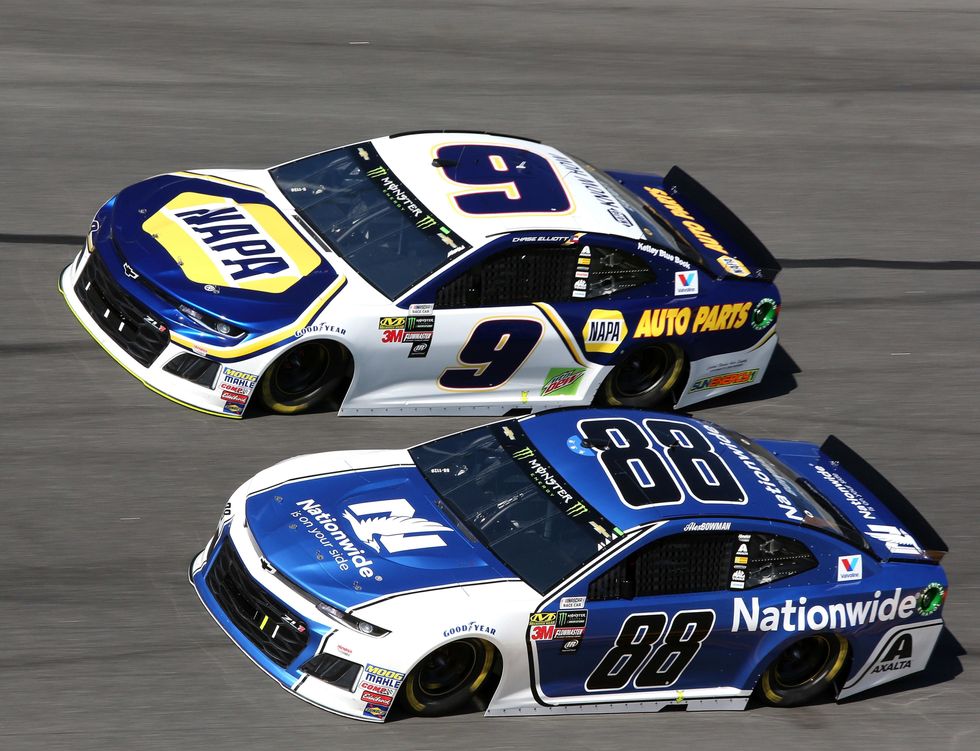 This could be the week for Chase Elliot. Jerry Markland/Getty Images
The NASCAR Monster Energy Cup Series heads for the Lone Star State for the AAA Texas 500. This is the second race in NASCAR's semi-final round of eight. This track has gone through many changes over the past few years including a new surface and higher banking around the corners. The new configuration was difficult to maneuver the last time we came here as there were three multi-car accidents including a seven car pile-up involving the likes of Brad Keselowski and Jimmie Johnson. One of the catalysts of these wrecks were tire failures. This new configuration has been tough on tires and this week we should expect a similar issue considering the chances of cold weather.
Last week, Joey Logano bullied his way into the championship race and took the checkered flag at Martinsville for his second victory of 2018. On the final lap, Martin Truex Jr made what appeared to be the winning pass on Logano. In the final corner, Logano gave  Truex  the "Chrome Horn," propelling him to victory.
Over the course of this week Logano's decision to move Truex was met by harsh criticism by both fans and drivers alike. Over the course of his 10-year career, (wow do I feel old saying that) Logano has built up the reputation of being a driver who does whatever it takes to get to victory lane. In 2012, he ran over Mark Martin to claim his second victory at Pocono and most notably was involved in a fued with veteran Matt Kenseth in 2015 that arguably cost him the championship. It is clear that Joey is not the most popular driver in the garage but with everything he has done, there have been many others all throughout NASCAR's history who have done exactly what he has done including the sport's most famous icon Dale Earnhardt.
So what is it that causes this disdain? I am led to believe it was his upbringing. Growing up, Logano did not come from the humble beginnings that most NASCAR fans can relate to, with his dad owning a sanitation business, Logano never had to worry about not being able to make it to the racetrack. This kind of "Rich kid" image does not set well folks and they believe that someone who "works harder" deserves to be where he is. In 2013 after an altercation at Auto Club raceway, racing legend Tony Stewart said "He's nothing but a little rich kid who's never worked for anything." While for some, it is easy to make this assumption because they wanted to have the resources that Logano had growing up but I personally believe that it is ignorant to claim Logano has not "worked to get to where he is." This is a man who has dedicated his whole LIFE to racing. While normal seven year olds where playing video games, Logano was at a Dirt Track in a Quarter Midget sprint car every weekend. Clearly, Logano is talented enough to be where he is considering this is the third time he will be racing for a championship at Homestead.
The one thing fans can take away from Martinsville was how entertaining the race was. All throughout the race, there were tons of battles for position and lots of banging and clanging like we usually see when we come to a track such as Martinsville. This race has sparked a debate amongst the NASCAR community about the possibility of adding more short tracks to the schedule. When asked about this, driver Denny Hamlin stated "NASCAR could be this exciting every week if we raced at  more short tracks." In a sense, I can agree with Denny, going to shorter tracks like Martinsville every week would bring the sport back to a time when it was popular but in my opinion, over saturating the schedule with short tracks will not make things better. Now while I do believe that the sport would greatly benefit from a schedule overhaul, I think that there should be more of a variety of types of tracks, maybe there can be more road courses such as Road America or Mid-Ohio that can be added when NASCAR finally tweaks the  schedule. Only time will tell what is next for the sport but if there is one positive of this week, everything appears to be on the right path for the future.
The driver that I have going to victory lane this Sunday is Chase Elliott. Coming into this round Elliott was in the midst of a hot streak - in  the three races in the round of 12, he won two. Many experts and fans had him pegged as a championship favorite. Coming into Martinsville, he was considered the favorite to win there as well. Throughout the race, he was around the top 10 and was able to capture a respectable seventh place finish, but because of the sheer amount of wins and points the big three of Martin Truex Jr, Kyle Busch and Kevin Harvick were able to rack up during the season, he is now on the outside looking in and with a spot already filled after Logano went on to win, one would believe that he is in a must win situation to get back into the final four at Homestead and what better place than to do it at one of the tracks he has performed well at. Since the beginning of his career in 2016, Elliott has finished outside of the top 10 once and has a best finish of fourth his rookie season. Mile and a half tracks like Texas have been where he has the most success and I look for this to be no different. Look for Elliott to claim his fourth win of the season and clinch a spot in the championship race.
(All stats and information used in this article is brought to you by the good folks at driveraverages.com and Racing-Reference.com the best website for all NASCAR stats).
Rockets' Alperen Sengun recently was a guest on Paul George's podcast and spoke about a conversation he had with James Harden.
He said Harden told him he was proud of him. This led George to saying he thinks this means the torch has been passed from Harden to Sengun.
Which made us wonder, is this now Sengun's team? Or is that a little premature and the true leader of the team is head coach Ime Udoka or Fred VanVleet?
Plus, Jalen Green has responded positively from being benched. Is this proof that Ime Udoka has the team taking more accountability and heading in the right direction?
Be sure to watch the video above as we break it all down!
If you enjoy the videos, subscribe on YouTube for our latest content.
Related Articles Around the Web
SportsMap Emails
Are Awesome