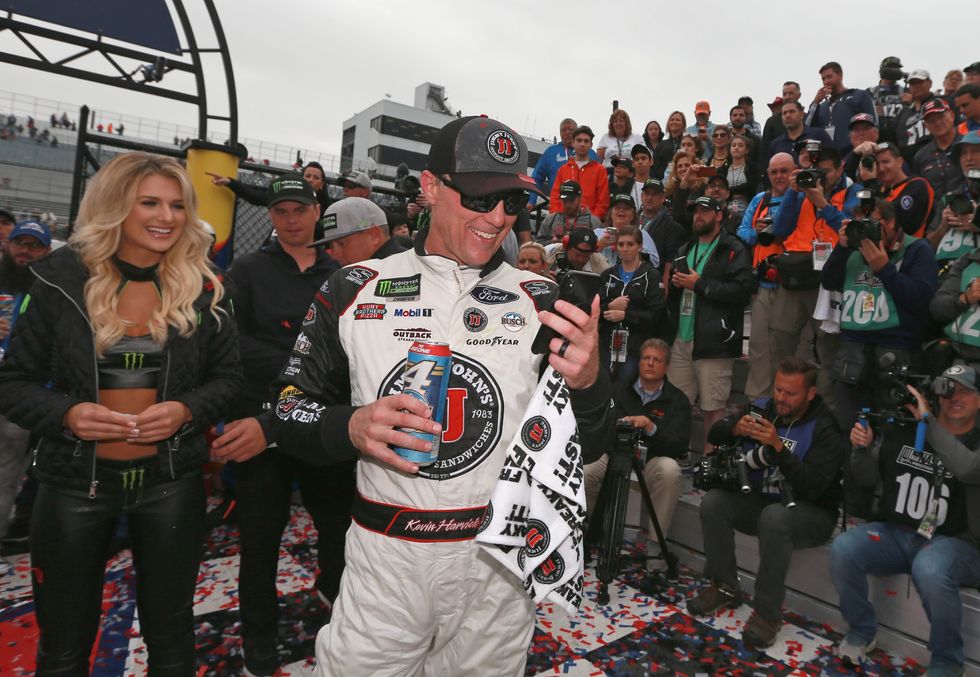 Kevin Harvick is the story this week. Matt Sullivan/Getty Images
The NASCAR Monster Energy Cup series heads for ISM Raceway in Avondale, Arizona for this week's Can-Am 500. This race is probably the third most important race of the season behind the Daytona 500 and next week's season finale at Homestead. This is the race that decides who gets to run for a title, and who goes home empty handed.
Earlier this year, the track announced extensive renovations which include a more fan accessible garage area, a new scoring pylon and a reconfiguration of the track including the start/finish line which has been relocated to the back straight away. The placement is similar to Talladega start finish line which is in virtually the same location. The new layout will provide a whole new element to the race and will change the way drivers attempt to pass on Sunday.
Last week, Kevin Harvick cruised to his eightieth win of the season after sweeping both stages and leading 177 laps. At the time, this victory punched Harvick's ticket to Miami and race for his second championship but on Wednesday, it was announced that he would be docked forty points and his Texas victory was "encumbered" meaning his victory at Texas is null and void when it comes to going to Homestead. He also loses his championship winning crew-chief Rodney Childress for the remainder of the season. Now while all of the benefits that come with the victory have been revoked, it is important to note that Harvick is still credited in the record books with the victory at Texas Motor Speedway. He keeps the trophy and the winnings from the victory.
It was discovered that the team made illegal modifications to their spoiler; the violation was found at NASCAR's Research and Development center. Even though he was essentially stripped of his victory, he still enters this week's race three points above fifth place. This can be attributed to the massive amounts of playoff and stage points he has amassed all throughout the 2018 regular season.
With the penalty, this has sparked a debate amongst NASCAR's water cooler. Should penalties be harsher when it comes to rules violations like these? If so what sanctions should NASCAR take to insure that drivers learn their lesson? Many fans believe that if it is discovered that a car fails inspection, the driver should have to concede their trophy, race winnings and points to the guy who finished second.  This is the debate that has been discussed for many years, after multiple drivers have failed inspection over the course of NASCAR's history. When asked about it for next season, NASCAR Spokesman Scott Miller stated they are considering harsher penalties including vacating wins. More than likely, I don't foresee them doing this because of all of the sponsors that they have to keep happy and they would probably not be pleased if their driver is stripped of the victory. We should get an announcement about this in the off-season at some time and it should be interesting to see what is next.
While the penalties don't change the order, the walls around Harvick are now more narrow than ever. He enters this weekend three points ahead of his teammate Kurt Busch, seventeen points ahead of Chase Elliott and 35 points and 51 points ahead of his other teammates Clint Bowyer and Aric Almirola.   Harvick will definitely have drive on the defensive to make sure he's not only ahead of Busch but that he keeps the other four drivers behind him out of victory lane considering a win clinches their ticket to Homestead.
Despite all of the turmoil this week, Harvick is still the odds on favorite to win this race come Sunday. Over the course of each of the track on the schedule, no one has dominated at ISM raceway like Harvick has. Of his 31 starts here, he has won here an astounding nine times! No one in the history of the track's 30-year history has more wins than he does. This week he will be even more difficult to beat considering he now has extra motivation to go out and prove that winning at Texas  was not a fluke due to the rules violations. I look for Harvick to be a near lock to at least be in the top five this weekend. Barring an accident, he is simply too good at this track to not go out and be a contender. Look for Harvick to claim win number 10 come Sunday.
All stats and information used in this article is brought to you by the good folks at driveraverages.com and Racing-Reference.com the best website for all NASCAR stats).
As Astros fans patiently wait for the club to make some moves in free agency, the Alex Bregman trade talk is picking up steam across several media outlets.
MLB Network Radio's Jim Duquette (also a former MLB GM) believes the Astros are listening to offers for Bregman because the team isn't planning on signing him to a massive contract extension.
The Astros are right up against the tax threshold, and dealing Bregman would give the team more flexibility to maneuver in free agency. He's set to make around $30 million in 2024.
This is certainly something Houston fans are used to. Owner Jim Crane has made a habit of letting his top tier players walk in free agency. They'll likely offer him a contract, like they did with Carlos Correa. But the Astros aren't usually willing to pay market value, and other teams certainly will.
To be fair to the Astros, signing Bregman to an 8-10 year deal probably isn't the best way to spend their money. So if they don't plan on re-signing him, they have two choices. Keep him for one more year, or trade him.
However, this would be a departure from their standard operating procedure. Trading Bregman before his deal expires would at least provide the team some value for one of their best players.
On the flip side, moving Bregman would absolutely weaken the team, and decrease their odds at winning a championship in 2024.
Let's face it, all good things come to an end. And the Astros have been serious World Series contenders for the last seven years. At some point, they'll have to replenish their weak farm system, and trading Breggy could help with that.
When should they trade him?
If they trade him before the season, they'll get a bigger haul than at the trade deadline. Either way, we shouldn't expect a massive return for Alex. Teams don't like trading top prospects AND having to hand out mega contracts.
Astros GM Dana Brown spoke this offseason about being creative. And doing something like this would certainly qualify.
Who would replace him?
We know the farm system is thin, so it could be as simple as playing Mauricio Dubon at third. Grae Kessinger could fill the utility infield role, and the team has plenty of options in the outfield with Jake Meyers, Chas McCormick, Yordan Alvarez, and Kyle Tucker. Corey Julks could also add some depth.
Is there a chance the Astros would consider moving their Gold Glove shortstop to third base?
Be sure to watch the video above as we cover all the angles on a potential Bregman trade!
If you enjoy the videos, subscribe to SportsMapHouston on YouTube!
Presented by Coors Light.
SportsMap Emails
Are Awesome