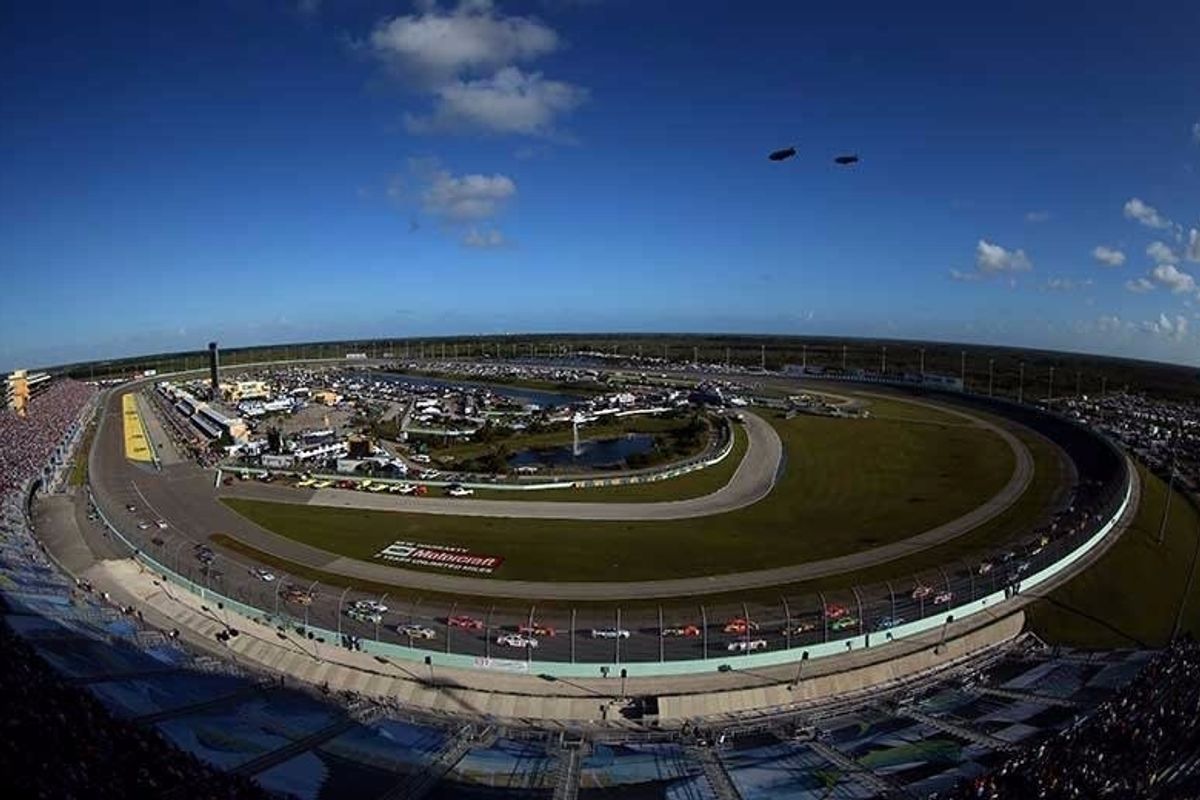 It is the end of an era this week at Homestead-Miami Speedway as the NASCAR Monster Energy Cup Series ends it season here for the final time. It was announced earlier this year in 2020 that NASCAR would conclude its season at Phoenix ending a 17-year tradition. While this track will still have a race here next season, it will be very weird to see champions week in Phoenix as opposed to the sunny beaches of Miami. This track has provided some of the most thrilling finishes in the past including the 2005 Ford 400 when Greg Biffle and Mark Martin finished side by side or of course in 2011 when Tony Stewart came back from multiple laps down to beat Carl Edwards for the championship. While the track will remain on the schedule next year, it simply won't be the same considering the circumstances. Not only is this track a fan favorite but also a favorite among drivers as well. I hope that NASCAR can reconsider to move this race back when they completely overhaul the schedule again in 2021.
Last week, Denny Hamlin went on to claim 37th career victory after annihilating the competition. With this victory, Hamlin will race for a chance to claim his first championship. This was a relatively calm race where there wasn't a lot going on. Passing was scarce throughout the race as it has been on a lot of these types of race tracks. Overall, the race was a pretty massive disappointment. Many fans were upset that this would be the track that would move to the season finale next season after what we saw on Sunday. While I understand their frustration, once again this goes back to how massive these spoilers are on this car and what a huge amount of drag they provide on smaller tracks like this one, if they can go to a smaller spoiler I think this problem should be eliminated. Let's hope that is the plan going forward next season and NASCAR's higher ups will listen to their drivers for once.
Another major headline this week was the announcement that next season Daniel Suarez will not return to the #41 Ford Mustang for Stewart-Haas Racing. As many would expect the driver that moves up to replace him is Cole Custer. This comes as a sort of a surprise considering there was news that the team was working with Suarez and his people on an extension. According to Adam Stern, after Suarez's sponsor Arris modems was purchased by a new company this postponed contract negotiations with the team and they simply ran out of patience. This is extremely unfortunate for Suarez. While many people were critical of him not being able to claim his first win, Suarez was having a pretty solid season. While I am happy to see Custer get his chance, I hope Daniel can find a competitive ride in 2020.
As I wrote earlier, this race will decide the champion. The four drivers that have made it are Martin Truex Jr, Kevin Harvick, Kyle Busch and Hamlin. These four drivers easily have a great case on why they have made it this far. The four have combined for 21 wins so it's safe to say these are the best four drivers in NASCAR right now. Of the four the favorite going into this race is Hamlin. Throughout his career, Hamlin has won everything there is to win but a championship. He has come painfully close so many times, including in 2010 when he spun out early at Homestead or in 2014 when he finished seventh behind Ryan Newman and Kevin Harvick. Many believe that this is Denny Hamlin's year and they have great reason for thinking so. He has won here twice back in 2009 and 2013 so he should be a great threat to take victory. One of the unsung heroes when it comes to Hamlin's success has been crew-chief Chris Gabehart. Not only has he has done an excellent job at making this car fast, he has also done a good job at keeping his driver from getting too riled up; at Martinsville he was able to restrain Hamlin from going and knocking Joey Logano's lights out so he has done a great job of that as well. Look for Hamlin to be fast come Sunday.
While he isn't exactly the favorite, Kevin Harvick definitely isn't one to sleep on when it comes to these big races. When this format was first implemented in 2014, Harvick was its first champion. While he hasn't been able to follow up with a championship since, he has still been around the top four as he has made it to the championship race every year but 2016. He has been the definition of consistency and will definitely be up front. Throughout the season, Harvick has been kind of under the radar as he didn't win his first race till New Hampshire in July. He has really come to life since then by winning three races including the one that locked him into Homestead at Texas. Look for the #4 Mustang to be a contender.
It has been quite the season for Kyle Busch. In the regular season, he was able to claim four victories at tracks like Poccono and California. The second half of the season has been a different story. Since then he has yet to find victory lane and has had numerous instances of bad results including blowing an engine at Indy and voluntarily parking his car at the Charlotte Roval after his car was damaged from an earlier accident. Regardless of his troubles, Busch has been able to collect enough stage points over the races preceding the playoffs and find himself right back in the championship race. While any other time I would like his chances, I believe that right now his heart seems to be somewhere else but I could very well be wrong. Regardless Busch will definitely make this race very interesting.
The driver I have winning the title this year is Martin Truex Jr. As we all know, Truex has had to overcome a lot of adversity to get to where he is. Last season, after he finally seemed to find some stability and a championship, the ground seemed to be pulled underneath him as it was announced late last year that Truex's team Furniture Row would cease operations. While most pretty much nkew Truex would move to Joe Gibbs racing, this was just another obstacle for the vetran driver. When moving on to Joe Gibbs, Truex and his crew chief Cole Pearn would pick up almost right where they left off and go on to win seven races and breeze a spot in the championship race at Homestead. This week, I think that Truex will cap off an incredible season with another win and a second championship and here is why I think so, of all drivers nobody has finished better than Truex. He currently enters this race with a 1.50 average finish since 2017. The man has been the closest thing to automatic here and this week should be no different. Look for Martin Truex Jr. to take the checkered flag and claim his second championship.
(All stats and information used in this article is brought to you by the good folks at driveraverages.com and Racing-Reference.com the best website for all NASCAR stats).
"Another one!"- DJ Khaled
That's the first thing that came to mind when I heard the news of Tytus Howard being shut down for the season because of a knee injury. They've had more injuries on the offensive line this season than Nick Cannon has Father's Day cards. Almost every member of the offensive line has spent time on the injury report. Howard went down in the same game in which Juice Scruggs was finally on the active roster. He missed the first 10 games due to a hamstring injury. The irony of next man up has never been so in your face.

The other thing that came to mind was the soap opera As the World Turns.
Howard had just signed an extension this offseason. So did Laremy Tunsil and Shaq Mason. They drafted Juice Scruggs, and signed a few guys too. Those moves, along with other holdovers, were expected to fill out the depth chart. Then a rash of injuries struck. At one point, only one of the original five guys expected to start was playing! In fact, they beat the Steelers 30-6 with that backup offensive line!

One can't have the expectation of backups to perform as good as the starters. They're professionals and are on an NFL roster for a reason. However, the talent gap is evident. One thing coaching, technique, and preparation can't cover is lack of ability or talent. The Texans have done a good job of navigating the injury minefield this season. While the Howard injury will hurt, I have faith in the guys there still.
As of this writing, the Texans are in the eighth spot in the AFC playoff picture. The Steelers, Browns, and Colts are all in front of them at the fifth through seventh spots respectfully. They've beaten the Steelers already. They play the Browns on Christmas Eve and their starting quarterback is out for the season. The Colts are relying on the ghost of Gardner Minshew to steer their ship into the last game of the season vs. the Texans with a possible playoff trip on the line. The Broncos and Bills are the two teams immediately behind them. They play the Broncos this weekend. Even though they're on a hot streak, this is the same team that got 70 put on them by the Dolphins. The Bills are the old veteran boxer who still has some skill, but is now a stepping stone for up & comers.
To say this team should still make the playoffs would be an understatement in my opinion. I believe in them and what they have going on more than I believe in the teams I listed above. That includes teams around them in the playoff race that aren't on their schedule. The one thing that scares me a little moving forward is the sustainability of this line. When guys get up in age as athletes, it becomes harder to come back from injuries. The injuries also tend to occur more frequently when it's a knee, foot, ankle, shoulder, elbow, or another body part critical to blocking for C.J. Stroud.
I know they just re-signed three of those guys and drafted one they believe can be a starter, but depth and contingency plans are a way of life in the NFL. We see how important depth was this season. Why not plan ahead? Don't be surprised if the Texans spend valuable draft capital on the offensive line. By valuable, I'm talking about first through third or fourth rounders. Those are prime spots to draft quality offensive lineman. Whether day one starters or quality depth, those are the sweet spots. The only guy on the two deep depth chart for this offensive line that wasn't drafted in one of those rounds was George Fant, who was an undrafted rookie free agent. While I highly doubt they spend any significant free agency dollars on the group, I'm not totally ruling it out.
The bottom line is, this team will be okay on the line for the remainder of this season. The only way that doesn't happen, more injuries. Stroud is clearly the franchise guy. Protecting that investment is a top priority. I don't care about a number one receiver, or a stud stable or singular running back if the quarterback won't have time to get them the ball. If the pilot can't fly the plane, you know what happens. So making sure he's happy, healthy, and has a great crew is of the utmost importance.
SportsMap Emails
Are Awesome