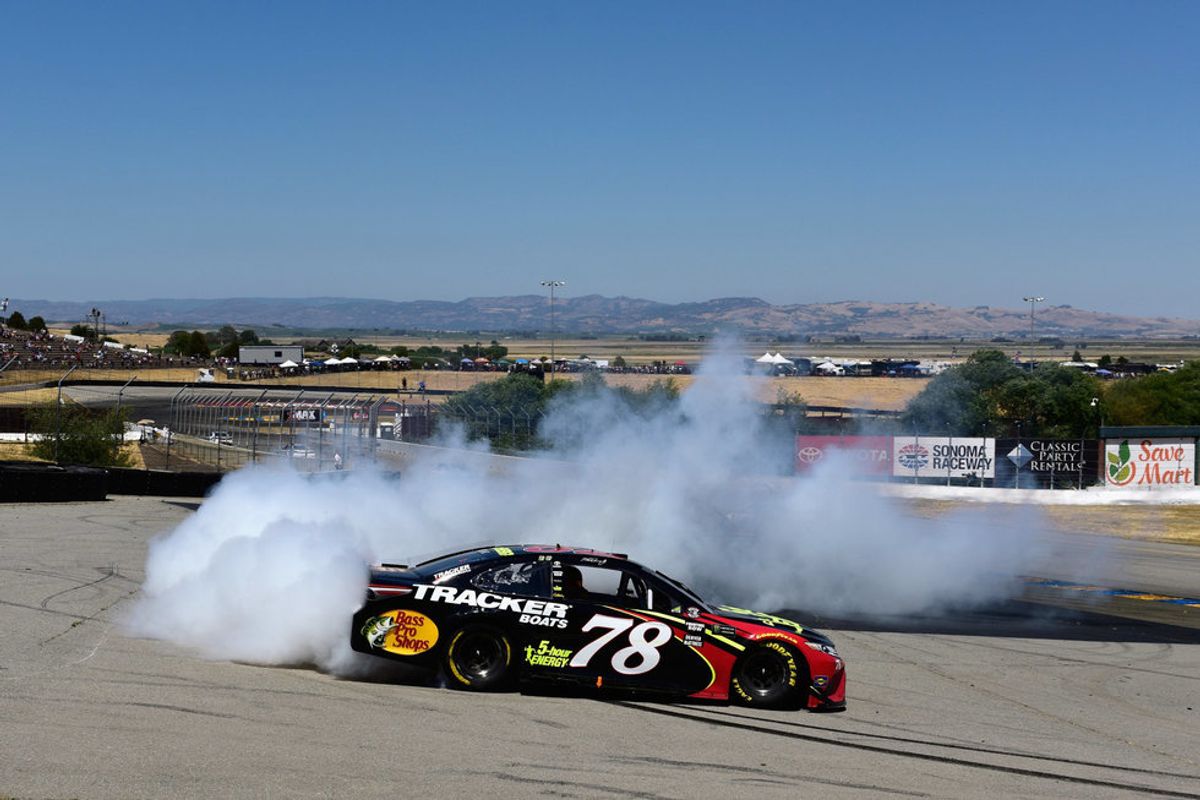 Jared C. Tilton/Getty Images
This weekend, the NASCAR Monster Energy Cup Series heads for the high banks of Chicago for it's TheHouse.com400. Opened in 2001, Chicagoland is still one of NASCAR's newest tracks on the schedule. With the addition of the new rules package, the racing here at this track could very well be similar to the racing we saw earlier this year at Kansas due to the tracks being so similar.
Last season, this race featured one of the most memorable finishes in NASCAR history after Kyle Busch and Kyle Larson took part in one of the fiercest battles in history and for that reason, this race has been circled on the calendar for many drivers since testing. Darrell Wallace Jr. stated on Twitter that both this track and Kansas should be the ones to watch.
Last week, Martin Truex Jr went on to claim his fourth win of 2019 after thoroughly dominating Sonoma. He has continued to assert himself as the best driver at this racetrack as he has now won here three times. While it may have looked easy, the closing laps were no Sunday drive for the 2017 champion. he had to fend off his main rival and teammate Kyle Busch. When it was all said and done, the race was nothing really to write home about as he was able to drive away from everyone like he has been able to do all season. It will be interesting to see if there is a turnaround in this week's race.
One of the feel good stories of the week was the emergence of Matt DiBenndeto and Leavine Family Racing. He and his crew were able to claim their career best finish in fourth. It was truly a great site to see this team find success on a track as challenging as Sonoma. This finish was no fluke either as Matt ran around the top ten for the better part of the day. This couldn't have come at a better time as there has been many questions about what is next for this fourth year driver. Hopefully this run can be the catalyst for more success for this Texas run team. Owner Bob Leavine and his wife Sharon have been doing an exceptional job at getting this program to where it needs to be not only on the track but off it as well. Of all the other team owners, few have been as cordial and transparent with their fans like they have. It is good to see that this team is making headway.
The driver I have winning this weekend is Kyle Larson. As mentioned earlier, Larson appeared to have victory in his grasp last season until contact sent him into a spin. This is a track that he has done well at. In his four starts here, he has finished outside of the top 10 one time. This season, racing here will be much different. A lot of Kyle's results will be based on where he qualifies. This has been an area that he has excelled. I think with a good qualifying effort, Larson will be hard to beat here. Look for him to claim his first win of 2019.
(All stats and information used in this article is brought to you by the good folks at driveraverages.com and Racing-Reference.com the best website for all NASCAR stats).
Dillon Brooks scored 23 points and the Houston Rockets snapped a three-game skid with a 110-101 win over the Oklahoma City Thunder on Wednesday night.
Aaron Holiday scored a season-high 22 points off the bench and matched a career best with six 3-pointers. He also added six rebounds in 27 minutes as Houston improved to 9-9 overall, with all of their wins coming at home.
"I think I am a pretty good shooter," Holiday said. "Every shot I shoot, I think it's going in. Sometimes it just doesn't, that's the way it goes. For the most part, I think they are going in."
Alperen Sengun added 21 points, six rebounds, and seven assists for the Rockets, and Jabari Smith chipped in a career-high 18 rebounds, helping Houston win the battle of the boards 53-30.
Shai Gilgeous-Alexander led the Thunder with 33 points on 13-of-18 shooting. Oklahoma City's four other starters combined for 29 points while converting on 10 of 38 shots from the field.
Jalen Williams scored 13 points for the Thunder, while rookie center Chet Holmgren finished with four points and six blocked shots. Oklahoma City drops to 13-7 on the season after entering the game winners of eight of its last 10 games.
"We had them in striking distance," Thunder coach Mark Daigneault said. "It never felt like we had control of the game. I thought they were outplaying us, and it felt like that. We had a chance. We had a chance to string together a little bit of energy and obviously we couldn't do that tonight."
Brooks shot 9 for 17 from the field and helped start a run in the third quarter that helped turn a tight game into a lopsided win for the Rockets.
Houston scored the first eight points of the third quarter to push a five-point halftime lead to 13. Oklahoma City cut its deficit to one with 3:30 left, but Brooks scored five straight, and the Rockets took a six point lead into the fourth quarter and then broke the game open.
"We finished (the third quarter) well," Rockets coach Ime Udoka said. "Rolled that over into the fourth quarter, and the message was, you let this team hang around, and they're gonna start making shots, and they got some elite scorers."
Led by Holiday, Houston went on a 20-7 run in the fourth quarter that increased its lead to 17 points. The Rockets maintained at least an eight-point lead the rest of the way.
Jalen Green's nine points in the first quarter, capped a by a 23-footer at the buzzer, helped the Rockets to a 10-point lead after the game's first 12 minutes. He finished the game with 15 points on 6-of-12 shooting.
UP NEXT
Thunder: Host Golden State Warriors on Friday.
Rockets: At Denver Nuggets on Friday.
SportsMap Emails
Are Awesome