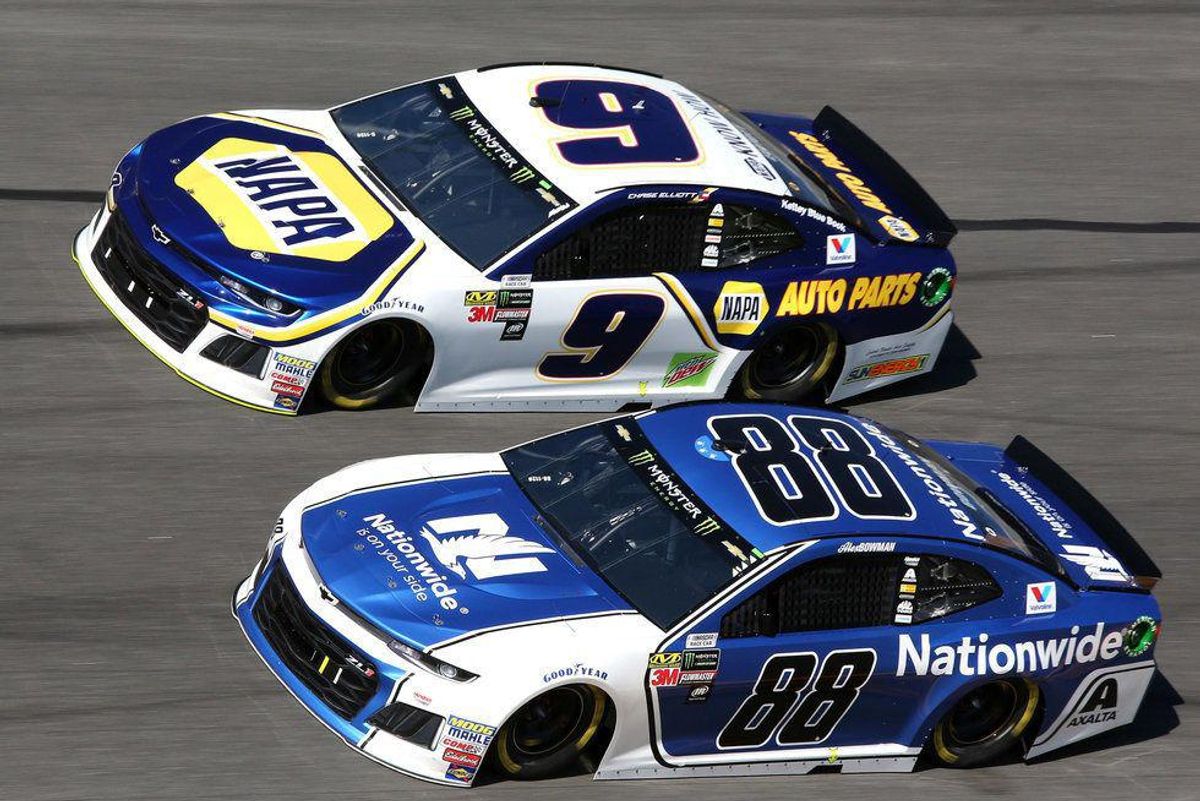 Keep an eye on Chase Elliott this weekend. Photo by Jerry Markland/Getty Images.
The NASCAR Cup Series heads to the desert this week for the Ruoff Mortgage 500 at Phoenix Raceway. This race is the final leg of the West Coast swing. This track will host the season finale in November, so the winner of this race will definitely be a championship favorite if he can get there. A lot of drivers will be trying a lot of things to prepare for the fall. This will also be the first time we see these new cars on a shorter track like Phoenix.

Last week Alex Bowman and his team rolled the dice by taking only two tires on the final pit stop, allowing him to fend off his teammate Kyle Larson to claim his first win of 2022 and his seventh career victory. It was another race that was dominated by many spins and crashes just as we have seen all season. It seems like a lot of these drivers are having an extremely tough time trying to figure out this car. The only team that seems to have it figured out is Hendrick Motorsports, and this week was no different. With the drama of Auto Club behind them, this team seems to be clicking on all cylinders.
The driver who's had the toughest time this season is Brad Keselowski. In each race this season, he's been involved in at least one accident. Overall, this hasn't been because Brad and his new team haven't had speed, they have been in the top ten in each race before they crashed. It would seem like Brad is trying to exceed the limits of his race car and these are the results. We all know what he can do and we have seen him be one of the best drivers on the circuit. If there is anyone who can bring Roush Fenway Racing back to the prominence, it's him, but he's making way too many mental mistakes. The biggest example of this was two weeks ago at Auto Club Speedway, he had just cracked the top five but then went into turn four too hot and spun. If Brad can get a clean race, he will be one of the contenders, he just needs to finish.
While Alex Bowman might have won the race, the driver that was the most impressive had to have been Kyle Busch. After crashing in practice, Busch and his team were able to scrape together some parts and an engine and use his teammate Denny Hamlin's backup car for Sunday's race. This was a race car that Kyle didn't even get to qualify, thus forcing him to start from the back. The troubles didn't stop there, as he would spin out early in the race. Kyle and his team would not give up though as he fought his way to the lead. It looked like he was on his way to victory until a late race caution set up an overtime finish which essentially cost him the victory. This amount of determination from Kyle is similar to what we always see from him and while it was a slow start, this kind of momentum from Kyle is going to be tough to beat. Look for Busch to be a threat on Sunday.
The driver that I have winning this weekend is Chase Elliott. The group they call the Hendrick Horsemen of Kyle Larson, Alex Bowman, William Byron, and Chase Elliott have been on fire since last season and that momentum has certainly carried over into 2022. As I said earlier, this team seems to have it figured out more than anyone. Last week, we saw Alex Bowman get his first win, and the week before we saw Kyle Larson get a win. This week, it's Chase Elliott's turn. Phoenix has not always been a great track for the 2020 Champion, but it's been great to him so far. In the past three races here he's finished no worse than fifth and has led over 340 laps, He has a win here back in 2020 as well. I look for Elliott to clinch a spot in the playoffs and keep the momentum going for Hendrick Motorsports, barring any disaster. Look for Elliott to get Hendrick it's third consecutive victory of 2022 come Sunday.
The Houston Astros were in need of some serious help in the bullpen with Phil Maton, Hector Neris, and Ryne Stanek likely leaving this year in free agency.
While some fans were getting concerned about the quiet offseason, the club has made two moves this week to get the ball rolling.
First the team signed Victor Caratini to be the backup catcher, and now they have added some relief pitching.
The Astros traded pitching prospect Carlos Mateo to the Royals for RHP pitcher Dylan Coleman.
Coleman appeared in 96 games in the past three seasons for KC, including 68 games in 2022 and 23 games last season. He has a career 3.88 ERA and 1.37 WHIP. He's fastball (95 mph), slider (81) and cutter (90) and walked 57 batters and struck out 99 in 92 2/3 innings.
— Brian McTaggart (@brianmctaggart) December 6, 2023
Coleman is under club control for the next several years, and made just over $700,000 in 2022. With the Astros right up against the tax threshold, this is a good way to add to the bullpen without having to hand out a large contract.
The Royals had a tough roster decision to make with Coleman, and the Astros made the decision easy for them by making the trade.
Something to note
There's a reason Kansas City wasn't determined to protect Coleman from the Rule 5 Draft. Despite his decent numbers over the last three seasons, 2023 was a rough year for him, posting an 8.84 ERA over 23 games.
In fact, Coleman pitched more innings (30.2) for the Royals AAA team than he did for the big league club (18.1) in 2023.
Hopefully, the Astros can get him back on track this season with some help from their highly touted player development program.
You can watch some of his 2022 highlights above.
SportsMap Emails
Are Awesome