Rain, Snow, And Cold Will Make For Interesting Playoff Football
NFL divisional round weather report
Jan 11, 2019, 9:49 am
Tom Szczerbowski/Getty Images
When it comes to playoff football the conventional thinking is that you wont get very far without a capable defense and solid run game. Why? Because the playoffs are in January and often the weather is less than pleasant. This weekend the weather will keep with tradition and will present challenges at three out of the four games. So if you are planning on making wagers, or if you are just into some "elemental" football, read on.
Colts @ Cheifs (3:35 PM Saturday) - East coast cities get the bad rap when it comes to winter weather, but Kansas City tends to hold its own in January. Snow will be on the menu Saturday as a large storm system moves across the mid-section of the country. While the bulk of the heavy snowfall looks to be before the game, almost all of the forecasts are still showing snow falling come kick-off and through at least part of the game. Later portions of the game may be more affected by a light sleet/freezing rain mixture. The temperature will be hovering right around the freezing mark all afternoon with a windchill in the mid 20's.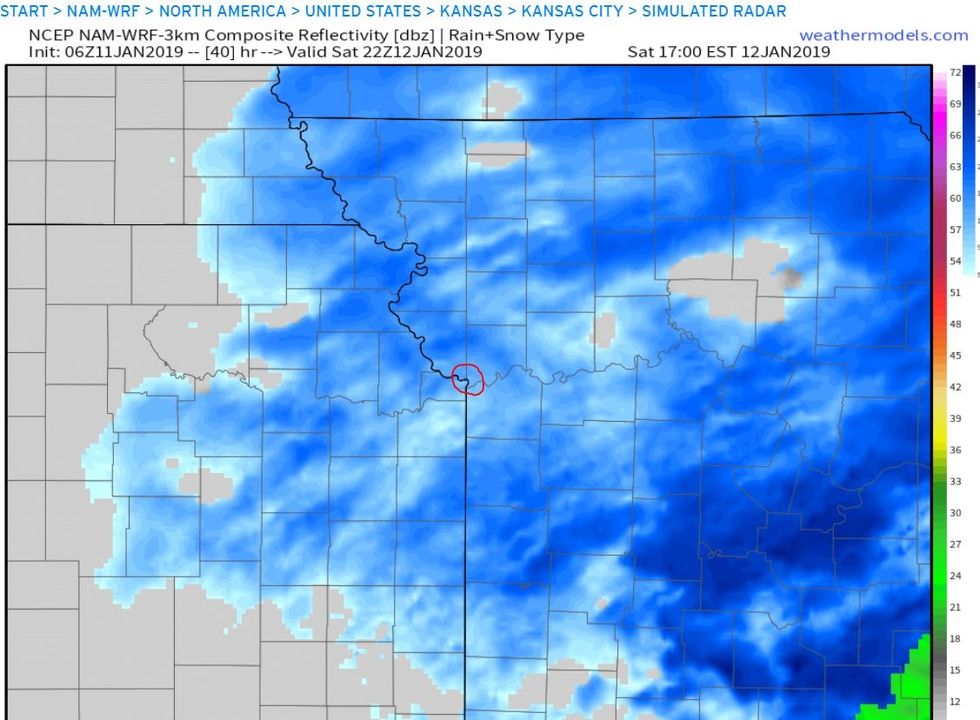 Simulated radar forecast for 4PM in Kansas City (red circle)Weathermodels.com
Clearly these are less than ideal conditions for two teams who rely heavily on their offense. If the storm system does not progress as quickly as forecast heavy snow is not out of the question for the beginning of the game. If you are planning to bet the over/under you will want to pay attention.
Cowboys @ Rams (7:15 PM Saturday) - The potential problem with this game won't be rain during the game, but rather before the game. Saturday looks like a pretty soggy day in Southern California which will make for a wet field come game time. Impacts will be less than what we see in Kansas City, but don't be suprised if difficult footing cuts some plays short.
Chargers @ Patriots (12:05 PM Sunday) - Skies should relatively clear in Foxboro on Sunday but it will be cold, especially for the team from LA. Temperatures will be in the mid-20's all game with the windchill in the upper teens. Its not the most brutal conditions we've ever seen in Foxboro but it won't be comfortable. If this game comes down to field goals watch out.
If you have any more weather questions about this weekend's games you can find me on Twitter @stephenuzick.