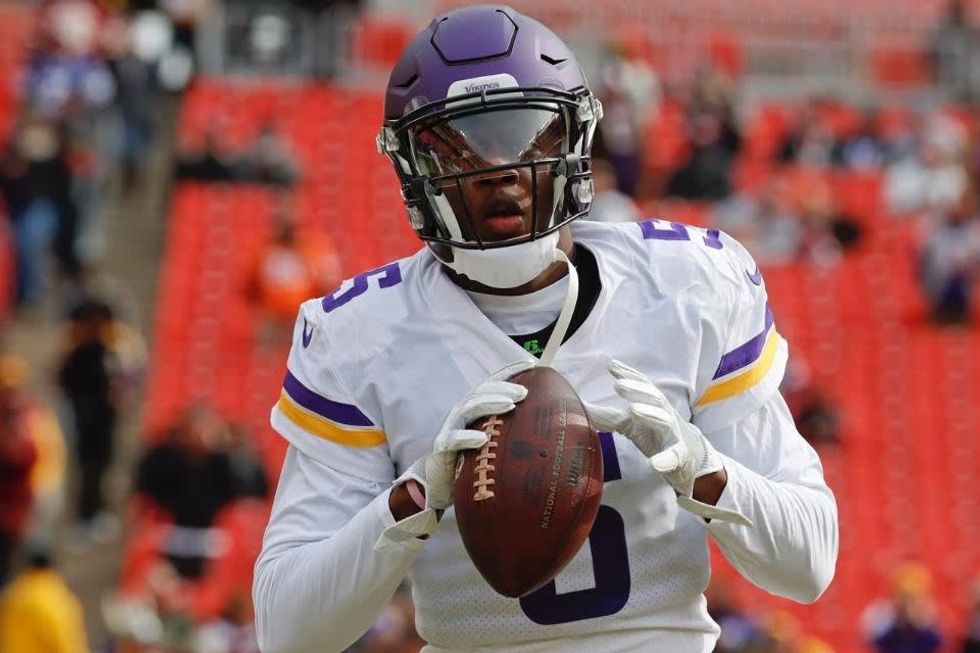 Teddy Bridgewater did not play, but he returned to the field. Minnesota Vikings courtesy photo
Week 10 of the NFL season saw some interesting season trends continue, and some come to an end. There were some blowouts, crazy finishes, and unexpected outcomes. Water is beginning to find its level as the true contenders are emerging.
The Good
-Minnesota Vikings quarterback Teddy Bridgewater was back in uniform and active. Bridgewater suffered a torn ACL and knee dislocation on August 30, 2016. He missed all of last season and half of this season recovering. He may not have his starting job back, but at least he's still able to play and try to live up to his potential.
-Carolina Panthers running back Christian McCaffrey is looking like he's going to live up to the hype, barring injury. While his 8 touches only yielded 50 yards, he scored twice. With him on the field, he's already become an X Factor for the Panthers and must be accounted for. As a rookie, he's currently in top five of receptions. He's looking like what Reggie Bush started off like. Here's to hoping he can keep it up because he's a joy to watch.
-There are 11 teams now with at least six wins. The league's best record lies with the Philadelphia Eagles at 8-1. While some of the teams that were preseason favorites are still in contention, the league has the type of parity it has longed for. Slightly pass the midway point, there are still debates made as to who is the best team in the league.
The Bad
-New York Giants head coach Ben McAdoo is a dead man walking. After losing to the winless San Francisco 49ers, most thought he was going to be fired. Instead, he got the dreaded "vote of confidence" from team owners. This is usually a pink-slip precursor. At 1-8, the Giants are a complete joke.
-In a battle of journeyman quarterbacks, Ryan Fitzpatrick "led" the Tampa Bay Buccaneers over Josh McCown and the New York Jets 15-10. The score was 9-3 deep into the 4th quarter before each team traded touchdowns beginning with about six minutes left in the game. The quarterbacks combined to go 40/73 for 400 yards and an interception each.
-The Pittsburgh Steelers only managed 316 yards and 20 points against the Indianapolis Colts. Why is this significant? The Colts normally give up nearly 400 yards and 28 points a game. To add to it, the Steelers needed a game winning field goal with 35 seconds left to pull out the win. From a team with arguably the best running back, best wide receiver, and a top tier quarterback, this performance was abysmal.
The Ugly
-Chicago Bears running back Benny Cunningham appeared to score a game tying touchdown in the second quarter against the Green Bay Packers, but was called out and the Bears had a first and goal. Head coach John Fox decided to challenge the play. The ref ruled that Cunningham did in fact stay in bounds, but lost control of the ball diving for the pylon and ruled it a touchback.   
-The Jacksonville Jaguars and San Diego Chargers both tried to give each other the game. A series of interceptions, taunting penalties, a roughing the passer penalty, and general boneheadedness, the game was eventually won by the Jags on a tipped field goal attempt that found its way through the uprights by Josh Lambo, who was cut by the Chargers.
-Seattle Seahawks all-pro cornerback Richard Sherman tore his Achilles Thursday night and will miss the rest of the season. Sherman, amongst others, are already an outspoken opponent to Thursday night games due to the high risk of injury;this will only add fuel to the fire. However, with the amount of money, and length, in the television contracts for it, it's not going anywhere any time soon.
-With starting left tackle Tyron Smith out, the Dallas Cowboys gave up eight sacks to the Atlanta Falcons, including 6 to Adrian Clayborn. The vaunted Cowboys offensive line looked more like a directional FCS school offensive line going against the Falcons. They are single-handedly responsible for triggering a bonus clause for Clayborn.
-There were some truly great performances in week 10. But the one that has caught the attention of many was by Marquise Goodwin of the 49ers. He played and scored on an 83 yard touchdown hours after he and his wife lost their baby boy after a premature birth around 4 a.m.  that same morning. He immediately dropped to his knees after scoring. His teammates surrounded him on the field in a show of love and support. The show of raw human emotion and his ability to play after such a tragedy was unbelievable. His teammates rallying around him, along with him and his wife's willingness to be so open and vulnerable was humbling. My allergies tend to act up at times like this because I had to watch my mom bury my brother. It's not an easy thing to go through. Those moments of humanity, support for a fellow teammate, and genuine love in the moment of competition are some of the many reasons why I love sports.
The Houston Astros and catcher Victor Caratini agreed Tuesday to a $12 million, two-year contract, a person familiar with the deal told The Associated Press.
The person spoke on condition of anonymity because the agreement was subject to a successful physical and had not been announced. Caratini can earn additional performance bonuses.
The 30-year-old Caratini spent the last two seasons with the Milwaukee Brewers and hit .259 with seven homers and 25 RBIs in 62 games this year as a backup to William Contreras.
Caratini is a .236 career hitter with 38 homers and 171 RBIs in seven major league seasons with the Chicago Cubs (2017-20), San Diego (2021) and Milwaukee (2022-23).
Yainer Díaz is expected to the Astros' starting catcher next year, and the agreement with Caratini could mean Houston won't re-sign Martín Maldonado. The 37-year-old has been with the Astros since 2019.
"I've been talking to Yainer once a week," new manager Joe Espada said Monday. "We're going to do some things in January leading into spring training to prep him for spring training. I don't want us to get to spring training and start from scratch. So this is going to be starting right now having conversations about our staff, how to attack certain lineups, things that we know that we can help him with, receiving, throwing."
Based on the value of the contract, it looks like the Astros will be going over the CBT. Which means more deals could be coming, in theory.
Astros will definitely be going over the CBT with a $6M AAV for Caratini. Since that's the case, time to get Jordan Hicks https://t.co/AYBgMexACl
— Michael Schwab (@michaelschwab13) December 6, 2023
Here's a look at his ability to frame pitches.
Victor Caratini was ranked 8th in MLB in "Catcher Framing Runs" in 2023.

CFR is a framing stat that converts strikes to runs saved.

Caratini's arm isn't the strongest though. pic.twitter.com/YD7bYespPv
— Michael Schwab (@michaelschwab13) December 6, 2023
SportsMap Emails
Are Awesome