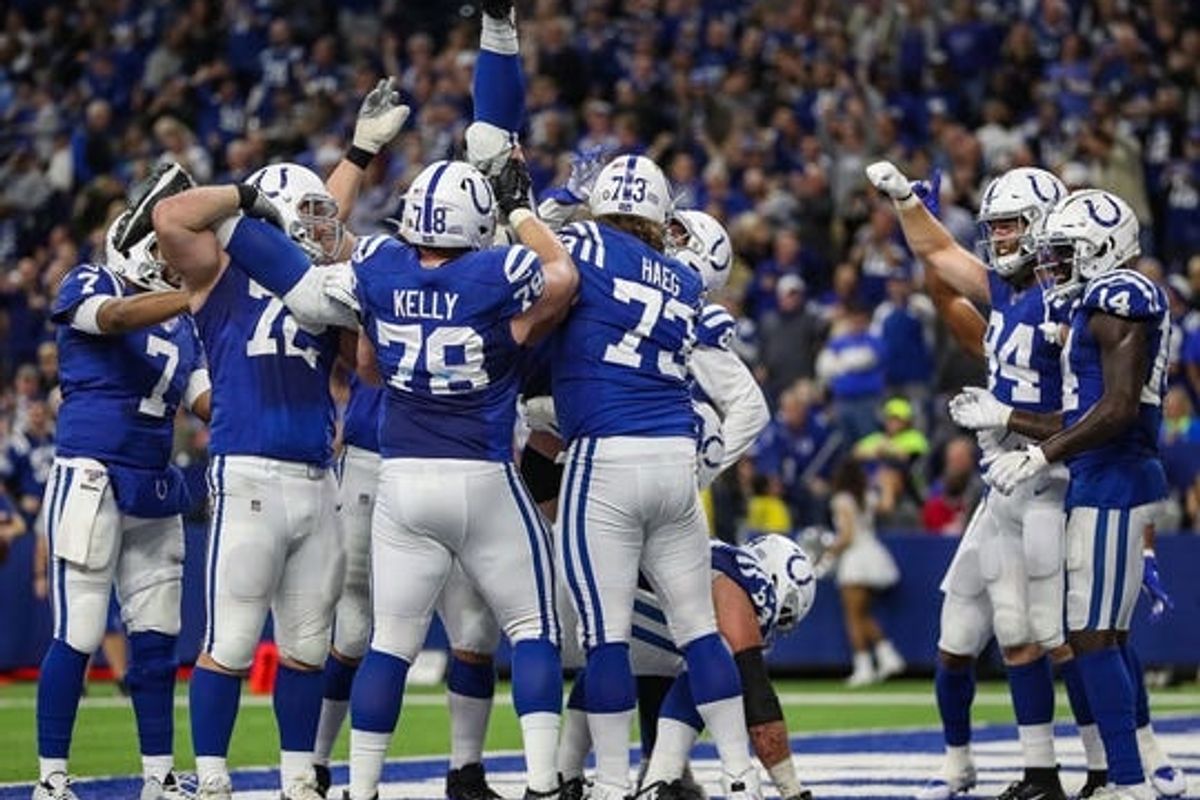 Week 11 in the NFL is in the books. We saw great performances, even better celebrations, and perhaps some of the worst calls from officials. Here's how I saw it play out:
The Good
-The Colts' offensive lineman Quenton Nelson thought he scored on a fullback dive and what ensued was a celebration that should be top 5 this season: they simulated a keg stand and used a fellow lineman as the human keg! Was it choreographed? Of course. But these guys get style point nonetheless because it's something we haven't seen before. He didn't get in after review, but the celebration was still awesome.
-Cowboys quarterback Dak Prescott had himself a game against the Lions. The Cowboys needed all 444 of his passing yards and three touchdowns to beat the hapless Lions who were playing with backup quarterback Jeff Driskel. This was one of those games in which his contract demands went up like a good day at the Stock Market. But just like the market, it can fall quickly.
-The Patriots defense is for real. Despite their one hiccup against potential league MVP Lamar Jackson and the Ravens, they've been lights out. They beat the Eagles 17-10 and held the Eagles to only 255 total yards, sacked Carson Wentz five times, and held them to 3.9 yards per pass and the same per run. The aforementioned Prescott and Cowboys come to Foxboro next week and should present another test.
The Bad
-The Falcons have won their last two games by a combined score of 55-12. Not only did they dominate, but they beat the top two teams in their division. Why would I say this is bad? Because they're only 3-7 after those two wins! This team is way too talented to have that bad of a record after 10 games. Their Super Bowl hangover has lasted two seasons now!
-The 3-6 Broncos were up 23-7 over the Vikings heading into the 4th quarter in Minnesota. They ended the day 3-7 after giving up 20 unanswered points. They only committed one turnover which was a first half interception that the Vikings failed to do anything with. They simply stopped being able to move the ball or stop the Vikings from scoring. Remember when they decided to stand pat at the trade deadline? Wondering if Broncos general manager John Elway is regretting that decision now?
-Here's a reminder that the Bears moved up from #3 to #2 unnecessarily to draft Mitchell Trubisky and passed on Pat Mahomes and Deshaun Watson. Trubisky went 24/43 for 190 yards with a touchdown and an interception, as well as getting sacked once. Not only do they have kicker issues, but the guy pulling the trigger for them sucks. Guess having the TVs off at Halas Hall to drown out the noise didn't help.
The Ugly
-Broncos fullback Andy Janovich suffered a gruesome injury Sunday. The injury occurred when he caught a short pass and tried to brace himself for the tackle, but ended up dislocating his elbow. It was so bad, CBS refused to show any replays of the play. Think of the Alex Smith leg injury, but at the elbow.
-Browns defensive end Myles Garrett and Steelers quarterback Mason Rudolph were at the center of a melee Thursday night. It started with Rudolph being a jackass and trying to rip Garrett's helmet off after he got hit. Garrett, in turn, ripped Rudolph's helmet off and managed to hit him with it which sparked an all out brawl between the two teams. A number of guys were suspended and/or fined, but Garrett received an indefinite suspension. Sure it's not wise to hit a guy with a helmet after ripping it off, but an indefinite suspension is a bit much NFL.
-Pass interference is the new catch rule. Remember a few years ago when the league tried to define waht was and wasn't a catch, only they never really did and we're still all not sure? Pass interference is now the same thing. In the 49ers vs Cardinals game, Cardinals linebacker Joe Walker was flagged for PI after 49ers fullback Kyle Juszczyk tackled him! Texans' wide receiver DeAndre Hopkins was interferred with at least twice on one play, no flag was thrown and the ruling on the field was upheld upon challenge. Seriously, something needs to be done because the refs simply aren't doing their jobs when it comes to the calls and challenges.
By opening Pandora's Box on being able to review pass interference, I don't think the league and competition committee really took into consideration human nature. How likely is a ref to admit he or one of his crew messed something up? On the other hand, it's been great seeing the celebrations the last couple years. For as much as we bitch and complain about things in the league, it's pretty healthy. Games are good, young players are stepping up as new stars, but there's still much left to be desired. We'll all keep coming back for more because the product is so enjoyable and popular. It's like that one restaurant you go to time and again despite the service not being up to par, but the food is so good, you don't mind paying the prices they charge.
The Houston Astros were in need of some serious help in the bullpen with Phil Maton, Hector Neris, and Ryne Stanek likely leaving this year in free agency.
While some fans were getting concerned about the quiet offseason, the club has made two moves this week to get the ball rolling.
First the team signed Victor Caratini to be the backup catcher, and now they have added some relief pitching.
The Astros traded pitching prospect Carlos Mateo to the Royals for RHP pitcher Dylan Coleman.
Coleman appeared in 96 games in the past three seasons for KC, including 68 games in 2022 and 23 games last season. He has a career 3.88 ERA and 1.37 WHIP. He's fastball (95 mph), slider (81) and cutter (90) and walked 57 batters and struck out 99 in 92 2/3 innings.
— Brian McTaggart (@brianmctaggart) December 6, 2023
Coleman is under club control for the next several years, and made just over $700,000 in 2022. With the Astros right up against the tax threshold, this is a good way to add to the bullpen without having to hand out a large contract.
The Royals had a tough roster decision to make with Coleman, and the Astros made the decision easy for them by making the trade.
Something to note
There's a reason Kansas City wasn't determined to protect Coleman from the Rule 5 Draft. Despite his decent numbers over the last three seasons, 2023 was a rough year for him, posting an 8.84 ERA over 23 games.
In fact, Coleman pitched more innings (30.2) for the Royals AAA team than he did for the big league club (18.1) in 2023.
Hopefully, the Astros can get him back on track this season with some help from their highly touted player development program.
You can watch some of his 2022 highlights above.
SportsMap Emails
Are Awesome