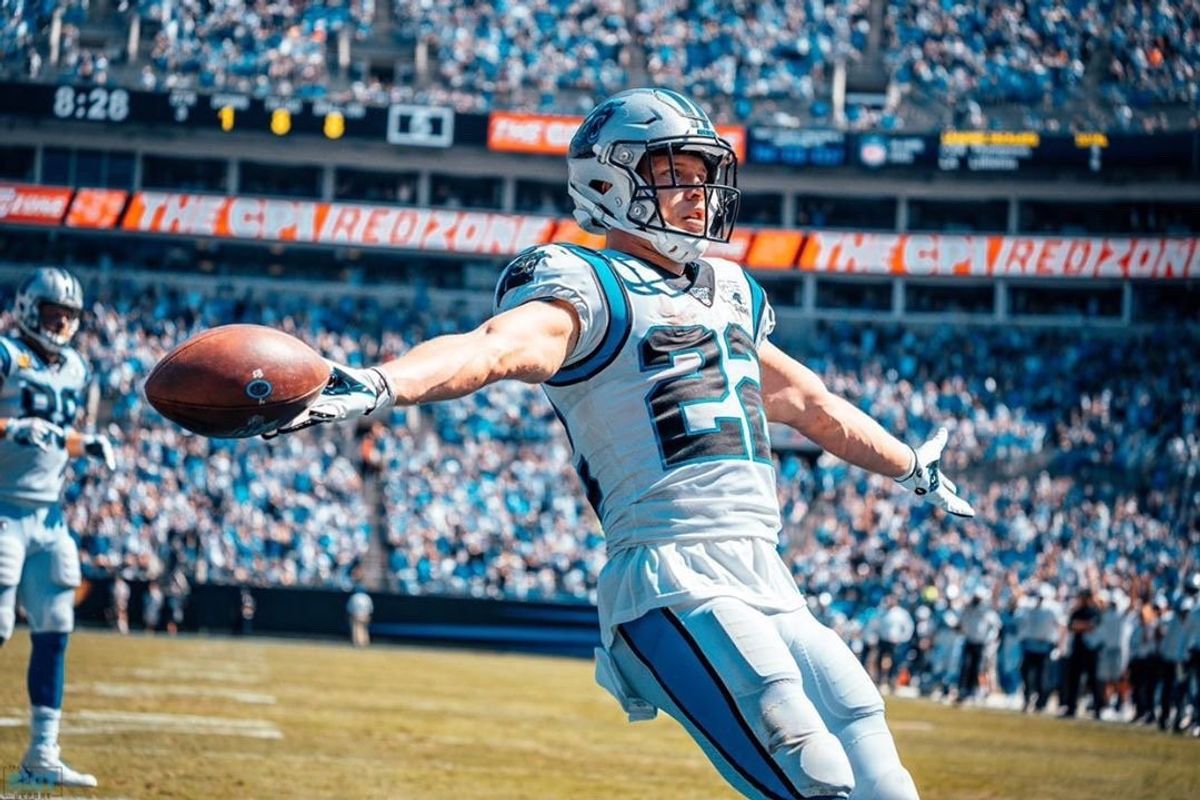 Christian McCaffrey official Twitter account
This week, 8 of 14 games were decided by one score or less. To clarify, I'm talking about a touchdown and two-point conversion or less. We even saw a couple top dogs take it on the chin, as well as toothless dog show some bite. Here are my observations:
The Good
-Panthers' running back Christian McCaffrey is a bad man! McCaffrey on pace to break the yards from scrimmage record and has 13 touchdowns. Sure Kyle Allen is playing as good as one could expect in the year of the backup quarterback, but McCaffrey is the straw that stirs the drink in Carolina. I have him as a 1a or 1b in the MVP race after his 27 touch 166 yard three touchdown performance in a 30-20 win over the Titans.
-Ravens quarterback Lamar Jackson broke the Patriots' 21 game win streak over rookie or second year quarterbacks in a 37-20 win. Jackson went 17/23 for 163 yards and a touchdown. He also ran 16 times for 61 yards and two more touchdowns. Better yet, he didn't turn the ball over and was only sacked once. So much for "he can't play quarterback" or "he should convert to wide receiver" talk.
-Seahawks quarterback Russell Wilson is the other half of McCaffrey's 1a or 1b in the MVP race. Wilson threw for 378 yards and five touchdowns in a 40-34 overtime win over the Bucs. On the season, he has 22 touchdowns and only one interception. He's doing this without the help of a star running back or receiver. Not poopoo-ing his teammates, but none of those guys have been named to an All Pro team previously except Tyler Lockett.
The Bad
-The Dolphins were able to beat the Jets 26-18. This is a bad thing several reasons. One: the Dolphins were supposed to be "Tanking for Tua" so a win hurts their chances of landing the first overall pick. Second: the Jets have enough talent to be a more competitive team, but are coached by the same guy the Dolphins fired last season. Third: Sam Darnold threw a ridiculous red zone interception. No wonder the Patriots make the playoffs every year.
-Bucs' quarterback Jameis Winston replicated his 2015 Rose Bowl fumble return for a touchdown in thier loss to the Seahawks. If you don't know what I'm talking about, Google it. But Jameis, again, evaded pressure and fumbled the ball backwards only for the opposition to return it for a touchdown. This, amongst other reasons, are why he most likely won't or shouldn't be back with the Bucs next season.
-The Browns are the biggest dumpster fire in the NFL right now. After losing 24-19 to the Broncos, they're now 2-6 on the season and have no hope of making the playoffs after some picked them to win the AFC North. They were a sexy Super Bowl pick. Now, they're more talked about for what Baker Mayfield says in press conferences, or what Odell Beckham Jr and Jarvis Landry's pregame gear is about.
The Ugly
-Former Browns safety Jermaine Whitehead became former Browns safety when he decided to go Twitter thug on some reporters following their loss to the Broncos. He tweeted some profane language, racist remarks and even threw in a death threat as well as a standing invitation to fight. Players are given a cool off period after games before media obligations. Someone should take their phones as well because he reportedly did this while still in uniform!
-Colts quarterback Jacoby Brissett sprained his MCL in his left knee. While they're optimistic he will be able to play against the Dolphins Sunday, they're not sure. If Brissett misses the game or isn't fully healthy against the Texans in a couple weeks, it could cost them the AFC South division title. All of this comes on the heels of him taking over for Andrew Luck after his abrupt retirement.
-The Bears are 3-5 and look like they're going nowhere fast. Despite having one of the better defenses in the league, their quarterback Mitchell Trubisky is dumpster juice. The 49ers hoodwinked them into trading up for what is the worst of the three quarterbacks taken in the first round of the 2017 draft. They took him over Patrick Mahomes and Deshaun Watson. Yikes!
I remember watching Rocky IV over and over as a kid. We had it on VHS and I'm pretty sure I wore it out. The scene when Rocky finally cuts Drago and Duke tells him he's not a machine, he's a man is iconic. Well the Ravens did that to the Patriots, and to a lesser extent, the Chargers did that to the Packers. Meanwhile, there are teams barely treading water (Lions, Jags, and Eagles), and others sinking fast (Browns, Bears, and Titans). We're over the hump of the midpoint and the light at the end of the regular season tunnel is now visible. It's still a ways off, but we can see what's ahead. Some of these teams are hoping not to get tripped up along the way. Others are hoping to just make it to the end in one piece.
We saw big games from Will Anderson, Derek Stingley Jr., & Nico Collins on Sunday. Jimmie Ward with the game winning pick. C.J. Stroud doing C.J. Stroud things. Things are starting to come together. And Texans GM Nick Caserio deserves a lot of credit.
Check out the video above to find out more!
SportsMap Emails
Are Awesome