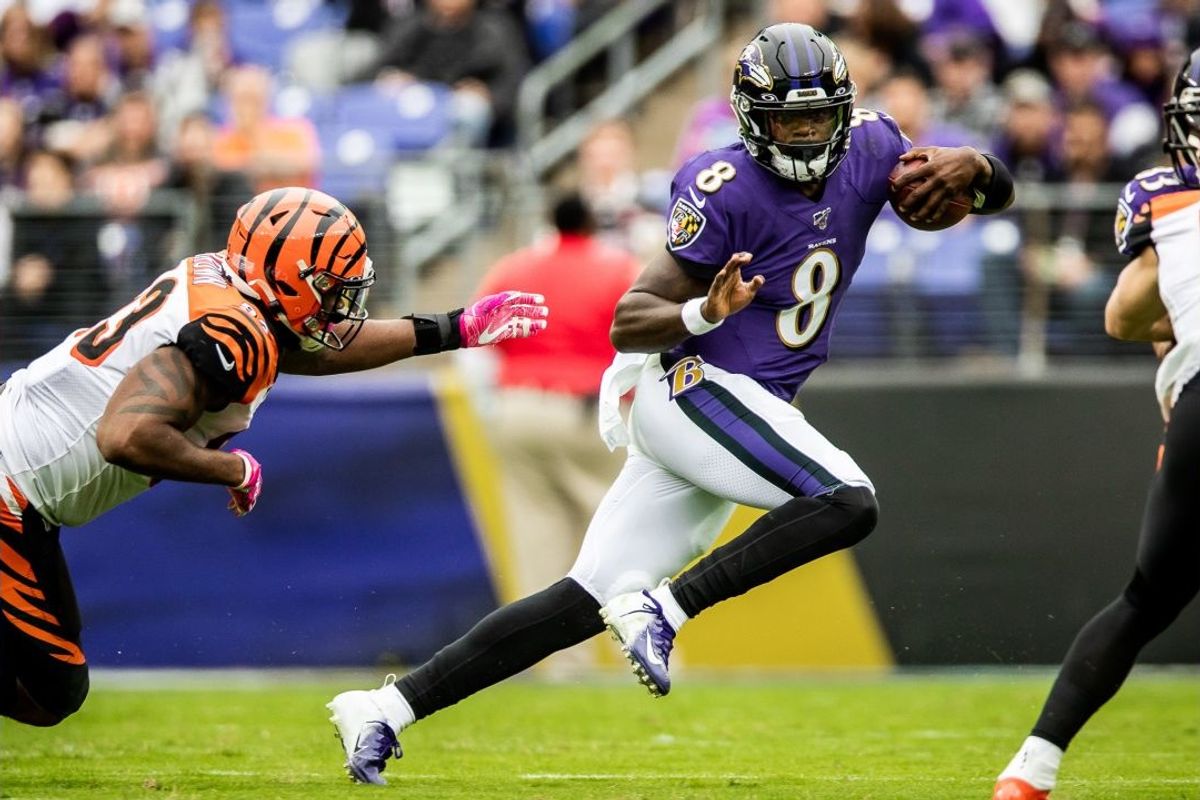 Shawn Hubbard, baltimoreravens.com
Week six of the NFL is in the books and it didn't disappoint. We saw upsets, thing that'll make you upset, and more of the same ol same ol from some teams/players. Here are my observations:
The Good
-Ravens quarterback Lamar Jackson had another performance that leaves you in awe. 21/33 for 236 yards and ran the ball 19 times for 152 yards and a touchdown. While I'm not all for a quarterback running this much, Jackson hasn't taken too many hard hits. However, if he continues to run as much as he has, it'll catch up to him eventually. Until then, let's enjoy this talented quarterback.
-The Vikings' Stefon Diggs was the beneficiary this week of the angst turned production when it comes to the pass game. Diggs had seven catches for 162 yards and three touchdowns. I was impressed with Kirk Cousins' ability to hit him deep a couple times on two long touchdown catches (62 and 51 yards respectively). If the Vikings get this kind of production, they could be a tough out for the rest of the season. Cousins had 333 yards passing and four touchdowns.
-Welcome back Sam Darnold! The Jets quarterback came back from a case of mononuecleosis to help his winless team beat the Cowboys 24-22. 22/32 for 338 yards and two touchdowns, including a 92-yarder to Robbie Anderson. What a difference it was to have him under center. Will this spur on a playoff run? That remains to be seen. At 1-4, it's highly unlikely, but not impossible.
The Bad
-In a game that pitted two of the worst teams in the league against one another, would one expect the Redskins/Dolphins game to end in any other way than an epic failure? The Dolphins scored a touchdown and were an extra point away from tieing the game, but they decided to go for two. They called a bubble screen to running back Kenyan Drake...and he dropped it. They're still winless and the Redskins got their first win because of it.
-With the score 7-7, 3rd&Goal, ball on the 1 yard line, two and a half minutes into the 2nd quarter, 49er's quarterback Jimmy Garoppolo threw a ridiculous pass. He appeared to get happy feet in the pocket as the pressure collapsed it quickly, and lobbed a pass up to Marcus Peters. Peters, unfortunately, plays for the Rams. Good thing the 9ers went on to win 20-7, or this could've been really bad.
-Speaking of interceptions, Broncos quarterback Joe Flacco wishes he didn't get credit for one he threw against the Titans. Rookie tight end, and 1st round pick, Noah Fant lost a ball looking for it over his shoulder. The ball hit his back and allowed Titan safety Kevin Bayard to get one of the easiest picks of his career. This is clearly a case for not counting all interceptions against the quarterback.
The Ugly
-Tough week for kickers around the league. Falcons' Matt Bryant cost his team a chance to tie the game by missing an extra point with 1:53 left in the game and they ended up losing 34-33. Texans' Ka'imi Fairbairn missed a field goal and an extra point in his team's 31-24 win. Although he missed a 60-yard drop kick, it was cool to see Panthers' Joey Slye attempt one. At least he didn't cost or nearly cost his team the game.
-Bears' offensive lineman Kyle Long has found himself on IR for the fourth year in a row. This time it's a hip injury that's taken the veteran down. At 30 years old and no guaranteed money left on his deal, it may be over for Long. He's been good, but injury-prone offensive lineman over 30 don't have much of a role outside of backup or camp body, and even those are iffy.
-The end of the road may be near for the top two picks in the 2015 draft. Bucs' quarterback Jameis Winston and Titans' quarterback Marcus Mariota are both playing in their fifth year option years of their rookie deals, and neither seems to have earned an extension or the right to another opportunity to start. Winston threw five interceptions against the Panthers and Mariota was benched in favor of backup Ryan Tannehill. Careers can be resurrected, but I doubt it in either case. The best they can hope for now is to hold a clipboard and keep cashing NFL checks for a few more years.
By now, we're starting to see the water find its level. Seven of the eight divisions have a leader, albeit some are by slim margins. Only the NFC East has a tie at the top with the flalling Cowboys and underwhelming Eagles tied at 3-3. There's also a line being drawn between true title contenders, and the pretenders. The next four to six weeks will tell us a lot more. I guarantee that one of the post-week six division leaders will be the eventual champion. Until then, keep me at my word.
Entering week eight in the NFL, the Houston Texans are in second place in the AFC South. At 3-3, I wonder how many people actually saw them entering week eight with a legit shot at winning the AFC South? Be honest. There were very few people who thought it was possible. The most hardcore fans would say they had a shot, but I wonder how many of them truly believed? Now that we've got about a third of the season as a sample size, it's time to rethink things.
Watching the development of C.J. Stroud is the primary factor in this reconsideration. He's grown into the franchise guy. I'm talking about the leader this team needs. Dare I say, the face of the franchise? Any time a team leans heavily on the pass game, it's typically from a vet. For a rookie to do what he's doing is beyond impressive. If the run game ever gets going, this offense will be really scary.
The defense has some work to do, but you can see the vision. Will Anderson Jr and Jonathan Greenard are a nice tandem off the edge. The safety play of Jalen Pitre has been a revelation since he stepped on the field. Christian Harris has the athleticism, but needs more reps. All these guys are still on rookie contracts. All of them seem to fit DeMeco Ryans' system very well. Getting Derek Stingley Jr back and healthy will be huge. His play will be another major key.
Looking at the division, the Jags (5-2) were picked by many to win the AFC South. In yards per game, they have the 4th ranked run defense, but the 31st ranked pass defense. The Texans are pass heavy right now, so this feeds into their plans. This series historically belongs to the Texans. They lead the 43 game series 29-14 and are 10-1 in their last 11 vs. the Jags. To say the Texans own them wouldn't necessarily be untrue. They share them with Shad Khan actually.
The team just behind the Texans in the standings are the Colts. Their hot shot rookie quarterback, Anthony Richardson, is out for the season after shoulder surgery. While they have the best defense in the division, their offense just lost a dynamic playmaker at the most important position. Sorry, but Gardner Minshew and Sam Ehlinger do not strike fear in anyone. If either of those guys were that good, one of them would've been starting over the rookie. That, or they'd be starting somewhere else. And that vaunted defense isn't as scary this year either, giving up over 350 yards per game.
Then there are the Titans. At 2-4, they're resting at the bottom of the barrel in this division. Derrick Henry was the subject of trade rumors in the offseason. He's responded with a 4.3 per carry average, only a tick below his career 4.7 average. They brought back Ryan Tannehill after drafting Malik Willis last year and Will Levis this last draft. Willis is the backup and Levis is the emergency guy. Neither could beat out Tannehill, and he was expected to be cut in favor of one of those guys. That tells you all you need to know about the Titans. They're terrible and the Texans should beat them up.
While the Texans are still putting their team together and have a few pieces left to fill, they clearly have enough to be able to win this division. The Jags are good, but aren't scary. The Colts don't have enough firepower and their defense isn't as good. The Titans are awful. They can't fight their way out of a wet paper bag. If the Texans can hold it together, they can win this division. The Jags are their main competition and they own them. Once this team figures out a few things and add a few pieces, it could be their division for a long time to come. They'll have to keep pace with the changes their division makes, of course, but I like where this is going. You have to crawl before you walk, and walk before you can run. The crawling starts with having a winning season and winning the division for the first time since 2019.
SportsMap Emails
Are Awesome