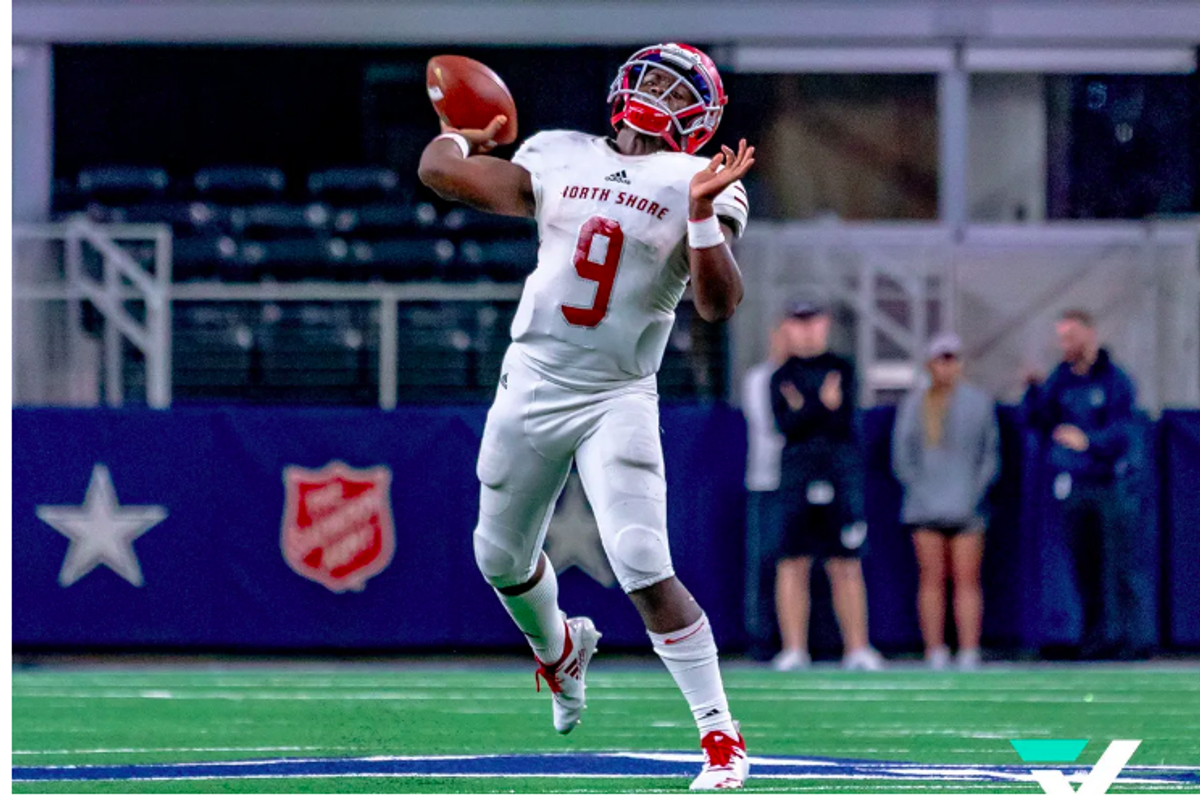 Originally Appeared on VYPE
What LSU's Joe Burrow is to the Heisman, is what North Shore's Dematrius Davis Jr. is to the city's Player of the Year.
He just keeps wowing Houston high school football fans with his arm… and his feet.
The 6-foot quarterback threw for 312 yards, ran for 293 yards and in a 79-46 state quarterfinal against Atascocita on a sunny day in front of 8,000 fans at Sheldon ISD Stadium.
He was the show.
Look, North Shore OC Willie Gaston wasn't trying to fool anyone Saturday afternoon. Fake a swing pass to ESPN No. 1 recruit Zach Evans and let Davis Jr. do the rest.
Ask legendary coach Gary Joseph, the mighty Katy Tigers couldn't stop virtually the same play in the Regional Semis. Davis Jr. ran for 283 yards and three scores, while throwing for another 134 yards and three scores in a rematch against the Tigers.
Entering this week against Lake Travis and Elite 11 QB Hudson Card (Texas Longhorn-commit), Davis Jr. will again show who is the best high school player in the Bayou City.
Read more on Davis' impressive season here
The Houston Texans may not have come away with a victory over the Jags on Sunday, but they did come away with a ringing endorsement from Skip Bayless.

While that may scare some people reading this, he does make some good points. His two main reasons for backing the Texans over Jacksonville should be no surprise. DeMeco Ryans and CJ Stroud.
Skip loves DeMeco's demeanor on the sideline and how he appears in total control of his team. And with CJ, Skip can't remember a quarterback with this much poise in his rookie season. His ability to use his legs and make accurate throws is something he's never seen. He already looks like a player 10 years into his career.
Plus, Skip says he felt like Stroud outplayed Lawrence even in the loss. Which led him to look up their QBR scores from the game. And sure enough, Stroud had a higher score.
Be sure to watch the video above as the guys discuss Houston's playoff chances, why free agents will want to come to the Texans, and Richard Sherman shares some inside information on DeMeco Ryans.
If you want to jump ahead to Skip's Texans praise, simply hit play on the video below.
SportsMap Emails
Are Awesome