H-Town Run Tourist: Experiences
Volunteering at the 2019 Speedgolf Championships
Oct 15, 2019, 6:44 am
Jovan Abernathy is an international marathoner and owner of Houston Tourism Gym. To claim your free tour, contact her at info@tourismgymhtx.com. Follow her on Twitter @jovanabernathy. Instagram @TourismGymHtx. Facebook @TourismGymHtx
So, the last couple of articles have been about Speedgolf and Speedgolf USA founder, Scott Dawley. Let me tell you about my experiences with the sport and Scott.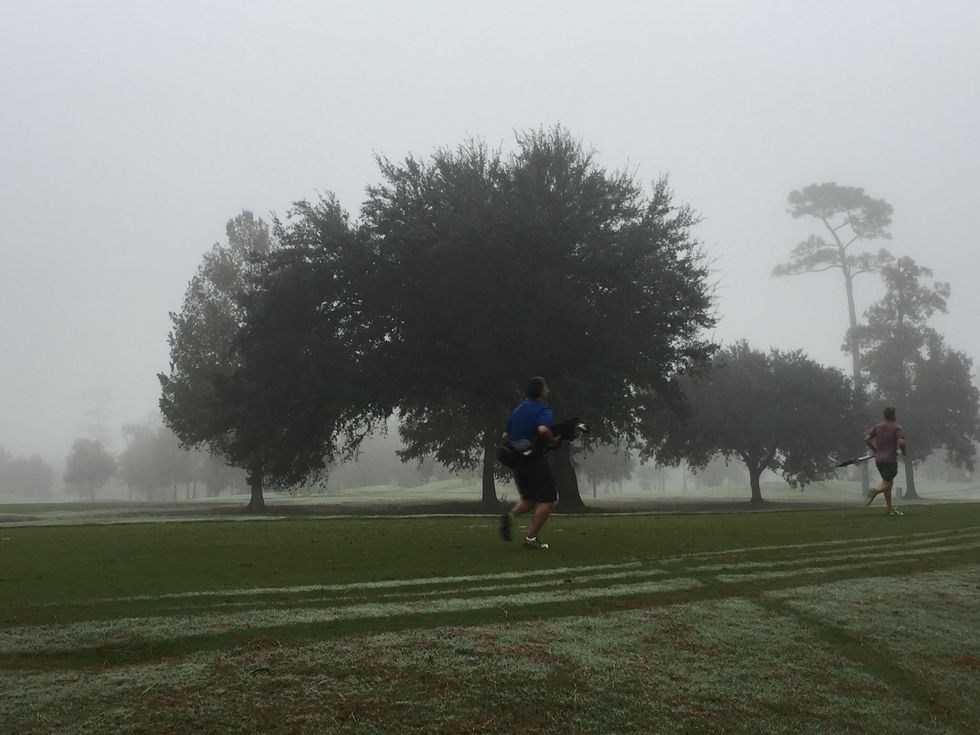 ​Golf course is so beautiful in the dewy morning.
Author's own
It was August of 2015 when we met at his race Links Run. I had so much fun running on the green. It is really the softest surface and I got to take pics and whack some balls at the driving range. I was writing for my own blog called IHopeIComeBackAlive.com and thought this would be great for content. Scott was creating more events strictly for speedgolf. Now, this will make some great content. His next event was the next coming week. He allowed me to tag along with my camera.
That morning, I was to meet Scott at Cypresswood Golf Course at 5AM. I set my alarm for 3AM. It would take 45 minutes to get from my place in Memorial to Spring. I had to remind myself that I owed myself a new experience and to get out of bed.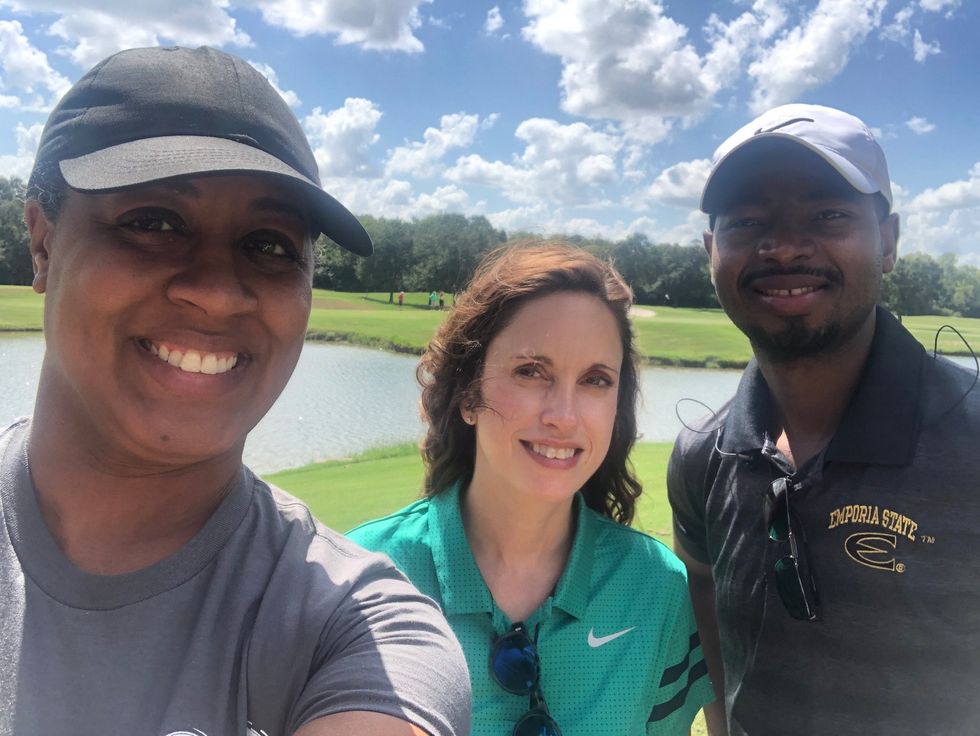 Cari and Pardon striking a pose!
Author's own
It was well worth it. There is nothing like a golf course in the morning when the sun just comes up. Fog is in the air. Dew is on the grass. And moss is hanging from the trees. Footprints in the grass. To get my content, I had to follow the speedgolfers to get great pictures in a golf cart. I had the time of my life. I didn't reallize how fast they could go until I felt like I was having a hard time keeping up in a cart. I got my story and we were done by 6:15AM with plenty to do in the day. It was worth getting up and everyone should have this experience.
October of 2019:
So, four years later I still do not know how to play golf. I flirted with it, but chose to do traveling marathons instead. I do not know even how to swing properly, but when I reconnected with Scott, he had another opportunity for me. This time, I wanted to share it with others. Scott needed volunteers for the 2019 Speedgolf Championships coming up. My volunteers showed up on Saturday, September 29 ready to work.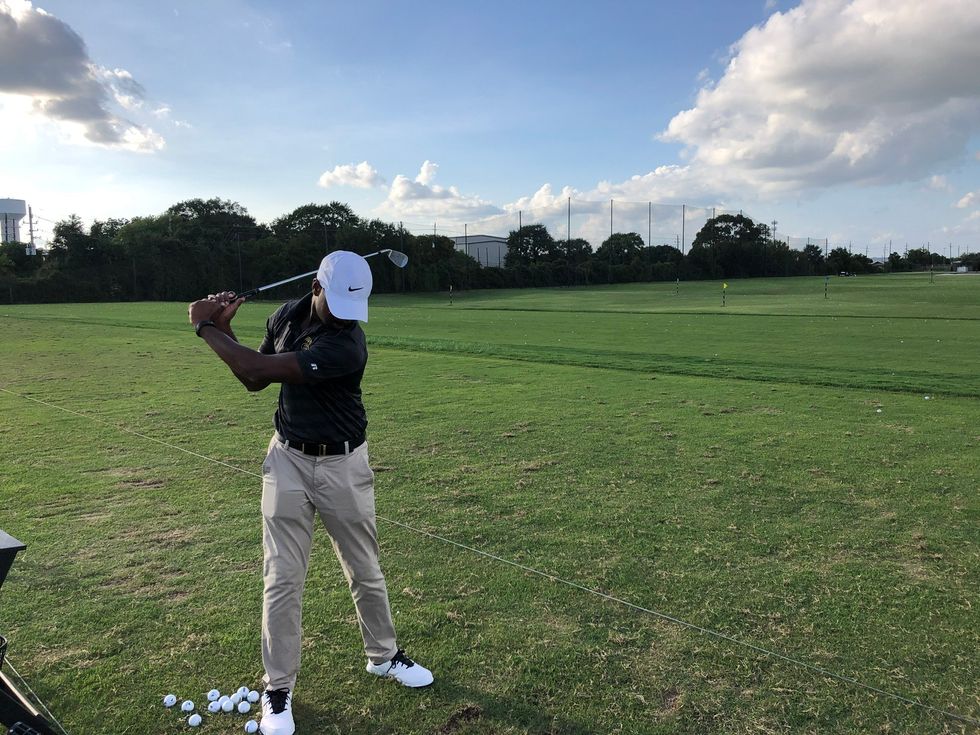 ​Pardon learning his golf swing.
Author's own
We arrived early to make sure we didn't miss anything. We got to tour the golf course, take pictures, and chill in the grill until Scott called for us. We had a great time getting to know each other over a margarita. (Yeah, I said margarita. See how hard it is to volunteer with Houston Tourism Gym).
Soon Scott come over to tell us what our jobs were. We had to choose our speed golfer that we would be working with. We were to follow them to all 18 holes in a golf cart and keep their score. (Don't worry, we were taught how to do this. By the way, the golfers would yell their swings to us before they moved on to the next hole. Still pretty easy volunteering).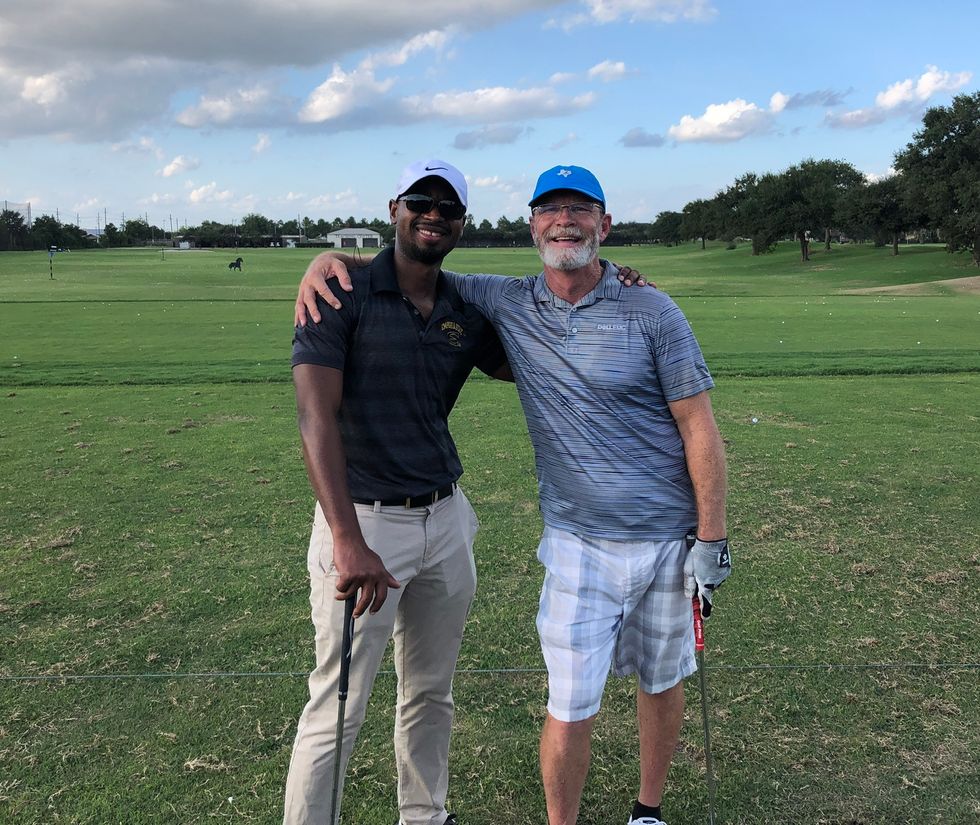 ​Pardon and his new golf coach Joey Froman
Author's own
My speed golfer was David Harding from Lake Oswego, Oregon. I got in my cart and drove to the start hole. I had actually met David earlier, but reintroduced myself. For the next hour and 15 minutes, I gave David my undivided attention. I took this job seriously and knew how much it counted. But, I also got some great pictures.
After the race, I went and gathered my volunteers to see what they had gotten themselves into. I found Cari (from Conroe) at the entrance waiting for her next assignment. I found Pardon (from Zimbabwe) at the driving range whacking some balls. He found a benevolent golfer to teach him how to swing. Everyone had a great time on the golf course, as I knew they would.
To learn more about Speedgolf, visit SpeedGolfUSA or listen to Scott Dawley, founder of Speedgolf USA, on his podcast Pace of Change which can be downloaded from iTunes. Contact him directly at 832.524.9994 or by emailing info@speedgolfusa.com.