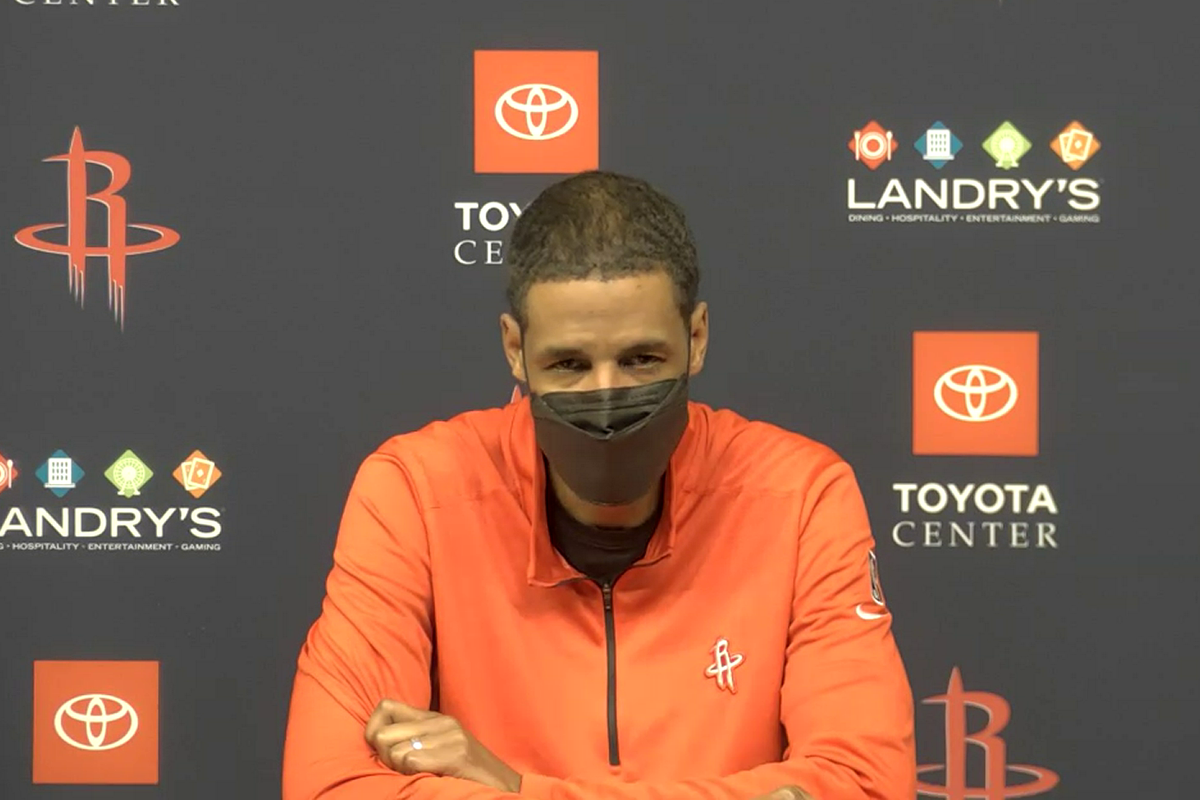 Rockets' coach Stephen Silas had some tough media sessions. Image via: Rockets Zoom/Screenshot.
Last week, Naomi Osaka announced that she wouldn't attend press conferences at the French Open tennis tournament and accused sports organizations of not caring about athletes' mental health.
This week the French Open proved her correct.
Tournament officials fined Osaka $15,000 after she didn't do a press conference after her first round win and threatened heavier fines and possible disqualification from the event if she continued to avoid the press. Tennis' other Grand Slam tournaments, Wimbledon, U.S. Open and Australian Open, rubber stamped the French Open's punishment and threats.
Osaka answered by dropping out of the French Open.
Instead of bullying Osaka, tennis should applaud her for recognizing that she has mental health issues and is trying to deal with them. Osaka said that she has social anxiety and has battled with depression for several years. She said that attending press conferences triggers her depression, especially when she loses a match and reporters harp on her failure.
"I've watched many clips of athletes breaking down after a loss in the press room and I know you have as well. I believe that whole situation is kicking a person while they're down and I don't understand the reasoning behind it."
Whether she's right or wrong, it doesn't matter. She feels that way and that's enough.
Osaka isn't some low-ranked, publicity-seeking diva. She is a wondrously talented, thoughtful woman who recognizes her frailties and wants to protect her mental health. She isn't, as one British hack journalist just called her, "world sport's most petulant little madam cynically exploiting mental health to silence the media." And you wonder why Osaka has problems with some reporters?
Explaining her withdrawal from the French Open, Osaka wrote on social media: "I would never trivialize mental health or use the term lightly. The truth is that I have suffered long bouts of depression since the U.S. Open in 2018 and I have had a really hard time coping with that. I am not a natural public speaker and get huge waves of anxiety before I speak to the world's media."
If you're a tennis fan, you might have seen this coming. When she wins a match, she often pulls her visor over her face to hide from the applause. She apologizes to the crowd if she beats a local favorite. "I know you wanted her to win," she'll say. At press conferences, she says, "I'm sorry," if her answer runs more than a couple of sentences.
There's an easy solution to tennis' problem with Naomi Osaka not wishing to attend post-match press conferences: don't make her. In fact, that goes for all players in all sports. How many times did we watch Rockets coach Stephen Silas suffer the same questions this year, game after game, loss after loss? Bill Belichick's press conferences used to be painfully funny, now he's just a jerk. Here are the keys to winning tonight's game: "We have to stay aggressive and play as a team." Enough already.
Osaka has won four Grand Slam tournaments, including the last two. She is the highest-earning female athlete in the world, the first Japan-born woman to reach No. 1 in tennis, and will be one of the hosts of the upcoming Olympics in Tokyo.
She is more than a great tennis player. While her voice rarely rises above an apologetic whisper, her social activism speaks loud and clear. At last year's U.S. Open, Osaka walked on court with different face masks, each one bearing the name of a victim of police brutality. She brought seven masks, one for each round it would take to reach the final, in case she got that far. She did. She won the tournament. She won the 2021 Laureus World "Sportswoman of the Year" award. She was named "Sports Person of the Year" by Sports Illustrated for her great play on a tennis court and courage off it.
Now tennis seems determined to drive this gifted woman from the sport she plays so magnificently. Over something so inconsequential as post-match press conferences? Could tennis really have its head that far up its butt?
Let me tell you about tennis press conferences. Because of budget cutbacks, and the fact that tennis still remains a relatively fringe sport, big city media outlets rarely have a dedicated tennis reporter. In Houston, TV stations don't report the scores from the U.S. Clay Court Tennis Championship played down the street at River Oaks Country Club. Daily newspapers will assign a rookie or lesser regarded sports writer to cover local tournaments.
Tennis officials say it's important for players to attend press conferences to spread the word and grow the sport. I've been to many post-match press conferences in Houston, America and Europe. Let me tell you, they're usually boring, typically inane and occasionally a blood sport between player and reporter.
If post-match interviews are so valuable, how come the Tennis Channel, which is 24/7/365 tennis, doesn't air them? Except for a few worldly personalities, like Roger Federer, Serena Williams and Andy Roddick, players rarely say anything more introspective than, "It was a tough match today and I'm looking forward to tomorrow's match."
It's like that scene in Bull Durham where Kevin Costner's character tells a young pitcher, "It's time to work on your interviews. You're gonna have to study them, you're gonna have to know them, they're your friends."
Maybe at one time post-match press conferences were important if players had something they wanted to share with fans or the public. But players now have unfiltered personal websites, Facebook pages and Twitter accounts. They can interact directly with the public without depending on the media to act as a conduit.
The French Open has lost Naomi Osaka, one of the most popular, admired and important athletes in the world. The tournament is less now.
Who knows when we'll see Osaka back playing tennis? "I'm gonna take some time away from the court now, but when the time is right I really want to work with the tour to discuss ways we can make things better for the players, press and fans," she wrote.
Luka Doncic had 41 points, nine rebounds and nine assists, and the Dallas Mavericks prevented the Houston Rockets from advancing to the quarterfinals of the NBA In-Season Tournament with a 121-115 victory on Tuesday night.
Kyrie Irving added 22 of his 27 points in the second half for the Mavericks, who had already been eliminated. Their victory allowed the New Orleans Pelicans to win Group B in the Western Conference with a 3-1 record.
Doncic fell just short of his 59th career triple-double. That would have tied him for ninth place all-time with Larry Bird. He shot 15 of 29, 3 of 10 on 3-pointers.
"Sometimes we take him for granted, and we shouldn't," Mavericks coach Jason Kidd said. "He's about winning, but it just so happens he's a walking triple-double.
"The Mavericks, who trailed by nine points in the third quarter, grabbed the lead for good at 99-98 with 6:25 to play on a drive by Irving. Leading 103-100 with 5:25 left, they went on an 8-2 run that included three free throws by Derrick Jones Jr. when he was fouled by Dillon Brooks on a 25-footer with the shot clock about to expire.
Jabari Smith Jr.'s 3-pointer with 8 seconds left pulled the Rockets within 119-115 before Dallas closed it out.
Doncic played after sustaining a low-grade sprain of his left thumb on his non-shooting hand early in Saturday's game. He wore a wrap on the thumb.
Doncic made a hook shot from the free throw line after recovering a loose ball near the baseline.
"I'm 2 for 2 in my career on the hooks," Doncic said, saying the other came while playing for the Slovenian national team against Sweden.
Irving shot 2 for 11 in the first half, 1 for 5 on 3-pointers, with no free-throw attempts. He was 6 for 11 in the second half, hitting 1 of 2 behind the arc, and sank all nine free throws.
"I told the team, 'Played well enough to win, not smart enough to win,'" Rockets coach Ime Udoka said. "We were extra-aggressive, especially at the end of the third quarter. Had multiple players make a few dumb fouls, put Kyrie at the line and got him going when he didn't have a lot going. You can be aggressive, obviously, but slapping somebody on a 3-point shot on the arm is an unintelligent play. It has nothing to do with aggression."
Alperen Sengun had a season-best 31 points for the Rockets, who had six scorers in double figures. Fred VanVleet had 10 points and 12 assists.
The Rockets have lost all six of their road games this season. They went into play leading the NBA by allowing an average of 104.4 points per game.
The Mavericks didn't use the specially built court for either of their home tournament games, citing dissatisfaction with the quality.
UP NEXT
Rockets: Will finish a back-to-back at Denver on Wednesday.
Mavericks: Host Memphis on Friday.
SportsMap Emails
Are Awesome