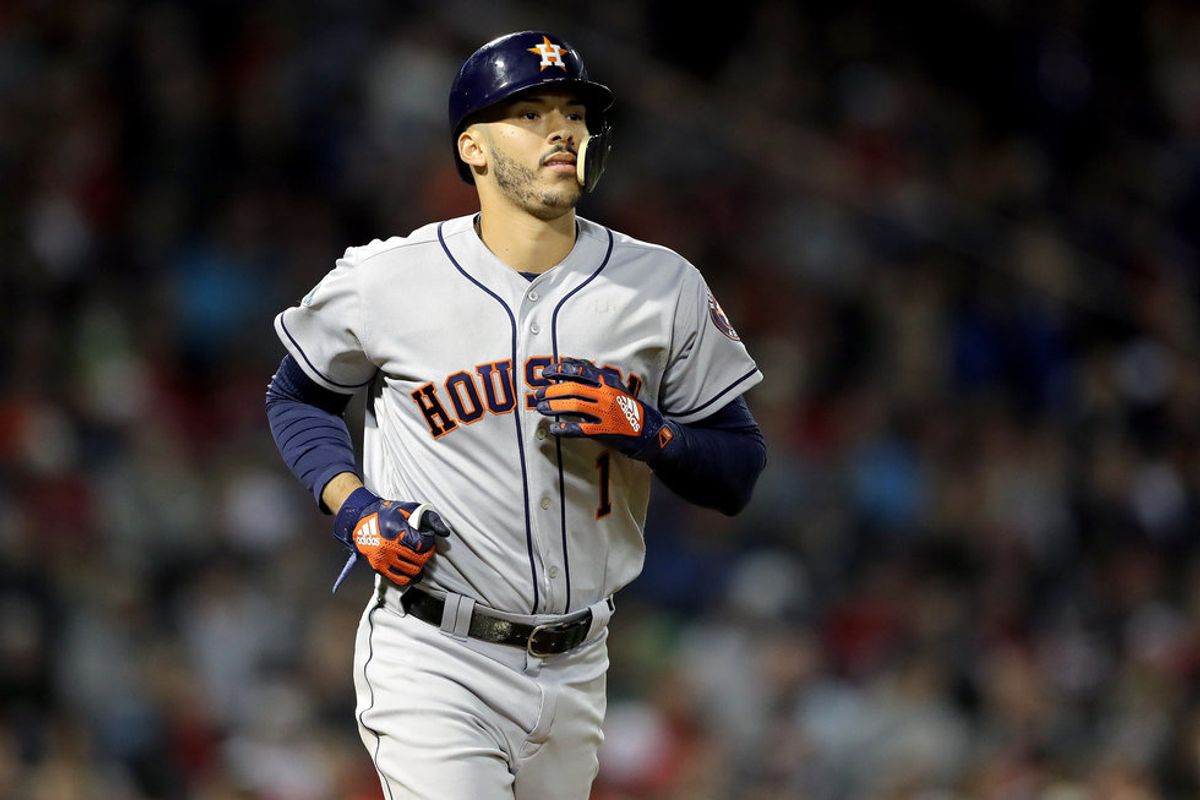 Photo by Elsa/Getty Images
P.T. Barnum of circus fame is generally credited with saying "There's a sucker born every minute."
Behold the San Diego Padres. They "won" the Manny Machado sweepstakes with a 10 year $300 million dollar offer. For the second consecutive off season the small market small budget Padres sign the most ridiculous free agent deal. At least until we see what Bryce Harper winds up getting. Last year the Padres laughably overpaid a little better than average first baseman Eric Hosmer to the tune of eight years $144 million.
The Astros have to take notice of Machado's deal. No doubt Carlos Correa is taking notice. It's not a pressing crisis, but Correa becomes eligible for free agency after the 2021 season. Correa and Machado are very comparable players. Except Correa has never proven to be a serial culprit of lack of hustle.
Unless he signs a multi-year contract beforehand, Correa will hit the market just a few months older than Machado was when he did. The chief questions about Correa (hundreds of millions of dollar questions) are his recovery from last season's back problem, and his overall durability. If Correa's back is healthy and causes no further problems going forward and he resumes what had been a presumed path to superstardom, what Correa commands will be through Minute Maid Park's retractable roof. The Astros should hope to have to deal with the issue. It would mean Correa has produced hugely in the meantime.
Machado has been an excellent player who should be in the heart of his prime. But with all due respect to Justin Verlander and others who'd been grousing about how come Machado and Harper hadn't had their wishes fulfilled yet, 10 years guaranteed is stupid. Machado can opt out of the contract after five years. What if he turns out to be a guy who happened to have his best season just in time in free agency? What if his sense of professionalism doesn't improve and he's not a great teammate/role model for the Padres' trove of prospects? The Padres have no opt out, they'd be on the hook thru 2028.
If Correa fulfills his potential and is a 30 million dollar per year player come 2022, will the Astros pay the freight while paying Jose Altuve 29 million per through 2024? Alex Bregman can become a free agent after the 2022 season.
Tag, Clowney is it
The Texans have until March 5 to use the franchise tag on Jadeveon Clowney. The only time the Texans have used the tag was on cornerback Dunta Robinson. That didn't work out very well. But using the tag on Clowney is an easy decision if they can't first reach a longer term contract agreement, which one would guess they will not. Clowney and his people likely seek money in range of what his 2014 Draft classmates Aaron Donald and Khalil Mack got. Before last season they signed the two biggest defensive player contracts ever. Donald got $87 million dollars guaranteed, Mack topped that with 90. The Texans should laugh and say now let's get serious about a deal. Clowney is a Pro Bowl-level player who has missed only three games over the last three seasons. Clowney also has yet to come remotely close to NFL Defensive Player of the Year status because he simply is not a great pass rusher, as evidenced by his zero 10 sack seasons to date. The franchise tag would pay Clowney 16 mil give or take in 2019, about a three million dollar raise.
Still at a loss
The stretch run toward the playoffs is underway in the NBA. The Rockets have all their essential players healthy for the first time since December. And promptly puked up a 19 point second half lead in a bad loss at the Lakers Thursday night. The Rockets sit in fifth place in the Western Conference, closer to the draft lottery than to third. Unless James Harden soon goes down injured it's highly unlikely they sink to lottery depths. Alas, they have zero chance of overtaking Golden State atop the West, and close to zero chance of reeling in second place Denver. Catching third place Oklahoma City is unlikely unless the Rockets can go 19-5 or better vs. their remaining schedule. At this point third would be great. It would mean the Rockets played good ball the rest of the season, and presuming Golden State finishes first the Rockets would avoid the Warriors before the Western Conference Finals should both teams make it that far. Well, should the Rockets make it that far. Not much doubt about the Warriors.
Whose house?
Little reason to think the University of Houston won't make it 26-1 for the season and a 33 game homecourt winning streak as it plays host to South Florida Saturday. The Cougars should be 29-1 when they play at Cincinnati in the regular season finale March 10.
Buzzer Beaters
1. Thank goodness the most boring sports week until baseball All Star Game week is out of the way. 2. Marv Albert makes many more mistakes than he used to, but remains the best voice to hear calling an NBA game. 3. Whiniest on court Rockets: Bronze-Chris Paul Silver-P.J. Tucker Gold-Eric Gordon

One of the big factors that led to the Texans' loss to the Jaguars on Sunday was the secondary. Multiple flags for pass interference gave Jacksonville more opportunities to pick up first downs and score points.
Can confirm #Texans backup CB Shaq Griffin was cut.

Griffin started 6 games this year when Derek Stingley was out with a hamstring.
— DJ Bien-Aime (@Djbienaime) November 29, 2023
So it's no surprise that DeMeco Ryans is making some changes to his defense this week. According to several reports, Texans corner Shaq Griffin has been cut.
Nickel corner Tavierre Thomas was flagged for PI more than once on Sunday, and was burned badly by Jaguars receiver Calvin Ridley for a touchdown.
DeMeco was asked after the game if he considered replacing Thomas with Desmond King or Shaq Griffin. Ryans didn't give a definitive answer, but it looks like we got one today.
One has to wonder if Desmond Kings' experience playing nickel was the reason for his promotion to the active roster and why Griffin was released. If Thomas continues to struggle, King looks like the next man up to replace him.
#Texans activate Denzel Perryman, promote Desmond King to active roster, release Shaq Griffin, sign Matt Ammendola and Garret Wallow to practice squad, released Gerrid Doaks from practice squad and placed Tytus Howard (knee-patellar tendon surgery pending) on injured reserve https://t.co/knyyoqo7yC
— Aaron Wilson (@AaronWilson_NFL) November 29, 2023
The Texans also made some other adjustments to their roster on Wednesday, per Aaron Wilson. Linebacker Denzel Perryman returns from suspension, kicker Matt Ammendola and linebacker Garret Wallow join the practice squad. They also released Gerrid Doaks from the practice squad.
The other big piece of news involves left guard Tytus Howard. He heads to injured reserve, ending his season after hurting his knee against Jacksonville.
SportsMap Emails
Are Awesome