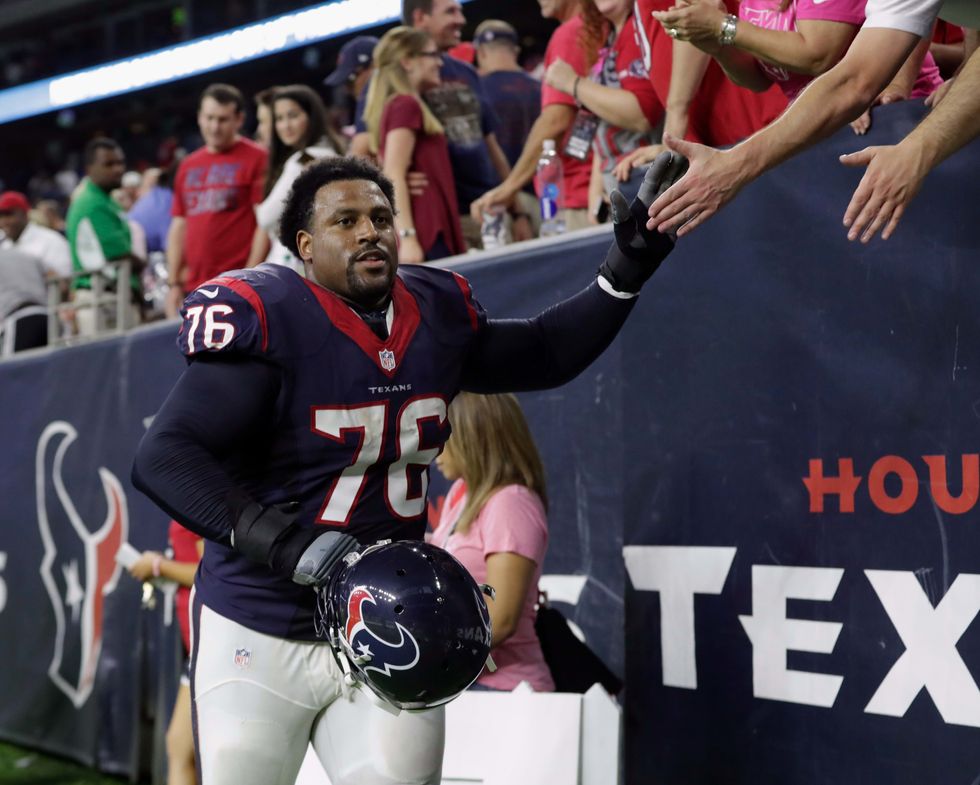 The Texans should have never moved on from Duane Brown without a plan. Tim Warner/Getty Images
It's always important to me to be honest, fair, and transparent in everything I say on SportsMap 94.1 FM, SB Nation Radio, or write here on SportsMap.com.  Everyone in Houston sports talk radio has a vested interest in the Texans success. We all want them to succeed; it makes our jobs easier and better. I want the Texans to win, and that's why I'm frustrated with their offseason.
I love the additions of CB Aaron Colvin and Tyrann Mathieu.  Colvin is a terrific slot corner who is a sure tackler. Mathieu gives the Texans a ball hawking presence in a secondary that desperately needs one.
Last season only two teams passed less than 60% of the time, Arizona (58%) and Philadelphia (59%).  One of those teams played with a lot of leads. Expanded further to teams playing minimum three or more WR sets – all but 10 teams ran at least 3 wide over 60% of the time.  
In fact, add up among all the teams percentage of times they ran at least three potential receiver targets (3WR or more), and it is 63% leaguewide.  That doesn't include the 12 personnel groupings (1 RB, 2 TE) with 2 WRs, which adds another 19% of total plays.
Teams are throwing more than ever, and the more quality DBs a team has, the better.
Considering the Texans defense is expected to return a healthy JJ Watt, Whitney Mercilus, D.J. Reader, Christian Covington, and Kevin Johnson, this unit was expected to be strong, and is now stronger.  I think its fair to say that the overwhelming sentiment regarding the Texans defense last year was that it was ravaged by injuries or it would have been a strong unit.
While I'm happy the defense looks good on paper, and the secondary was a major area of need this offseason, job 1 was still the offensive line.  This is where the airing of my grievances cannot wait for Festivus.
Last season, the Texans had the worst line in football.  They surrendered 253 quarterback pressures, by far the most in the league (Arizona was second worst with 217).  They tried 14 different line combinations in 16 games.  They used five different starters at left tackle. They had a contract dispute with their best offensive lineman in Duane Brown, and then traded him away with no plan of succession.
To put this in perspective, Pro Football Focus uses a grading system to show the effectiveness of OL.  Duane Brown, despite not having played a single snap in the offseason or preseason and missing six weeks in a dispute, then changing teams and having to learn new teammates and new schemes, graded out at 77.9.  That is the high end of average. If he had an offseason and didn't change teams, it would easily be expected he would grade above average and at least an 80 grade if not more.
The members of the Texans offensive line last season graded as follows:
C Nick Martin -- 44.9. Poor.
C/G Greg Mancz  -- 39. Poor.
G Xavier Sua'Filo -- 35.8. Poor.
G/T Jeff Allen -- 38.4. Poor.
T Chris Clark -- 37.7. Poor.
T Breno Giacomini -- 32.7. Poor.
T Julien Davenport -- 47.6. Poor.
T Kendall Lamm -- 53.6. Poor.
Clearly, the "chuck it against the wall and see what sticks" plan for the offensive line failed in 2017.  
In free agency, the only LT who was worth signing was Nate Solder, formerly of the Patriots.  With $63M in cap space, the Texans could not afford to be outbid for him, yet that's exactly what happened.  Solder's PFF grade for 2017 was 75.7, average. He got off to a slow start due to injury, and was significantly better as the season went on.  Keep in mind, however, they could have redone Duane Brown's deal for less than what Solder got on the open market, and Brown is a superior player.
As of today, the guys competing for the LT spot will be Julien Davenport and Jeff Allen.  Allen, as you may recall, was shifted to LT Week 13 by Bill O'Brien as he vainly searched for a combination that would be successful.
The moves the Texans have made on the offensive line shouldn't get you excited. I wish that wasn't the case, but the whole being honest, fair and transparent thing is killing me here.
Let's start with Zach Fulton, since he's the best of the 3 OL the Texans have signed thus far.  Fulton plays both guard and center, and depending on who you listen to (NFL Network's Ian Rapoport says he will play center for the Texans, the Houston Chronicle's John McClain says he will play guard), he could be playing either spot for Houston.  Fulton graded out at 68.8 per PFF last season, which they list as below average, but he was also the #14 Center in their rankings, so that makes him league average.
Senio Kelemete spent last season as a backup in New Orleans who was eventually pressed into starting eight games.  He played every position last season except center. The Texans are paying him like a backup (3 yrs/$12M total potential value).  He graded last season at 48.3 by PFF, poor.
The wild card is T Seantrel Henderson.  A talented player with issues, Henderson was terrific his rookie season at RT for Buffalo but has been diagnosed with Crohn's Disease, has had multiple surgeries on his intestines as a result, and has been suspended two times by the NFL for violations of the substance abuse policy (he said he smoked weed to deal with the pain from Crohn's).  Crohn's is a very serious disease. He has also one failed drug test from being out of the league for at least one year.
While Henderson impressed his rookie season in 2014, he's only started one game over the past two seasons due to his various issues.  Henderson is primarily a RT and signed a one year, ''prove it" type deal that could be worth up to $4M. It's a flyer signing with potential upside.  Despite limited playing time, he graded a 69.3 (high end of the below average marker) by PFF. Henderson also played the right side in college at Miami, so he is unlikely to be a LT candidate.
So far, the Texans are taking the "chuck it against the wall and see what sticks" approach to the offensive line again.  This was a huge failure last year, but they are hoping for better results this coming season.
Considering the amount of cap space the Texans entered the offseason with, and the fact they have played 14 quarterbacks over Bill O'Brien's tenure (including four last season), protecting the QB was absolutely Job 1.  Deshaun Watson is coming off an ACL tear, his trademark elusiveness and escapability are not guaranteed to return the way they were last season, and the team has no idea who will be protecting his blind side. They also don't know who his backups will be (and they better not include Taylor Heinicke).
Losing Watson wrecked the season for the Texans last year.  The line could never protect any of the others, who lacked Watson's spectacular ability to avoid the rush and break big plays.  The poor line play also affected the team's rushing success, as Lamar Miller had his worst season in five years as a starting RB.
The Texans lost battles routinely at the line of scrimmage on the offensive side of the ball.  Improving the OL and getting a bona fide LT to anchor it were the biggest and most glaring needs this team had.
So far, I can't say they have come close to addressing them.
Patrick Creighton is the host of "Nate & Creight" heard 1-3pm Mon-Fri on SportsMap 94.1FM, and  "Sports & Shenanigans" heard 12-5p CT Sundays on SB Nation Radio. Follow him on Twitter: @pcreighton1
When Bryce Young and CJ Stroud were drafted with the first two picks of the NFL Draft, we knew they would be compared to one another for years to come.
And here we are just 11 games into the season and one quarterback has already seen his head coach fired. Panthers owner David Tepper spoke to the media on Wednesday and discussed his decision to fire Frank Reich, and also set the record straight on how they arrived at the decision to draft Young.
In so many words, Tepper basically blamed the Texans for how the top of the draft played out. He mentioned Stroud by name and said the Panthers were ready to draft him at No. 2 overall until the Texans backed out of the three-team trade with the Bears.
Tepper made a point of saying everyone in their building had Bryce Young as the top player on their draft board, despite rumors about Frank Reich preferring Stroud.
CJ Stroud and the Texans have been so much better than Bryce Young and the Panthers that Tepper clearly felt it was necessary to defend himself, and the decisions he's made for the organization.
In the end, the person that gets the worst end of the deal is Bryce Young. Coaching changes can be very difficult on young quarterbacks. And it looks like he'll have to learn a new offense in his second year when the Panthers hire a new coaching staff.
How fortunate we are as Texans fans to have DeMeco Ryans and CJ Stroud leading the team moving forward.
With all of this in mind, is there a reason Texans fans haven't fully bought in to the new-look Texans? JJ Watt was a guest on The Pat McAfee Show this week and was asked about the team's inability to fill the stadium on Sundays.
As a former player for the Colts, McAfee always thought Houston had the loudest and best fans in the NFL. And while the Texans are 9th in attendance this year according to ESPN, even CJ Stroud has asked for the fans to fill the stadium.
So there is something to it. You can see the empty seats in photos. So why aren't the Texans packing NRG with a shiny new franchise QB?
We believe the recent history of the team is why fans are slowly coming back. McAfee wasn't here for:
Bill O'Brien cussing at fans during games
Trading DeAndre Hopkins away for next to nothing
The Jack Easterby disaster
Deshaun Watson allegedly blaming ownership for why he wanted out
The Deshaun Watson scandal
Firing back-to-back coaches after one season, and the list goes on.
Don't miss the video above for the full conversation!
If you enjoy the videos, subscribe to SportsMapTexans on YouTube!
SportsMap Emails
Are Awesome