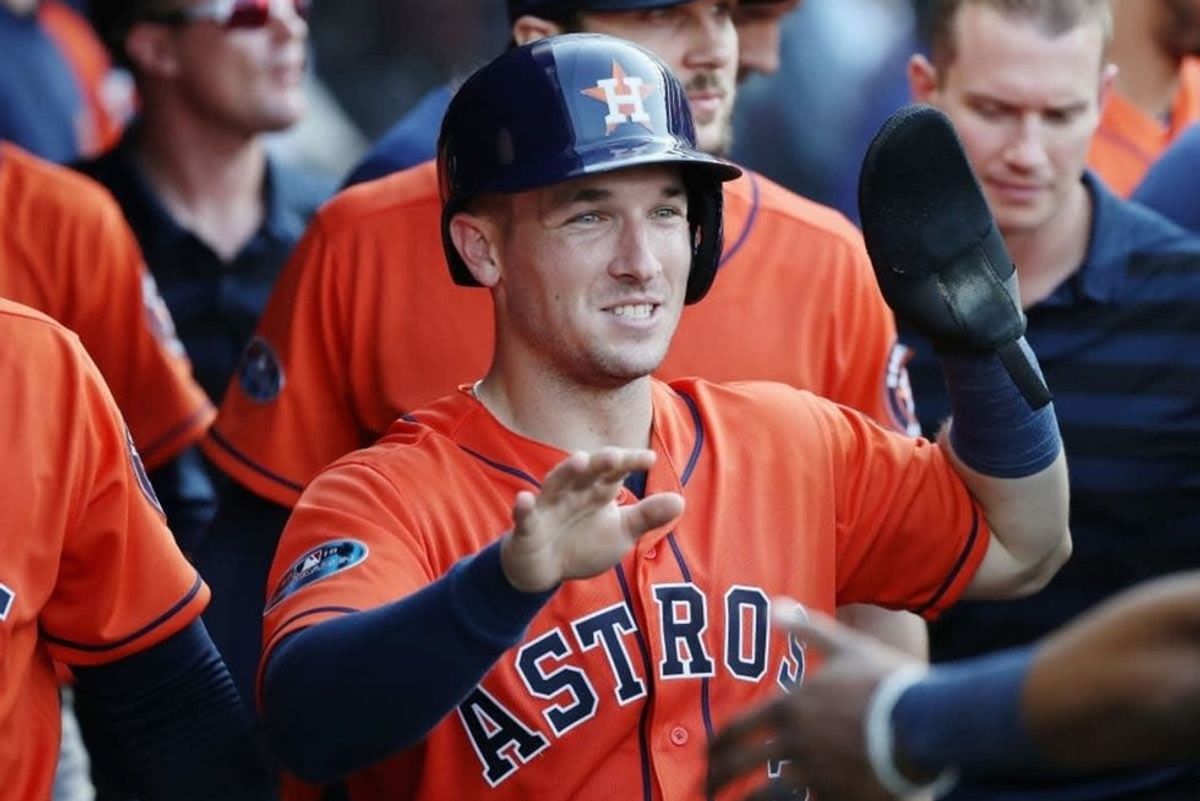 Photo by Gregory Shamus/Getty Images
To every sport that isn't the NBA (way to be different, guys) most seasons, much like anything else in our lives can be segmented into years. It's structure, and people like structure (except the NBA, apparently). It also gives us a mutual moment to pause and take stock on what cool stuff happened during our planet's latest solar lap. Unless of course you are the NBA.
I'll stop. But I'm right.
In any case 2018 is all but done with us, whether you like it or not. So let's be nostalgic before she slams the door in our face. Let's take a look back at the top moments that made Houston sports so much fun to watch.
Honorable Mentions
The Gerrit Cole trade in January, beating the Cowboys on Sunday night football with Deandre Hopkins' wide receiver version of Marshawn Lynch's beast mode run, and literally every single dugout celebration the Astros gave us last season
5. Bregman goes unconscious in June
By the time June rolled around, the Astros were sitting in the AL West driver's seat and looked poised to make another championship run. Yet while the Astros looked all but unhittable, their offense struggled to keep pace. The bats were slow to wake, that is, until Alex Bregman apparently met with Morpheus, took the red pill, and broke the Matrix for the month of June. In an absolute flurry of offense, Bregman jump-started the Astros by batting .306 for the month with 11 home runs, 30 runs batted in, 9 doubles, and 24 runs scored in the span of 26 games.
Bregman put a sweet exclamation point on the month during the last week by earning player of the week from June 25 - July 1. In that frame he batted .406 with 5 doubles, 5 home runs, and 10 RBI. He would go on to carry the Astros offense for the entirety of the of the regular and postseason until ultimately falling just short of a second consecutive World Series appearance.
4. James Harden breaks basketball
I like to play the NBA 2K franchise like a lot of people. Sometimes I like to just decimate another team while I'm playing so when I feel that way I have two options:
Turn down the difficulty and go to town.
Play my nephew (ooo sick burn).
On a cold night in late January, James Edward Harden turned down the difficulty on basketball. He picked up to proverbial sticks and put the Orlando Magic on the wrong side of history as the team that The Beard posted the NBA's first ever 60-point triple double.
60 points. 10 rebounds. 11 assists.
The total set a new record high not only for Harden, but for the Rockets franchise as a whole. The feat also gained praise from twitter-land:
James Harden was conceived in NBA Jam https://t.co/UlBNAODCl9

— Marcus Thompson (@Marcus Thompson) 1517369258.0
Okay @JHarden13 you're not playing fair!!!

— DWade (@DWade) 1517373381.0
Harden's pièce de résistance of the season essentially notarized a conclusion we all expected...
3. James Harden, MVP
Eleven games into last season Harden began to piece together his resume with a 56-point, 13-assist performance against Utah. In December he put together back-to-back 50-point games. Then there was the 60-point triple-double. It was at that point the Harden took pole position for the MVP race and never looked back.
Even then, there were skeptics that they would actually hand the trophy over to him. In the three years preceding, Harden had almost equally astounding seasons, and yet he finished among the crowd rather than at the podium. Two of the previous three years he had been MVP runner-up, so it wasn't as if the award came out of nowhere.
Harden averaged 30.4 points, 8.8 assists, and 5.4 rebounds on the season. He also led the league in 50-point games, and 3-pointers while guiding the Rockets to a league best 65-17 record. The results were clear. It was time to hand the hardware to The Beard, and that's exactly what happened.
2. Texans rip off nine straight
Houston fans were licking their chops for the 2018 NFL season to kick off. The Texans were fresh off of an injury-decimated mulligan of a 2017. They had gone 4-12, and weren't even able to use the draft pick that a record like that rewards you because it had been traded to Cleveland on draft night.
After what felt like the longest offseason in franchise history, Houston was back. Quarterback Deshaun Watson was back. JJ Watt was back. The Texans had their team and they were ready to rock.
The 2018 season's starting gun fired off and the Texans fell flat on their face week one, while other teams stepped on their backs in weeks two and three. Houston's lofty season hopes were immediately snuffed out as the Texans gazed upward in disbelief from their 0-3 start.
According to oddsshark.com, since 1980 there had been 173 teams to start 0-3. Of those teams, five had gone on to make the playoffs. According to history, the Texans were looking at a 2.8 percent chance to become team number six.
In the overused words of the sage Lloyd Christmas "So you're telling me there's a chance."
It started in week 4 when the Texans finally found their footing after escaping Indianapolis with an overtime win thanks to a questionable fourth down decision from Colts head coach Frank Reich. Texans wide receiver Deandre Hopkins then helped ensure win number two against the Cowboys with an inhumanly clutch catch and run in overtime to set up a game-winning field goal.
Even still, the Texans were 2-3 on the season.
The Texans caught another break in Buffalo for win number three, before stomping the Jaguars the following week to put them above .500 for the first time all season.
"Ok, but look at who they've beaten. They play Miami next, and they've looked pretty good."
Texans win, 42-23.
"Ok, good win. But they take on the Broncos next week and that defense is--"
Texans win, 19-17.
"Alright, but the Redskins are 6-3. Let's see how they play against a--"
Texans win, 23-21.
It would be two more weeks of the same before Houston finally fell to the team with whom their 9-game win streak began, the Indianapolis Colts. By then it didn't matter, as Houston had gone from the basement to one of the best records in the league.
1. Rockets and Astros set franchise win records
If the 2017 Houston Texans season left a bad taste in your mouth, the 2017-2018 Rockets and the 2018 Astros seasons provided one hell of a mouthwash. While both teams fell one round short of their respective championship ambitions, both teams finished 2018 with more wins in a single season than any other in their franchise's histories.
It was apparent that this wasn't going to be just another season with the Rockets after cruising to a 16-4 start in their first 20 games. They weren't just beating teams, either. They were embarrassing them, with an average victory margin of 10.3 points per game.
The Rockets wouldn't cross schedules with the Astros until early April, and by then they had already surpassed their previous record of 58 regular season wins. The Rockets would finish with 65, tied for the 20th best season in NBA history.
Just as the the Rockets were barrelling full speed into the postseason with bad intentions, the Astros were unveiling the city's first World Series banner with designs of a repeat on their mind. Anchored by one of the most dominant pitching rotations the league had ever seen, the Astros set out to do just that.
The Astros found themselves at 20-10 after the first full month thanks to their dominant pitching. It would take time for the bats to wake up but when they did it was full steam ahead.
Led by an MVP caliber performance from third baseman Alex Bregman and aces Justin Verlander and Gerrit Cole, Houston tore through their schedule which to the tune of 103 wins, 37 of which were blowouts (5+ run victory).
Looking back
Making lists like these at the end of a year is always fun, but it seems like things are always left out. Houston sports in 2018 can't just be defined by five moments. And even then, those moments on their own aren't what make them special.
What makes any of these moments truly special is how they were shared and - most importantly - with whom. An adventurer named Christopher McCandless once scribbled into the margins of a book he owned a quote that drives that point home:
"Happiness only real when shared."
Starvation-induced syntax errors aside, he was right. He had spent an entire life wandering and living alone and only realized when it was far too late that his favorite memories - his favorite moments - were the ones that he had shared with others.
Among the moments illustrated above, the most important moments personally where the ones happening simultaneously that these sports helped facilitate.
While the Texans were defeating the Cowboys, I was reconnecting with one of my best friends for the first time in months. He may have shown up late, but he spent $36 on an Uber to get there and didn't think twice about it. It's what friends do.
While the Rockets were winning 65 games, an acquaintance became one of my closest friends. The season started with "Yeah, I guess I'll go with you," and ended with "I just got to Hobby Lobby and bought props and posters for the game, let's do this." Long live Fashion Cop-ela.
While the Astros were closing out their greatest regular season, my old man drove out and caught a game with me for the first time, just me and him. The Astros lost 4-2 that night, but it was my favorite game of the 36 I went to last season.
And while James Harden is currently averaging 35.8 points for the month of December, my friends and I watch and are reminded of one of the biggest Rockets fans any of us knew that was taken from us way too soon. When you lose someone like that, it's not the triple-doubles or the winning streaks that matter. It's the slow Sunday ball games in a half empty ballpark that you watch from the center field bar, or the mid game texts halfway through a season decrying our perimeter shooting that do. Those are the moments that matter. Those are the moments that I'll miss the most.
So let's smile at what happened in 2018, and let's be hopeful for what can happen in 2019. Go Astros, go Rockets, go Texans.
"Another one!"- DJ Khaled
That's the first thing that came to mind when I heard the news of Tytus Howard being shut down for the season because of a knee injury. They've had more injuries on the offensive line this season than Nick Cannon has Father's Day cards. Almost every member of the offensive line has spent time on the injury report. Howard went down in the same game in which Juice Scruggs was finally on the active roster. He missed the first 10 games due to a hamstring injury. The irony of next man up has never been so in your face.

The other thing that came to mind was the soap opera As the World Turns.
Howard had just signed an extension this offseason. So did Laremy Tunsil and Shaq Mason. They drafted Juice Scruggs, and signed a few guys too. Those moves, along with other holdovers, were expected to fill out the depth chart. Then a rash of injuries struck. At one point, only one of the original five guys expected to start was playing! In fact, they beat the Steelers 30-6 with that backup offensive line!

One can't have the expectation of backups to perform as good as the starters. They're professionals and are on an NFL roster for a reason. However, the talent gap is evident. One thing coaching, technique, and preparation can't cover is lack of ability or talent. The Texans have done a good job of navigating the injury minefield this season. While the Howard injury will hurt, I have faith in the guys there still.
As of this writing, the Texans are in the eighth spot in the AFC playoff picture. The Steelers, Browns, and Colts are all in front of them at the fifth through seventh spots respectfully. They've beaten the Steelers already. They play the Browns on Christmas Eve and their starting quarterback is out for the season. The Colts are relying on the ghost of Gardner Minshew to steer their ship into the last game of the season vs. the Texans with a possible playoff trip on the line. The Broncos and Bills are the two teams immediately behind them. They play the Broncos this weekend. Even though they're on a hot streak, this is the same team that got 70 put on them by the Dolphins. The Bills are the old veteran boxer who still has some skill, but is now a stepping stone for up & comers.
To say this team should still make the playoffs would be an understatement in my opinion. I believe in them and what they have going on more than I believe in the teams I listed above. That includes teams around them in the playoff race that aren't on their schedule. The one thing that scares me a little moving forward is the sustainability of this line. When guys get up in age as athletes, it becomes harder to come back from injuries. The injuries also tend to occur more frequently when it's a knee, foot, ankle, shoulder, elbow, or another body part critical to blocking for C.J. Stroud.
I know they just re-signed three of those guys and drafted one they believe can be a starter, but depth and contingency plans are a way of life in the NFL. We see how important depth was this season. Why not plan ahead? Don't be surprised if the Texans spend valuable draft capital on the offensive line. By valuable, I'm talking about first through third or fourth rounders. Those are prime spots to draft quality offensive lineman. Whether day one starters or quality depth, those are the sweet spots. The only guy on the two deep depth chart for this offensive line that wasn't drafted in one of those rounds was George Fant, who was an undrafted rookie free agent. While I highly doubt they spend any significant free agency dollars on the group, I'm not totally ruling it out.
The bottom line is, this team will be okay on the line for the remainder of this season. The only way that doesn't happen, more injuries. Stroud is clearly the franchise guy. Protecting that investment is a top priority. I don't care about a number one receiver, or a stud stable or singular running back if the quarterback won't have time to get them the ball. If the pilot can't fly the plane, you know what happens. So making sure he's happy, healthy, and has a great crew is of the utmost importance.
SportsMap Emails
Are Awesome