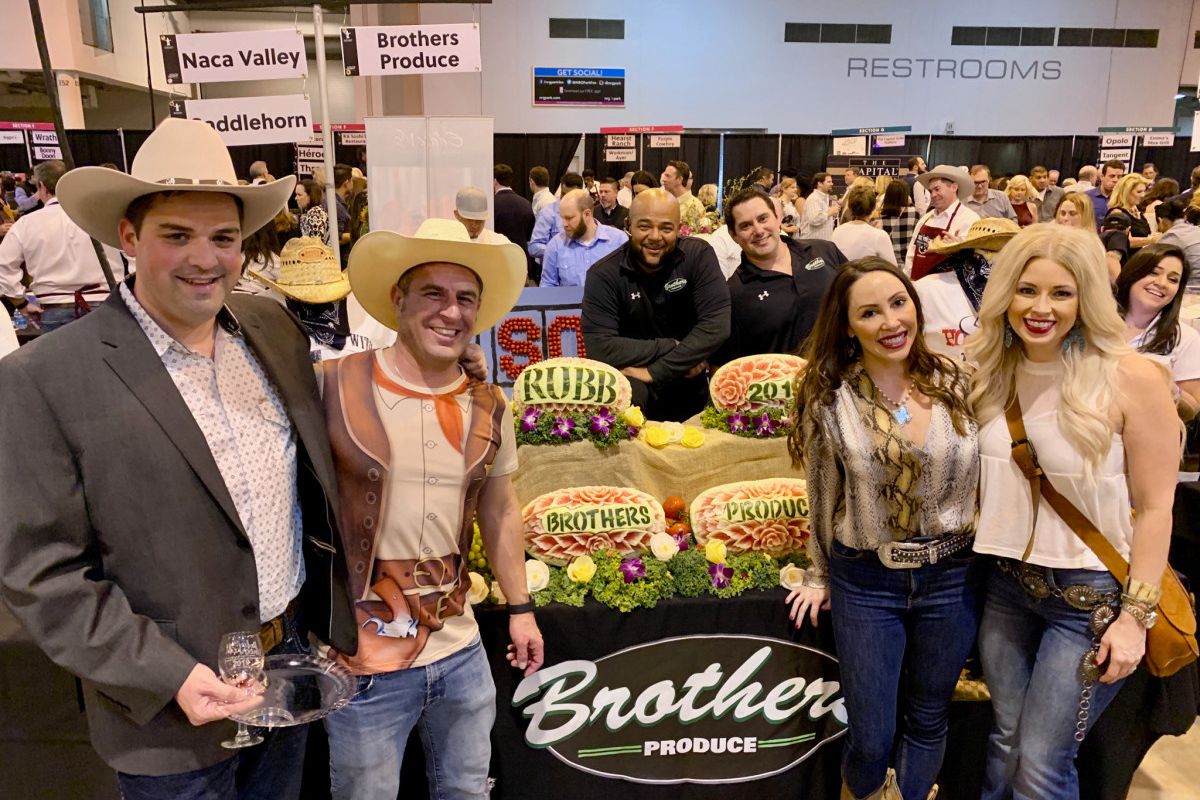 Brothers Produce won for best display. Photo by Eric Sandler
This article originally appeared on CultureMap and was written by Eric Sandler.
Everything old is new again at this year's edition of the Rodeo Uncorked! Best Bites competition. Behind-the-scenes changes in the judging process elevated some winners from previous years back into the spotlight.
Pearland's Grazia Italian Kitchen returned to the winner's circle for the first time since 2016, taking home people's choice for its wagyu ribeye burnt ends over cheddar grits. Fellow Pearland spot Killen's Barbecue, last year's people's choice and entree category winner, took second place in the people's choice for their ultra-popular pork belly burnt ends.
Other winners included Houston classic Ouisie's Table in the entree category and Woodlands restaurant Broken Barrel in the appetizer category (see full list of winners below).
Highlights from among the non-winning entries included burrata and truffle ice cream in a chive waffle cone —a collaboration between Roost chef Kevin Naderi and Sweet Bribery chef Sharon Leonard — homemade hot dogs an everything-seasoned buns from Revival Market, venison puffs from Yauatcha, and shrimp etouffee from Eunice. Unofficial award for the longest line of the night went to Gus's Fried Chicken, who were frying chicken on-site. Special shout out to Tiny's Milk & Cookies for giving away hundreds of their ultra-popular chocolate chip cookies.
Some 40 media judges from radio, TV, print, and online media had the allegedly difficult task of evaluating the entries from the 118 participating restaurants. Instead of two rounds of judging as in previous years, this time restaurants only had one opportunity to make an impression on the panel.
The sold-out event — unofficially the kick-off of Rodeo season ahead of the trail rides and barbecue cook-off — draws 5,000-plus to NRG Center. In addition to food from some of the city's top restaurants, attendees may sample some of the 500 wines that earned medals in the annual International Wine Competition. Thankfully, those who missed the festivities have the opportunity to sample many of the vintages in the Rodeo's wine garden.
Continue reading on CultureMap to see the complete list of winners.
The Houston Texans needed a huge performance from Nico Collins on Sunday after Tank Dell went down with a season-ending injury, and boy did they get it.
Collins finished the day with just under 200 receiving yards, and helped the team secure a huge victory, pushing the team's record to 7-5.
There's been a lot of discussion about whether Collins is a true No. 1 receiver in the NFL, and his numbers indicate he is. Nico is 9th in receiving yards in the NFL (991) with 6 TDs in 11 games.
Certainly, health will be a big factor in determining just how high his upside is. He only played in 10 games in 2022, and this is his first season with over 500 yards.
Outside of health, how Collins responds to all the extra attention he is about to receive due to the loss of Tank Dell, will tell us a lot about if he can perform like a true No. 1 receiver.
2024 will be the final year of Nico's contract and he'll be looking for a big pay day if he can continue this production. Which makes us wonder, should the Texans pay him like a Top 10 receiver if he continues to put up these numbers?
Plus, the big concern with Tank Dell has always been his size, and if he can hold up in the NFL. Now that he's injured for the second time, and out for the season with his latest injury, should the Texans consider adding another receiver in the draft or free agency?
Don't miss the video above as we break it all down!
If you enjoy the videos, subscribe to SportsMapTexans on YouTube.
SportsMap Emails
Are Awesome