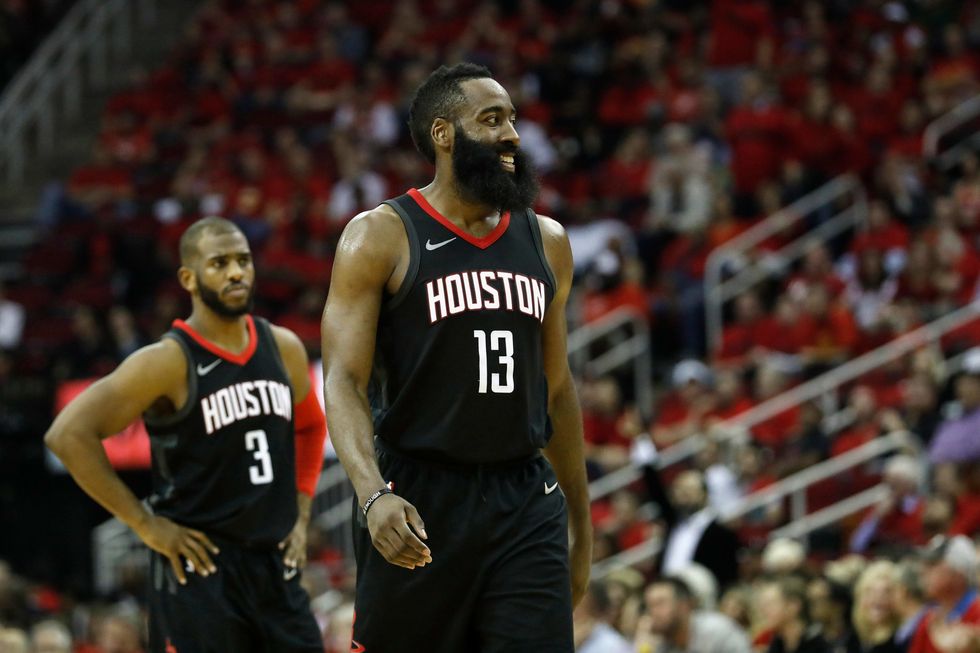 The Chris Paul-James Harden duo has been terrific. Tim Warren/Getty Images
"We are used to long odds. If Golden State makes the odds longer, we might up our risk profile and get even more aggressive. We have something up our sleeve."
--Daryl Morey, June 13, 2017
Eleven months ago, Rockets' General Manager Daryl Morey smugly hinted at what would turn out to be the biggest blockbuster trade in franchise history since Houston dealt for Tracy McGrady in 2004.
Fifteen days later, the Rockets were completing a trade for presumptive Hall of Fame point guard, Chris Paul. Critics claimed that Houston was desperate. They were reaching.
Fast forward now, and the Rockets sit atop the regular season standings ready to host the defending world champion Golden State Warriors on Monday. Houston took the season series against Golden State, but it would be foolish to assume that the Rockets are a lock based on that alone.
This Houston team has been specifically crafted to take down the Warriors and now it's time to see if all of the analytics finally push the Rockets back into a Finals series for the first time in 23 years. Let's take a look at how each team stacks up by position.
Point Guard: Chris Paul vs Stephen Curry
Advantage: Curry
In years past Curry wins the point guard matchup against the Rockets running away, but this a different story. Paul is edged by Curry but only slightly. Paul is more valuable on the defensive end and creates less turnovers, but the offensive edge remains in Curry's favor. Paul's pull up mid range shot will be instrumental in keeping Golden State's defense honest. Limiting Curry's open looks will be imperative to Houston's success
Shooting Guard: James Harden vs Klay Thompson
Advantage: Harden
Thompson is one of the deadlier shooters in the league, but in a straight one-for-one comparison Harden is clearly superior. These two probably won't match up on one another very often throughout the series, as I expect Andre Iguodala to be tasked with the chore of containing Harden. Thompson has the tools to score from all over the court, however, and sleeping on him would be costly. Both players are star talents, but Harden will be the bigger challenge to contain.
Small Forward: Trevor Ariza vs Kevin Durant
Advantage: Durant
It can be argued that Kevin Durant is the best scorer in the league. He's simply too big at his position to be guarded by an average sized wing. Trevor Ariza, while regarded by most as an above average defender, will not be able to guard him on his own. The Rockets switch player assignments on defense a ton, so it will likely come down to how well center Clint Capela can stay in front of him when they're inevitably matched up on certain plays. The best you can hope for is that Ariza plays an efficient game and possibly surprises everyone with one or two hot nights from three point range, but no one is realistically leaning on him to carry us to the next round.
Power Forward: PJ Tucker vs Draymond Green
Advantage: Green
This is going to be my favorite match up to watch. Both players are their teams respective enforcers, and both are absolute bulldogs. Tucker is Houston's version of Green; a fierce defender with range and the ability to bang down low in the paint. But Tucker isn't quite as good as Green. Tucker may be more reliable from range, but Green's inside game, passing ability, and rebounding are far better. I expect a few dustups between these two, but if Tucker isn't hitting from range, Green runs away with this match up.
Center: Clint Capela vs JaVale McGee
Advantage: Capela
Capela is going to be the X-factor in this series. As he performs defensively, so too will the Rockets. I understand that Harden and Paul are integral to the Rockets success this round, but the deciding factor outside of them has been Capela's versatility. JaVale McGee is really the only starter on the Warriors that is simply a role player. The Warriors have been playing small ball as well, so he hasn't even been starting in the playoffs. It will be up to Capela to keep up with their smaller lineup and force them to go bigger if the Rockets plan on evening the field. If Capela struggles, Houston could get shot out of the gym in a hurry.
Bench Advantage: Push
In past seasons, this is where the Warriors would unveil their embarrassment of riches. Golden State has plenty of firepower off the bench, but this season so does Houston. Before, the Rockets' bench was full of young players with potential and a few role players. Now, it houses a group of hungry veterans in Luc Mbah a Moute, Eric Gordon, Gerald Green, and Nene. Houston's bench will need to produce offensively to maintain the tempo while the starters rest in order to have a shot. Eric Gordon will need to be dialed in as well, as he's struggled in the past two series to get going.
Houston has played some great basketball lately, but there have also been moments where they've loosened up with big leads and allowed inferior teams to remain competitive. The time for that has passed, and the Rockets will need to play four quarters of the the best basketball they have to offer in order to pull out this series. I'm personally of the opinion that this matchup is the "de facto" championship because I see these two teams as the best in basketball. But I view Golden State as the better team in these Western Conference Finals. I do see the possibility of a Rockets series victory, don't get me wrong. If I'm forced to make a pick, however, I can't go against the champs until I see someone dethrone them. I believe, however, that the Rockets have the best chance to take them down out of any other team remaining. Either way, I anticipate this series to go down as one of the best in recent history.
Trevor Lawrence went down with an ankle injury in a loss to the Bengals, which puts the Texans within reach. Can they overcome the injury to Tank Dell and win the AFC South?
Watch the video above to learn more!
SportsMap Emails
Are Awesome