Potential Texans 2019 free agent targets
Mar 5, 2019, 7:10 am
About two weeks ago, Fred Faour wrote an article saying the Texans should go all in this offseason, specifically in free agency. His argument for "pushing their chips to the middle of the table" was compelling. It included players to keep (their own free agents), obvious needs, cap impact, and other needs. While I agree with Fred, for the most part, I'm going to attempt to make a more detailed look at potential free agent targets for the Texans this offseason.
RB Tevin Coleman, 6'1 205lbs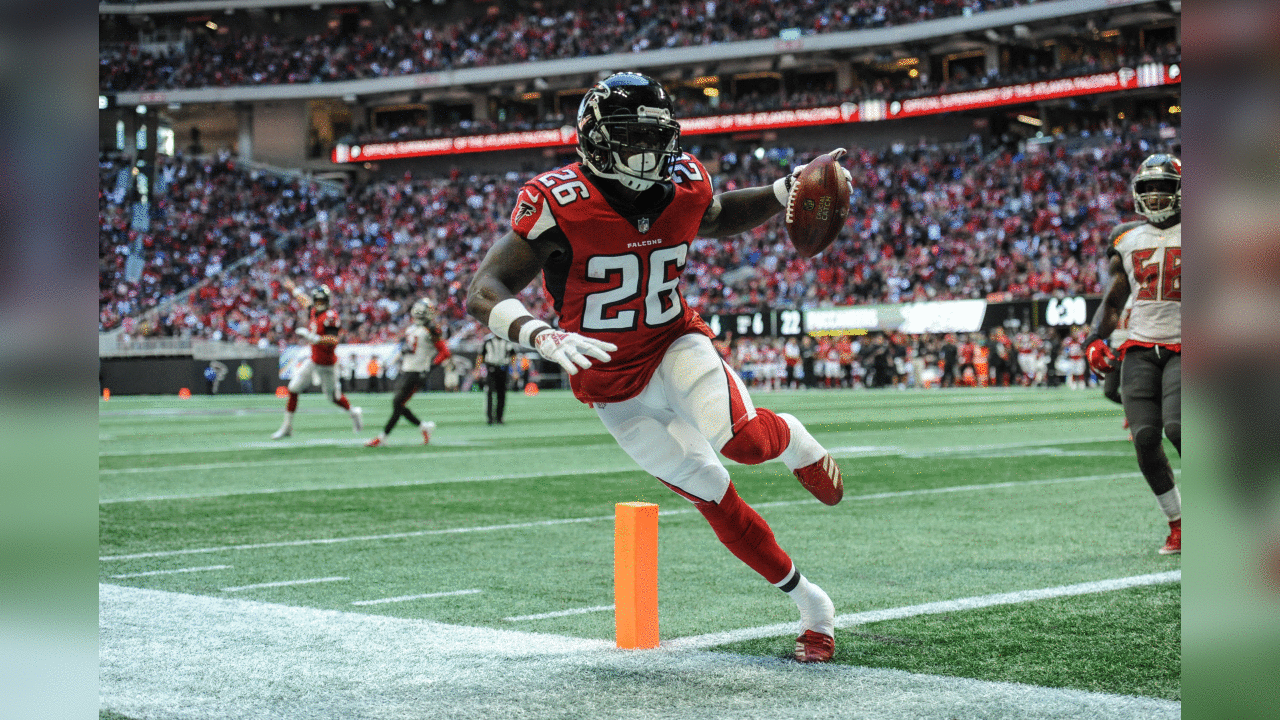 Tevin Coleman
Lynn Bass atlantafalcons.com
All the potential LeVeon Bell talk should be squashed. Bell wants too much money and the Texans (specifically GM Brian Gaine via Cody Stoots) already said Lamar Miller is their starting running back next season, you can't resist the temptation to improve the position. Sure, Lamar Miller has been serviceable, and third year back D'Onta Foreman showed flashes his rookie year, but Foreman hasn't been able to show those flashes after recovering from an Achilles injury and Miller has yet to have more than 1,100 yards or 10 touchdowns in a season. Coleman will command around a $5 million dollar yearly salary which is about $2 million dollars less on average than Miller. Getting younger and more explosive for a cheaper price is a no-brainer.
CB Trevor Williams 5'11 191lbs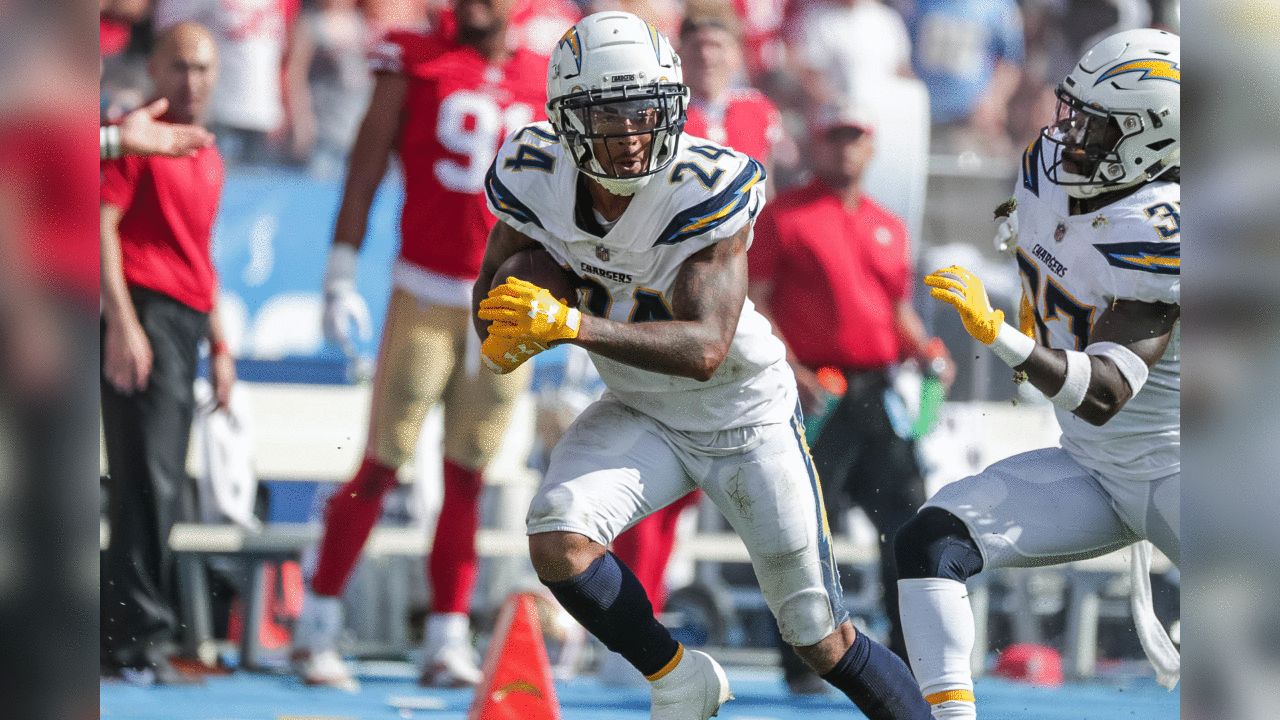 Trevor Williams
chargers.com
Corner is a position of more dire need for the Texans. Considering Kareem Jackson is a 30+ year old unrestricted free agent, Jonathan Joseph is eligible for senior living community, and Kevin Johnson is the new Mr. Glass, the position is in need of bodies, and talent. Lance Zierlein has been saying the Texans are looking for size/speed guys at this position. Williams ran a 4.44 40 yard dash coming out of college. Coming off a season-ending knee injury last season after a standout 2017 season, Williams may be had on the cheap relative to some other corners. I expect him to command somewhere around a $5-8 million dollar salary yearly. He may even sign a relatively low guarantee deal, similar to Tyrann Mathieu's one-year prove-it deal last year.
OT Ja'Wuan James 6'6 312lbs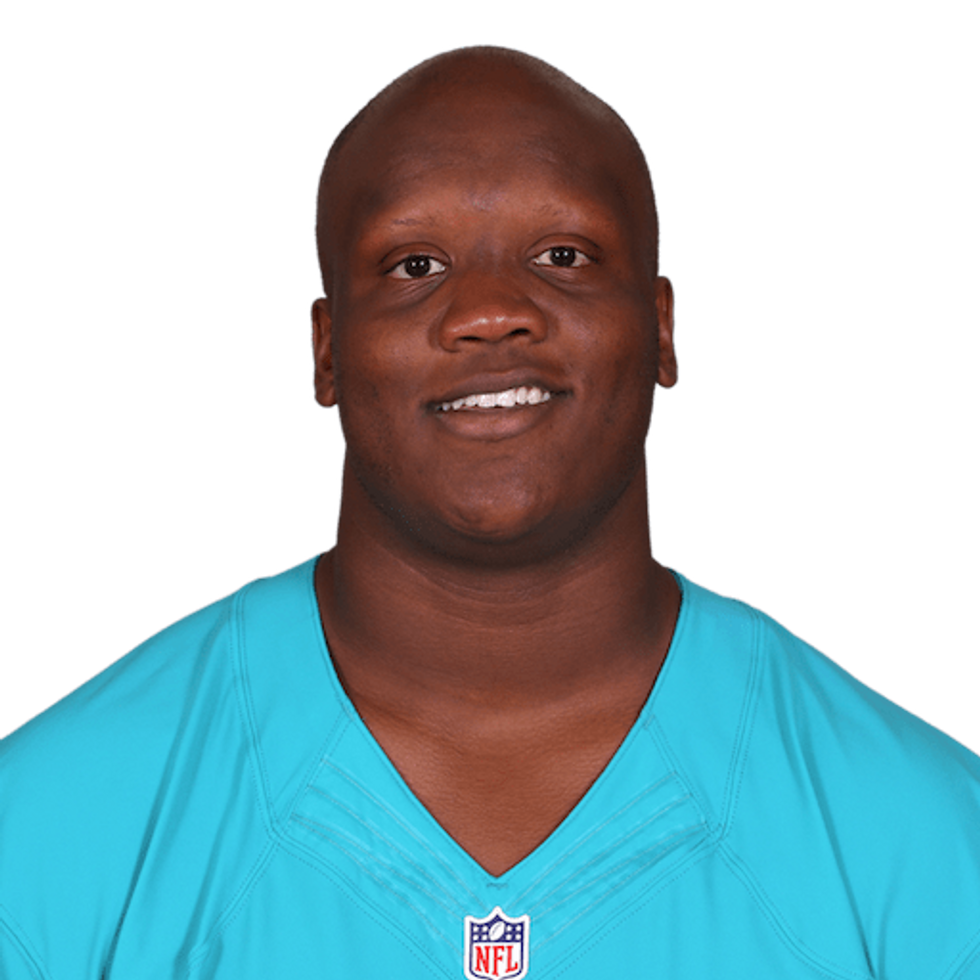 Ja'Wuan James
nfl.com
Offensive line help for this team is more than a necessity. This team needs offensive line help more than most fish need water. James is a former first round pick who's potential former team, the Dolphins, is in disarray. He'll be 27 years old by the time next season starts which is prime age for lineman. He'll likely command upwards of $10 million dollars on average yearly salary, but that can be finagled by structuring the deal to contain more guaranteed money on the first couple years of a four or five year deal. He displayed his toughness by playing through injury last season. That's something you want from guys in the trenches.
WR Phillip Dorsett 5'10 192lbs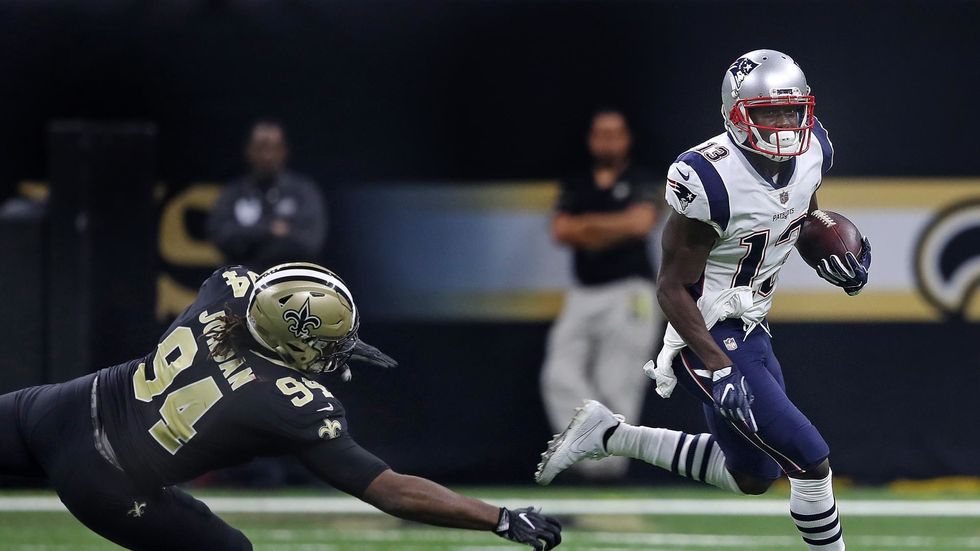 Phillip Dorsett
Jim Davis, Boston Globe
Here's another speed guy that could be a potential gamebreaker for the Texans. With Will Fuller and Keke Coutee proving to be fragile as field stretchers opposite of DeAndre Hopkins, the Texans have a need for speed. Sure, a more proven route runner or slot receiver would be a better option if those guys are all healthy, but why not light a fire under them by signing a potential replacement? He'll come cheap given that he's a one trick pony and there are more proven vets on the market that provide a similar skill set. I'm guessing a $2-3 million dollar yearly average at most.
These are just some of the free agents I've looked at on a preliminary basis for the Texans at positions I believe they need to fill. Honorable mention goes to: QB Tyrod Taylor; WRs Cordalle Patterson, Randall Cobb, and Breshad Perriman; as well as CBs Steven Nelson, Bryce Callahan, and Darqueze Dennard.This isn't a prediction or projection list. It's merely me doing some research and trying to project decent fits for a good price considering the free agent market. I don't care if you agree or disagree. I'm simply trying to spark a discussion or debate based around my opinions. Feel free to contact me and let me know how good or bad you think my suggestions are. And as always, thanks for reading.