GEORGE SPRINGER DEEP DIVE
Re-signing George Springer will come down to these important factors for Astros
Oct 19, 2020, 1:54 pm
The Astros can make the money work. Composite image by Jack Brame.
The Houston Astros lost to the Tampa Bay Rays in game seven of the ALCS, ending their 2020 campaign. Saturday might have been the last time that George Springer (and others) wore an Astros uniform. It's the end of an era of Astros baseball. While Altuve will still be around, Springer's debut in 2014 was the beginning of the end of the dark ages. 2014-2020 was the Altuve/Springer led era of Astros baseball. There are plenty of emotions to get into, but this piece will focus more on the numbers.
Hard Hit % - 42.5%
Barrel % - 12.4%
K % - 17.1%
BB % - 10.8%
Chase % - 23.6%
(All numbers from 2020)
These five numbers are the best all encompassing numbers to get the story of a hitter. Springer is clearly an elite hitter based off of these numbers. His 42.5% Hard Hit % was in the 67th percentile in MLB. He was 1% worse than Manny Machado, 1% better than Cody Bellinger, and essentially tied with J.T. Realmuto in that category.
What Springer did well was finding barrels when he hit the ball hard. His 12.4% barrel % was 31st amongst qualified hitters. He was slightly better than Christian Yelich, and about 1% worse than the aforementioned Realmuto.
Where Springer really separates himself is his ability to do that sort of damage while controlling the strike zone. Springer's K% was 38th amongst qualified hitters. Starling Marte was about 1% better, while Xander Bogaerts was about 1% worse. Those guys are good hitters, but they don't do the type of damage Springer does. Not just that, but those guys don't walk like Springer does either. Marte's BB% is about half of Springer's 10%.
Essentially, George does a lot of damage on the ball while not expanding the zone. He forces pitchers to come to him.
Fans and media around the country looked at one surface level statistic to claim that Springer had begun regressing or that he couldn't hit without the aid of technology. While it's true that his .265 batting average was almost a .030 point drop from 2019, it was still close to his career batting average of .270. His .359 OBP? Two points off his career mark. His .540 SLG? .049 better than his career mark. George Springer had a great season.
Numbers suggest that he got unlucky too, and his batted ball quality deserved better numbers. His .259 BABIP was .047 below his career mark of .306. In 2019, his BABIP was .305. Springer had a xBA of .294, which was in the 92nd percentile in MLB. His xBA in 2020 was actually better than the .288 number he put up in 2019. Springer's .570 xSLG was also .030 points better than his actual slugging percentage. There was more in the tank.
The other factor to remember is that it was only a 60 game season. Springer really struggled with his timing out of the gate. While it was only a week's worth of July games, Springer batted .120/.258/.240 in 31 July Plate Appearances. Springer's average was below the .200 mark as late as September 2nd. It required a torrid month of September to get his numbers in line with his career marks by the end of the regular season. In a shortened season, the peaks and valleys are amplified, and Springer's early season valley was more of a canyon.
How did Springer turn around his performance? Well, he got back to his old self. In July and early August, Springer was crouched down more in his legs, he had more of a forward body lean, and his timing was late.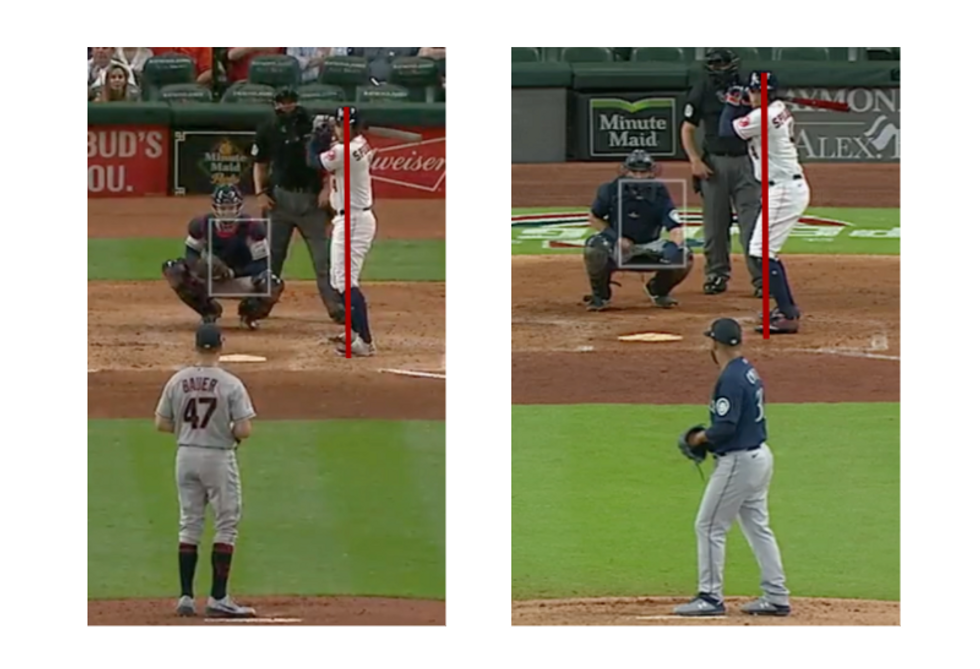 Image via: GraysonSkweres/Twitter/Screenshot
On the left is Springer from early 2019, on the right is early 2020. You can see the difference in body posture. Now, take a look at how Springer looked in the postseason.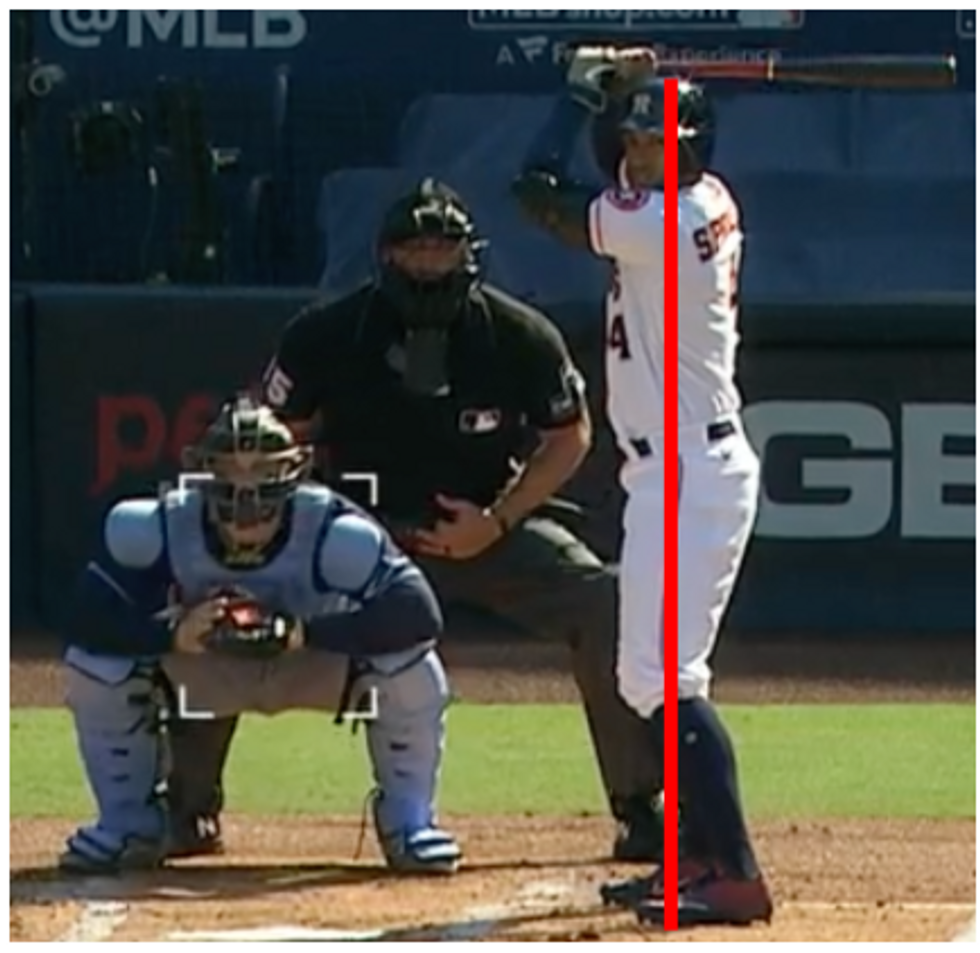 Image via: GraysonSkweres/Twitter/Screenshot
He got back to his old self. He stood more upright, started his swing earlier, and hit with more rhythm.

The first GIF is his early season homer off of Nestor Cortes. Great result, but notice how rushed his swing is just to get to an 82 MPH hanger in the middle of the zone. In the second GIF, Springer turns and burns on a 95 MPH heater, and he does it by starting his swing earlier.
Is it worth bringing Springer back?

The closest case to Springer is Angels outfielder Justin Upton. Upton signed a 5-year, $106M extension with the Los Angeles Angels entering his age-30 season in 2017. Upton, at the time, and Springer now have a lot of statistical similarities.
| | | | | | | |
| --- | --- | --- | --- | --- | --- | --- |
| PLAYER | .AVG | .OBP | .SLG | .OPS | wRC+ | Sprint Speed |
| Upton ('07-'17) | .269 | .348 | .479 | .827 | 121 | 28.3 ft/s (only '17) |
| Springer ('14-'20) | .270 | .361 | .491 | .852 | 134 | 28.0 ft/s (only '20) |

Those are fairly similar players. Springer is clearly the better hitter by a touch, but Upton was a year younger. They're similar runners. Springer also has postseason success that Upton didn't (and still doesn't) have. Springer should clearly make more than Upton's $21.2M AAV, but it shouldn't be massively above that number. Five-years is probably the right length and time frame as well. Call it $25M AAV on the low end, and $28M AAV on the high end.

Where would those numbers put him amongst MLB outfielders? According to Spotrac, Springer is currently the 8th highest paid outfielder, right behind Upton. $25M would make him the 6th highest paid outfielder, right behind Bryce Harper and in front of Jason Heyward. $28M would make him the third highest paid outfielder, behind a couple of guys named Mike Trout and Mookie Betts, and right in front of Yoenis Cespedes' deal with the Mets (which also expires this year).
Can the Astros afford to pay that? Absolutely. Keep in mind, Springer already makes $21M. A $25M deal is only a $4M raise, whereas $28M would be a $7M raise. With Josh Reddick ($13M), Michael Brantley ($15M), and Brad Peacock ($4M) coming off the books, the Astros could give Springer that $7M raise and still be $25M shy of last year's payroll (not counting arbitration raises). The Astros could also non-tender Roberto Osuna ($10M) and Chris Devenski ($2M) to free up more spending room. Yuli Gurriel is taking a $1.7M pay cut next year. Lastly, insurance will cover a portion of Verlander's $33M salary, and 2021 is the last year that Greinke and Verlander will be on the books, representing about $55M in payroll obligations hitting the market.
The Astros can absolutely afford Springer. It is a matter of Springer wanting to stay in Houston, and the front office regime wanting Springer back. If he leaves in free agency, the Astros will spend big on a different bat, like Marcell Ozuna or J.T. Realmuto.