Here's why George Springer has struggled to start the year
Jul 31, 2020, 3:50 pm
Photo by Getty Images. Composite image by Brandon Strange.
Dusty Baker attempted to give the struggling George Springer the day off in Wednesday's Dodgers series finale, citing a sore knee from his collision with the center field wall during the Mariners series to begin the season. However, Springer was called into duty late, and he didn't show any signs of busting out of his early season rut.
Springer hasn't looked like himself to start the year, going just 1-for-21 through the first six games of the season, striking out six times and walking thrice. His one hit does happen to be a loud home run off the train tracks, but most of the AB's have ended in weak flyouts, rollover groundouts, or strikeouts.
So, why the struggles? Well, it isn't his knee.
First, George Springer's stance is a little different this year compared to last year. It is just a slight difference visually, but as a hitter it would feel significantly different.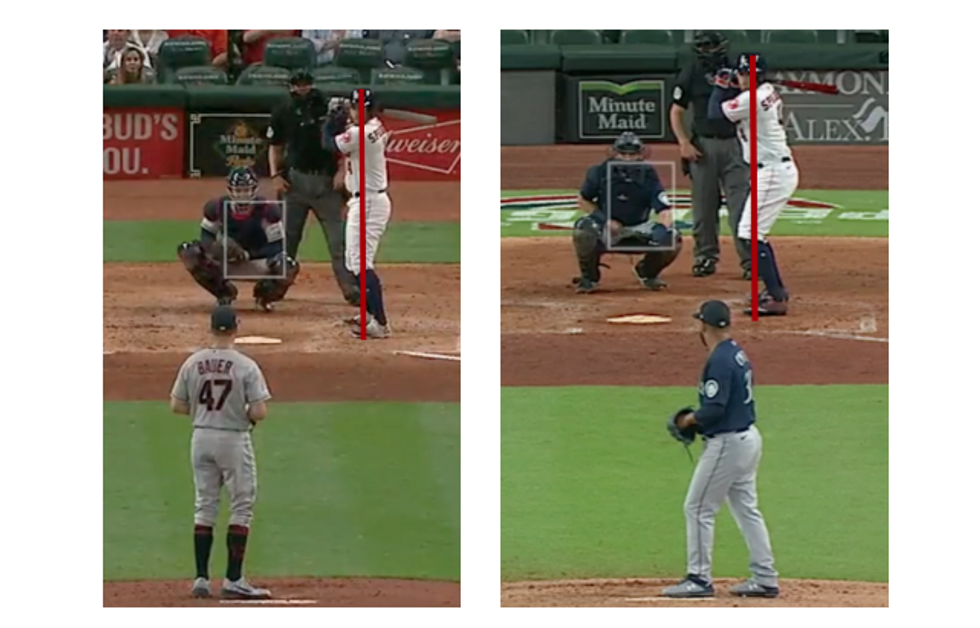 Image via: Grayson Skweres
The left-hand side is Springer's stance in 2019, while the right-hand side is his stance in 2020. Springer has squatted down more in his legs and changed his body posture. His torso has a more forward lean over home plate in 2020 than it did in 2019. Why do this? Simplification. Springer's body in 2019 eventually gets to that same spot that he's in right now in 2020. He's cutting out steps and getting them done before the pitcher even starts his delivery. The forward body lean is also a "good" thing. A fastball comes downhill at an 8-12 degree angle. Some people will say that means that a good swing plane should be 8-12 degrees uphill. While that can be argued, it is inarguable that good contact is always made on a slight uphill plane. The forward lean creates a pendulum effect, in which the swing gets uphill without the batter having to think about it or force his body into that position.

If these changes are good, then why the struggles? Timing.
An old baseball saying is that "hitting is timing and pitching is disrupting timing." A hitter with poor timing isn't much of a hitter at all. Right now, Springer's timing is way off.
Remember how Springer cut out steps, opting to just get them out of the way before the pitcher even starts his delivery? Hitters will make the mistake of thinking that less steps and simplification means that they have more time. Unfortunately, it doesn't work that way. It seems that Springer feels that he has more time than he really does. He's starting his swing too late, which means he's getting his front foot down too late, which means he has to rush his hands to get to the ball. Rushed hands usually means the hips aren't being used efficiently either. Take a look at this swing off of Taijuan Walker during the second game of the season.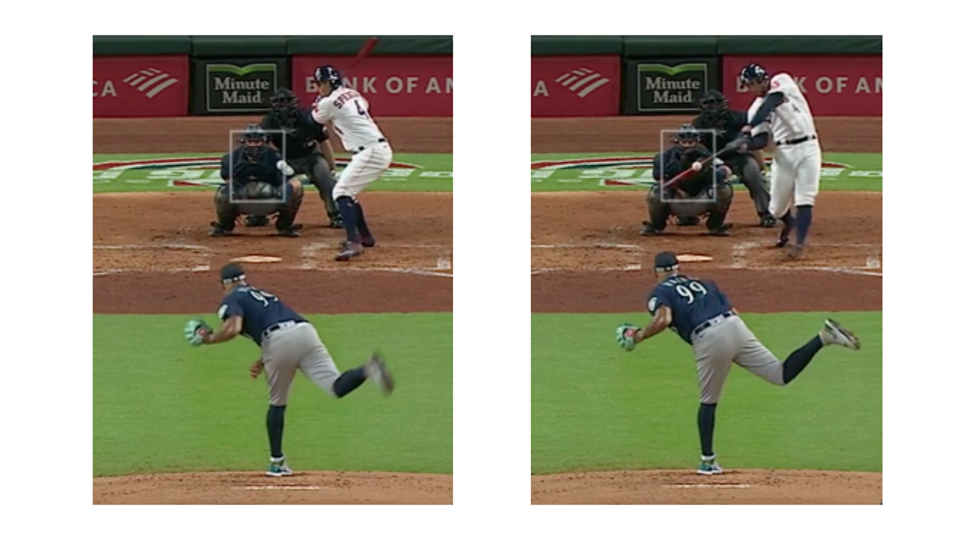 Image via: Grayson Skweres
The left is a screenshot of Springer at foot plant. The baseball is already over halfway to home plate (it is on the catcher's glove shoulder next to the Mariner logo sleeve patch). This leads to the result on the right, where an extremely hittable 89 MPH fastball jams Springer and gets in on his hands. The result?
Now, Springer did hit a homer later in this game. Did his timing magically fix for one at-bat? No.
Springer's foot still gets down pretty late, but Cortes does Springer a favor and throws an 82 MPH changeup down the middle. The 7 MPH difference is enough to allow Springer to catch up and put it in the Crawford Boxes. This is a common theme in 2020. Springer's two hardest hit balls, which are that home run and a warning track lineout off of Yohan Ramirez, are off of pitches 84 MPH or slower. See for yourself…
Now, remember how the timing leads to other problems as well? Namely, throwing his hips out of whack? When Springer is going well his body is stacked, he's in balance, and he's driving balls not just to the pull-side, but to the opposite field as well. He's yet to hit a ball to the opposite field in 2020, and this is why.

This is a 97 MPH fastball off the plate away, but Springer still fouls it off to the pull-side. Since he's late, he rushes his hands, which throws his hips out of line, which gives him a poor hand path, which gets him "around" that ball despite it being a good four inches off the plate.
What does Springer look like when he's going well? He looks on time…
Notice how much earlier his front foot gets down. His hands aren't rushing forward the second his foot hits the ground. He still has time to read the pitch and then throw his hands.

Below is Springer at foot plant on his homer off of Bauer in early 2019. The ball has barely left Bauer's hand (it is by Springer's sock on his lead foot in the frame). Springer holds his hands back for a tick or two longer, and then unloads on the ball, launching it to the train tracks.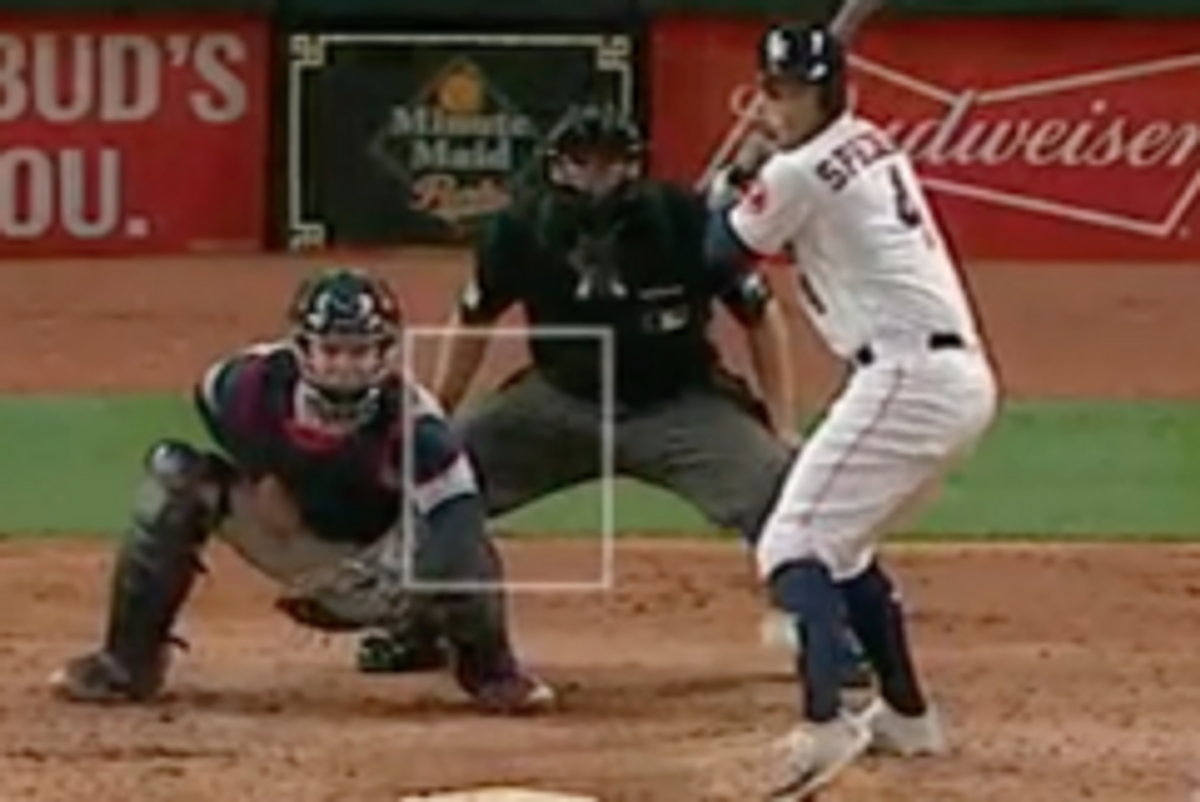 Image via: Grayson Skweres
You could claim that this pitch is slow as well, just like his hard hit balls so far this year, but it's clear that Springer gets his foot down earlier throughout the entirety of 2019. Check out this opposite field home run off of Los Angeles Angels relief pitcher Justin Anderson.

Springer's foot gets down super early. He holds his hands back, hits the 94 MPH fastball where it's pitched, and trots around the bases with an opposite field home run.

Luckily, timing is a relatively easy fix, and Springer has all of the tools in the world to help him fix his problems. Once he fixes his timing, Astros fans will see the Springer of old.