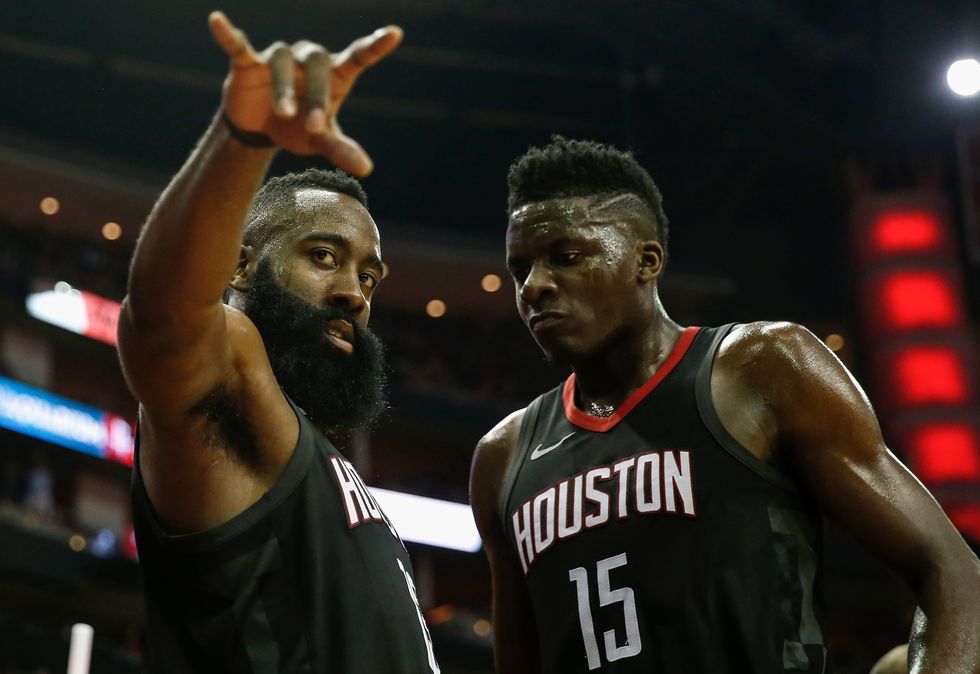 James Harden (left) and Clint Capela had good weeks. Tim Warner/Getty Images
The Rockets headed into a difficult week five with a head of steam amid off court distractions involving forward Carmelo Anthony. Houston dominated all three matchups emphatically, winning by double digits in each. The Rockets are now 8-7 after starting the season 1-5. They are currently fourth in the Southwest Division and tenth in the Western Conference.
Game 13: Rockets @ Denver Nuggets (W, 109-99)
After crushing the Pacers two days prior, the Rockets traveled to Denver to take on a suddenly beatable Nuggets team anchored by stud center Nikola Jokic, and upstart guards Gary Harris and Jamal Murray. To this point, Houston was either getting blown out or blowing out opposing teams practically all season, which made this one of the most exciting games of the season. The Rockets and Nuggets traded blows all four quarters, with neither allowing the other to pull away until the very end. James Harden would turn on the jets late in the fourth, however, and after 18 lead changes Harden's surge would push Houston ahead for good. Complimented by a surprising 16-point outing from James Ennis, Houston's big three finished the night each having scored 20 or more points, with Harden, Chris Paul, and Clint Capela scoring 22, 21, and 24 respectively.
Game fourteen: Rockets vs Golden State Warriors (W, 107-86)
Houston was back at the Toyota Center Thursday night to face off against the defending champion Golden State Warriors for the first time since being eliminated by them in game seven of last season's Western Conference Finals. The Warriors took the court minus all-world point guard Stephen Curry, and his shooting prowess was sorely missed. The Rockets played angry all night and by the end of the first quarter they had seized a lead that they would never relinquish. Golden State was cold all night from 3-point range, going 4-of-18, and Houston capitalized on the missed shots on the opposite end. The Rockets lead ballooned to 32 at one point in the fourth before the dogs were called off and the bench was sent in. Harden led the team with 27 points, while an Eric Gordon sighting was spotted chipping in a promising 17 off the bench. James Ennis added 19 as well.
Game 15: Rockets vs Sacramento Kings (W, 132-112)
It's important to be said that these aren't the the bad Kings anymore. There is a very realistic chance that this Kings team could finally challenge for a playoff spot this season, which is something they haven't done in 12 seasons. That being said, it is very difficult to take on a Rockets team fresh off of a rout against the defending champs. The headlining narrative was how the young Kings' league-leading pace of play would fare against Houston's more methodical, pound the ball approach. Houston's style would prevail and after leading 71-59 at the half, Houston would run away with another victory. Harden dominated with 34 points and 8 assists, followed by Paul's 24 points and 9 assists. Capela was unstoppable as well with 23 points, 4 blocks, and 16 rebounds.
Looking ahead
After a tough week against playoff caliber competition, the Rockets schedule smooths out considerably with two games against the Detroit Pistons on Wednesday and Friday, followed by a Saturday matchup against the Cleveland Cavaliers. After sweeping the Nuggets, Warriors, and Kings in the same week as convincingly as they did, I do not envision the Rockets struggling against the 7-6 Pistons or 2-12 Cavaliers. I could see another sweep this week, with the possibility of dropping one against the Pistons.
The Houston Astros and catcher Victor Caratini agreed Tuesday to a $12 million, two-year contract, a person familiar with the deal told The Associated Press.
The person spoke on condition of anonymity because the agreement was subject to a successful physical and had not been announced. Caratini can earn additional performance bonuses.
The 30-year-old Caratini spent the last two seasons with the Milwaukee Brewers and hit .259 with seven homers and 25 RBIs in 62 games this year as a backup to William Contreras.
Caratini is a .236 career hitter with 38 homers and 171 RBIs in seven major league seasons with the Chicago Cubs (2017-20), San Diego (2021) and Milwaukee (2022-23).
Yainer Díaz is expected to the Astros' starting catcher next year, and the agreement with Caratini could mean Houston won't re-sign Martín Maldonado. The 37-year-old has been with the Astros since 2019.
"I've been talking to Yainer once a week," new manager Joe Espada said Monday. "We're going to do some things in January leading into spring training to prep him for spring training. I don't want us to get to spring training and start from scratch. So this is going to be starting right now having conversations about our staff, how to attack certain lineups, things that we know that we can help him with, receiving, throwing."
Based on the value of the contract, it looks like the Astros will be going over the CBT. Which means more deals could be coming, in theory.
Astros will definitely be going over the CBT with a $6M AAV for Caratini. Since that's the case, time to get Jordan Hicks https://t.co/AYBgMexACl
— Michael Schwab (@michaelschwab13) December 6, 2023
Here's a look at his ability to frame pitches.
Victor Caratini was ranked 8th in MLB in "Catcher Framing Runs" in 2023.

CFR is a framing stat that converts strikes to runs saved.

Caratini's arm isn't the strongest though. pic.twitter.com/YD7bYespPv
— Michael Schwab (@michaelschwab13) December 6, 2023
SportsMap Emails
Are Awesome