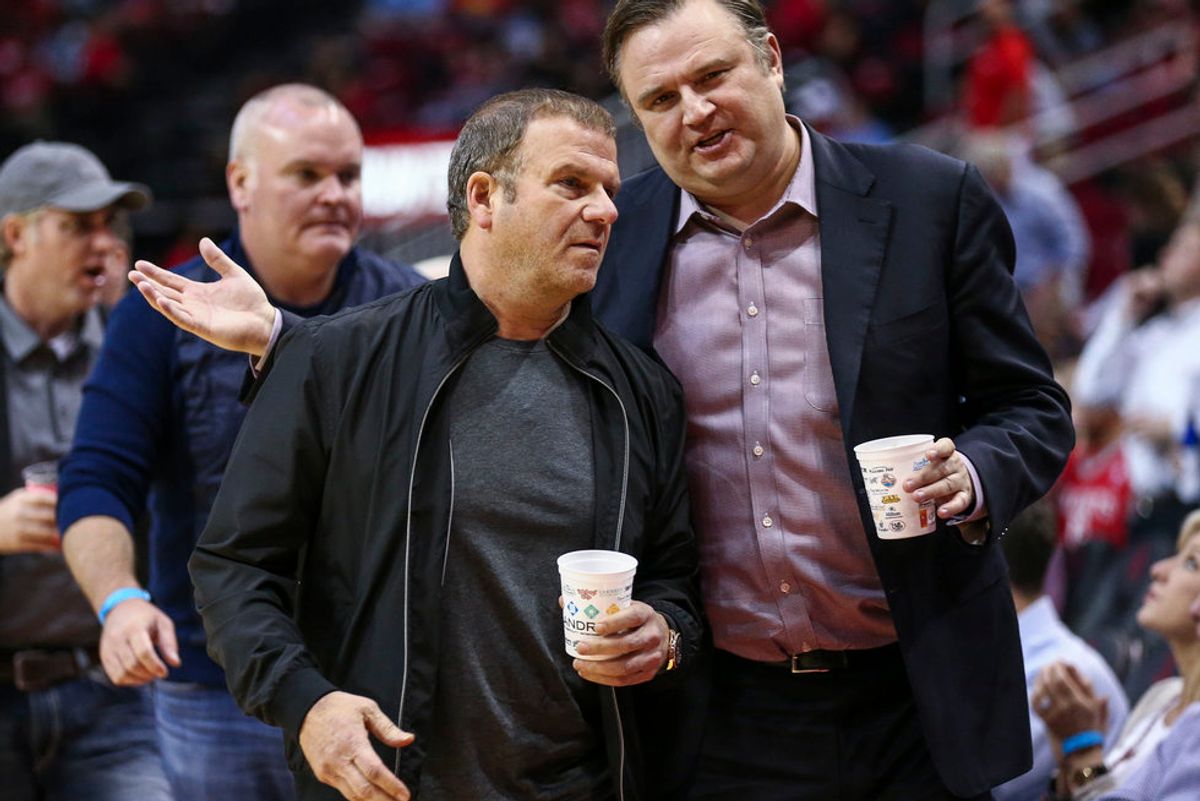 Troy Taormina-USA TODAY Sports
The Rockets are an organization in a bit of turmoil right now. They've tried and failed the last few years to defeat the Warriors. The trade for Chris Paul and experiment of pairing him with James Harden appears to have fallen apart given the rumors of tension between the two. General manager Daryl Morey has been dangling every player that doesn't wear a number 13 jersey in the trade market. He also did a press tour to downplay the CP3/Harden alleged beef. Couple that with the fact that the Rockets are known for sending reports to the league on their losses and complaining when things don't go their way
They lived up to said reputation after Harden came in second to Giannis Antetokounmpo for league MVP this year.The team's verified Twitter account sent a tweet expressing their disappointment with Harden not winning. It amounted to reasons why Harden should've won instead of The Greek Freak. This was yet another chapter in why people think the Rockets are the annoying little brother of the NBA. It got me to thinking: what if the Rockets were a person and handled real life situations the way they handle rejection? Here's what I came up with:

A cheating partner/spouse
Look, I'm not even that mad. Over the year we've been together, you've gained too much weight, your cooking is terrible now, and you're about as clean as pig sty. Besides, I've been in talks with several other suitors to trade you in for the 2020 version and a future first rounder.
Getting exposed after sliding into Tim Donaghy's DMs
I never slid into Donaghy's DMs! This is ridiculous! I was clearly hacked. I would never DM someone like this! (sees screenshots of the DMs) This is Adam Silver's fault. Had he simply reversed the decision of the game after we submitted evidence of impropriety, we wouldn't have been this desperate to allegedly DM Donaghy. I only did so as a fact-finding mission to get his thoughts on officiating after our unfortunate game 7 loos to the Warriors in the 2018 Western Conference Finals because there's clearly an agenda in favor of the Warriors.
Getting a disconnect notice for the electric bill
Guys, can you work with me here? I'm trying to deal with the mortgage, home insurance, several car payments, and all the other bills. I tell you what, I'll give you half of the bill now and 10% of the remaining balance every other month over the course of ten months along with the bill due each month.
Car shopping
I see the sticker price and I know the deal you said you can give me as far as a discount is concerned. What I want to know is are you willing to take this 1978 Datsun pickup, the 1966 Mustang, $300 dollars, and a monthly payment of $124.62 for 120 months for this 2019 sports car? With some work on the rust spots, a new interior, new seats, and a new engine, the pickup and Mustang will be worth more because they're classics! I'm giving you a steal of a deal here!

As you can see, I think the way this organization handles things is a complete joke. From the way they make excuses for screwups, to the way they coddle players, even the way they go about making trades. The Rockets are like the entitled kid who grew up privileged and believes they should always get their way no matter what. They feel as though they're the smartest person in every room (Morey) and can out-think any and everyone. That is until they've backed themselves into a corner (Chris Paul and Clint Capela contracts) and can't find a way out. The constant excuse making, placing blame, and crying over spilled milk has gotten really old. It's time for them to put on their big boy underwear and get to work. Accept your successes and failures with the same energy. Some things you won't be able to change, and the things you can, do so positively. Here's to hoping the Rockets will grow up and finally act their age instead of pissing the bed and blaming their parents.
The Houston Astros were in need of some serious help in the bullpen with Phil Maton, Hector Neris, and Ryne Stanek likely leaving this year in free agency.
While some fans were getting concerned about the quiet offseason, the club has made two moves this week to get the ball rolling.
First the team signed Victor Caratini to be the backup catcher, and now they have added some relief pitching.
The Astros traded pitching prospect Carlos Mateo to the Royals for RHP pitcher Dylan Coleman.
Coleman appeared in 96 games in the past three seasons for KC, including 68 games in 2022 and 23 games last season. He has a career 3.88 ERA and 1.37 WHIP. He's fastball (95 mph), slider (81) and cutter (90) and walked 57 batters and struck out 99 in 92 2/3 innings.
— Brian McTaggart (@brianmctaggart) December 6, 2023
Coleman is under club control for the next several years, and made just over $700,000 in 2022. With the Astros right up against the tax threshold, this is a good way to add to the bullpen without having to hand out a large contract.
The Royals had a tough roster decision to make with Coleman, and the Astros made the decision easy for them by making the trade.
Something to note
There's a reason Kansas City wasn't determined to protect Coleman from the Rule 5 Draft. Despite his decent numbers over the last three seasons, 2023 was a rough year for him, posting an 8.84 ERA over 23 games.
In fact, Coleman pitched more innings (30.2) for the Royals AAA team than he did for the big league club (18.1) in 2023.
Hopefully, the Astros can get him back on track this season with some help from their highly touted player development program.
You can watch some of his 2022 highlights above.
SportsMap Emails
Are Awesome