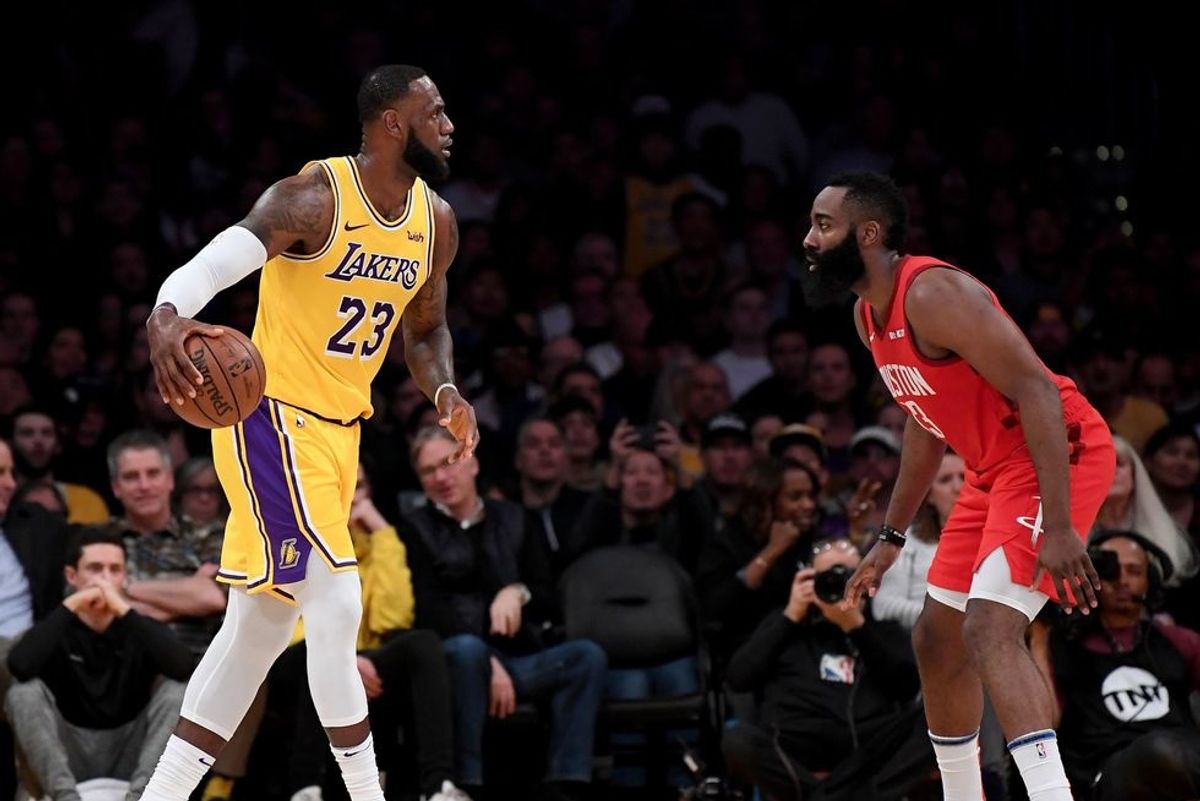 Photo by Harry How/Getty Images
While Major League Baseball and its players jerk around with regard to coming to terms that yield a 2020 season, the NBA path back to the hardwood is firmed up. An on or about July 31 resumption with a postseason running as late as October 12 has risks and all kinds of logistics to navigate, but we're almost certainly getting there.
When we last saw the Rockets, they were at 40-24 in the sixth seed slot in the Western Conference. They can move up (or down) as one of the 22 of the 30 NBA teams that will gather in Orlando for a partial schedule conclusion to the regular season before it's on to the playoffs. The basic outline for the schedule is teams will pick up where they left off when the season was shut down and play the next eight games on the schedule as of March 12, minus games against the eight teams not heading to Florida. That should make the Rockets' first game back against the Lakers. Their other opponents would be the Trail Blazers, Kings, Mavericks, Bucks, Pacers, 76ers, and Raptors.
James Harden has evidently dropped somewhere from 10 to 20 pounds and is said to be fitter than he's ever been. Russell Westbrook is always in peak physical condition. Could make for a fun couple of months. Or the Rockets could get bounced in the first round.
MLB
As for baseball, the two parties seem as close together on a deal as Muggsy Bogues and George Muresan are close on the all-time NBA height chart. The owners offered an 82 game season with huge additional player pay cuts. The players responded with a 114 game season and no additional cuts. Both proposals were wastes of time. The owners' latest proposal is no further pay cuts, but for only a 50 game schedule. Rome is burning and we have dueling Neros fiddling away.
NFL
I am a white man who cannot possibly on the same level as a black man (or woman) feel or comprehend the struggle, pain, and anger that comes with facing endemic racism both overt and covert. If you are white like New Orleans Saints' quarterback and icon Drew Brees, you can't either. In the ongoing aftermath of the murder of George Floyd, Brees struck another nerve Wednesday with his remarks iterating his position about what he considers "disrespecting the flag." Outrage response was swift including from several of Brees's teammates. His comments were not evil. Brees can feel how he wants about the flag/anthem, as can any person. Brees's remarks were insensitive and as he put it "missed the mark" and "lacked awareness and any type of compassion or empathy." His Thursday apology was comprehensive and reads fully genuine, and was accepted by every teammate who commented. If lasting positives are to emerge from this sorry episode in American history, millions of white Americans are going to have to deal with (maybe embrace is a better word) uncomfortable conversations. I fear the unfortunate reality through this is that most of those who most need to change and for starters really listen, are least likely to have any interest in doing so.
Citing the flag as a symbol of unity is a nice notion. Realities supersede symbols and notions. Those who pour out disgust at anything short of complete oath and fealty to the flag and national anthem would be well served to remember or learn that the Star-Spangled Banner was written in 1814. The "land of the free" didn't mean a damn thing to the slaves of that time. The Star-Spangled banner officially became our national anthem in 1931. 33 years before the Civil Rights Act of 1964.
Lenny Dykstra in the news again
Lenny Dykstra was one heck of a baseball player for several years. His 1993 season with the Phillies is one of the greatest ever put up by a leadoff hitter. As tremendous as he was on the field for significant stretches, off the field Dykstra has been as big a slimeball of a human being. He's done time in federal prison for money laundering and fraud, and has a long list of character stains on his record. Dykstra sued former Mets teammate Ron Darling for defamation and libel over information about Dykstra included in Darling's autobiography. Dykstra's suit was dismissed last Friday by a judge who said Dykstra's "reputation for unsportsmanlike conduct and bigotry is already so tarnished that it cannot be further injured." Beautiful.
Buzzer Beaters:
1. There sure have been a lot of NASCAR races lately. At least gas is cheap these days. 2. Probably not as interesting as the Lance Armstrong doc, but I'm in for the Bruce Lee 30 for 30 Sunday night. 3. Greatest sports Bruces happen to all be football: Bronze-Isaac Silver-Matthews Gold-Smith
"Another one!"- DJ Khaled
That's the first thing that came to mind when I heard the news of Tytus Howard being shut down for the season because of a knee injury. They've had more injuries on the offensive line this season than Nick Cannon has Father's Day cards. Almost every member of the offensive line has spent time on the injury report. Howard went down in the same game in which Juice Scruggs was finally on the active roster. He missed the first 10 games due to a hamstring injury. The irony of next man up has never been so in your face.

The other thing that came to mind was the soap opera As the World Turns.
Howard had just signed an extension this offseason. So did Laremy Tunsil and Shaq Mason. They drafted Juice Scruggs, and signed a few guys too. Those moves, along with other holdovers, were expected to fill out the depth chart. Then a rash of injuries struck. At one point, only one of the original five guys expected to start was playing! In fact, they beat the Steelers 30-6 with that backup offensive line!

One can't have the expectation of backups to perform as good as the starters. They're professionals and are on an NFL roster for a reason. However, the talent gap is evident. One thing coaching, technique, and preparation can't cover is lack of ability or talent. The Texans have done a good job of navigating the injury minefield this season. While the Howard injury will hurt, I have faith in the guys there still.
As of this writing, the Texans are in the eighth spot in the AFC playoff picture. The Steelers, Browns, and Colts are all in front of them at the fifth through seventh spots respectfully. They've beaten the Steelers already. They play the Browns on Christmas Eve and their starting quarterback is out for the season. The Colts are relying on the ghost of Gardner Minshew to steer their ship into the last game of the season vs. the Texans with a possible playoff trip on the line. The Broncos and Bills are the two teams immediately behind them. They play the Broncos this weekend. Even though they're on a hot streak, this is the same team that got 70 put on them by the Dolphins. The Bills are the old veteran boxer who still has some skill, but is now a stepping stone for up & comers.
To say this team should still make the playoffs would be an understatement in my opinion. I believe in them and what they have going on more than I believe in the teams I listed above. That includes teams around them in the playoff race that aren't on their schedule. The one thing that scares me a little moving forward is the sustainability of this line. When guys get up in age as athletes, it becomes harder to come back from injuries. The injuries also tend to occur more frequently when it's a knee, foot, ankle, shoulder, elbow, or another body part critical to blocking for C.J. Stroud.
I know they just re-signed three of those guys and drafted one they believe can be a starter, but depth and contingency plans are a way of life in the NFL. We see how important depth was this season. Why not plan ahead? Don't be surprised if the Texans spend valuable draft capital on the offensive line. By valuable, I'm talking about first through third or fourth rounders. Those are prime spots to draft quality offensive lineman. Whether day one starters or quality depth, those are the sweet spots. The only guy on the two deep depth chart for this offensive line that wasn't drafted in one of those rounds was George Fant, who was an undrafted rookie free agent. While I highly doubt they spend any significant free agency dollars on the group, I'm not totally ruling it out.
The bottom line is, this team will be okay on the line for the remainder of this season. The only way that doesn't happen, more injuries. Stroud is clearly the franchise guy. Protecting that investment is a top priority. I don't care about a number one receiver, or a stud stable or singular running back if the quarterback won't have time to get them the ball. If the pilot can't fly the plane, you know what happens. So making sure he's happy, healthy, and has a great crew is of the utmost importance.
SportsMap Emails
Are Awesome