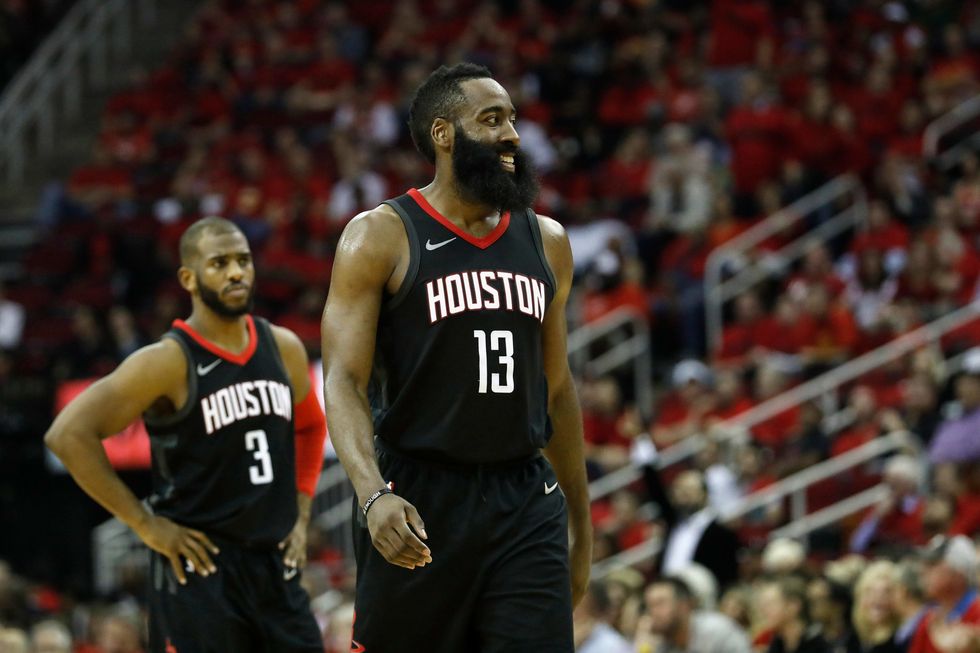 James Harden's return has been big for the Rockets. Tim Warren/Getty Images
After starting the season 1-5, the Houston Rockets have now won three games in a row, including Monday night's 98-94 nail-biter against the Indiana Pacers. It took some time and important guys returning from injury, but the Rockets are finally starting to look like a decent basketball team again. They still aren't near the team they were last year, but with how bad they looked this time last week, "decent" is a marked improvement.
It should be noted that two of Houston's three consecutive victories came against the Brooklyn Nets and the Chicago Bulls - two teams poised to enter the lottery at the end of the year. The Rockets still have a losing record at 4-5 with a -4.8 point differential, but they're headed in the right direction and that's all head coach Mike D'Antoni could ask for.
Getting guys back
Probably the biggest reason for Houston's turnaround is the return of James Ennis and James Harden. The Rockets have been a miserable defensive team in Ennis' absence, who was brought in this summer to be a replacement to forward Trevor Ariza in the starting lineup. In October, the Rockets were the 25th ranked defense in the league, giving up 113.3 points per 100 possessions. Since Ennis returned to the starting lineup, the Rockets are the sixth best defense in the league, only giving up 103.2 points per 100 possessions.
That's a staggering 10 point swing. If you you take it one step further and isolate the games where Ennis plays, the Rockets are defending 4.8 points per 100 possessions better when he's on the court versus off the court. He's clearly a super important player to Houston's switch-everything scheme. (As an aside, Houston's switches look a lot crisper as of late.)
It doesn't take a genius to understand why missing Harden might be a problem. As good as Chris Paul is, Harden is and always will be Houston's foundation. The entire offense starts and finishes around Harden and when he missed games, the Rockets just struggled to find consistent scoring across the board. Since his return, Harden is averaging 26.5 PPG and 6.5 APG on 67.1% true shooting and the Rockets are playing 10.1 points per 100 possessions better as a team when he's on the floor.
Reducing roles for Melo and MCW
Injuries in the NBA suck, but they suck even more when you don't have guys who can adequately fill roles for you when key guys are gone. When Carmelo Anthony was signed back in August, it was clear early on that the role the Rockets had in mind involved him coming off the bench. So when he was asked to start for Houston, it only exasperated Houston's early defensive struggles. Since  Ennis has come back,  Anthony has looked stellar in his bench role:
17.7 PPG
5.3 RPG
39.1% from 3-PT range
69.6% True Shooting
The Rockets have simplified Anthony's role by taking away the burden of shot creation against starting lineups and made him a player on the second unit that can spot-up for open 3s and create only on occasion. Their defense has also looked a lot better since he took the bench.
Michael-Carter Williams on the other hand, is a different story. Williams was brought in to be a fourth, defensive-minded guard on the second unit and so far, he's just not been impactful enough to justify playing. Mike D'Antoni was faced with no other options but to play him heavy minutes during Houston's injury spell as Chris Paul and Eric Gordon couldn't both play 48 minutes a night. When he played, he shrunk the floor for the Rockets due to his inability to hit open 3-pointers. Defenders sagged off of him and Houston was left to effectively play 4 on 5 and their offense struggled for it.
With the Rockets returning close to full-health, they've effectively phased Williams out of the rotation in favor of more reliable floor spacers.
Gary Clark, Gary Clark, and more Gary Clark
Rarely do you see Mike D'Antoni trust a young player the way he's trusted 23-year-old Gary Clark these past three games. The Rockets seemed to have found a diamond in the rough in the form of a two-way contract guy who can defend the perimeter with extraordinary instincts for a player of his age. He's 6'8" with a 6'10" wingspan and looks to be capable of defending multiple positions, which is tailor-made for Houston's system.
The undrafted rookie has seen an increase in minutes by the game:
9:02 against Brooklyn on Nov. 2
21:09 against Chicago on Nov. 3
23:30 against Indiana on Nov. 5
The Rockets are defending 13.1 points per 100 possessions better Clark is on the floor for the season which is unheard of. If you isolate it even further to the last three games, it's 18.4 points per 100 possessions. It seems the Rockets may have found their Trevor Ariza replacement in Ennis, but if Gary Clark keeps defending like this and getting minutes, they may have also found some facsimile of a Luc Mbah a Moute replacement.
Now, it's early. And the Rockets are having to fill minutes without Eric Gordon due to knee soreness, but quality young players have found ways to crack D'Antoni's rotation before so it's not unheard of.
The Rockets still have a lot of work to do before we consider them a good team again, but progress has been made. For a team that was as bad as Houston was last week, progress is all you could ask for at this point.
Rockets' Alperen Sengun recently was a guest on Paul George's podcast and spoke about a conversation he had with James Harden.
He said Harden told him he was proud of him. This led George to saying he thinks this means the torch has been passed from Harden to Sengun.
Which made us wonder, is this now Sengun's team? Or is that a little premature and the true leader of the team is head coach Ime Udoka or Fred VanVleet?
Plus, Jalen Green has responded positively from being benched. Is this proof that Ime Udoka has the team taking more accountability and heading in the right direction?
Be sure to watch the video above as we break it all down!
If you enjoy the videos, subscribe on YouTube for our latest content.
Related Articles Around the Web
SportsMap Emails
Are Awesome