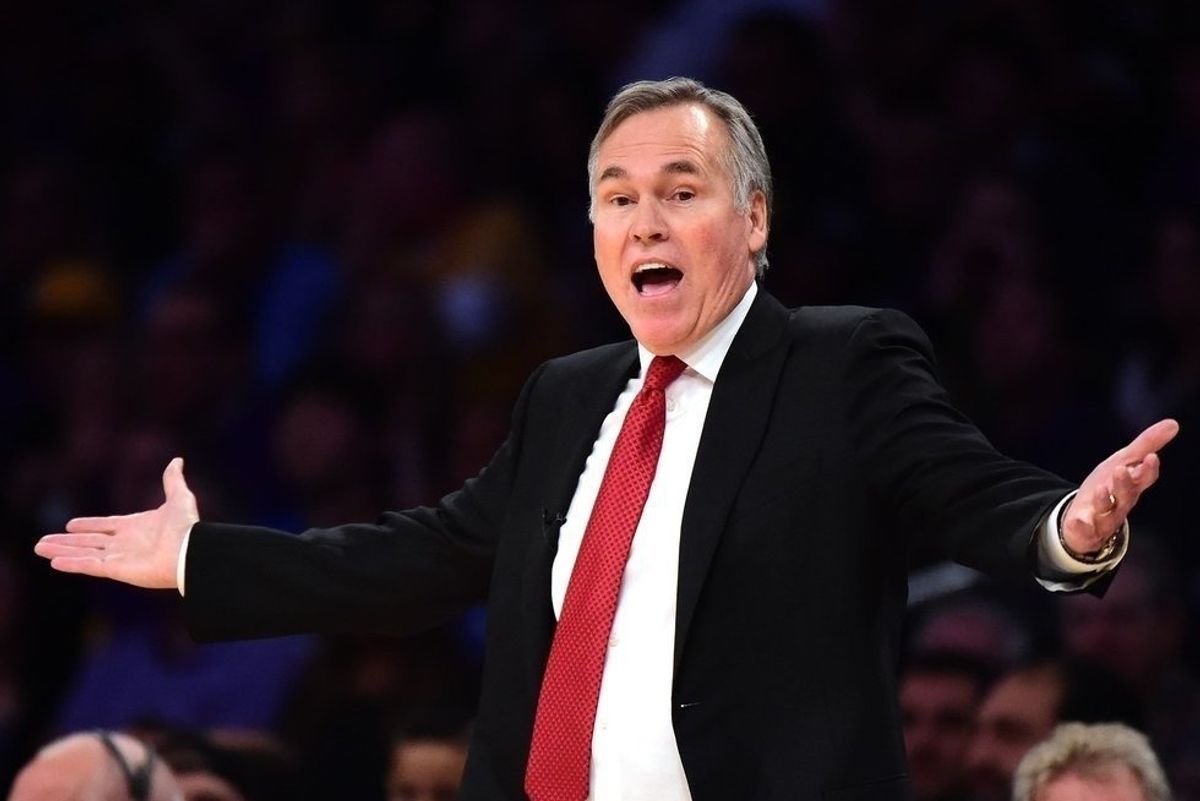 Mike D'Antoni has a different looking roster now. Getty Images.
Don't look now (actually, do look now!), but the Rockets are within a game and a half of third place in the Western Conference. After two clunker shooting games in a row James Harden went nuts on Miami with 58 points Thursday night, so the Rockets roll with a four game winning streak into arguably their toughest three game stretch of the season. They're at Boston Sunday afternoon (though the Celtics have slumped badly of late) then at Toronto Tuesday before coming home for Philadelphia Friday. If the Rockets win two of those three they are a very good bet to reach 50 wins. 50 would be a big come down from last season's 65, but a fine recovery from this season's lame 11-14 start.
Call to arms
The first week of spring training games has produced the first mild "uh ohs" for the Astros. 40 percent of their projected starting rotation is ailing already. Collin McHugh lasted one inning of his spring debut before reporting a sore back. Josh James is down with a quad strain that has already knocked him out of the race for the fifth starter slot he was considered most likely to earn. But the Astros have depth options starting with Framber Valdez and Brad Peacock, plus Forrest Whitley almost certainly arrives mid-season. As long as Justin Verlander and Gerrit Cole remain healthy and effective, the Astros rotation should be just fine. Just not as good as last season's.
Big deal
So, by one basic measure the Phillies got a "deal" in landing Bryce Harper with a 13 year $330 million dollar contract. Harper's average annual salary is "only" about $25.4 million dollars. Manny Machado gets $30 per over 10 seasons with the Padres, Nolan Arenado locked in $32.5 per over the next eight years with the Rockies. Only Harper has had a better offensive season then Alex Bregman's 2018. Four seasons to go before Bregman can hit the market, if he hasn't by then signed an Astros contract that could enable him to buy most of his hometown of Albuquerque.
Decisions, decisions
The Texans have until Tuesday to use the franchise tag on Jadeveon Clowney and keep him off the free agent market. He's gotten better doing so less than in the past, but Bill O'Brien this week chose to utter crappola in saying the Texans haven't reached a decision yet. Unless they reach a long term contract agreement before Tuesday 3 p.m. Central Time, of course the Texans will tag Clowney. They'd be football morons not to do so. Texans' brass certainly has never proven itself football geniuses, but they're not morons.
Catching back on
How about Jason Witten leaving the Monday Night Football booth after one season to return to the Cowboys? When the season rolls around Witten will be 37 years old. Over his last two or three seasons Witten was down to pretty much a possession receiver. He didn't even average nine yards per catch in 2017. But if Witten has what he had then, he can still help Dak Prescott and the Cowboys's offense some. I feel confident the MNF chair won't be kept warm for Witten in his absence.
Not so Smart?
Think about this: To coach UT hoops, Shaka Smart gets paid more than double what Kelvin Sampson pulls down at UH. Seems beyond ridiculous now but the explanation is simple. Smart was a very hot ticket after his VCU run to the 2011 Final Four in Houston. Smart stayed at VCU another four years before deciding the Longhorn job and oodles of Longhorn cash were too much to pass up. He wouldn't have considered the UH gig for more than milliseconds. Sampson had done good work as an NBA assistant while serving out what was basically a five year banishment from the college game. He did not have big time programs lined up to hire him.
Funny how life goes sometimes. A general reflection of their current job performances was evidenced Wednesday. Kelvin's Coogs dismantled awful East Carolina while Shaka's Horns gagged away a 17 point lead in the last 8:40 of regulation and wound up losing in overtime at Baylor.
Shaka Smart seems like a genuinely good person, but his record with the Longhorns is 65-63. Over the last 365 days Sampson's Cougars are 31-3. As MLB.com Astros' beat writer and ardent UH fan Brian McTaggart noted to me this week, the three losses have come by one point to Cincinnati in last season's AAC Tournament championship game, the one point heartbreaker to Michigan in the NCAA Tournament, and this season's one blemish, the four point loss at Temple.
Saturday vs. Central Florida at the Fertitta Center isn't a total gimme, but there is no core reason to believe UH won't emerge at 28-1 for the season.
Buzzer Beaters:
1. So who bats cleanup for the Astros vs. right handed pitching, Michael Brantley or Carlos Correa? 2. Robert Kraft. I mean, seriously? 3. Best Italian restaurant desserts: Bronze-Italian Cream Cake Silver-Tiramisu Gold-Cassata Cake

The Houston Astros were in need of some serious help in the bullpen with Phil Maton, Hector Neris, and Ryne Stanek likely leaving this year in free agency.
While some fans were getting concerned about the quiet offseason, the club has made two moves this week to get the ball rolling.
First the team signed Victor Caratini to be the backup catcher, and now they have added some relief pitching.
The Astros traded pitching prospect Carlos Mateo to the Royals for RHP pitcher Dylan Coleman.
Coleman appeared in 96 games in the past three seasons for KC, including 68 games in 2022 and 23 games last season. He has a career 3.88 ERA and 1.37 WHIP. He's fastball (95 mph), slider (81) and cutter (90) and walked 57 batters and struck out 99 in 92 2/3 innings.
— Brian McTaggart (@brianmctaggart) December 6, 2023
Coleman is under club control for the next several years, and made just over $700,000 in 2022. With the Astros right up against the tax threshold, this is a good way to add to the bullpen without having to hand out a large contract.
The Royals had a tough roster decision to make with Coleman, and the Astros made the decision easy for them by making the trade.
Something to note
There's a reason Kansas City wasn't determined to protect Coleman from the Rule 5 Draft. Despite his decent numbers over the last three seasons, 2023 was a rough year for him, posting an 8.84 ERA over 23 games.
In fact, Coleman pitched more innings (30.2) for the Royals AAA team than he did for the big league club (18.1) in 2023.
Hopefully, the Astros can get him back on track this season with some help from their highly touted player development program.
You can watch some of his 2022 highlights above.
SportsMap Emails
Are Awesome