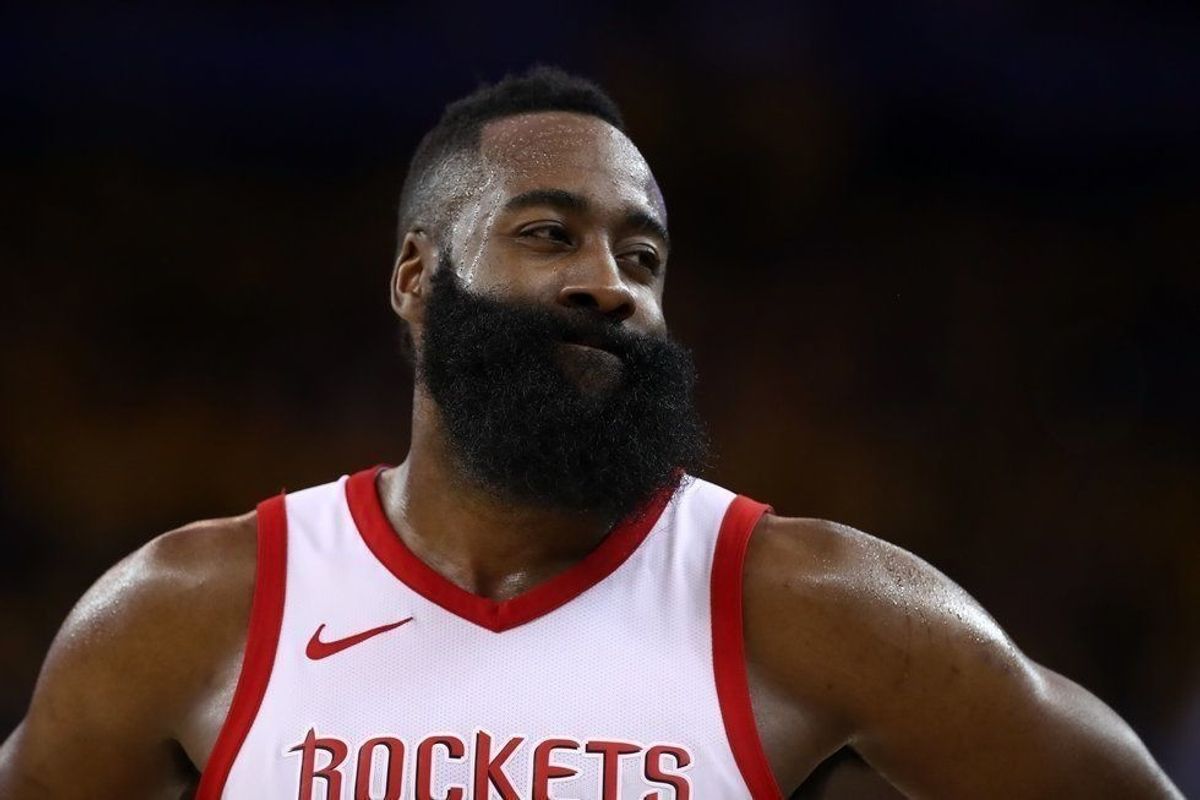 When players were giving their standard post game interviews after the Rockets lost to Oklahoma City on Tuesday, word quickly spread that James Harden had gone back onto the main floor to get some shots up. Harden shot 1 for 17 from three-point range and has generally been in a funk for the month of January (35.8% shooting from the field and 26.2% shooting from beyond the arc). When the Rockets needed Harden's signature step-back threes the most in the closing quarter, his shot eluded him and he spent a total of 25 minutes working to recapture that rhythm post-game.
"Just getting back to the basics," explained Harden that night. "When you're struggling, you try to get back to the fundamentals and the basics of your shot form."
One could make a reasonable argument that Harden' shouldn't have taken as many threes that night once he realized he was off. It seems like a basic principal, but the Rockets have lived off of Harden making those difficult threes in tough moments more times than they can count over the past few years. For the Rockets, a team that's crafted their entire offensive identity on Harden going one-on-one an hitting tough, contested jumpers, it's easier said than done.
"You can tell him not to do it, but we've won a lot of games [that way]," said Mike D'Antoni postgame. "That's his game and you kind of live and die with what you got."
Mike D'Antoni on James Harden continuing to shoot tough, contested 3s when he's struggling to make them: "You can… https://t.co/eDcYgUcJ9U

— Salman Ali (@Salman Ali) 1579567930.0
D'Antoni will get criticized (and has) for this statement, but until you put yourself in his shoes, it's tough to say he's wrong here. The Rockets have won nearly 200 basketball games with D'Antoni at the helm and most of those wins are directly attributable to Harden hitting tough shots. When you have that kind of success, how do you then go and tell your star player to go away from his bread and butter, even if he's struggling? History has shown it's a winning formula.

"Realistically, he's going to get out of it," said D'Antoni at practice Tuesday. "You don't overreact to it. You don't tell him 'Hey, don't shoot that because you did for three and a half straight years and you won us an average of 58 games a year. Don't do that.' Well, that's crazy."
James Harden is a career 36.4% three-point shooter. He's going to have hot stretches and cold stretches, but in the end, he'll always find himself around that mark (36.1% this season). What stretch you get may just be a matter of luck and the Rockets know that it's something they can't control. If Harden elected to stop shooting, for better or for worse, he wouldn't be the player he is. Part of what makes Harden great is his unabashed confidence to take and make tough jumpers even when he's struggling.
"Those are like regular shots for me," said Harden. "That's what I work on everyday."
Harden's struggles certainly don't help the Rockets, but neither does giving away 41 points in a closing quarter or Houston's horrid transition defense that lose them a game to Memphis the week prior. Houston has a stretch of problems they need to work out before they arrive at Harden's shot selection.
"That's beside the point," said D'Antoni. "Do we switch? Do we get back? Do we talk [on defense]? Do we communicate? Are we tough as a group? Do we overcome problems? That's what we have to focus on [as a team]. Don't focus on the stuff that's frivolous."
And that has been the center of Houston's focus. The Rockets spent an hour watching film of their fourth quarter defensive mishaps from the game against Oklahoma City before speaking to the media. They believe those issues take priority over anything the team is not doing offensively right now.
"Obviously I want to make every shot that I shoot," said Harden. "It doesn't happen. The more you work, the more confidence you have in yourself to be able to keep shooting those shots and doing what you do."
One of the big factors that led to the Texans' loss to the Jaguars on Sunday was the secondary. Multiple flags for pass interference gave Jacksonville more opportunities to pick up first downs and score points.
Can confirm #Texans backup CB Shaq Griffin was cut.

Griffin started 6 games this year when Derek Stingley was out with a hamstring.
— DJ Bien-Aime (@Djbienaime) November 29, 2023
So it's no surprise that DeMeco Ryans is making some changes to his defense this week. According to several reports, Texans corner Shaq Griffin has been cut.
Nickel corner Tavierre Thomas was flagged for PI more than once on Sunday, and was burned badly by Jaguars receiver Calvin Ridley for a touchdown.
DeMeco was asked after the game if he considered replacing Thomas with Desmond King or Shaq Griffin. Ryans didn't give a definitive answer, but it looks like we got one today.
One has to wonder if Desmond Kings' experience playing nickel was the reason for his promotion to the active roster and why Griffin was released. If Thomas continues to struggle, King looks like the next man up to replace him.
#Texans activate Denzel Perryman, promote Desmond King to active roster, release Shaq Griffin, sign Matt Ammendola and Garret Wallow to practice squad, released Gerrid Doaks from practice squad and placed Tytus Howard (knee-patellar tendon surgery pending) on injured reserve https://t.co/knyyoqo7yC
— Aaron Wilson (@AaronWilson_NFL) November 29, 2023
The Texans also made some other adjustments to their roster on Wednesday, per Aaron Wilson. Linebacker Denzel Perryman returns from suspension, kicker Matt Ammendola and linebacker Garret Wallow join the practice squad. They also released Gerrid Doaks from the practice squad.
The other big piece of news involves left guard Tytus Howard. He heads to injured reserve, ending his season after hurting his knee against Jacksonville.
SportsMap Emails
Are Awesome