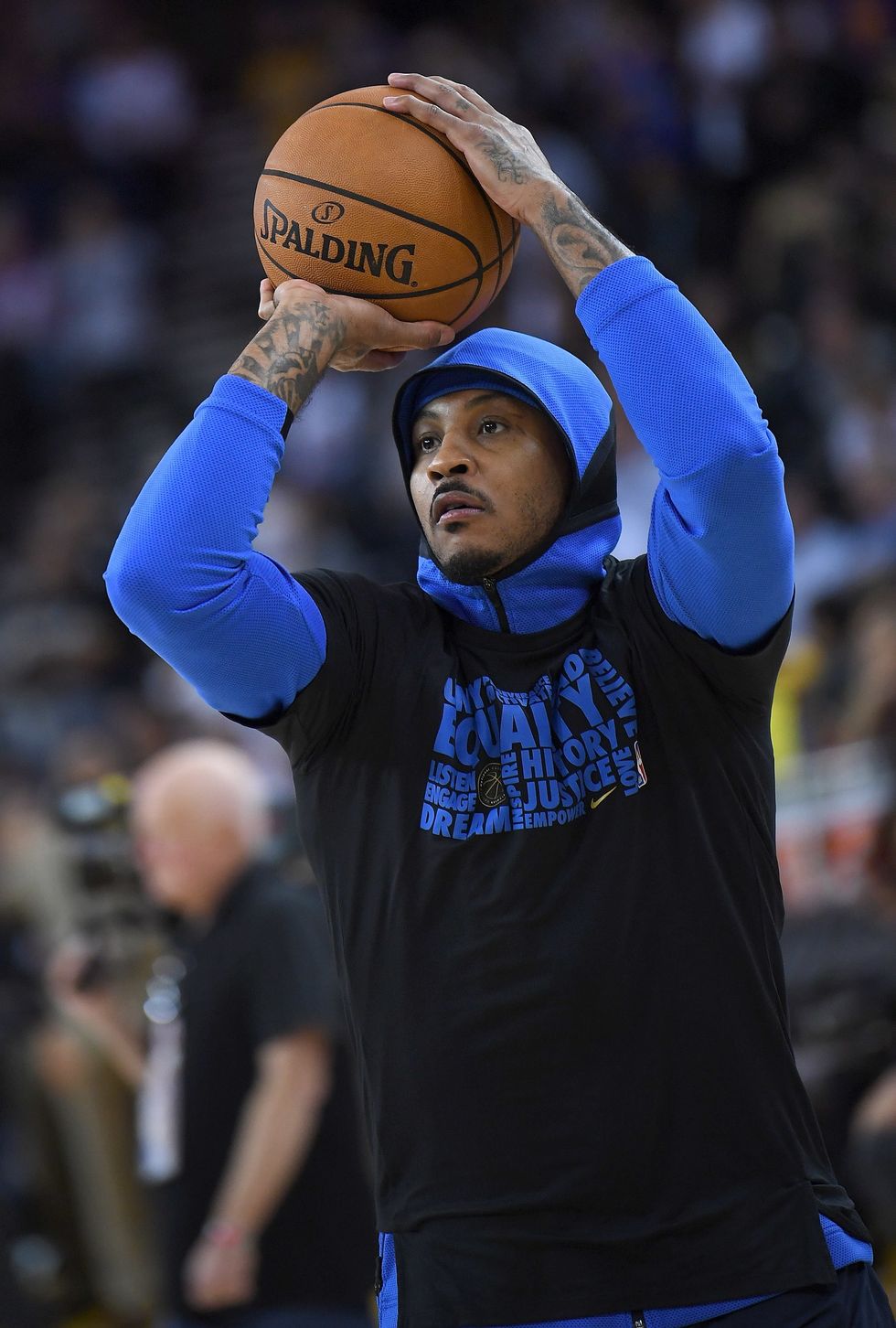 The Rockets have bigger problems than this guy. Thearon W. Henderson/Getty Images
Everyone wants to blame Carmelo Anthony for all that ails Houston's favorite basketball team. It's the easy way out, the fastest way to point fingers. The average fan and all the outsiders can say the aquisition of Melo is the reason the team is below .500 and can't seem to score 100 points anymore.  The truth is, the problems are way deeper than that and are spread far and wide accross a team and roster that is light years away from the squad that should have been in the Finals a season ago.
By now you all have read and watched and listened to me vent about how important the losses of Jeff Bzdelk, Trevor Ariza and Luc Mbah a Moute were to this team. The defense has been a disaster through the first ten games and they can't get stops and can't slow down teams when they get on a run. Their two best players have been below their averages at best and have each spent time out of the lineup due to injury and suspenson. The team that was supposed to be able to score with anyone has found it difficult to score 100 points in a game lately. They can't make the most important shot in their offensive system, the 3-ball, and struggle to make free throws and even layups occasionally. Eric Gordon looks like a shell of his 6th man of the year self and has struggled to adjust to his new role with Melo on the roster. The list goes on and on. So, sure, the defense is bad, but there is so much more to this story and a majority of it starts and ends with the General Manager that loves to soak up the accolades but hates to be in the cross hairs of criticism.  
Daryl Morey is a General Manager that cannot stand pat, period. The same reason he has made a trade at the deadline virtually every year he's had a say so or control of an NBA roster, he can't seem to sit still and "run it back" with the same roster or close to the group that got you so far, so good last year. He was fine with Ariza and Luc leaving, which most observers agreed with, but where he screwed up was not replacing them with players that had similar skill sets and could play the same system the same way as their predecessors did.
He brought in a handful of guys that can't shoot the 3 ball and can't defend individually or collectively the way this team needs players to play in order to be effective. He made a trade to unload another mistake he made previously in Ryan Anderson and brought back a wasted lottery pick in Marquese Chriss that seems disinterested at best, as well as a back up point guard coming off major knee surgery in Brandon Knight.
The roster at first glance is exactly what I thought it would be, a bunch of dudes, just guys, a few folks past their prime and some more who were going to be asked to do things completely different from what they did a year ago, and of course, two of the best players in the game. there is no continuity, no chemestry and no chance of them playing the style and brand of basketball that they played all of last season as currently constructed. 
Morey brought in Anthony, a player that he had pursued for more than seven years, that he had to have and was convinced he was the missing piece to the Rockets championship puzzle. It was like a Wall Street wolf that was so obsessed with a stock that he buys it too high and way too late to have any ROI, but it doesn't matter because he finally got the prize he had coveted for so long! He was so adamant that Melo be in Houston that he ignored the negative past history that Mike D'Antoni had with him and basically told the coach that he would not only have Anthony on his roster again but that he better find a way to make it work.
That's not even taking into consideration the back story between the player and his first NBA coach, Jeff Bzdelik. Not exactly the kind of treatment you give a guy that won you more regular season games than you had every seen your franchise win in a regular season and the guy that turned your defense into a top six squad in the league as opposed to the bottom feeding "D" the team had played previous to his arrival. 
If the GM really believed in the squad that he constructed for this season and thought it was talented enough to win a title, then why was he in such hot pursuit of Jimmy Butler? Why was it rumored that he was willing to give up four first round draft picks and a couple of major rotational players for just one guy?
Is that the sign of a guy that liked what he saw in the first month of the season or a guy that knew he had plenty of work to do to try and re-construct a roster that wasn't going to cut it in a loaded and talented Western Conference, let alone compete for a title? Now that Butler has been traded to Philadelphia, that dream is over and the heat that has been on the H-town GM is getting to a boiling point. There aren't too many all-stars out there to be had and there aren't too many GM's in the West in a hurry to help out Morey. The Anthony situation is up in the air, but the rest of the roster should be too. Regardless of what happens with Melo, Morey had better be on the phone 24 hours a day, 7 days a week, trying to add better pieces to this puzzle and a supporting cast that can make shots, execute a system and get stops better than the roster he has right now. There's still time to right the ship and get back on course with sights set on a return engagement with the Warriors, but time is of the essence and there is no quick fix in sight.
When Bryce Young and CJ Stroud were drafted with the first two picks of the NFL Draft, we knew they would be compared to one another for years to come.
And here we are just 11 games into the season and one quarterback has already seen his head coach fired. Panthers owner David Tepper spoke to the media on Wednesday and discussed his decision to fire Frank Reich, and also set the record straight on how they arrived at the decision to draft Young.
In so many words, Tepper basically blamed the Texans for how the top of the draft played out. He mentioned Stroud by name and said the Panthers were ready to draft him at No. 2 overall until the Texans backed out of the three-team trade with the Bears.
Tepper made a point of saying everyone in their building had Bryce Young as the top player on their draft board, despite rumors about Frank Reich preferring Stroud.
CJ Stroud and the Texans have been so much better than Bryce Young and the Panthers that Tepper clearly felt it was necessary to defend himself, and the decisions he's made for the organization.
In the end, the person that gets the worst end of the deal is Bryce Young. Coaching changes can be very difficult on young quarterbacks. And it looks like he'll have to learn a new offense in his second year when the Panthers hire a new coaching staff.
How fortunate we are as Texans fans to have DeMeco Ryans and CJ Stroud leading the team moving forward.
With all of this in mind, is there a reason Texans fans haven't fully bought in to the new-look Texans? JJ Watt was a guest on The Pat McAfee Show this week and was asked about the team's inability to fill the stadium on Sundays.
As a former player for the Colts, McAfee always thought Houston had the loudest and best fans in the NFL. And while the Texans are 9th in attendance this year according to ESPN, even CJ Stroud has asked for the fans to fill the stadium.
So there is something to it. You can see the empty seats in photos. So why aren't the Texans packing NRG with a shiny new franchise QB?
We believe the recent history of the team is why fans are slowly coming back. McAfee wasn't here for:
Bill O'Brien cussing at fans during games
Trading DeAndre Hopkins away for next to nothing
The Jack Easterby disaster
Deshaun Watson allegedly blaming ownership for why he wanted out
The Deshaun Watson scandal
Firing back-to-back coaches after one season, and the list goes on.
Don't miss the video above for the full conversation!
If you enjoy the videos, subscribe to SportsMapTexans on YouTube!
SportsMap Emails
Are Awesome