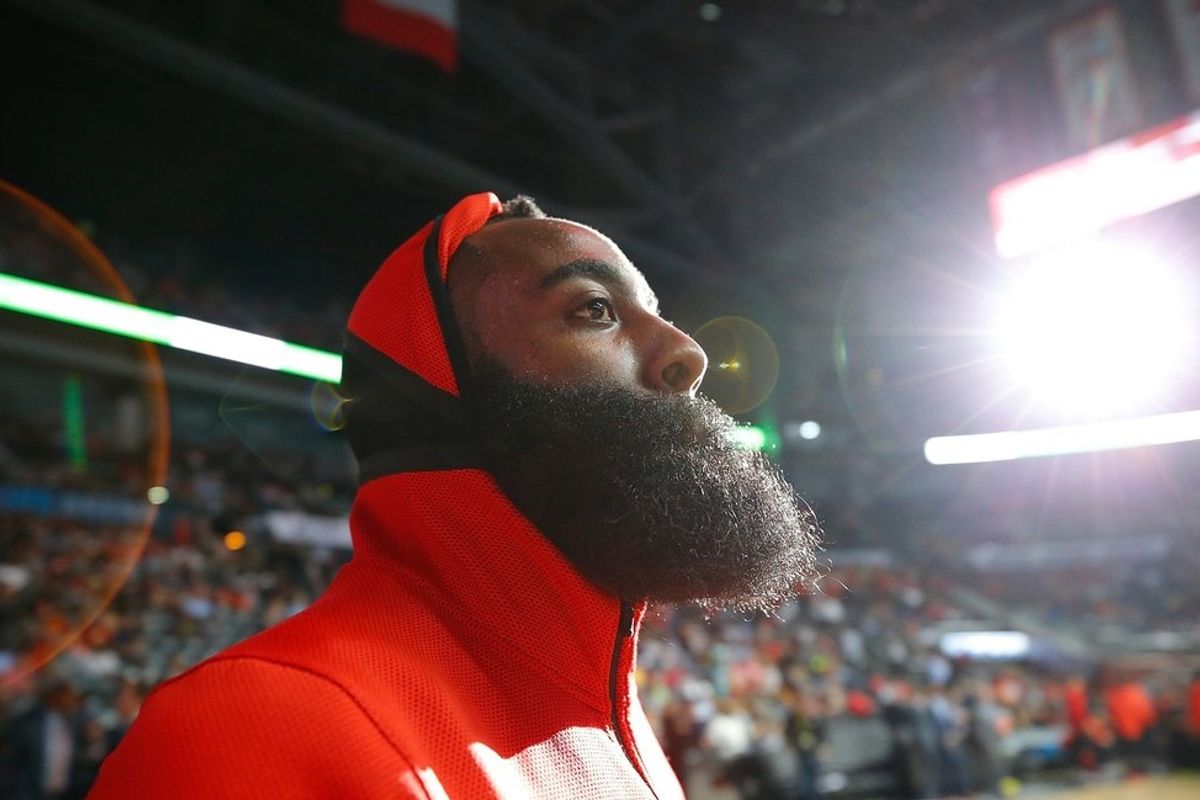 If the Rockets' finger wasn't making contact the panic button last week, it was at the very least hovering just above. After losing star center Clint Capela Sunday night to a thumb injury that looks to keep the pick-and-roll maestro out for at least a month, Houston was tasked with filling an almost unfillable hole on both ends of the court. Luck continued to eschew the Rockets later in the week, as contract negotiations with G-League gem Danuel House failed to reach a resolution in time. House returned to the G-league as a result, only playing in one game this past week. At this point most teams missing their starting point guard, starting center, and spark plug sixth man would likely be headed for trouble.
Most teams don't have a James Harden.
The Beard continued adding brushstrokes to what is becoming a generationally unique masterpiece of a season, as he posted 57, 58, and 48-point games consecutively, en route to a 2-1 record for the week. The Rockets are now 26-19, first in the Southwest Division, and fifth in the Western Conference
Two wins, one loss
Houston had very little turnaround time to formulate a new offensive game plan before taking on the Memphis Grizzlies hours after learning that Capela would not be available for the next 4-6 weeks. Harden did everything he could to give Coach Mike D'Antoni time to think, as he exploded for a franchise record 36 points in the first half. Houston would once again ride a brilliant Harden performance to an easy victory.
Wednesday the Rockets took on the Brooklyn Nets for the second time this season. Houston fell to the Nets in their previous meeting, and their win prospects were only further dimmed after learning that House would not be suiting up that evening. Harden was once again carrying the team to what looked to be a victory when Nets point guard Spencer Dinwiddie exploded for 25 points in the fourth quarter to force overtime. Despite a season high 58 points from Harden, Houston was unable to curtail Brooklyn's momentum and the Rockets fell 145-142.
After an extended rest, Houston was back at it Saturday night against the Los Angeles Lakers. The matchup lived up to its nationally televised billing despite both teams missing key players. The LeBron-less Lakers fired out of the gate behind forward Kyle Kuzma's 20-point first quarter and seemed to put the game out of reach early. Trailing by as much as 21 points, Harden and guard Eric Gordon went to work chipping away at the lead. In a last second desperation attempt, Gordon caught the final in bounds pass of regulation and sent an improbable, off balanced, 3-pointer through the net to force overtime. This time it would be the Rockets that succeeded in extra time as a clutch offensive rebound from Harden would seal the win. Harden extended his streak of 30+ point games to 19.
Reinforcements Incoming
The Rockets are expected to sign center Kenneth Faried after he clears waivers Monday afternoon. Faried began the season with the Brooklyn Nets, but failed to find a productive role in their scheme. If you're looking for a hustle guy, look no further than the guy nicknamed "Manimal." Despite being undersized, Faried excels in rebounding, defense, and pick and roll offense. That description sounds oddly familiar to a certain injured center already on the roster. Faried should provide an instant upgrade to a practically unstaffed position for the Rockets.
Looking ahead
The Rockets will start a four game week Monday night at Philadelphia, followed by a Wednesday match up against the New York Knicks. The Rockets will return to Houston to host the Toronto Raptors Friday night before finishing the week with a Sunday home game against the Orlando Magic.
Chris Paul has shown progress but still looks to be about a week out from a return. Clint Capela remains 4-6 weeks out.
Harden has shown zero signs of slowing down, and Faried should slow down the amount of easy buckets around the rim once he suits up. If the Rockets can reliably count on repeat performances from Eric Gordon like the version we saw Saturday night and Faried performs as predicted, Houston should continue to remain a playoff contender.
I see the Rockets splitting the week, with wins against New York and Orlando and losses against Philadelphia and Toronto.
Rockets tweet(s) of the week:
James Harden is now averaging an absurd 35.7 PPG (23.5 FGA) with only 37 games remaining. He would still be avera… https://t.co/KGNYcLw7Xd

— NBA NERD (@NBA NERD) 1547963761.0
james harden is going out there every night with himself, a mcdonald's 2 for $5 deal, the mcd's cashier, & a couple… https://t.co/HlUq0pX7ML

— CHANDLER (@CHANDLER) 1548005201.0
The Houston Astros were in need of some serious help in the bullpen with Phil Maton, Hector Neris, and Ryne Stanek likely leaving this year in free agency.
While some fans were getting concerned about the quiet offseason, the club has made two moves this week to get the ball rolling.
First the team signed Victor Caratini to be the backup catcher, and now they have added some relief pitching.
The Astros traded pitching prospect Carlos Mateo to the Royals for RHP pitcher Dylan Coleman.
Coleman appeared in 96 games in the past three seasons for KC, including 68 games in 2022 and 23 games last season. He has a career 3.88 ERA and 1.37 WHIP. He's fastball (95 mph), slider (81) and cutter (90) and walked 57 batters and struck out 99 in 92 2/3 innings.
— Brian McTaggart (@brianmctaggart) December 6, 2023
Coleman is under club control for the next several years, and made just over $700,000 in 2022. With the Astros right up against the tax threshold, this is a good way to add to the bullpen without having to hand out a large contract.
The Royals had a tough roster decision to make with Coleman, and the Astros made the decision easy for them by making the trade.
Something to note
There's a reason Kansas City wasn't determined to protect Coleman from the Rule 5 Draft. Despite his decent numbers over the last three seasons, 2023 was a rough year for him, posting an 8.84 ERA over 23 games.
In fact, Coleman pitched more innings (30.2) for the Royals AAA team than he did for the big league club (18.1) in 2023.
Hopefully, the Astros can get him back on track this season with some help from their highly touted player development program.
You can watch some of his 2022 highlights above.
SportsMap Emails
Are Awesome