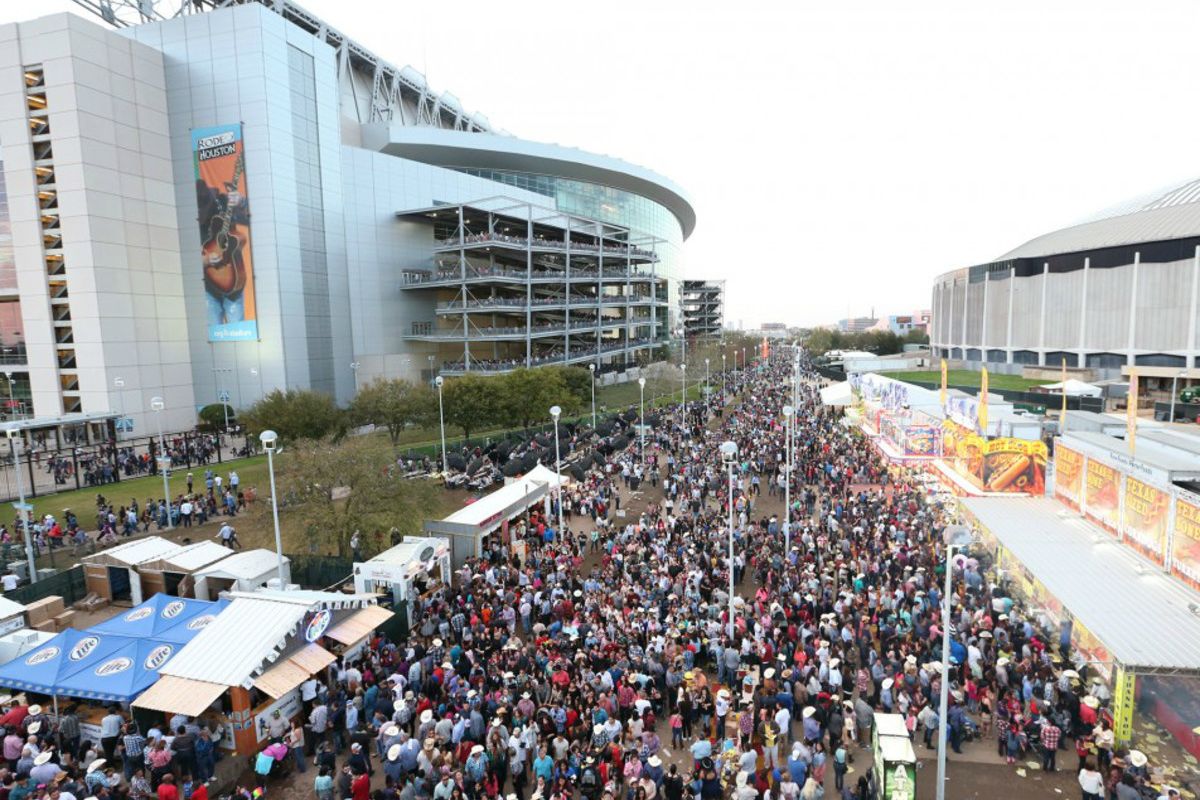 Rodeo brass expects 2.5 million visitors this year. Plan accordingly. Courtesy photo
This article originally appeared on CultureMap.
Houstonians heading to the Houston Livestock Show and Rodeo should be sure to map out a parking or transportation plan. Whether it's the concerts, the competition, the rides, or the barbecue — expect to see a big crowd.
"So we expect 2.5 million friends to visit us this year," says Houston Livestock Show and Rodeo president Joel Cowley. That means a stampede when it comes to parking and transportation — but this year, there are some new options, and upgrades to make getting around a little easier.
New for 2019
The HLSR is now selling parking in the North Stadium lot which is one block north of NRG Park, by the day or the season. The cost is $25 a day or $525 for the season with a free continuous shuttle service.
If you're traveling from The Woodlands on a weekend, The Woodlands Express is offering $25 roundtrip tickets. The Woodlands Express regular tickets are not valid and you must have a reservation. Make one here.
Your favorite options from past rodeo seasons are still available.
Public parking on-site is available for $20. You can park in the Yellow lot, which you can enter off of Main Street, the 610 lot (where Astroworld used to be), and the Miller Lite teal lot off Murworth. Handicapped parking and drop off/pickup is available in the yellow and blue lots.
Public passenger drop-off
Drop off guests at Gate 9 off Kirby Drive.
Lyft & ride sharing
Drop-offs and pick-ups are in the Green Lot.
Park and ride
For a cheaper way to park without the stress of fighting for a close parking space, use the Rodeo Express Shuttles in remote lots or METRO Park and Ride. There are locations all over town. Parking is free at all of the lots, except in the OST lot which is $20. The shuttle costs range from $4 to $7 per person.
Don't forget about METRORail. You can park at the Fannin South Station for $20 per car and the round trip to NRG is free.
Continue reading on CultureMap to learn about a shuttle option from the Woodlands to the rodeo.
One of the big factors that led to the Texans' loss to the Jaguars on Sunday was the secondary. Multiple flags for pass interference gave Jacksonville more opportunities to pick up first downs and score points.
Can confirm #Texans backup CB Shaq Griffin was cut.

Griffin started 6 games this year when Derek Stingley was out with a hamstring.
— DJ Bien-Aime (@Djbienaime) November 29, 2023
So it's no surprise that DeMeco Ryans is making some changes to his defense this week. According to several reports, Texans corner Shaq Griffin has been cut.
Nickel corner Tavierre Thomas was flagged for PI more than once on Sunday, and was burned badly by Jaguars receiver Calvin Ridley for a touchdown.
DeMeco was asked after the game if he considered replacing Thomas with Desmond King or Shaq Griffin. Ryans didn't give a definitive answer, but it looks like we got one today.
One has to wonder if Desmond Kings' experience playing nickel was the reason for his promotion to the active roster and why Griffin was released. If Thomas continues to struggle, King looks like the next man up to replace him.
#Texans activate Denzel Perryman, promote Desmond King to active roster, release Shaq Griffin, sign Matt Ammendola and Garret Wallow to practice squad, released Gerrid Doaks from practice squad and placed Tytus Howard (knee-patellar tendon surgery pending) on injured reserve https://t.co/knyyoqo7yC
— Aaron Wilson (@AaronWilson_NFL) November 29, 2023
The Texans also made some other adjustments to their roster on Wednesday, per Aaron Wilson. Linebacker Denzel Perryman returns from suspension, kicker Matt Ammendola and linebacker Garret Wallow join the practice squad. They also released Gerrid Doaks from the practice squad.
The other big piece of news involves left guard Tytus Howard. He heads to injured reserve, ending his season after hurting his knee against Jacksonville.
SportsMap Emails
Are Awesome