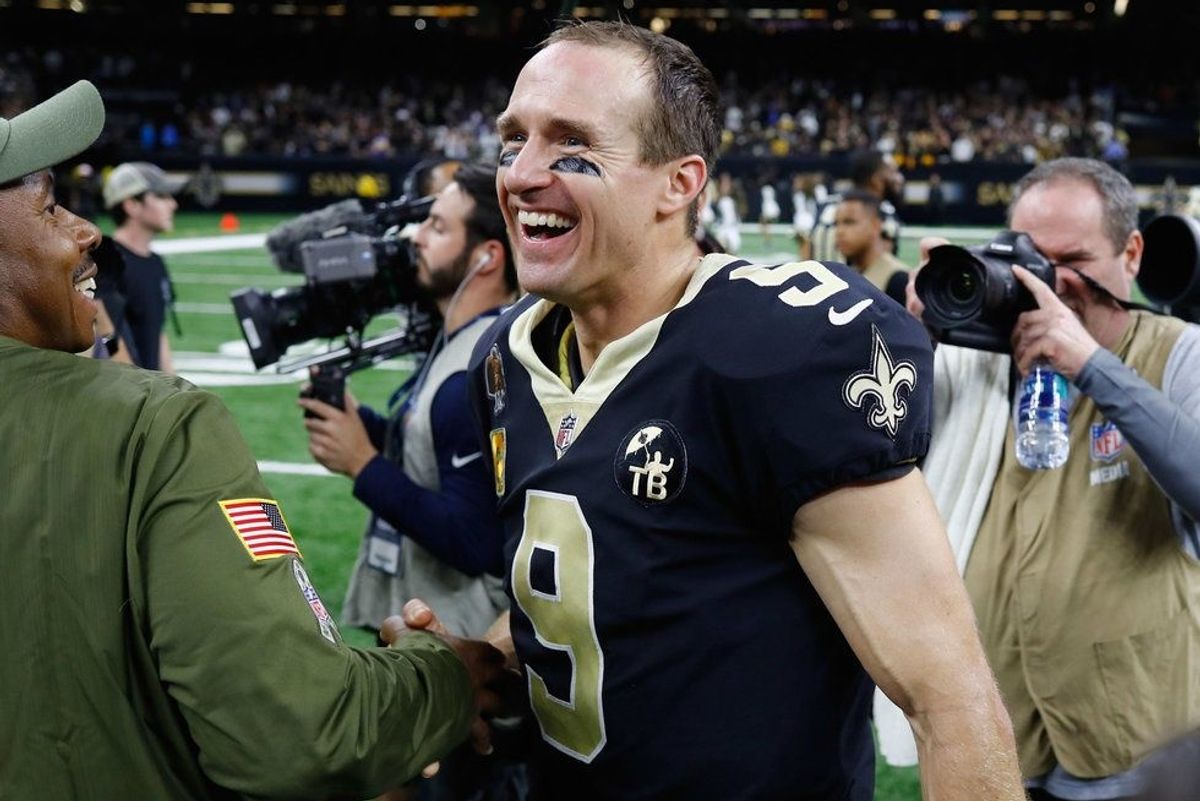 The Saints were coming off a tough loss and managed to bounce back nicely with a blowout win over the Colts. Here are my observations:
The Good
-The Drew Brees/Sean Payton pairing is arguably the second best quarterback/head coach tandem in this era of football. The synergy they have is unreal. Outside Tom Brady/Bill Belichick, you can't name a better duo. Props to Brees for breaking the all time passing touchdown record on another big stage. Brees went 29/30 (96.7% is a single game record) for 307 yards and four touchdowns.
-Michael Thomas is not human. He's Brees' favorite target. Teams know he's going to get targeted at least 10 times a game or more. He doesn't have take the top off the defense speed. Yet, he still gets wide open! Thomas had 12 catches for 128 yards and a touchdown. He's now 11 catches away from breaking the catches in a season record.
-Demario Davis is the playmaker the Saints have severely lacked at linebacker. He blitzes, covers, and stuffs the run better than any line backer this team has had since the Dome Patrol. I'm not saying he's a future Hall of Famer, but he's definitely making the team's Ring of Honor. Davis pressured Jacoby Brissett, as well as made key stops in both the run and pass game.
The Bad
-There was a play in the 1st quarter in which Brees got up from the turf and had to adjust his jersey, pads, and mouthpiece. That's something no saints fan wants to see, much less something Brees wants to feel. Keeping him clean is a high priority.
-43 seconds into the 2nd quarter, Brees threw his first and only incompletion of the first half short right to Latavius Murray. Bum! He couldn't complete 100% of his passes tonight because he missed that throw to Murray. What a joke! This bum deserves to lose his job!
-The defense played very well...until they put more backups in. That's when Saquan Hampton gave up an unnecessary pass interference call that set up the Colts' one touchdown with a shade over four minutes left in the game. So much for serving donuts.
The Ugly
-When right guard Larry Warford went down, so did the hearts of many Saints fans. He's been a lynchpin of that offensive line unit since he signed as a free agent from the Lions a couple years ago. His leg got rolled up on from friendly fire. Looks like he should be okay.
-An offensive pass interference call wiped out Brees' would be record breaking touchdown pass at the end of the first half. Tre'Quan Smith was flagged when the refs assumed his slight hand push gained him a significant enough advantage that the touchdown shouldn't count. I've seen way worse not be called or reviewed. At minimum, the booth should've upheld the touchdown. But then again this is like asking criminals to judge other criminals.
-With Sheldon Rankins and Marcus Davenport out for the season, it's time for the next man up mentality. While those guys will be missed, the Saints can't let up. They were fortunate to get by the Colts and their power run game without incident because they jumped out to a big lead. The Titans next week will present a different challenge in stopping the run, so will the Panthers if they decide to play for pride in week 17, as will every NFC playoff team outside possibly the Packers.
There's just something magical about the Saints and Monday Night Football in the Brees/Payton era, especially when Brees has a shot at breaking some sort of record. The Saints took full advantage of the opening created by the 49ers inexplicably losing to the Falcons by beating the Colts. The NFC race for the #1 seed is now wide open and up for grabs over the last couple weeks of the regular season. Maybe those blown coverages and questionable calls to go for two in the 49ers loss won't come back to haunt the Saints afterall. Or maybe they will. Only time will tell. There's still two more games left to play for everybody and anything can happen.
Coming off a huge upset win over the Bengals this Sunday, CJ Stroud is now firmly in the MVP conversation with the team at 5-4, one game behind the Jaguars in the AFC South.
Stroud also leads the NFL in passing yards per game, and TD to Int ratio. And man is this offense fun to watch. Nobody pushes the ball down the field more effectively than Stroud and the Texans. So let's give some credit to the pass catchers.
With wide receiver Nico Collins missing the game due to injury, Stroud connected with Noah Brown 7 times for 172 yards. Brown's performance over the last 2 weeks has been incredible.
In fact, the Texans have 2 of the top 3 receivers when it comes to yards per catch. Brown is first with 20.9. Nico Collins is third at 17.5. Brown is also 10th in the league when it comes to yards per game (87.8).
One of the other factors that helped the Texans secure a victory this Sunday was their improvement in the running game. The Bengals struggle to stop the run, and Devin Singletary was able to capitalize with 150 yards on 30 attempts.
Finally, let's discuss the defense that was able to go into Cincinnati and beat Joe Burrow and Ja'Marr Chase. DeMeco's crew was able to sack Burrow 4 times, and Sheldon Rankins had three of those sacks. He also just missed another with about 3 minutes left in the first quarter.
The game actually shouldn't have been this close, as Stroud made a big mistake trying to force a ball to Tank Dell late in the fourth quarter, which resulted in an interception.
Thankfully, the Texans were able to keep the Bengals out of the end zone as Tyler Boyd dropped a touchdown, which led to a Bengals field goal.
It sure is nice to be able to learn from mistakes while still winning the game. And without that poor decision, we don't get to see Stroud finish another game-winning drive, leading his team to victory in back-to-back weeks.
Be sure to watch the video above as we break down what this win means for Stroud and the Texans moving forward.
Subscribe to SportsMap Texans on YouTube for our latest content.
Watch Texans on Tap (a Texans podcast) every Monday on YouTube.
SportsMap Emails
Are Awesome