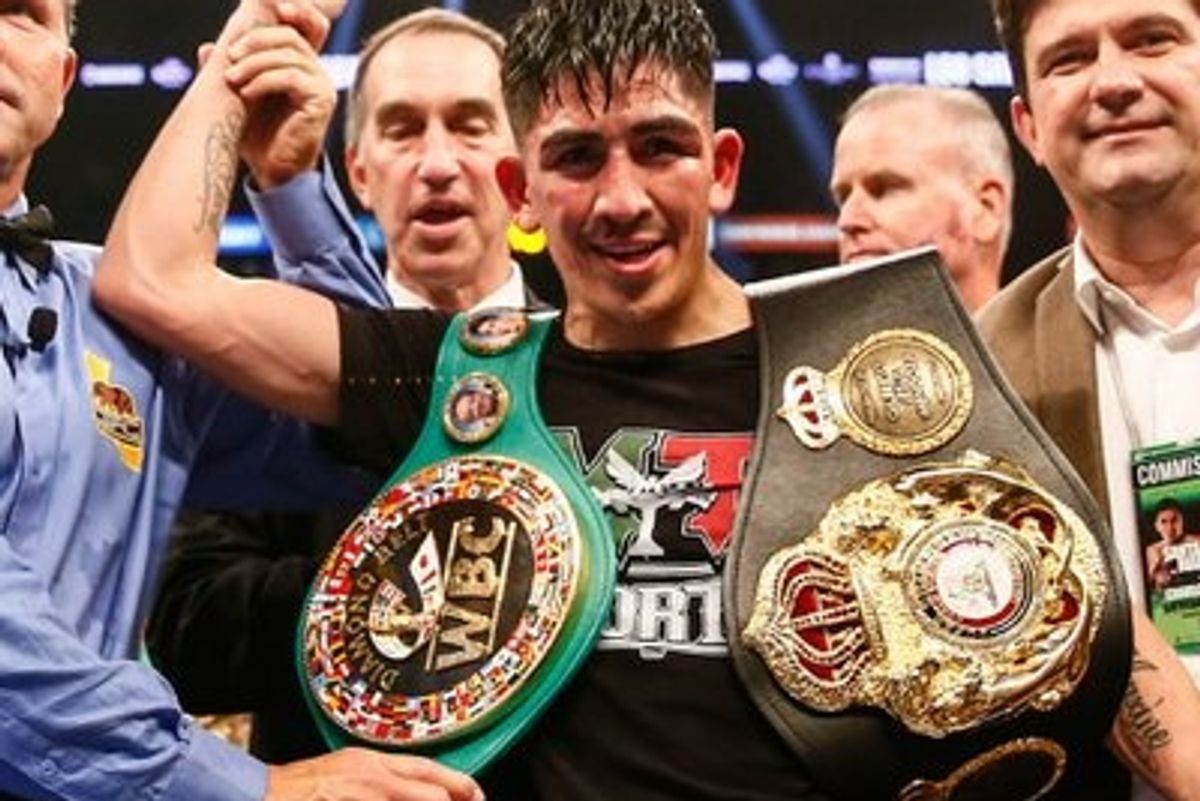 Leo Santa Cruz won with ease Saturday night, taking care of Rafael Rivera en route to a wide unanimous decision victory at the Kodak Theater in Los Angeles. It was easy, but almost too easy, for the 30 year old Santa Cruz (36-1-1, 19 KO,) who dominated the overmatched Rivera from the opening bell to close.
In round one Rivera (26-3-2, 17 KO) looked sharp early, trying to press the action to Santa Cruz. But Rivera couldn't continue at his frenetic pace, and quickly looked fatigued trying to keep up with the quicker, rangier Santa Cruz. All three judges scored the fight 119-109 for Santa Cruz. SportsMap.com also scored the fight 119-109 for Santa Cruz. With the victory Santa Cruz defended his WBA "Super" featherweight belt for third straight fight.
Rivera wasn't originally supposed to fight at all. He took the assignment on about three week's notice when Miguel Flores was forced to withdraw with an ankle injury. Despite the change in opponents, many boxing analysts felt that Rivera could potentially provide a tougher challenge for Santa Cruz that Flores. But Rivera looked smaller and less physically fit in the ring, After eating lots of clean straight punches throughout many rounds, Rivera's tactic seemed to be to try and steal rounds late by unleashing a flurry of punches in the waning moments. The tactic didn't work, as Santa Cruz was game for the late rallies and had already banked a win in the majority of the rounds anyway.
Santa Cruz, who hasn't been legitimately challenged since his back to back fights with Carl Frampton in 2016 and 2017, is in need of a major opponent to regain interest. Gary Russell holds the World Boxing Council's version of the featherweight title, and a unification of the two is long overdue. It would be an easy fight to make as well; both fighters are advised by Al Haymon.
FIGUEROA UNIMPRESSIVE IN DECISION VICTORY OVER MOLINA
Former super-prospect Omar Figueroa (28-0-1, 19 KO) earned a unanimous decision over veteran John Molina Jr. (30-8, 24 KO) in the co-feature bout of the evening. The judges scored the fight 99-91, 98-92 and 97-93 in favor of Figueroa. SportsMap.com scored the fight 96-94 for Figueroa.
Neither fighter seemed interested in any sort of defense throughout the bout. Both men looked content to stand on the inside and eat uppercuts and body shots while dishing out their own. Figueroa landed more punches, but Molina seemed to steal several rounds by landing a big, clean shot down the middle. Molina, who has lost five of his last seven fights, looked shopworn, showing little head movement or ability to fire off quick counterpunches. But Figueroa, who is seven years younger, didn't look much better. He attempted to force Molina to the ropes in order to unleash multi-punch combinations, but Molina was often able to punch his way out of trouble.
The fight was originally contracted at 140 pounds, but Figueroa missed weight badly. The day before Figueroa's team struck a deal with Molina to move the countracted weight to 146 pounds. It's the third straight junior welterweight bout for Figueroa in which he has failed to make weight.
The Houston Texans needed a huge performance from Nico Collins on Sunday after Tank Dell went down with a season-ending injury, and boy did they get it.
Collins finished the day with just under 200 receiving yards, and helped the team secure a huge victory, pushing the team's record to 7-5.
There's been a lot of discussion about whether Collins is a true No. 1 receiver in the NFL, and his numbers indicate he is. Nico is 9th in receiving yards in the NFL (991) with 6 TDs in 11 games.
Certainly, health will be a big factor in determining just how high his upside is. He only played in 10 games in 2022, and this is his first season with over 500 yards.
Outside of health, how Collins responds to all the extra attention he is about to receive due to the loss of Tank Dell, will tell us a lot about if he can perform like a true No. 1 receiver.
2024 will be the final year of Nico's contract and he'll be looking for a big pay day if he can continue this production. Which makes us wonder, should the Texans pay him like a Top 10 receiver if he continues to put up these numbers?
Plus, the big concern with Tank Dell has always been his size, and if he can hold up in the NFL. Now that he's injured for the second time, and out for the season with his latest injury, should the Texans consider adding another receiver in the draft or free agency?
Don't miss the video above as we break it all down!
If you enjoy the videos, subscribe to SportsMapTexans on YouTube.
SportsMap Emails
Are Awesome