The Pros and a Few Cons to adding the Triple Double Machine to the Rockets
Should the Rockets pursue Westbrook? Why or why not?
Jul 9, 2019, 6:38 am
Jayne Kamin-Oncea/Getty Images
Last weekend when the Oklahoma City Thunder traded all-star Paul George, it signaled the end of an era and put the wheels in motion for the franchise to wave the white flag, hit the reset button and begin the tough process of starting over. Before they can move forward, however, there is still one big piece to move and that would be finding a trade partner or partners to consummate a trade for Russell Westbrook, their final remaining superstar. Say what you will about the passionate and outspoken former MVP, you can never question his ridiculous athleticism, incredible basketball abilities and the knack he has for overstuffing a stat sheet. After the initial shock felt around the basketball world when PG13 was sent packing, the rumors started flying about potential teams that might be interested in Westbrook and where he could end up when the smoke clears and GM Sam Presti has pulled the trigger on the last big deal of the summer of 2019. Miami, Minnesota, and Detroit were mentioned as the front runners to obtain the former MVP's services, but there was also a "long shot" mentioned in the Houston Rockets who are desperate for a big move that can catapult the team forward as it heads into next season.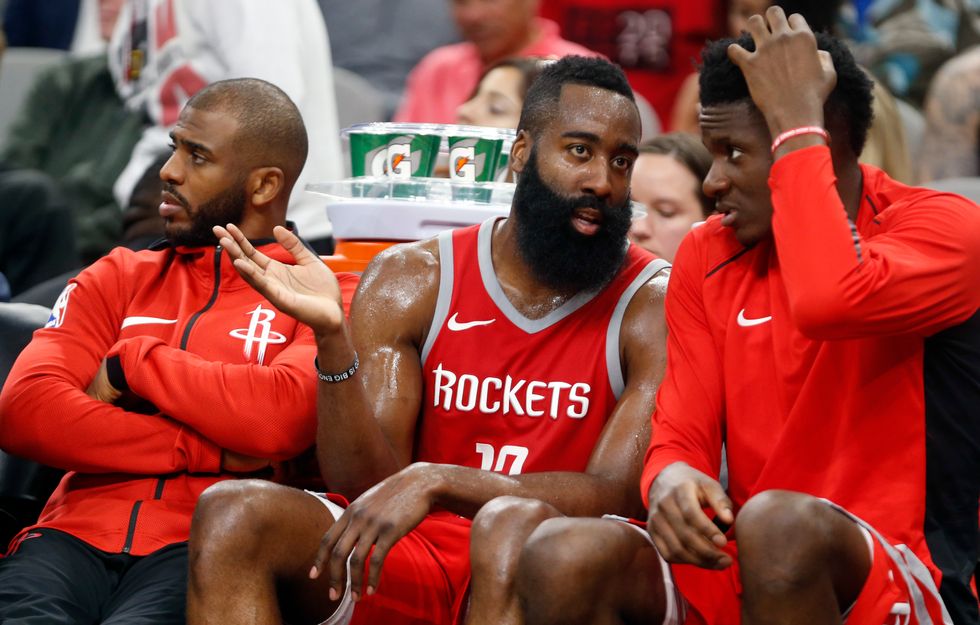 Photo by Ronald Cortes/Getty Images
If you are the Rockets why would you try and trade for Westbrook? Well for starters he has a great relationship with James Harden dating back to their days playing together in OKC. The two have remained close and Harden would love to add a player of Russ's caliber to his Houston squad as they try and re-tool for another run at the Western Conference. Both train in Los Angeles in the offseason and they frequently scrimmage together with a full complement of other NBA players on the campus of UCLA. The bigger question when considering adding Westbrook to the Rockets is at what price is the franchise willing to pay? The city seems to be over the Chris Paul love affair and would prefer a divorce gets done before training camp starts instead of marriage counseling and attempting to rekindle the fire between the Beard and CP3. Would Sam Presti take Paul's remaining contract of 3 years and 125 million dollars remaining for Russ or would the deal require a third team? Would the Thunder be more inclined to consider Clint Capella, Eric Gordon, PJ Tucker, and draft picks instead? As a fan, which deal would you feel better about? On one hand, you have Harden, Westbrook and a full complement of quality secondary players around them or you get 3 future Hall of Famers, Austin Rivers, Danuel House, Gerald Green and a remaining roster comprised of free agents coming from a small pool of remaining available veterans.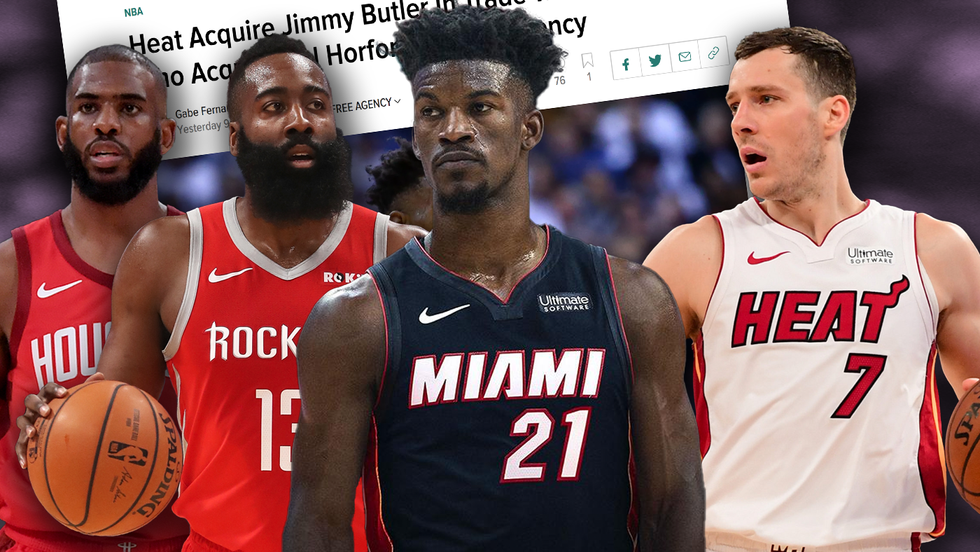 Composite photo by Brandon Strange
Another reason the Rockets may pursue Westbrook is GM Daryl Morey is feeling the pressure of an owner in Tilman Fertitta who wants change and improvement and so far has seen little to make him feel good about achieving either with his teams' offseason activity to this point in the summer. Morey has wavered on his plan for next season, one day saying his team should be the favorite in the West next year because he has his entire starting lineup still intact while promising to add a quality free agent, then two days later swinging for the fences in trying to trade away three of his five starters in separate deals to stockpile first round picks in an attempt to bring in all-star Jimmy Butler in a blockbuster trade scenario. Morey can't get his story straight and the fans are getting restless, and no doubt so is the owner that has a deep desire to bring the Larry O'Brien trophy back to H-town after a 25-year absence. After all the optimism and hope the fans of Houston had heading into free agency, there is an overall feeling of despair and disappointment as time keeps on ticking on the Rockets future with every passing day and free agents keep signing everywhere but Houston. CEO Tad Brown promised fireworks this offseason with Fertitta at the helm, but unless he meant the show on July 4th that lit up the night sky of the Bayou City, so far we have seen nothing short of a few smoke bombs and a fizzling sparkler. Adding Russell Westbrook would be the kind of "Woj Bomb" that would allow the franchise and its GM to exhale while giving Fertitta, the city and its fanbase reason for optimism going forward.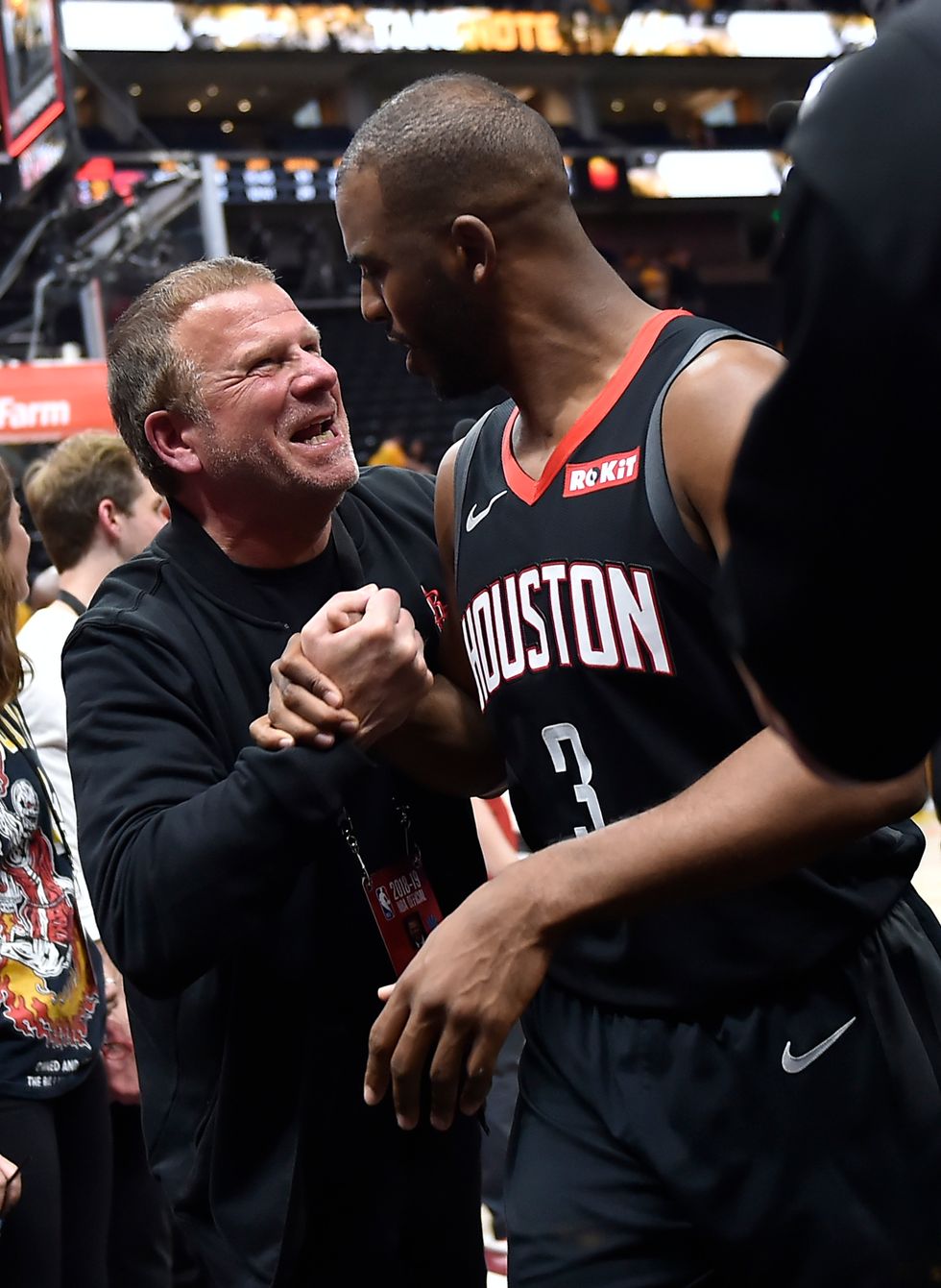 Photo by Gene Sweeney Jr./Getty Images
So I've given you a few reasons why the Rockets should consider adding Westbrook, but what about a little reality check as to why they should pass on the point guard and move forward without him? For all Russ does well and believe me there are plenty of skills he has mastered, he is still a scorer and not a shooter. He shoots at a high volume, but at a lower than ideal percentage, especially from distance which is a prerequisite for being a Rockets player under coach Mike D' Antoni. He struggles to knock down the 3-ball while demanding the ball be in his hands for the majority of each possession his team has in any given game. Sound Familiar? Well it should, because no one has the ball in his hands more for his team on a night by night basis than Harden. Could the two co-exist on the court together, on the same team? Would there be enough balls to go around to make everyone happy? If Paul and Eric Gordon and Austin Rivers were frustrated at the end of last season with ball distribution what would they feel like if Westbrook was added to the mix? How would Russ feel and could he handle sharing the rock with Harden and deferring to him during crunch time? If he couldn't handle playing second fiddle to Kevin Durant, would he even consider trying it again with Harden? Sure trading for Russ would be a huge splash and garner a ton of publicity, but would it end up backfiring on the franchise when all that exposure turned negative the first time the Beard and his Brodie got sideways? The last thing anyone in this town wants is another chapter in what has been a soap opera of an off-season in H-town. Oh, by the way, did I mention that Russ is going to make 170 million dollars over the next 4 years? That might be the single biggest reason why not. If you thought CP3's contract was bad, do you really want to pay Westbrook over 47 million dollars in the final year of his deal at the age of 34?