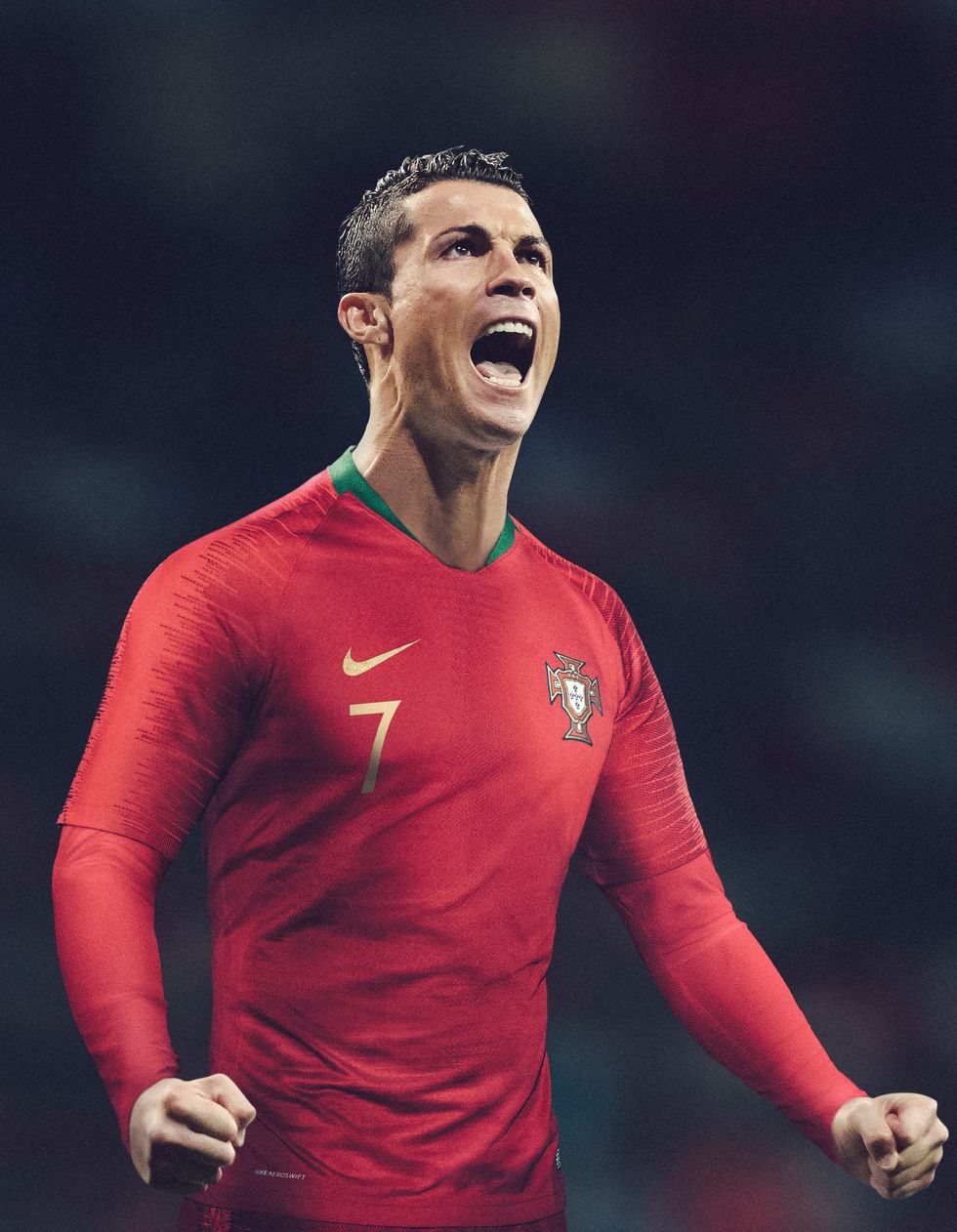 Cristiano Ronaldo and the Portugal National Team will face Egypt and the Netherlands as they prepare for the 2018 FIFA World Cup. Photo courtesy of Nike, Inc.
There may not be anything more exciting in soccer than international pride and that's exactly what we are going to get over the next week as nations participate in friendlies ahead of this summer's FIFA World Cup. Before we get to that action, let's recap how clubs finished their domestic battles before the FIFA international break.
Here are the top stories in soccer (followed by the upcoming matches schedule):
UEFA Champions League
The last four spots in the UEFA Champions League quarterfinals were booked this past week as Sevilla, Roma, Bayern Munich and Barcelona all saw out the results they needed in the second leg of their series. Sevilla upset Jose Mourinho's Manchester United thanks to a double from Wissam Ben Yedder in a 2-1 win at Old Trafford. Roma's 1-0 win at the Stadio Olimpico, combined with their 2-1 loss in the first leg, saw them advance over Shakhtar Donetsk on the away goals tiebreaker.
On the second day of matches, Bayern Munich won 3-1 to finish 8-1 on aggregate over Turkish side Besiktas while Lionel Messi made easy work of Chelsea to guide Barcelona to a 3-0 win at the Camp Nou. Messi's double saw him reach 100 goals in Champions League matches - becoming only the second player to reach the centenary mark after Cristiano Ronaldo, albeit in 21 fewer matches.
After Friday's draw, the "elite eight" matchups are: Sevilla vs. Bayern Munich; Juventus vs. Real Madrid; Liverpool vs. Manchester City; Roma vs. Barcelona.
The Champions League continues on April 3.
UEFA Europa League
The Round of 16 concluded in Europe's secondary club competition as Atletico Madrid, RB Leipzig, Lazio, Marseille, Plzen, Arsenal, Red Bull Salzburg and CSKA Moscow are the eight clubs that remain vying for the prize money and a spot in next year's Champions League. Among the big names crashing out are A.C. Milan, Lyon and Borussia Dortmund.
After Friday's draw, here are the quarter-final matchups: Lazio vs. Red Bull Salzburg; Atletico Madrid vs. Sporting CP; RB Leipzig vs. Marseille; Arsenal vs. CSKA Moscow.
Premier League
Only four matches took place in the Premier League this weekend. Crystal Palace won 2-nil at Huddersfield, Bournemouth 2-1 over West Brom, Stoke City played down a man for 70 minutes and lost 2-1 at home to Everton while Liverpool trashed Watford 5-nil thanks to four goals - also known as a ''poker" - from Mohamed Salah. Those four goals are currently the difference between Salah (28) and Harry Kane (28) at the top of the goalscorers table.
The rest of the teams not competing in the league over the weekend were involved in FA Cup quarterfinal matches. Tottenham went on the road and demolished Swansea City behind a double from Christian Eriksen. In a pair of 2-nil wins, Manchester United defeated Brighton at Old Trafford and Southampton won at Wigan Athletic. Leicester City bowed out of the tournament losing 2-1 at home to Chelsea as Pedro's goal proved to be the difference in extra time.
Top 5: Manchester City (81), Manchester United (65), Liverpool (63), Tottenham (61), Chelsea (56)
La Liga
Matchday 29 of La Liga saw more of the same for Barcelona, Real Madrid and Valencia. All three were victorious this week as FC Barcelona inched closer to the title with a 2-0 win over Athletic Bilbao. Second-place Atletico Madrid lost defender Filipe Luis earlier in the week in Europa League action and missed him in a 2-1 loss at Villarreal. Meanwhile, Real Madrid gained ground on their crosstown rivals in a 6-3 win over Girona at the Bernabeu. Cristiano Ronaldo scored in the 11th, 47th, 64th, and 90+1 minutes to leap over Luis Suarez in the goalscorers standings. CR7 is now in second, trailing Lionel Messi by four goals.
Top 5: FC Barcelona (75), Atletico Madrid (64), Real Madrid (60), Valencia (59), Villarreal (47)
Bundesliga
For the first time in weeks, Bayern Munich left a Bundesliga match without points. That's because RB Leipzig defeated the champions 2-1 at home. The result is more of a prideful win than an impactful one as the Bavarians still hold a cushion of 17 points at the top of the table. Bayer Leverkusen was the only other top five team that lost this weekend, falling 2-nil at Cologne.
Top 5: FC Bayern Munich (66), Schalke 04 (49), Dortmund (48), Eintracht Frankfurt (45), Bayer Leverkusen (44)
Serie A
Napoli was able to gain some ground on Juventus - who played to a scoreless draw at SPAL - with a 1-0 win over Genoa. Roma picked up a 1-0 win at Crotone while Inter Milan smashed five goals past Sampdoria. Mauro Icardi also had a 'poker' this week in Inter's 5-nil win. Lazio, meanwhile, drew 1-1 with Bologna. A.C. Milan defeated Chievo Verona 3-2 and are five points from fourth and a potential return to the Champions League.
Top 5: Juventus (75), Napoli (73), Roma (59), Inter Milan (55), Lazio (54)
Ligue 1
Dani Alves and Angel Di Maria both scored to lead PSG over Nice but the match of the week was the Choc des Olympiques between the two Olympic sides. Lyon was the victor over Marseille with a 90th minute goal from Memphis Depay. Second-place Monaco picked up a 2-1 win over Lille and Rennes won 2-nil at Bordeaux to cap off sides in the top five.
Top 5: Paris Saint-Germain (83), Monaco (66), Marseille (59), Lyon (57), Rennes (45)
------------------------
CONCACAF Champions League
The 'final four' clubs vying for the CONCACAF crown were decided last week. New York Red Bulls were successful in closing out their series at home against Liga MX side Club Tijuana, 5-1 on aggregate. Toronto FC was another MLS team that was victorious over a Liga MX side, advancing on away goals after tying the series 4-4 on aggregate. Club America won their match in Panama 3-1 and 7-1 on aggregate. In the last series, Seattle's injuries and 1-0 lead were too much to overcome on Mexican soil as they were eliminated by Guadalajara 3-1 on aggregate.
The semifinals: New York Red Bulls vs. Guadalajara; Club América vs. Toronto FC.
Major League Soccer
Alberth Elis made something out of nothing to create two goals for the Houston Dynamo in the span of 93 seconds - scoring the first and assisting on the second - in the first half against D.C. United. The Dynamo defense could not, however, keep the lead and the team ended up giving up a goal during the final stages of the match that ended in a 2-2 draw. The match was played in a small stadium in Maryland due to D.C. United's new home, Audi Field, still under construction until July.
Around other results from week three, Montreal defeated Toronto, 1-0, in front of 26,005 at the Stade Olympique. Minnesota, New York City FC, Atlanta, Kansas City, Salt Lake and Dallas also picked up three points - all of them home wins. This week serves as a bye due to the international break, giving teams a few extra days of practice.
East Top 6: NYCFC (9), Columbus Crew SC (7), Atlanta United (6), Philadelphia Union (4), NY Red Bulls (3), Montreal Impact (3)
West Top 6: LAFC (6), Minnesota United (6), Sporting KC (6), Vancouver Whitecaps FC (6), Houston Dynamo (4), FC Dallas (4)
Liga MX
Santos Laguna remains the head of the league, picking up another three points this week in a 1-0 win at Puebla. Monterrey got right with a 3-1 win over Queretaro, a rematch of a cup round of 16 the week before. Toluca and America met in a match between what were the second and third seeded teams in the table. Toluca won the heated affair in Mexico City were even the head coaches got physical, one almost chokeslaming the other, resulting in both eventually being ejected. Veracruz defeated Atlas, 3-1 which resulted in the latter firing their head coach on Monday. The other results this weekend were draws.
Among the results this weekend, Guadalajara and Tigres played to a scoreless draw. The two will face off for the second consecutive week on Saturday at BBVA Compass Stadium (5 p.m. kickoff, TICKETS). Glenn Davis will be giving away tickets on Soccer Matters, Wednesday 7-9 p.m. on ESPN 97.5 FM.
Top 5: Santos Laguna (26), Toluca (24), Tigres (22), Club America (21), Monarcas (20)
------------------------
National Women's Soccer League
In Women's soccer, the 6th season of professional women's soccer will kick off on Saturday. No other league has lasted as long as the NWSL and the league will feature a weekly match on Lifetime for the second straight year. The Houston Dash will play at home on Sunday as they kick off life under new Head Coach Vera Pauw. They'll have to find results early without Kealia Ohai, the club's all-time leading scorer, as she continues to recover from an ACL tear. All matches are available live on go90.com and the go90 app. [Link to Dash tickets]
Upcoming matches (All Times CT):
Friday, Mar. 23:
2:45 p.m. - [International Friendly] Portugal vs. Egypt (ESPN3)
2:45 p.m. - [International Friendly] Germany vs. Spain (ESPN3)
2:45 p.m. - [International Friendly] Scotland vs. Costa Rica (ESPN3)
2:45 p.m. - [International Friendly] Germany vs. Spain (ESPN3)
3 p.m. - [International Friendly] France vs. Colombia (ESPN3/ESPN Deportes)
9 p.m. - [International Friendly] Mexico vs. Iceland (FS1/UniMás/Univision Deportes)
Saturday, Mar. 24:
2:30 p.m. - [NWSL] North Carolina Courage vs. Portland Thorns (Lifetime)
Sunday, Mar. 25:
4 p.m. - [NWSL] Houston Dash vs. Chicago Red Stars (go90)
Monday, Mar. 26:
1:30 p.m. - [International Friendly] Portugal vs. Netherlands (ESPN3)
Tuesday, Mar. 27:
10:45 a.m. - [International Friendly] Russia vs. France (ESPN3/ESPN Deportes)
1:00 p.m. - [International Friendly] Egypt vs. Greece (ESPN3)
1:30 p.m. - [International Friendly] Belgium vs. Saudi Arabia (ESPN3)
1:45 p.m. - [International Friendly] Germany vs. Brazil (ESPN3)
2:30 p.m. - [International Friendly] Spain vs. Argentina (ESPN3/ESPN Deportes)
6:30 p.m. - [International Friendly] USA vs. Paraguay (FS1/UniMás/Univision Deportes)
8:30 p.m. - [International Friendly] Mexico vs. Croatia (FS1/UniMás/Univision Deportes)
Last night, the Houston Rockets traveled to Denver to meet the reigning NBA champion Nuggets.
With nearly a quarter of the season done, the Rockets still hadn't won a game on the road. The Nuggets still hadn't lost a game at home.
Gee, I wonder who won?
The Nuggets won, of course, 134-124. It was the Rockets leakiest defensive effort of the season. The Rockets now stand at an even-steven 8-8 on the season. They are futile road flops, 0-7 away from Houston, but nearly perfect homebodies, 8-1 at Toyota Center.
But why? This isn't like baseball, where every stadium has its quirky nooks and crannies, different lengths of grass, different acreage of foul territory, distances to the foul poles, grass or artificial turf, and heights of outfield fences.
NBA basketball courts are all the same. They're 94-feet long and 50-feet wide. The goals are all the same. The rim is orange, the diameter is 18 inches and it's 10-feet high. The backboard is 72 inches wide. The net is made of white cord and is between 15-18 inches long.
Oh sure, in the old days, there would be dead spots on some NBA courts and some rims were tighter than others. The Boston Celtics were occasionally accused of cutting off the hot water in the visiting locker room. Today's NBA is strictly by the book. There's no difference in the court from Miami to Portland.
And yet the home team usually wins. From top to bottom, teams have a better winning percentage at home than on the road. Last year, league wide, including the horrendous Houston Rockets and Detroit Pistons, home teams enjoyed a 56.7-percent winning percentage.
If every court is identical … why is that?
On some levels, it doesn't make sense. If anything, it should be the other way around. NBA players have it pretty cushy on the road. Teams stay in 5-star hotels. They're not bothered by the neighbor's barking dog or friends asking for tickets or Southside Place police stopping them for speeding in a school zone on Bellaire Boulevard.
When NBA teams travel, they meet at a separate terminal for celebrities and athletes at the airport. They do not go through TSA security like us mere mortals. The average NBA player makes nearly $10 million a year, but they still get $156 meal money per day on the road. Each arena supplies a sumptuous buffet worthy of a Hollywood plastic surgeon's wedding in the visitors' locker room.
Yet it holds, lose on the road, win at home. Look at the Rockets' season so far. At home, they've beaten the champion Nuggets … twice already. The Rockets have dealt the Nuggets two of their six losses this season. The Rockets also have beaten the 12-6 Sacramento Kings twice. They've toppled the L.A. Lakers and New Orleans Pelicans, both of whom have a winning record.
Then they hit the road and lose to the hapless San Antonio Spurs. Also the struggling L.A. Clippers and Golden State Warriors.
There are theories why the home team wins and the road team loses. Some make sense, like the road team has to deal with jet lag, changing time zones and different altitudes that sometimes leave them gasping. Meanwhile, home team players sleep in their own beds, enjoy home cooked meals and hang out with families and friends.
Other theories are trickier and more difficult to prove. Yes, the home crowd makes a difference, but not because fans are waving their arms while an opposing player is shooting free throws. Players are used to being heckled. They've heard it all and most can shut out the noise. But the sound of 16,000 fans screaming their heads off may result in subconscious referee bias. According to nerds who study this sort of thing, year after year, home teams shoot more free throws than visiting teams. There may be something to refs giving the edge on close calls to the home team.
Even with all the facts and theories, it's still a stumper why teams play better and win more games at home than on the road. I once posed that very question to Jeff Van Gundy, who has coached basketball on every level for nearly four decades. He's seen it all.
His answer: "I have no idea. I've always wondered about that myself."
SportsMap Emails
Are Awesome