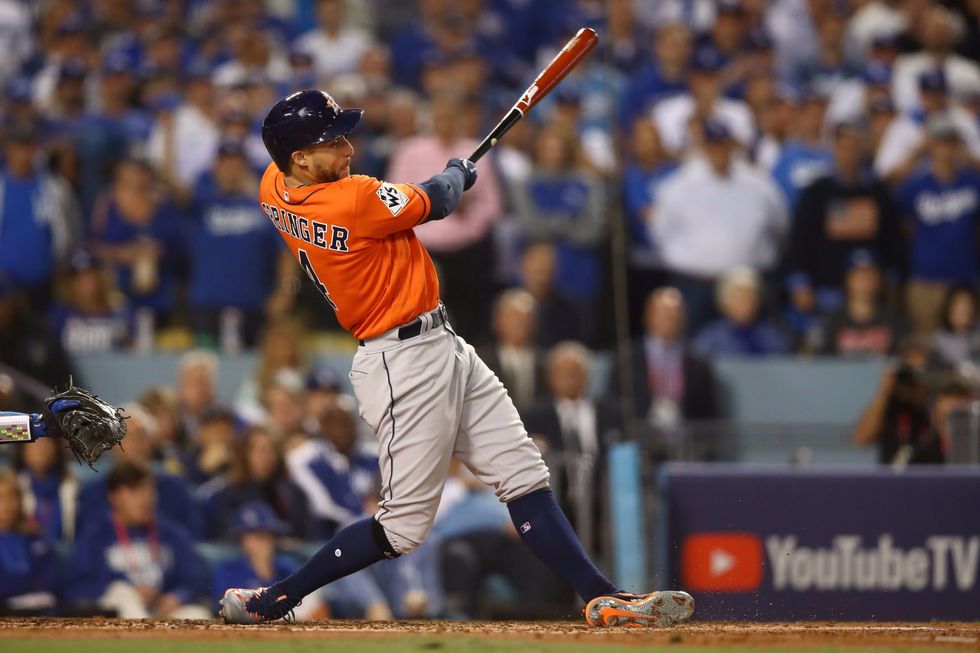 George Springer won the MVP award. Photo by Ezra Shaw/Getty Images
The entire World Series changed when George Springer got hot. And he stayed hot long enough to win MVP of the Series.
In Game 7, Springer went 2-for-5 with a home run and two big RBIs as the Astros won 5-1. He tied for the most HRs in World Series history with five. He hit homers in four straight games to end the Series. He set a record for most total bases in the Series. He hit .379 with five homers and seven RBIs.
Springer's huge series followed a breakout regular season, where he hit .283 with 34 homers -- nine leadoff homers -- and 85 RBIs. He tailed off in the second half, and did not do much for the Astros in the ALCS victory over the Yankees, hitting just .115.
The World Series did not start off well, as Springer was 0 for 4 with four strikeouts. But after that, he was on fire. In Game 2, he went 3 for 5 with a key 11th-inning HR. He stayed hot from there, and was at his best in Game 7.
One of the Astros core young stars, Springer came up huge when he was needed most. And the Astros are champions because of it.
And Springer is the MVP.
The Texans lose a tough one to the Jags on Sunday, and the referees were certainly a factor. Are they to blame for the heartbreaker?

SportsMap Emails
Are Awesome