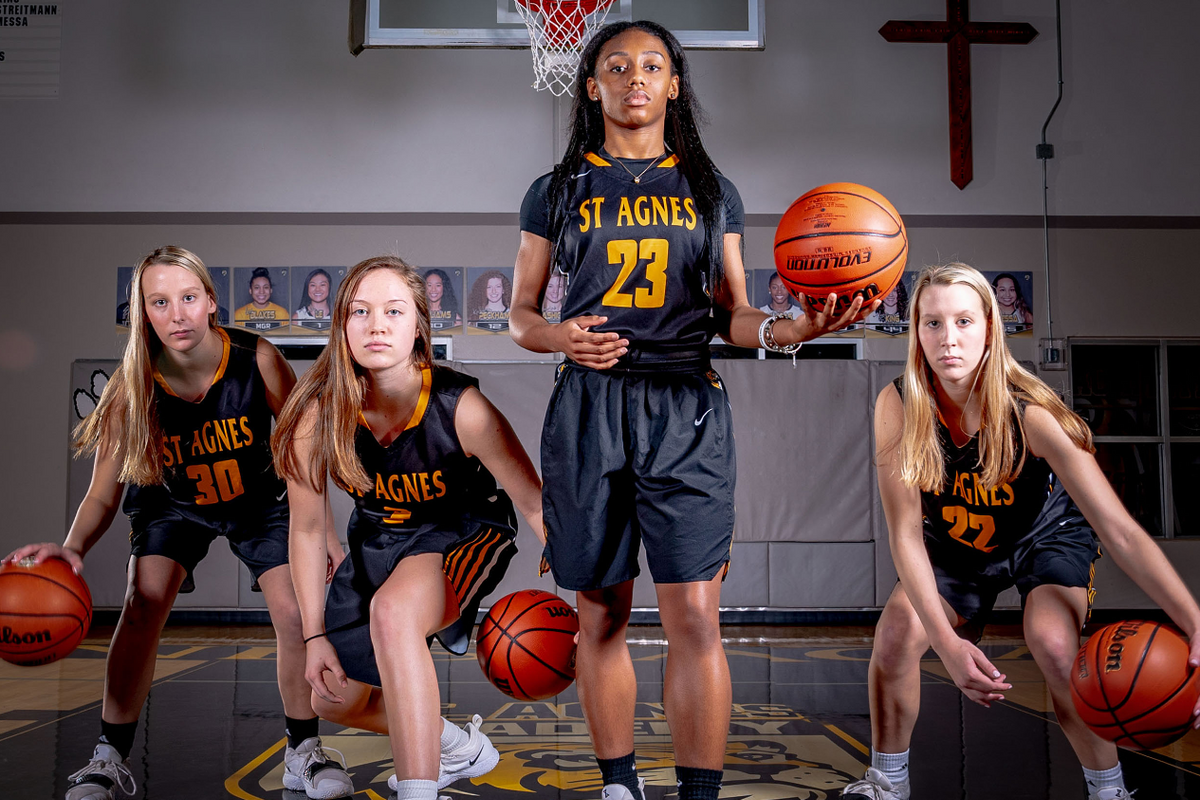 All four seniors and all four have now eclipsed 1,000 career points. Via Vype
Originally Appeared on Vype
HOUSTON – In an entire coaching career, most coaches can count the number of players they've had reach 1,000 points on one hand.
Jeff Hollinger now needs two.
More impressively, Hollinger, who is in his 13th season at St. Agnes, can look down his current roster and count four players that have reached that career landmark – Emily Nelson, Katie Dickerson, Kelly Dickerson and Madison Lucas.
"In a program you may have one or two kids that are going to score a lot of points," Hollinger said. "But never would I have thought I'd have four kids, all the same age, all play varsity all four years end up with 1,000 each. That's extremely rare.
"I don't know if I'll ever see it again."
All four seniors and all four have now eclipsed 1,000 career points – three coming this season alone.
"It's really special because it's the players I've been playing with since freshman year," Nelson said. "The four of us all made it onto varsity our freshman year, so it's nice being here with them."
Prior to Nelson reaching the 1,000-point mark last season against Incarnate Word Academy, Lauren O'Connell was the last to reach it in the 2015-2016 season.
Also in the club during Hollinger's career was Chelsea Bass, who serves as the St. Agnes Junior Varsity Coach.
"No, I thought that was crazy," Nelson said about scoring 1,000 points. "I had known about Coach Bass scoring 2,000 but 1,000 even seemed crazy to me. I was surprised."
With Nelson reaching her mark in her junior season, it allowed the Trinity University commit the chance to help her teammates and best friends reach the career milestone.
"It was so much fun because a part of my game that I enjoy is giving assists," Nelson said. "That was a part of my game I could improve because it's easy to give great passes to the twins when I know they're going to finish."
Continue the story here
The Houston Texans may not have come away with a victory over the Jags on Sunday, but they did come away with a ringing endorsement from Skip Bayless.

While that may scare some people reading this, he does make some good points. His two main reasons for backing the Texans over Jacksonville should be no surprise. DeMeco Ryans and CJ Stroud.
Skip loves DeMeco's demeanor on the sideline and how he appears in total control of his team. And with CJ, Skip can't remember a quarterback with this much poise in his rookie season. His ability to use his legs and make accurate throws is something he's never seen. He already looks like a player 10 years into his career.
Plus, Skip says he felt like Stroud outplayed Lawrence even in the loss. Which led him to look up their QBR scores from the game. And sure enough, Stroud had a higher score.
Be sure to watch the video above as the guys discuss Houston's playoff chances, why free agents will want to come to the Texans, and Richard Sherman shares some inside information on DeMeco Ryans.
If you want to jump ahead to Skip's Texans praise, simply hit play on the video below.
SportsMap Emails
Are Awesome