SportsMap's Cody Stoots details what he saw and heard that will stick with him from the 2019 NFL Combine
Stoots: 11 favorite things from the NFL Combine
Mar 5, 2019, 7:29 am
D.K. Metcalf is a physical freak. Getty Images.
It was my first trip to Indianapolis and my first trip to cover the combine. These are my 11 favorite things from the 2019 NFL Scouting Combine.
1. Washington tackle Kaleb McGary has one of the best journeys to the combine and one of the best personalities.
"Fair warning – it's basically a country song, so get ready," said McGary.
His family lost their farm. His father was diagnosed with multiple sclerosis. Girlfriend leaves him. Dog dies. His family lives in an RV in his grandparent's yard. Get second RV to have some space. Get room cleaned in grandparent's house. Second RV catches fire. Burns house. Parents almost die. Jump through hoops to get GoFundMe cleared with NCAA. Use all of the money quickly. House work stops. He has a heart arrhythmia that requires surgeries in college.
All of that plus the heartbreak of multiple Huskies seasons not going their way. Then he did this at the combine.
And he did it all with a smile. Great perspective. Great dude. Easy to root for Kaleb McGary.
2. Big people aren't supposed to move like Andre Dillard did.
Read more about Dillard and his fit with the Texans.
3. Justice for all, or at least one team in a couple of months. The Oklahoma State Cowboys back was a freak. He came in without a lot of buzz and left with almost all of it.
4. It ain't the luck of the Irish when you have these skills. Notre Dame wideout Miles Boykin found himself with the same type of combine Justice Hill had. Showed up, was a freak, left with the hype.
He can go up too.
Oh, and he ripped off a 4.42 40-yard dash as well.
5. Speaking of really impressive athletes, how about D.K. Metcalf? At 6 feet 3 inches, 228 pounds and 1.6% body fat he did this
And this.
And most impressively to me, this.
Oh and he called his family after that blazing fast run and despite looking like a monster had a very human moment.
6. Washington Redskins strength coach Chad Englehart deserves props. He oversaw the bench press for I believe every player. His energy was the same for every guy. He encouraged them. Gave them tips. He even got them hype when they wanted it or needed it.
It was awesome watching the bench press. It was even more awesome watching these athletes root each other on, with some directing from Englehart in the process. They're all competing against each other essentially but they were sure to root for each other here. Made me want to get out there and lift.
7. The Millionaire Mouth. Hakeem Butler was the best draft prospect on the microphone at their media availability. Here are some of his highlights.
His favorite route? "I guess just 'go' because like a lot of people here, ya'll gonna sleep on my speed. Once I get up on ya, it's too late."
What does he make of the buzz around him? "You think there's been a lot of buzz about me? I disagree with that. I don't think there's been enough buzz. But we're gonna fix that soon."
What makes you the best wideout prospect? "I'm 6-6, first of all. Nobody here is 6-6. I'm the biggest. I'm gonna run good. So … I just know me. It's up to you to believe who you are. I believe I'm the best."
What advice did he get from Calvin Johnson? "That the man across from you is trying to take your head off so you have to take his head off first."
The he did this the next day.
8. Ed Oliver is ready to invest his NFL money. The Houston defensive lineman grew up with horses but he might have other livestock in mind when he has NFL money.
Maybe if he gets some of those wagyu cows and turns them into steaks maybe he could pass them along to...
9. I believe I have found football Ron Swanson. Washington State quarterback Gardner Minshew was awesome talking to the media. He has quite the reputation as a rambunctious character but he was a cool customer at the podium. The mustache is here to stay. Outside of football he does woodworking and likes to cook.
"Man, throw me on the grill, that's my specialty. Steaks, burgers, however you like it, I'll make it for you."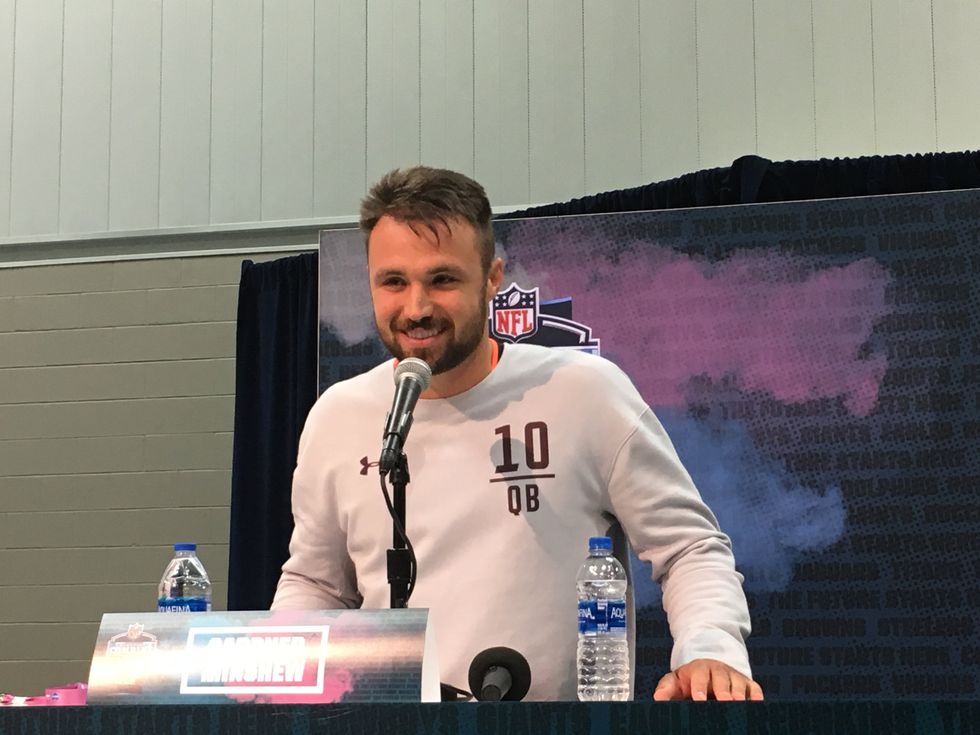 Washington State QB Gardner Minshew aka Football Ron SwansonCody Stoots of SportsMap
He also had maybe one of the best answers about his ability playing quarterback.

"I'd say elevating the guys around you," he said. "That's what it's all about playing this position. Taking this team, going 11-2, 11 wins for the first time in school history. That's what it's all about, making the guys around you better, that's how you come to work every day and how you lead."
10. "Do you have both your testicles?" That was the question asked to Texas cornerback Kris Boyd.
I have no idea why they would ask him that but that was one of the only out there questions I heard about all week.
11. The best tacos in the world? They are in Indianapolis according to one of my drivers at the combine.
Unfortunately I didn't get to try them. Maybe next year.
I did try the local favorite. Indianapolis is famous for this shrimp cocktail.