H-Town Run Tourist's Guide to Mental Health
Terry Hershey Park: My place of solace
Jul 16, 2019, 6:36 am
---
Jovan Abernathy is an international marathoner and owner of Houston Tourism Gym. To claim your free tour, contact her at info@tourismgymhtx.com. Follow her on Twitter @jovanabernathy. Instagram @TourismGymHtx. Facebook @TourismGymHtx
When I need a serious reset, I jump in the car and and go to that parking lot under Beltway 8 and Memorial. I get my headphones, and my phone and just start walking. I'm talking about Terry Hershey Park. This out and back trail of about 12.5 miles has been my place of solace. This is the place where I began my journey into fitness. This is the place that brought me out of depression. I have used the rolling hills of Terry Hershey Park to train for my races, and I still come here to chill the f*** out. This is why: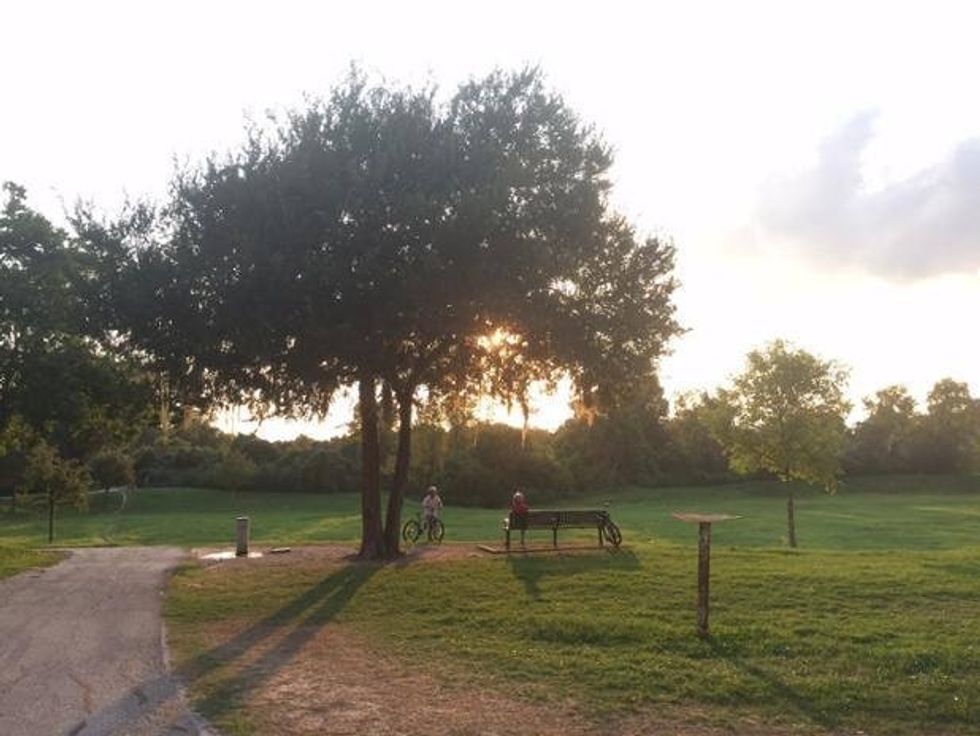 Breathe in the beauty.
Author's own
There is beauty all around.
Terry Hershey Park is situated along Buffalo Bayou. There are all these trees that are overgrown with vines. It looks like a rainforest. It's like the trees befriended a vine and the vine showed them up. I don't know who is winning in this relationship. I think we are because it is beautiful. See how I just had this weird conversation in my head. Guess what I wasn't thinking about. The bad breakup I went through 5 years ago. Terry Hershey is also great during bluebonnet season. Many people visit to strike a nature pose. You can also use one of the many dedicated benches to reflect on your beautiful surroundings.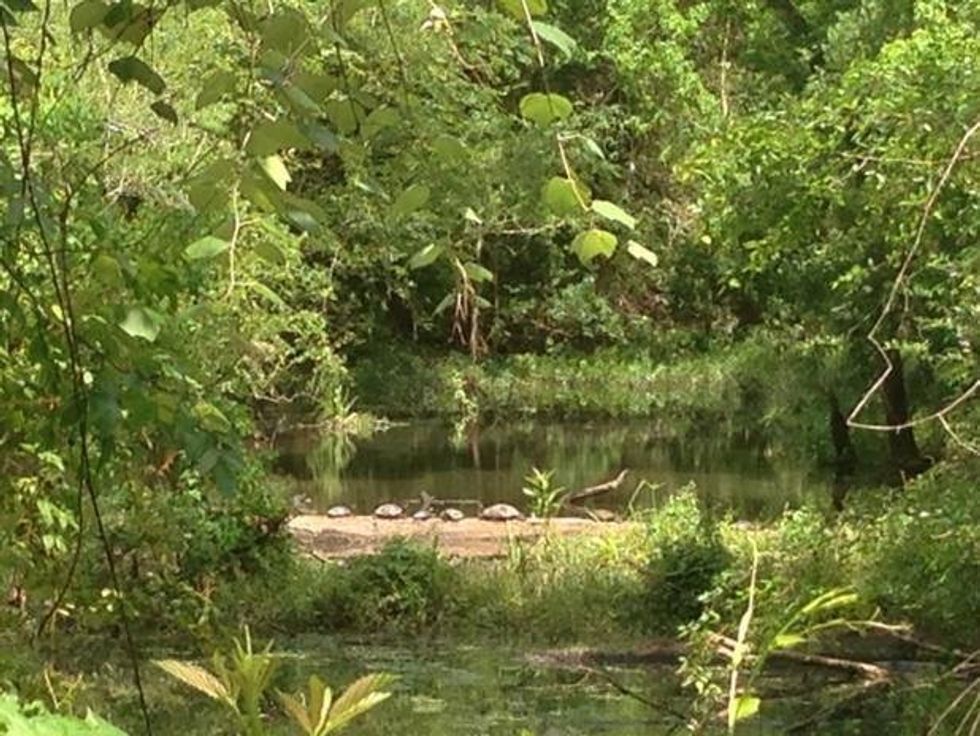 Shh! Keep quiet or you will scare them.
Author's own
The wildlife is abundant.
I really get a kick out of counting the different wildlife that I encounter. While preparing for the article, I tried to find all the insects, birds, and mammals that you will see in Terry Hershey. Too many to name so I will tell you my favorite stories.
This week, I saw 5 rabbits, some squirrels, a cardinal, lots of butterflies, a turtle, egrets and herons. There have been many times that I have seen 30 turtles just sunbathing. They are really scared of people so you have to be quiet or they duck back into the water. One time, I was running and almost ran into a huge spider hanging from its silk. I stopped to take pictures, but it wasn't having it. I waved bye-bye as it crawled up it's silk. I have also encountered poisonous snakes, but luckily, I saw them before they saw me. I can't help it, I'm a wildlife voyeur.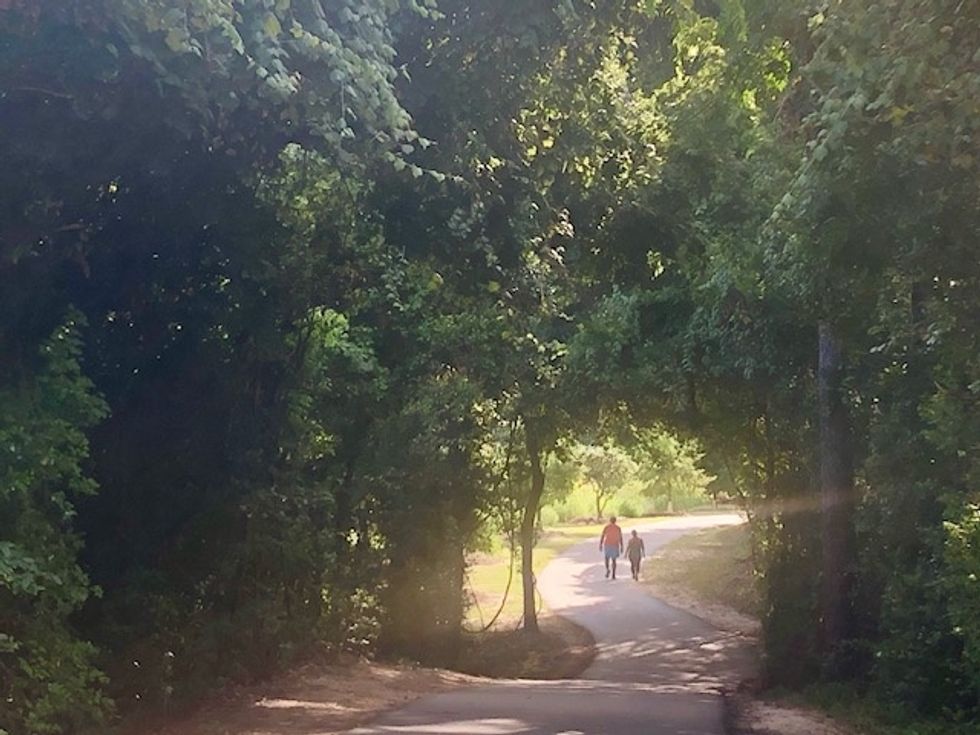 Walking or running, you get a great workout.
Author's own.
You can train for challenging races.
Terry Hershey Park is a great place to train. As I stated before, you have 12.5 miles of trails to work with. Whether you are a walker, runner, biker, or canoeing is your thing, this is your place to train. There are some of the best hills in Houston here making it a challenge. There are different trails with different difficulty levels. If you are training for a trail race, you can take the more difficult unpaved trails which are great to work those supporting tendons. You can also get off the beaten path that is across the bayou that will really test you. Honestly, I still don't know how to get on it.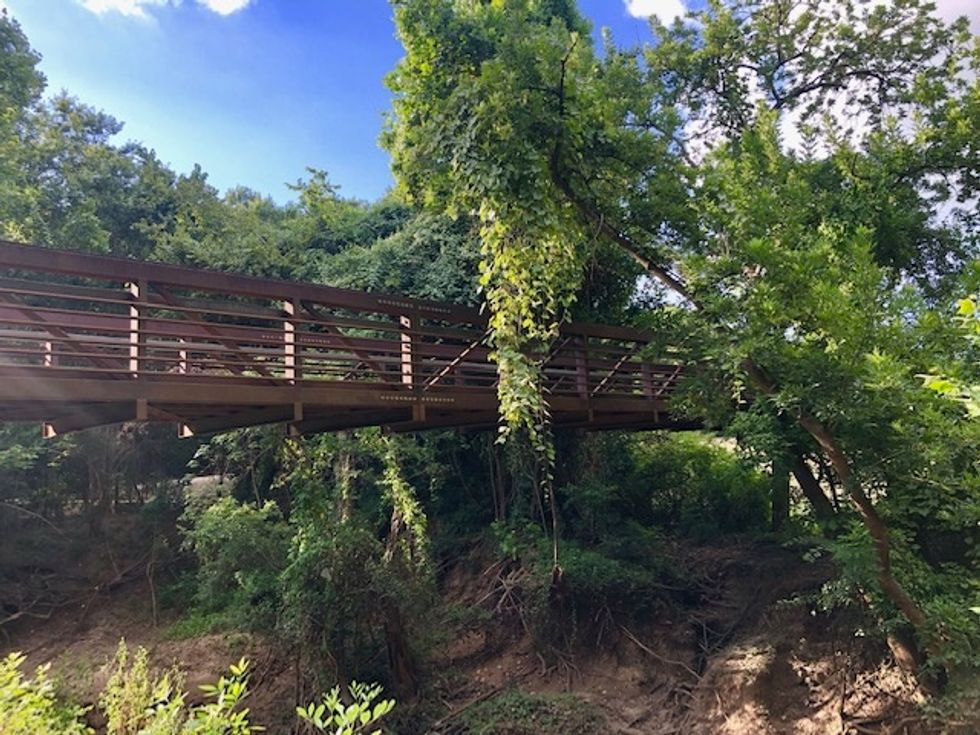 Worth the 4 mile run.
Author's own.
Personal Experience
You have probably gotten that this park is dear to me. Let me tell you about some of the fun times that I have had on it. I call it "fun with myself." Not like that. Brace yourself, This is silly. When you have moments like these, you just have to give yourself over to them. I was listening to classical music while running. All of a sudden a song from the Last of the Mohicans comes on. It was so dramatic, I felt like I was running across a meadow or the frontier. Every turn felt new. I really felt alive and guess what? I was actually running across a meadow because that is what Terry Hershey looks like. I never forgot it. But, you know what I did forget? The fact that my car needs yet a new tire and oil change.
If you are new to Houston, want some hill training, or just need to relax, do not hesitate to get on the Beltway. Exit Briar Forest and park in the parking lot just underneath. It will lead you to mental health heaven.