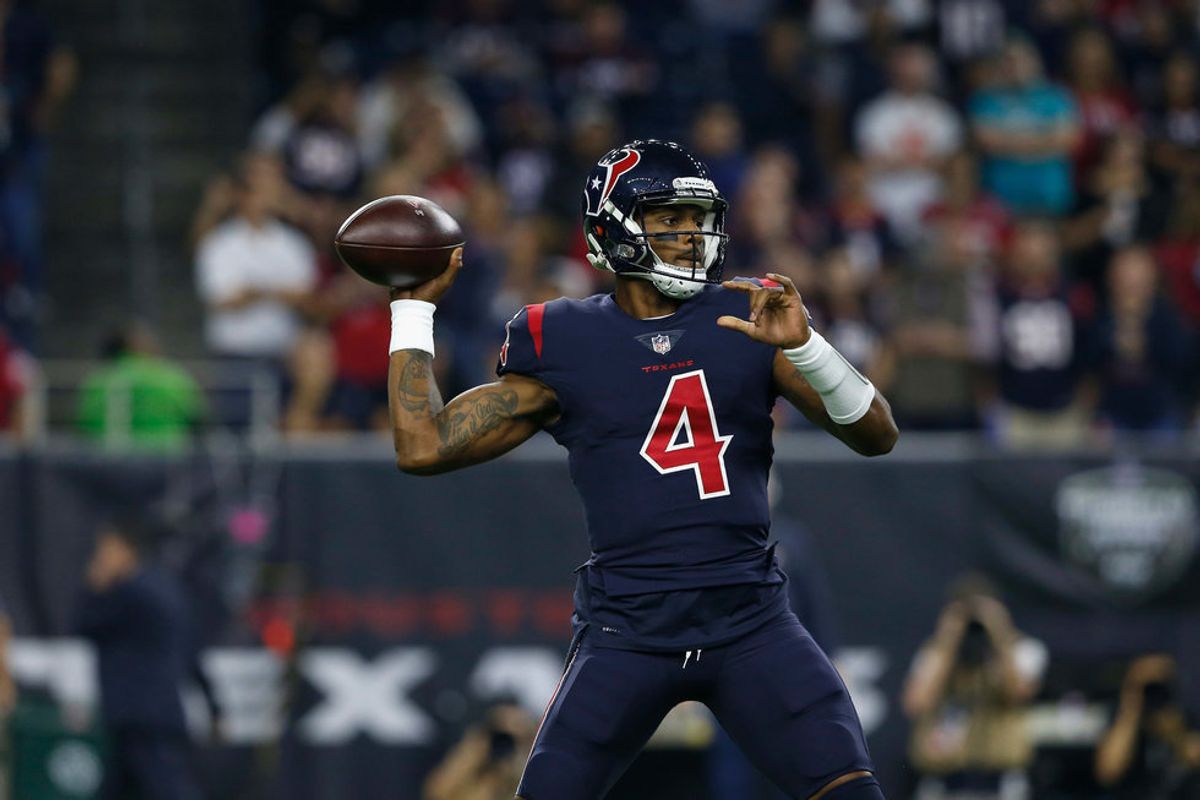 Deshaun Watson had an up and down day. Tim Warner/Getty Images
The Texans have been around for 18 years. They've made playoff appearances and even have a couple playoff wins. Never in their history, with the exception of a couple years in the Matt Schaub era, have they been truly thought of as a serious contender. They've built a reputation as a team that's more like the bridesmaid who never gets married, but is always asked to be in another friend's wedding. Close, but never the center of attention. Always on the outside looking in. Smelling the cookies, but can't afford to buy them. You get the point.
They have a chance to change that narrative this season. More specifically, they can set themselves up nicely over the next three weeks. With games against at the Ravens and MVP candidate Lamar Jackson in a noon time must-see-tv matchup, Thursday Night Football against division rival Colts, followed by Sunday night Football against perpetual big brother in the Patriots. All three games will be paid close attention to by the national eye given the high profile nature of not only the opponents and times they play, but also because the Texans are 6-3, leading the AFC South, and have a pretty damned good quarterback of their own. But there are bigger implications at stake.
Ready for your closeup Mr. Watson?
Deshaun Watson is no stranger to the spotlight. We all know of his exploits while at Clemson, and we've all heard what his college coach thinks of him. Over the next three games, he has an opportunity to establish himself as not only an MVP candidate this season, but as one of the best quarterbacks in the league. He has to outplay and beat a current MVP frontrunner, division rival, and Hall of Famer to do so. The funny thing is, it's not farfetched given the immense amount of talent he has. He has enough talent around him and the ability to elevate said talent to get it done. No more excuses because stretches and opportunities like this don't present themselves too often.
Next man up
In 2010, the Packers went on to win the Super Bowl. They also had over 20 guys on injured reserve that year as well. No team goes through a season and wins at a high level without facing adversity. The excuse of guys being hurt is the reason for not succeeding is for losers. Every player on that roster is there because they're considered one of the best in the world at what they do. There are approximately seven billion people on this planet. Only 1,952 of them are actively on an NFL roster or practice squad (give or take some on injured reserve and other lists). While the guys on the middle to back end of the Texans' roster may not be the best, they also didn't make it this far without proving themselves capable. Lose the "we have guys injured" narrative and step up to win games.
Little brother syndrome
Over the course of their history, the Texans have had a little brother syndrome when it comes to the Colts and Patriots. The Colts have owned the AFC South and they've failed miserably at trying to be Patriots South. Both of these teams have been to and won Super Bowls since the Texans have been in the league. Both have also used the Texans as a doormat to those Super Bowls. Now is the time to start putting an end to both of those storylines. The Colts are still a good team, but they aren't the juggernaut they once were. The Patriots still seem to be the powerhouse they've always been, but also have chinks in their armor. Watson is the one piece the Texans have never had: a dynamic playmaker at the most critical position. Now is the time to punch these two older brothers in the mouth and establish a new trend.
A reason for arrogance
It's well-known that Bill O'Brien can be a prick. His smug answers and general arrogance are another reason why people feel this franchise is trying too hard to be Patriots South. He's seen as a Bill Belichek knock-off who doesn't have the skins on the wall to pull off Belichek's persona. If this team can not only win these next three games, but also begin to establish themselves as true title contenders for the foreseeable furture, O'Brien's attitude would be a lot more accepted. He seems to be more pleasent when things are going his way, so maybe he'd drop the asshole act altogether if the team is winning and contending. Whether he's a nice guy or not doesn't mean much to me, but his whole schtick would be more palatable if the Texans were making regular AFC Title game appearences.
I'm not saying this three game stretch will define this franchise for years to come. This stretch can springboard them into something bigger. Finishing this run 3-0, 9-3 overall, would give them supreme confidence as well as position them for a first round bye in the AFC playoffs. They would even have a shot at homefield advantage throughout should they finish with the same record as the Patriots. Now is when it's time for your nuts to drop and voices to deepen Texans. It's time to start shaving and wearing grown man deodorant. This is when you have to get a job and start paying bills. Growing up has to happen at some point, or you're just another bum living off your parents and more successful siblings.
The Houston Astros were in need of some serious help in the bullpen with Phil Maton, Hector Neris, and Ryne Stanek likely leaving this year in free agency.
While some fans were getting concerned about the quiet offseason, the club has made two moves this week to get the ball rolling.
First the team signed Victor Caratini to be the backup catcher, and now they have added some relief pitching.
The Astros traded pitching prospect Carlos Mateo to the Royals for RHP pitcher Dylan Coleman.
Coleman appeared in 96 games in the past three seasons for KC, including 68 games in 2022 and 23 games last season. He has a career 3.88 ERA and 1.37 WHIP. He's fastball (95 mph), slider (81) and cutter (90) and walked 57 batters and struck out 99 in 92 2/3 innings.
— Brian McTaggart (@brianmctaggart) December 6, 2023
Coleman is under club control for the next several years, and made just over $700,000 in 2022. With the Astros right up against the tax threshold, this is a good way to add to the bullpen without having to hand out a large contract.
The Royals had a tough roster decision to make with Coleman, and the Astros made the decision easy for them by making the trade.
Something to note
There's a reason Kansas City wasn't determined to protect Coleman from the Rule 5 Draft. Despite his decent numbers over the last three seasons, 2023 was a rough year for him, posting an 8.84 ERA over 23 games.
In fact, Coleman pitched more innings (30.2) for the Royals AAA team than he did for the big league club (18.1) in 2023.
Hopefully, the Astros can get him back on track this season with some help from their highly touted player development program.
You can watch some of his 2022 highlights above.
SportsMap Emails
Are Awesome