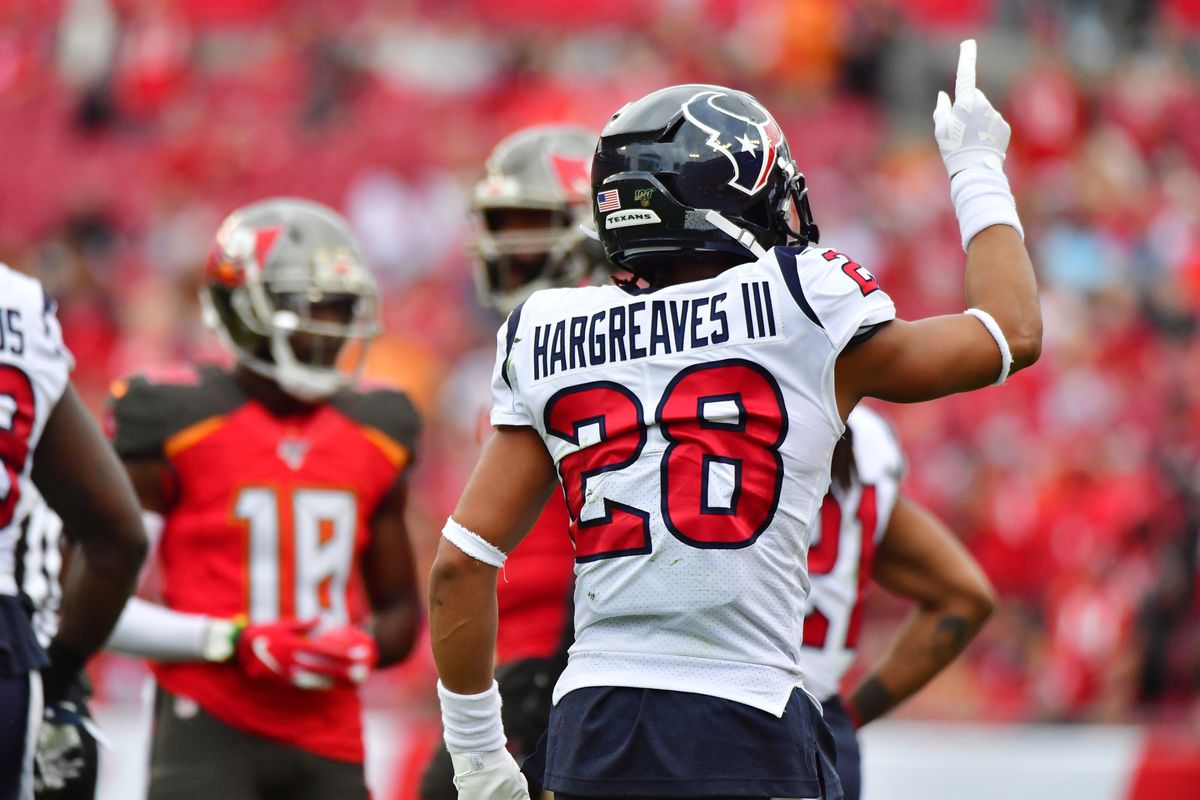 The Texans and Buccaneers played one of the most bizarre games of the season. The first half was a turnover filled mess. The second half was a more grind it out, conservative type of football. In the end, Jameis Winston's four interceptions gifted the Texans a 23-20 win over the Bucs and an AFC South title. The Texans were badly outplayed, but escaped with a victory. Here is how it all played out:
Offense
Positives: There weren't any.
Negatives: The Texans offense was simply ineffective for much of the game. They could not run the ball, and Deshaun Watson played another sub par game. Those are starting to mount late in the season; he has not played a good game since the New England win. He was 19 of 32 for 184 yards, no touchdowns and an interception. He was also sacked five times, most on him. He missed several open receivers throughout the game. Not really a negative, but it was expected: Will Fuller once again left the game with an injury, this time with a groin. Fuller just can't stay on the field. The first offensive possession yielded only a field goal despite great starting position due to an interception. In 15 games, the Texans have managed six points on their opening offensive drives. Duke Johnson had a bad fumble early in the second quarter. The Texans struggled against the Bucs defense and did not take advantage of all the early turnovers. They averaged just 2.6 yards per rush.
Defense
Positives: The game could not have started any better for the Texans, as on the second snap Bradley Roby picked off Winston and took it to the house for a 7-0 lead. Winston has now thrown picks on four of his last five opening drives. His second pick went to Justin Reid, who also ran it all the way back, but a penalty wiped the touchdown off the board. The Texans would settle for a field goal and a 10-0 lead with still more than 11 minutes left in the first. They followed up the two picks with a blocked field goal, their second in two weeks. They forced five turnovers in the game, including a clinching pick. In the first half alone, they picked off Winston three times, forced a fumble and blocked a field goal, and yet they were tied at 17-17. That is in part because of the poor offense, but also...
Negatives: Some of the same old ugly issues came up. They gave up huge plays on third down throughout the game, including on several third and longs. Tampa was 9 of 17 on third down for the game. They got almost no pressure on Winston until late in the game. They missed tackles throughout as well. They were lucky that many times Winston was inaccurate on some passes where he had wide open receivers. They failed to cover tight ends and backs out of the backfield, problems they have had all year. The reality is when the Bucs did not score, they stopped themselves with the turnovers or missed open receivers, or in some cases dropped passes.
Some extra thoughts
A positive: Bill O'Brien won his first challenge of the season! It overturned a big pass play near the end of the first half.
A negative: Rich Eisen, who was doing play by play, constantly kept mixing up names and really did as poor a job as any professional broadcaster on an NFL game this season. The entire crew was bad, but Eisen's inability to get basic names and facts straight was an outright embarrassment. Eisen in general is really good, but on Saturday he was pathetic.
The bottom line
Despite the offensive struggles, despite being badly outplayed, the Texans win the AFC South. They were outgained 426-229, averaged just 3.6 yards per play to Tampa's 6.1, and would have had no shot if the Bucs had not kept shooting themselves in the foot.
The good news is the Texans will be able to rest some key players next week and prepare for a home playoff game in two weeks. It's hard to have a lot of confidence in this group in the postseason, but they are AFC South champs again nonetheless. After winning 11 games last year, they will be 10-6 at worst against what was a pretty good schedule. Deshaun Watson will have to play much better in the postseason, and there are some things to clean up on both sides of the ball. But they are where a lot of teams would like to be - in the playoffs with a home game.
One of the big factors that led to the Texans' loss to the Jaguars on Sunday was the secondary. Multiple flags for pass interference gave Jacksonville more opportunities to pick up first downs and score points.
Can confirm #Texans backup CB Shaq Griffin was cut.

Griffin started 6 games this year when Derek Stingley was out with a hamstring.
— DJ Bien-Aime (@Djbienaime) November 29, 2023
So it's no surprise that DeMeco Ryans is making some changes to his defense this week. According to several reports, Texans corner Shaq Griffin has been cut.
Nickel corner Tavierre Thomas was flagged for PI more than once on Sunday, and was burned badly by Jaguars receiver Calvin Ridley for a touchdown.
DeMeco was asked after the game if he considered replacing Thomas with Desmond King or Shaq Griffin. Ryans didn't give a definitive answer, but it looks like we got one today.
One has to wonder if Desmond Kings' experience playing nickel was the reason for his promotion to the active roster and why Griffin was released. If Thomas continues to struggle, King looks like the next man up to replace him.
#Texans activate Denzel Perryman, promote Desmond King to active roster, release Shaq Griffin, sign Matt Ammendola and Garret Wallow to practice squad, released Gerrid Doaks from practice squad and placed Tytus Howard (knee-patellar tendon surgery pending) on injured reserve https://t.co/knyyoqo7yC
— Aaron Wilson (@AaronWilson_NFL) November 29, 2023
The Texans also made some other adjustments to their roster on Wednesday, per Aaron Wilson. Linebacker Denzel Perryman returns from suspension, kicker Matt Ammendola and linebacker Garret Wallow join the practice squad. They also released Gerrid Doaks from the practice squad.
The other big piece of news involves left guard Tytus Howard. He heads to injured reserve, ending his season after hurting his knee against Jacksonville.
SportsMap Emails
Are Awesome