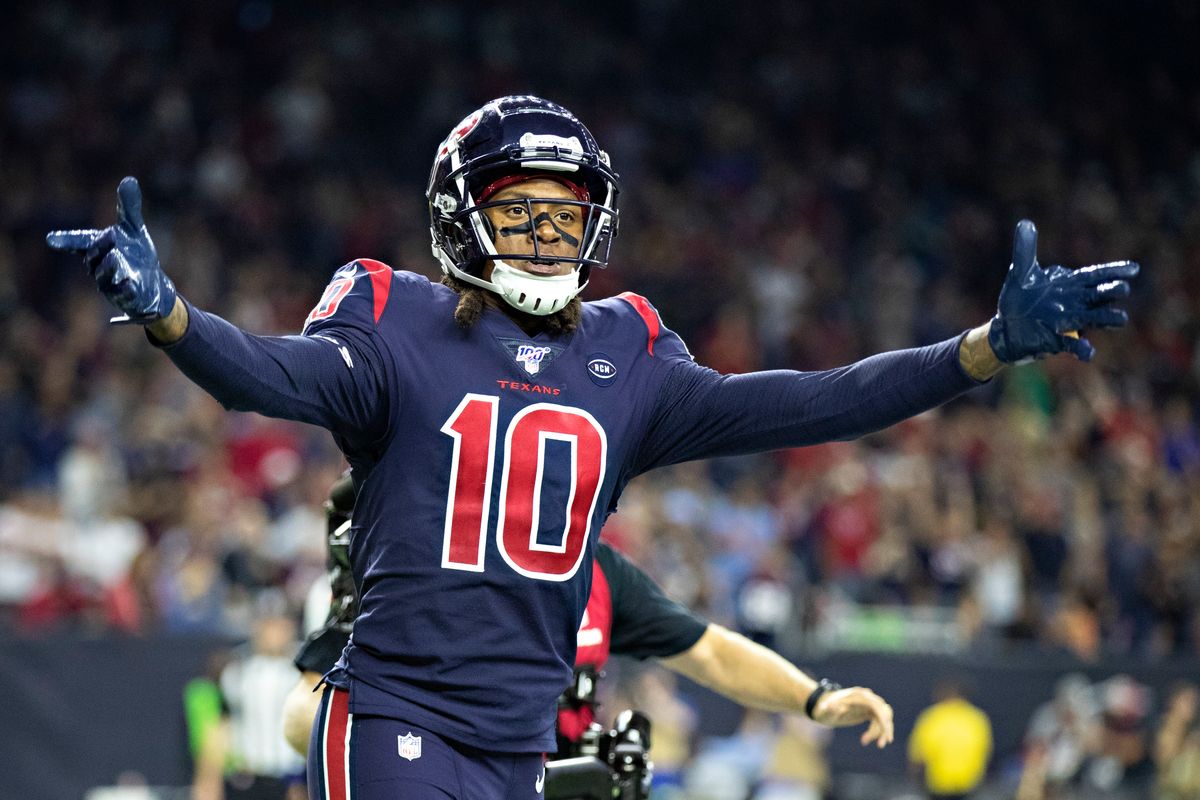 Off Sunday's humiliation in Baltimore beating the Colts was a quality bounce back for the Texans Thursday night. Neither team looked like a Super Bowl threat, and the prospect of the Texans winning another AFC South championship excites very few as a stand alone achievement. Still, if the Texans are to ever notably break through in the playoffs, being in the playoffs is a prerequisite. The Texans are now probable to secure another one of those cute little AFC South Champion banners.
I said on the radio this week that it was lame that the Texans offensive scheme had largely reduced DeAndre Hopkins to a possession receiver. Through the first 10 games D-Hop wasn't even averaging 10 yards per reception (9.9). His low for a full season is 12.2, second lowest 13.7. 35 and 30 yard touchdown receptions vs. Indy later, the words "about time" come to mind. About time in giving their best player a chance to make catches downfield once in a while.
At 7-4, the Texans last regular season game against a good team is vs. the Patriots a week from Sunday. Even if they do their usual and lose to the Pats, the Texans should win 10 games and for a sixth time in nine years their division. Over the last quarter of the schedule anything less than 3-1 would be something on the spectrum from disappointing to epic failure (should it cost them a playoff spot): two games with the currently 5-5 Titans, a home game vs. the 3-7 Broncos, and a road game at the 3-7 Buccaneers.
State of dismay
Except for Baylor and SMU (both 9-1!), what a crappola FBS Texas college football season is winding down.
Tom Herman's third season at Texas stands at a mediocre 6-4 heading into Saturday's game at Baylor. The Longhorns have no individually horrible losses, but TCU and Iowa State are nothing special, and they barely beat Kansas. UT's season makes a punchline of Sam Ellinger's "We're baaaaaack!" proclamation after last season's Sugar Bowl win. Mack Brown's third season in Austin produced the first of what would be 10 consecutive seasons finishing in the top 13 of the final AP poll.
Jimbo Fisher is in his second season at Texas A&M. The Aggies are a hollow 7-3 heading into Saturday's game at Georgia. The Aggies' three losses all came to excellent teams: Clemson, Alabama, and Auburn. But they weren't substantially competitive in any of those games. The Aggies seven wins have come over not bowl eligible squads, though Mississippi State could get to 6-6! If the Aggies don't pull a major upset at Georgia or next weekend at LSU, Fisher's second season is a definite disappointment. His first season in Aggieland high point was the seven overtime thrilling victory over LSU. Contrast the Aggies with the Tigers 12 months later.
Dana Holgorsen's first season at UH is a stink bomb, Mike Bloomgren's second at Rice has one win. TCU, Texas Tech, North Texas, UTSA, UTEP. Not one winning record in the bunch.
Fuss about Russ
Russell Westbrook is one of my top 10 all-time NBA favorite players to watch. That doesn't change the reality that his three point shooting is lousy and despite the Rockets' bombs away system he should basically stop shooting threes. Westbrook is literally the worst volume NBA three point shooter ever. Four of the last five seasons he has failed to crack 30 percent. 30 percent stinks! So far this season, West"brick" checks in at a sub-awful 22.7 percent. It's going to be a problem for the Rockets in trying to win at the championship level. On the plus side, Westbrook is a one man fast break who has elevated the Rockets from being one of the slowest tempo offenses to one of the fastest.
If you'd like to live in Edmond Oklahoma about 20 minutes from downtown Oklahoma City, Westbrook is selling his mansion there. Approximately 8400 square feet, it can be yours for $1,695,000! He's selling at a loss. Westbrook owns a 9000 square foot palace in the ritzy Brentwood area of Los Angeles, for which he paid a reported $19,750,000.
Big Bang coming
With the state of their payroll the Astros weren't going to spend much in free agency regardless this offseason, but it can't help that Jim Crane and his ownership partners are probably looking at a seven figure fine when Major League Baseball lowers the boom after its investigations of Astro cheating schemes, and the organization's indefensibly horrible handling of the Brandon Taubman fiasco. And it sure seems like it is when that boom is lowered, not if.
Buzzer beaters
1. If only Will Fuller wasn't so darn fragile. A healthy Fuller is a dynamic threat. 2. At this point in his contract who is more overpaid, Herman at six mil per season or Fisher at seven and a half? 3. Greatest Sports Leonards: Bronze-Dutch (the better one) Silver-Kawhi Gold-Sugar Ray
One of the big factors that led to the Texans' loss to the Jaguars on Sunday was the secondary. Multiple flags for pass interference gave Jacksonville more opportunities to pick up first downs and score points.
Can confirm #Texans backup CB Shaq Griffin was cut.

Griffin started 6 games this year when Derek Stingley was out with a hamstring.
— DJ Bien-Aime (@Djbienaime) November 29, 2023
So it's no surprise that DeMeco Ryans is making some changes to his defense this week. According to several reports, Texans corner Shaq Griffin has been cut.
Nickel corner Tavierre Thomas was flagged for PI more than once on Sunday, and was burned badly by Jaguars receiver Calvin Ridley for a touchdown.
DeMeco was asked after the game if he considered replacing Thomas with Desmond King or Shaq Griffin. Ryans didn't give a definitive answer, but it looks like we got one today.
One has to wonder if Desmond Kings' experience playing nickel was the reason for his promotion to the active roster and why Griffin was released. If Thomas continues to struggle, King looks like the next man up to replace him.
#Texans activate Denzel Perryman, promote Desmond King to active roster, release Shaq Griffin, sign Matt Ammendola and Garret Wallow to practice squad, released Gerrid Doaks from practice squad and placed Tytus Howard (knee-patellar tendon surgery pending) on injured reserve https://t.co/knyyoqo7yC
— Aaron Wilson (@AaronWilson_NFL) November 29, 2023
The Texans also made some other adjustments to their roster on Wednesday, per Aaron Wilson. Linebacker Denzel Perryman returns from suspension, kicker Matt Ammendola and linebacker Garret Wallow join the practice squad. They also released Gerrid Doaks from the practice squad.
The other big piece of news involves left guard Tytus Howard. He heads to injured reserve, ending his season after hurting his knee against Jacksonville.
SportsMap Emails
Are Awesome