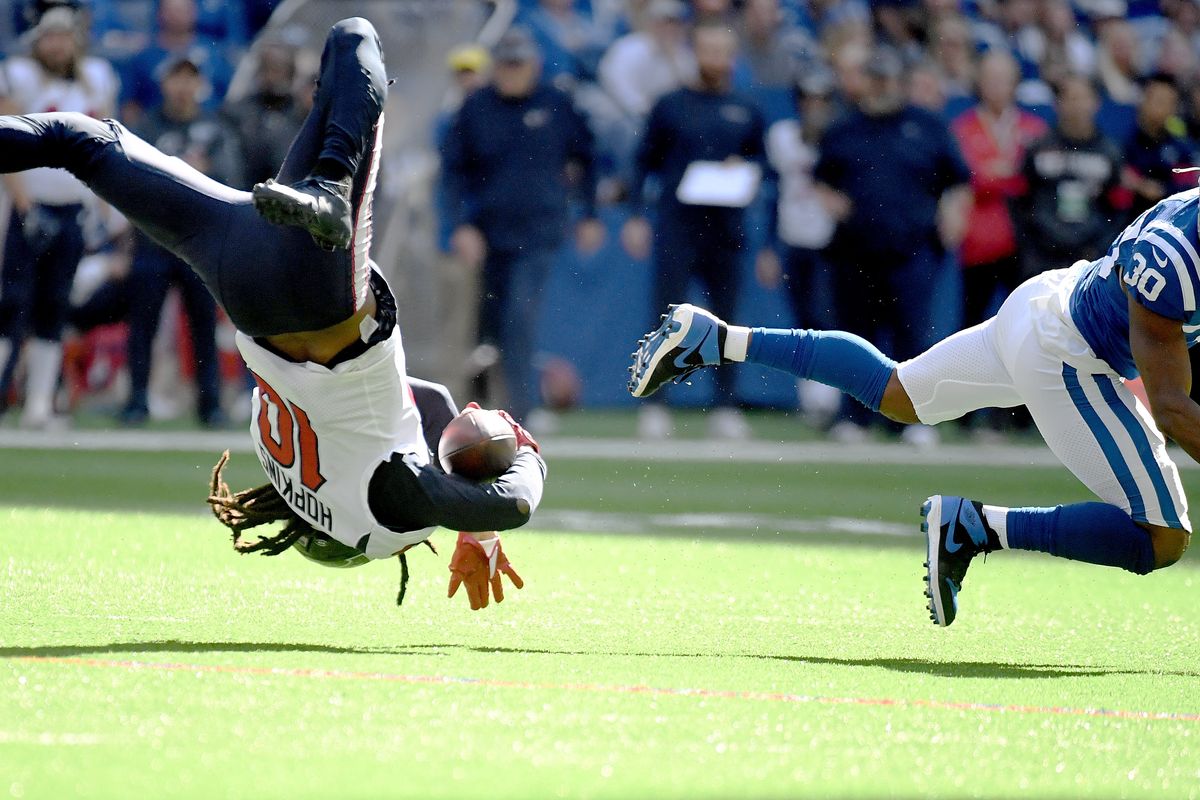 In the battle for the early AFC South lead, the Texans lose a close one to the Colts 30-23. Here are my observations:
The Good
-Deshaun Watson had a good game, minus one play here or there. 23/34 for 308 yards and a touchdown to go along with 32 yards rushing on three carries. The three sacks he took weren't really his fault either. One bad decision turned the ball over, but he kept them to a minimum as well.
-DeAndre Hopkins and Kenny Stills both helped Watson's stat line. The duo combined for 13 catches for 211 yards and a touchdown. Moving forward, if the receiving corps stays healthy, I can see this stat line becoming more of a norm. Awesome to see Hopkins have a capable No. 2 on the other side.
-Phillip Gaines had a decent game. For a guy who was injured and has never found a home, he's seemed to have found one in the Texans secondary room which has doubled as an infirmary. He's always had good size and athleticism, but never stayed healthy. (I wrote this earlier in the 2nd half, and he got carted off with 1:46 left in the game. I jinxed him.)
The Bad
-Midway through the 1st quarter, Jonathan Joseph tipped a sideline pass to Chester Rogers. Rogers ended up catching it off the tip and managed to stay in bounds. JJo made a decent play on a ball, but to no avail. That drive eventually led to the Colts' first score and capped a 12 play, 94 yard drive.
-After settling for another field goal instead of a touchdown before halftime, the Texans came out to start the second half by giving up another touchdown drive. This is how they always end up losing games by not stopping opponents and trading field goals for touchdowns.
-With 9:31 left in the game down 28-16, Deshaun Watson threw an interception on a pass intended for Duke Johnson. Johnson was open, but Watson sailed it over his head and into the arms of Pierre Desir. It was a poor decision in an otherwise good game Watson played.
The Ugly
-Tashaun Gipson left the game with a back injury early on and never returned. Will Fuller was also ruled out with a hamstring injury. Jonathan Joseph banged up his shoulder. At this point, I think I'm going to get in shape again. They may need me to play a few snaps. Expect open tryouts on Kirby soon.
-Awful call by the refs cost the Texans a touchdown on their second field goal. Watson was in the grasp of Justin Houston, but managed to keep himself upright long enough to complete what was though to be a touchdown pass to Hopkins. However, the refs blew the play dead saying he was sacked. Protecting the quarterbacks at all costs cost the Texans here.
-Situational football and clock management are like an incurable disease for Bill O'Brien. Down 28-23 in the 4th quarter with about 3:23 left, O'Brien waited until about 2:44 left to call a timeout and call in a safety and free kick. Good idea, poor execution. Know the situation and call for that safety immediately. Or, call the timeout ASAP without letting so much time run off. Will someone get this man a Coaching For Dummies book please?
After Starting 0-13 in Indy, the Texans won three of the next four. Today's loss shouldn't start a new streak. While Watson ended the game with two interceptions, one is for sure his fault, while the other was a great play made on a tipped/dropped ball. While they didn't run the ball well as a team (24 carries for 100 yards and a touchdown), they held the Colts to 62 yards rushing. Perhaps because Jacoby Brissett torched them for 326 yards and four touchdowns passing. I understand they'll need any warm bodies to play defensive back for them in the next few weeks, but what about a pass rush to help those guys? Oh, I forgot, they traded Jadeveon Clowney for a pack of cigarettes and a gas station tuna fish sandwich. They could've traded him long time ago for better draft picks, but didn't listen to me. Such is life. Hopefully this team will have the "next man up" mentality and guys will step up. If not, it could be a long rest of the season.
The Houston Astros were in need of some serious help in the bullpen with Phil Maton, Hector Neris, and Ryne Stanek likely leaving this year in free agency.
While some fans were getting concerned about the quiet offseason, the club has made two moves this week to get the ball rolling.
First the team signed Victor Caratini to be the backup catcher, and now they have added some relief pitching.
The Astros traded pitching prospect Carlos Mateo to the Royals for RHP pitcher Dylan Coleman.
Coleman appeared in 96 games in the past three seasons for KC, including 68 games in 2022 and 23 games last season. He has a career 3.88 ERA and 1.37 WHIP. He's fastball (95 mph), slider (81) and cutter (90) and walked 57 batters and struck out 99 in 92 2/3 innings.
— Brian McTaggart (@brianmctaggart) December 6, 2023
Coleman is under club control for the next several years, and made just over $700,000 in 2022. With the Astros right up against the tax threshold, this is a good way to add to the bullpen without having to hand out a large contract.
The Royals had a tough roster decision to make with Coleman, and the Astros made the decision easy for them by making the trade.
Something to note
There's a reason Kansas City wasn't determined to protect Coleman from the Rule 5 Draft. Despite his decent numbers over the last three seasons, 2023 was a rough year for him, posting an 8.84 ERA over 23 games.
In fact, Coleman pitched more innings (30.2) for the Royals AAA team than he did for the big league club (18.1) in 2023.
Hopefully, the Astros can get him back on track this season with some help from their highly touted player development program.
You can watch some of his 2022 highlights above.
SportsMap Emails
Are Awesome