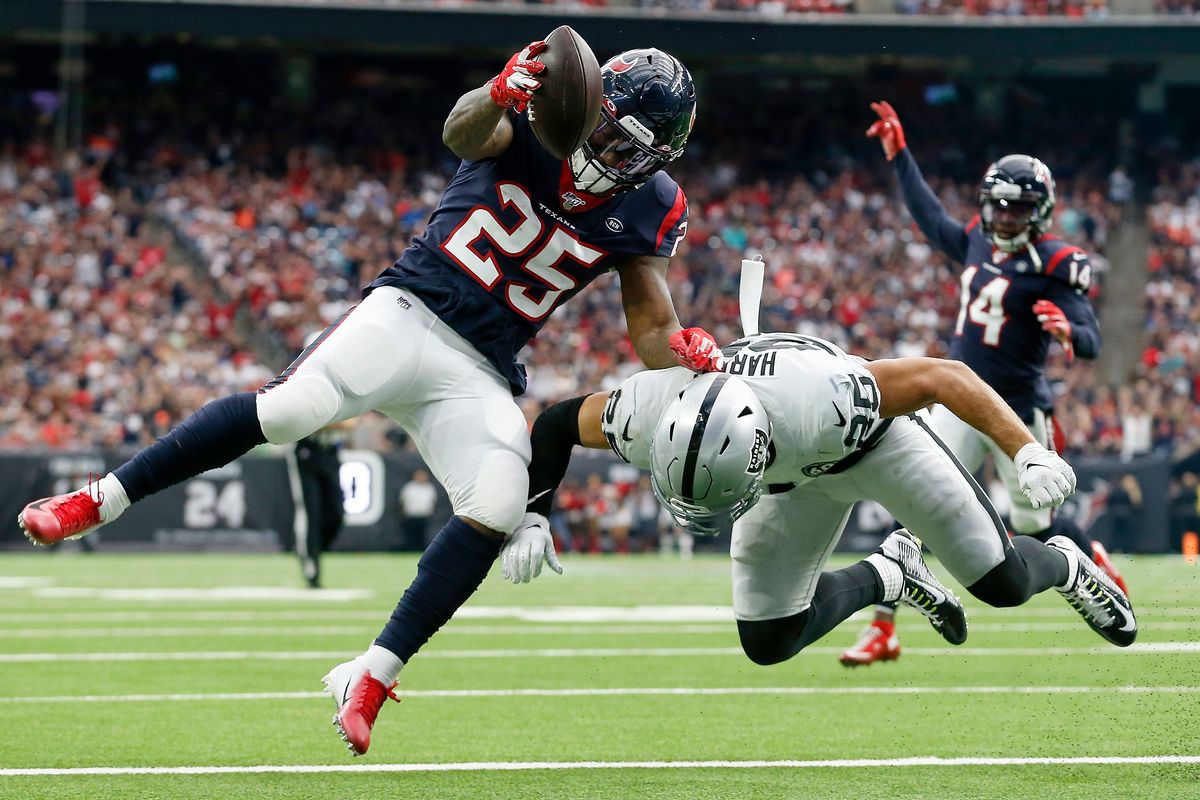 The Texans improved to 5-3 by outlasting the Raiders in yet another come from behind win. Here are my observations:
The Good
-Deshaun Watson was did everything he had to do to help his team win. He went 27/39 for 279 yards and three touchdowns, while rushing for another 46 yards on 10 carries. His third touchdown pass was highlight reel material as he threw it with one eye open after escaping a sack and being kicked in the face!
-DeAndre Hopkins was Watson's favorite target. what a surprise. Hopkins didn't have any of the three touchdown passes Watson threw, but he routinely caught the tough passes to keep the chains moving. His 11 catches on 13 targets for 109 yards speaks to the level of comfort these two guys have with one another.
-Whitney Mercilus continues to play like he's pre-injury Whitney. Six tackles and two tackles for loss, including one big hit on Josh Jacobs. He was able to pressure Derek Carr a few times, but didn't manage a sack. I can see him pushing for a Pro Bowl nod if he maintains this level of play.
The Bad
-First Raiders play from scrimmage, I saw Benardrick McKinney get caught in the trash trying to slide down the line and Josh Jacobs ran for a 13 yard gain. He also shot a gap and missed Jacobs on another first quarter run. This isn't what one would expect from a guy who was given a $55 million dollar extension.
-The offensive line woes continued against the Raiders. The run game was non-existent outside Watson until the fourth quarter when Carlos Hyde picked it up. They also gave up three sacks and had several more pre-snap penalties. Oh, and Laremy Tunsil went down with a shoulder injury and didn't return.
-Woes you say? Let's talk about the woes in the defensive backfield. They gave up 285 yards passing against a team that has been run heavy because they suck so bad. Injuries bit them again this game as well. They're basically playing with whoever they can find that can also stay healthy.
The Ugly
-The Texans are one of three teams in the league to not produce any points on their opening drive this season. They join the Jets and Saints in this category. Failing to establish your offense early is a recipe for disaster. Fortunately, it didn't come back to haunt them against the Raiders. However it is something they need to rectify if they expect to make a run.
-Watson's eye was swollen after being kicked. Eye injuries are nothing to play with because they can't be rehabbed or repaired. Once you damage them, that's it. Over the next few days, pay attention to his eye and what they say about it. Looks as if he'll be OK, but man that was scary.
-J.J. Watt (shoulder) and Lonnie Johnson Jr (concussion) both went out in the first half with injuries and didn't return. This thinned an already thin secondary and hurt the pass rush. Johnson Jr will be in concussion protocol and will might miss next week's game or more depending on severity. Watt jogged off the field and didn't appear too seriously hurt, but it turned out he had a torn pec and is lost for the season again.
While this win wasn't without its losses (the injuries), it was pleasing. Watson managed to get his backs and tight ends involved in the red zone. Hopkins continues to make the chains move in routine fashion. Hyde has proven to be a steal, as well as Duke Johnson. Garreon Conley left a lot to be desired, but it was his first game in a Texans uniform. If this team can get and stay healthy, they'll be an AFC contender. However, if health and mental mistakes continue to plague them, off to an early vacation they'll go. Props to Bill O'Brien for adjusting and calling a good game. Let's hope he keeps this up. Up next are the Jags in a game being played across the Pond. Better wake up early next weekend.
"Another one!"- DJ Khaled
That's the first thing that came to mind when I heard the news of Tytus Howard being shut down for the season because of a knee injury. They've had more injuries on the offensive line this season than Nick Cannon has Father's Day cards. Almost every member of the offensive line has spent time on the injury report. Howard went down in the same game in which Juice Scruggs was finally on the active roster. He missed the first 10 games due to a hamstring injury. The irony of next man up has never been so in your face.

The other thing that came to mind was the soap opera As the World Turns.
Howard had just signed an extension this offseason. So did Laremy Tunsil and Shaq Mason. They drafted Juice Scruggs, and signed a few guys too. Those moves, along with other holdovers, were expected to fill out the depth chart. Then a rash of injuries struck. At one point, only one of the original five guys expected to start was playing! In fact, they beat the Steelers 30-6 with that backup offensive line!

One can't have the expectation of backups to perform as good as the starters. They're professionals and are on an NFL roster for a reason. However, the talent gap is evident. One thing coaching, technique, and preparation can't cover is lack of ability or talent. The Texans have done a good job of navigating the injury minefield this season. While the Howard injury will hurt, I have faith in the guys there still.
As of this writing, the Texans are in the eighth spot in the AFC playoff picture. The Steelers, Browns, and Colts are all in front of them at the fifth through seventh spots respectfully. They've beaten the Steelers already. They play the Browns on Christmas Eve and their starting quarterback is out for the season. The Colts are relying on the ghost of Gardner Minshew to steer their ship into the last game of the season vs. the Texans with a possible playoff trip on the line. The Broncos and Bills are the two teams immediately behind them. They play the Broncos this weekend. Even though they're on a hot streak, this is the same team that got 70 put on them by the Dolphins. The Bills are the old veteran boxer who still has some skill, but is now a stepping stone for up & comers.
To say this team should still make the playoffs would be an understatement in my opinion. I believe in them and what they have going on more than I believe in the teams I listed above. That includes teams around them in the playoff race that aren't on their schedule. The one thing that scares me a little moving forward is the sustainability of this line. When guys get up in age as athletes, it becomes harder to come back from injuries. The injuries also tend to occur more frequently when it's a knee, foot, ankle, shoulder, elbow, or another body part critical to blocking for C.J. Stroud.
I know they just re-signed three of those guys and drafted one they believe can be a starter, but depth and contingency plans are a way of life in the NFL. We see how important depth was this season. Why not plan ahead? Don't be surprised if the Texans spend valuable draft capital on the offensive line. By valuable, I'm talking about first through third or fourth rounders. Those are prime spots to draft quality offensive lineman. Whether day one starters or quality depth, those are the sweet spots. The only guy on the two deep depth chart for this offensive line that wasn't drafted in one of those rounds was George Fant, who was an undrafted rookie free agent. While I highly doubt they spend any significant free agency dollars on the group, I'm not totally ruling it out.
The bottom line is, this team will be okay on the line for the remainder of this season. The only way that doesn't happen, more injuries. Stroud is clearly the franchise guy. Protecting that investment is a top priority. I don't care about a number one receiver, or a stud stable or singular running back if the quarterback won't have time to get them the ball. If the pilot can't fly the plane, you know what happens. So making sure he's happy, healthy, and has a great crew is of the utmost importance.
SportsMap Emails
Are Awesome