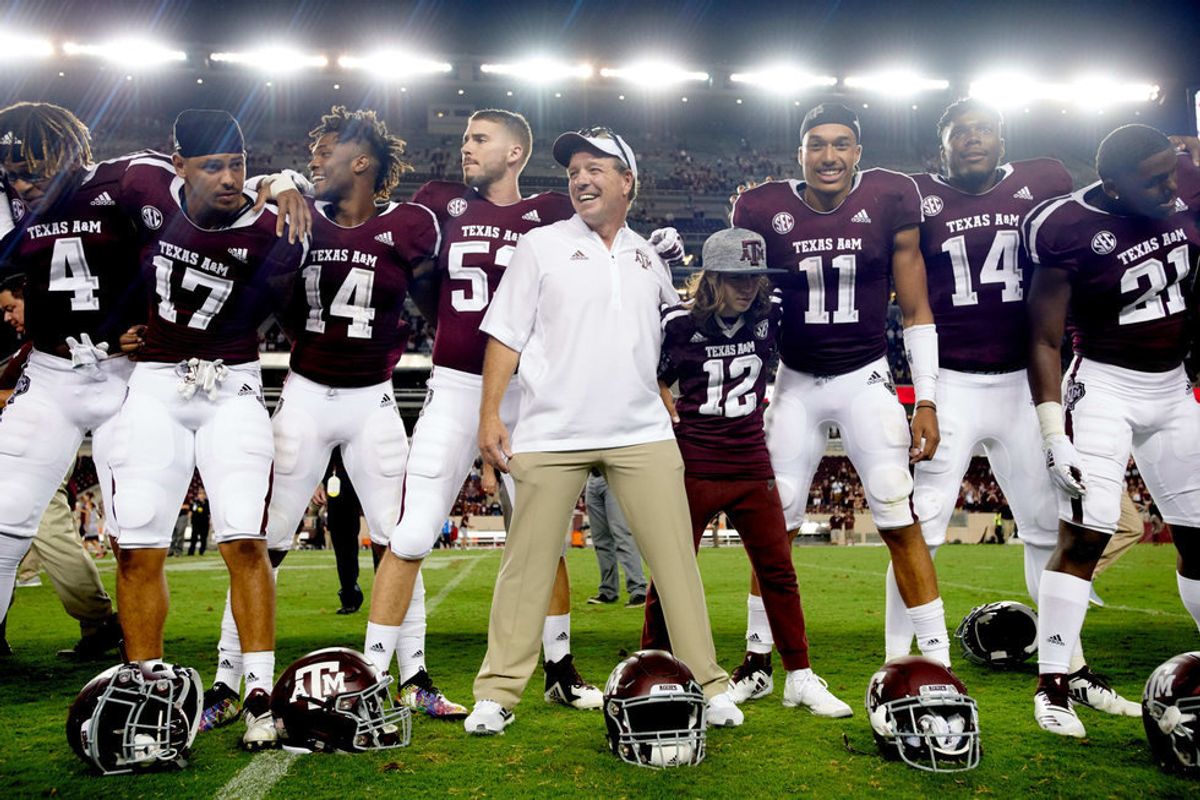 Cooper Neill/Getty Images
Born with a comic book in one hand and a remote control in the other, Cory DLG is the talent of Conroe's very own Nerd Thug Radio and Sports. Check out the podcast replay of the FM radio show at www.nerdthugradio.com!
12. RICE
Well, another week, another loss. This time the role of winner was played by Marshall. Mercifully Rice is off this week. Resting comfortably numb in last place of what is not exactly a strong Conference-USA. Zero wins through nine weeks, this has got to feel like the year that never ends. I feel truly sorry for any seniors on the roster and every guy playing through injuries to keep showing up and losing by multiple scores.
11. UTEP
They gave up seven passing touchdowns to UNT's quarterback, Mason Fine. I think Mason's grandkids will hear about this game, "did grandpa ever tell you about that time he threw seven touchdowns in one game?" This year isn't over but UTEP has to be wishing it was, as the Charlotte 49ers come to town and they are heavy favorites to win. So there's that.
10 UTSA
I'm not going to be mean about this one, when UTSA scheduled Texas A&M they had to know what this game was going to look like. There's just no way around this game, and if we're being honest they played this game closer than the Baylor game so in some ways, this isn't a total waste. I know why programs schedule these games, the money helps offset costs these smaller programs have to deal with and I completely understand that, but honestly, this is going to be a loss every time. Good energy and effort, way to stay in there and now you get to travel to Old Dominion University which is basically an even match up; here's hoping things go the Roadrunner's way.
9. NORTH TEXAS
Seven passing touchdowns is the kind of "get right" game Mason Fine and the offense needed to feel way better about themselves. It doesn't erase the loss to the 49ers but it does make the team feel a lot better about the direction and future of this season. They travel to Louisiana Tech for a winnable game this weekend.
8. TEXAS STATE
The Ragin' Cajuns hurt the Bobcats really bad, winning 31-3. Texas State is flailing in free fall and hoping they can catch onto something even remotely resembling momentum. Thankfully the University of Southern Alabama comes to town, and the Jaguars have one win all season and are winless in conference. The Bobcats can turn things around right here if they care enough to. Let's see if they can make it happen.
7. TEXAS TECH
Well now the Red Raiders, who have had a disappointing season in conference so far, travel to West Virginia and have a chance to get a much needed in conference win. There's really no wiggle room for Texas Tech at this point, with five losses they can hope for seven wins and maintain bowl eligibility but only by winning out. They need four in a row.
6. HOUSTON
After a brutal, physical and emotionally draining game, The Cougars are blissfully off this week. Houston has to be in a confusing place as a program. I've made it clear in these rankings what I think of the coaching and the roster decisions that are leading this program and I think the program is going to look back on this brief period of time wondering what were they thinking. They are off this week, so hopefully players are doing their best to prepare for a few more games in spite of everything around them.
5. TCU
It wasn't like they were expected to win all of these crazy games on the back half of their schedule and that's the thing to remember as the last of the season happens. Beating Texas was awesome and raised eyebrows and perhaps expectations but losing to Oklahoma State was likely and therefore isn't and shouldn't be a big shock. Keep in mind even after playing Baylor this week, TCU still has Texas Tech and Oklahoma on the schedule so the losses might stack up.
4. TEXAS A&M
The Aggies laid down a beating on UTSA and they should have but TCU lost so they get the bump. It isn't in doubt who has the better athletes and coaching and the most money etc. If the Aggies would have lost that would have been a bigger problem for the program. That being said, the Fighting Texas Aggies are off this week and then play South Carolina before finishing the year on the road traveling to both Georgia and LSU. These aren't games they're likely to win so seven wins may be the goal for this team at this point.
3. TEXAS
They were off last week and this week Kansas State is coming to town. Texas desperately needs this win to get back into the Top 25 and honestly to save what started off as a season with promise and has had some big setbacks. There were people who were ready to say The Longhorns were back and now, not so much.
2. SMU
While the game was close in score it actually wasn't that close and SMU spent the entire second half chasing Memphis. It's surprising considering that Temple in common made it look like a much closer match up but the reality was in the 3rd quarter when Memphis put touchdowns on the board, SMU just didn't respond. This is that difference of being the team people are looking at instead of being the team people look past. The success is new to these guys and they'll shake it off and figure it out. They have played good football all year until now but they can get their mojo back with the East Carolina Pirates coming to town.
1. BAYLOR
Baylor survived a close call against West Virginia and now they are number 12 in the country. They go on the road to TCU who just lost a game to Oklahoma State and might be looking to try and get another upset in just two weeks after upsetting Texas. Baylor better be on guard or this season could sneak away from them.
Feel free to check out my brand new comic book Another Day at the Office or buy a shirt from Side Hustle Ts where some proceeds help people struggling with cancer or listen to Nerd Thug Radio. Thoughts, complaints, events and comments can be sent to corydlg@gmail.com.
Rockets' Alperen Sengun recently was a guest on Paul George's podcast and spoke about a conversation he had with James Harden.
He said Harden told him he was proud of him. This led George to saying he thinks this means the torch has been passed from Harden to Sengun.
Which made us wonder, is this now Sengun's team? Or is that a little premature and the true leader of the team is head coach Ime Udoka or Fred VanVleet?
Plus, Jalen Green has responded positively from being benched. Is this proof that Ime Udoka has the team taking more accountability and heading in the right direction?
Be sure to watch the video above as we break it all down!
If you enjoy the videos, subscribe on YouTube for our latest content.
Related Articles Around the Web
SportsMap Emails
Are Awesome