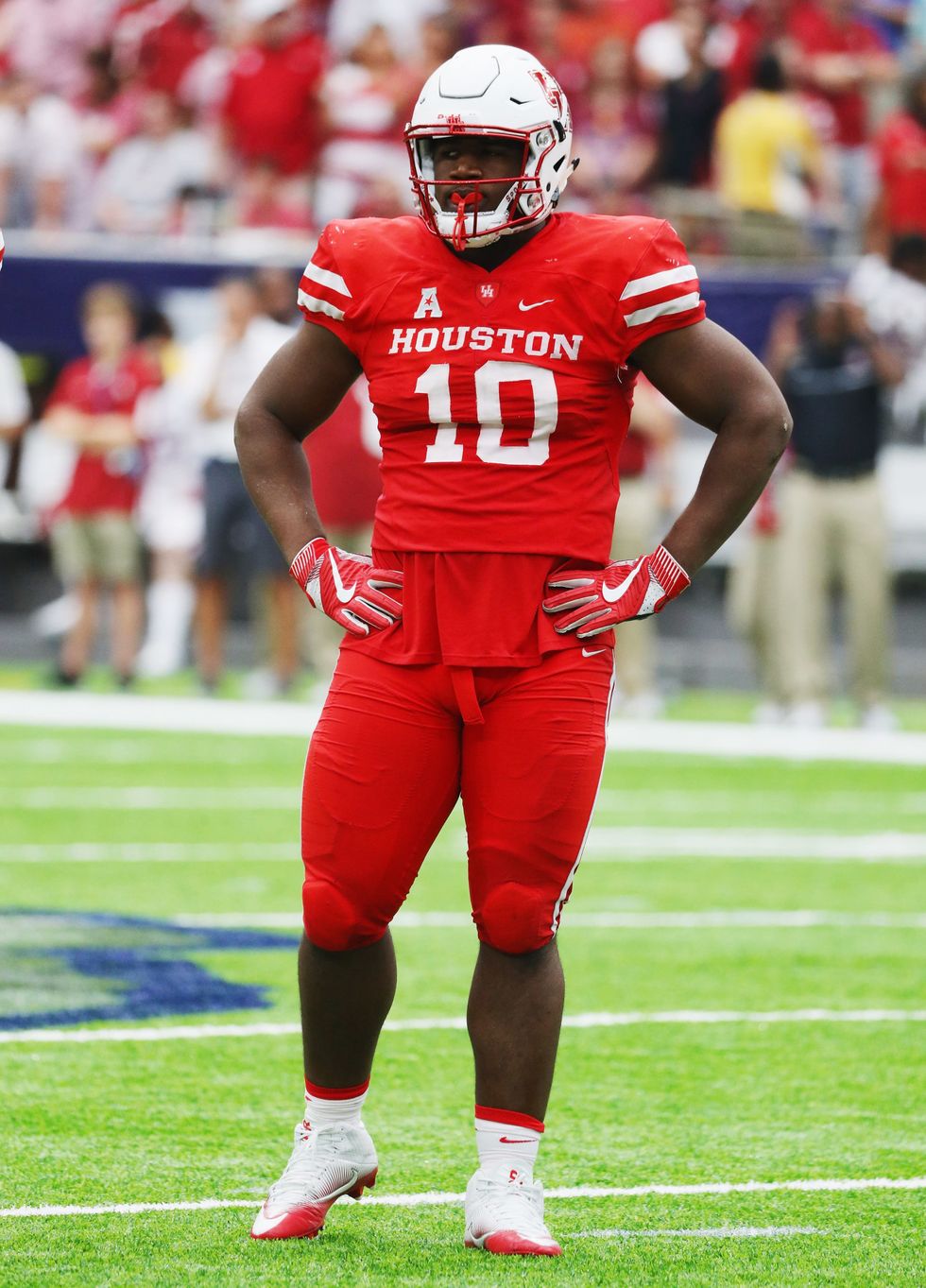 Ed Oliver led UH to a massive win over Arizona. Photo by Scott Halleran/Getty Images
A major shocker from the Aggies and more of the same dominance from Texas schools in Week 2:
Houston 45, Arizona 18
Arizona approached this game hoping to avoid an 0-2 start to the season but they certainly did not play that way throughout the first half. Hell, even the third quarter was almost a bust for Arizona until the Cougars felt their confidence flair and took out D'Eriq King and Ed Oliver. To say the Wildcats took advantage of Applewhite's overzealous misstep is an understatement. After being shutout in quarters one and two, the Wildcats started to show signs of a comeback, scoring on a field goal, following-up with 1-yard touchdown run by Darrius Smith, but they never recovered from the game-long uphill battle. Arizona coach Kevin Sumlin has been the talk of the town, for reasons unbeknownst to me, considering their Heisman candidate quarterback has repeatedly giving declining performances since Sumlin's regime took over. The Cougars whipped the Wildcats on both sides of the field throughout the entire game, but the Houston offense was truly something special.  King threw for 246 yards, a career-high 4 touchdowns, and rushed a total of 31 yards for two more scores. The Cougars are battling it out to prove they are definitely the team to watch this season.
TCU 42, SMU 12
It was a slippery Friday night game in Texas that went on far longer than anyone wanted. No. 16 TCU was slated to win but it took the Horned Frogs an entire quarter to get on the board. After the Horned Frogs decided to join the party, they gave SMU the beating we all expected, shutting out SMU for the full second half of the game. KaVontae Turpin ignited his slow-moving teammates with a 78-yard punt return and a 42-yard score for a wet, not so wild, victory over SMU that did not end until early Saturday morning.
Clemson 28, Texas A&M 26
There is no reason for Clemson to not have dropped the hammer down on the Aggies but somehow, some way, A&M managed to stay within arm's reach of the Tigers throughout Saturday's game. In fact, the Aggies shut the Tigers out entirely in the fourth quarter. TAMU quarterback Kellen Mond dazzled in the second half, completing three touchdown passes, including at 14-yard pass to sophomore receiver Kendrick Rogers. Clemson will likely take a rating dive as a result of this battle with an unranked opponent. Clemson looks ahead to Georgia Southern next Saturday and opens ACC play the following week at Georgia Tech.
LSU 31, Southeastern Louisiana 0
On the surface, is looks like LSU took Southeastern Louisiana to slaughter but, it is safe to say the Tigers struggled a bit for this 31-0 win over an undermatched opponent.
Texas 28, Tulsa 21
This seems like a time in which we should be celebrating Texas, but let us not get too excited. Texas struggled and lost to a team with no coach last week… However, the Longhorns had one helluva game-winning score when sophomore quarterback, Sam Ellinger, engineered a fourth quarter drive to secure the win against spunky Tulsa for this home victory.
Texas Tech 77, Lamar 0
Red Raider true freshman Alan Bowman threw for 282 yards and two scores, leading his team to a blowout 77-0 victory over Lamar. Keep in mind, this is after 14 penalties for 139 yards against Tech. Usually penalties cost you a game… unless you are Tech playing Lamar.
Baylor 37 , UTSA 20
Baylor is really trying to improve from last year with these two victories so early in the season. Sophomore quarterback Charlie Brewer threw for 328 yards and three touchdowns, leading his team to victory over UTSA.
Hawaii 43, Rice 29
Sophomore quarterback Cole McDonald put on quite the show as he led Hawaii to their 43-29 victory over Rice. Despite Rice putting up quite the effort against the Houston Cougars last week, they couldn't pull it off against Hawaii in Week 2.
The Houston Astros were in need of some serious help in the bullpen with Phil Maton, Hector Neris, and Ryne Stanek likely leaving this year in free agency.
While some fans were getting concerned about the quiet offseason, the club has made two moves this week to get the ball rolling.
First the team signed Victor Caratini to be the backup catcher, and now they have added some relief pitching.
The Astros traded pitching prospect Carlos Mateo to the Royals for RHP pitcher Dylan Coleman.
Coleman appeared in 96 games in the past three seasons for KC, including 68 games in 2022 and 23 games last season. He has a career 3.88 ERA and 1.37 WHIP. He's fastball (95 mph), slider (81) and cutter (90) and walked 57 batters and struck out 99 in 92 2/3 innings.
— Brian McTaggart (@brianmctaggart) December 6, 2023
Coleman is under club control for the next several years, and made just over $700,000 in 2022. With the Astros right up against the tax threshold, this is a good way to add to the bullpen without having to hand out a large contract.
The Royals had a tough roster decision to make with Coleman, and the Astros made the decision easy for them by making the trade.
Something to note
There's a reason Kansas City wasn't determined to protect Coleman from the Rule 5 Draft. Despite his decent numbers over the last three seasons, 2023 was a rough year for him, posting an 8.84 ERA over 23 games.
In fact, Coleman pitched more innings (30.2) for the Royals AAA team than he did for the big league club (18.1) in 2023.
Hopefully, the Astros can get him back on track this season with some help from their highly touted player development program.
You can watch some of his 2022 highlights above.
SportsMap Emails
Are Awesome