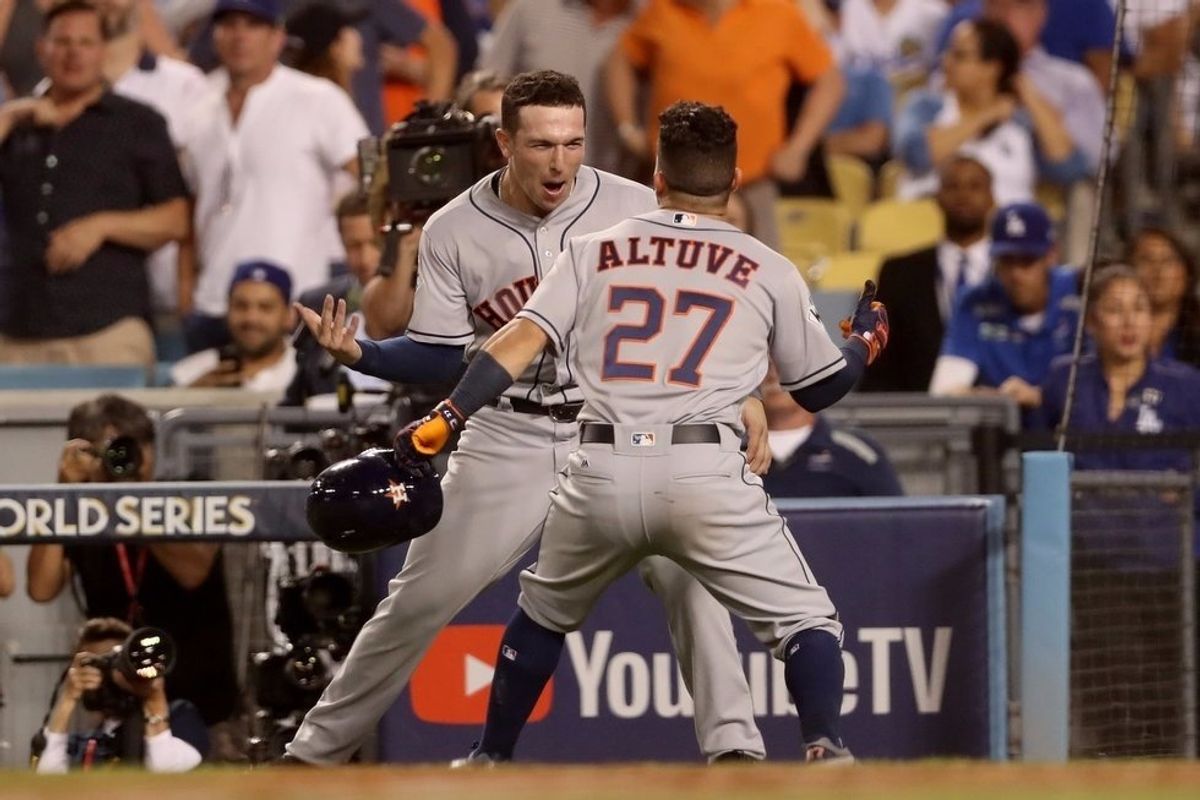 Christian Petersen/Getty Images
Dynasty. It's a word that gets thrown around in the sports lexicon too loosely these days. According to Merriam-Webster, a sports dynasty is defined as "a prolonged run of successful seasons." After enduring several 90 and 100-plus loss seasons, the Astros stuck with "The Process" and made the playoffs starting in the 2015 season. Although they missed the playoffs in the 2016 season, they finished with a 84-78 record and five games out of the wildcard spot in the American League. History was made in 2017 as they fulfilled Sports Illustrated's Ben Reiter's 2014 prophecy of winning the World Series. They lost the ALCS to eventual champs the Boston Red Sox in 2018 and are on the verge of winning another title this year.
Most dynasties are despised, hated even. The Warriors of the NBA and the Patriots of the NFL are the ones that come to mind when thinking of sports dynasties of recent memory. Both teams have a history of prolonged success in their respective sports. Both are also pretty much universally disliked for one reason or another. This Astros team (outside of the Roberto Osuna signing and Brandon Taubman controversies) have been pretty well-liked. Here's why I think they've been a likable dynasty:
Club Astros
A few years ago, "Club Astros" was born. It was a simple, yet fun and effective thing that helped appeal to the masses. After a win, a player would be the clubhouse DJ and play music. There would be special lighting to go along with the music. In 2015, when they started winning, Club Astros was discovered by the media. Fans got wind of this and immediately took to it. Social media played a large part of this. George Springer was/is usually the DJ.
Underdogs
In 2014 when Ben Reiter picked them to win the 2017 World Series, everyone thought he was nuts. The team had lost 92 game sthat season and their best player that season and the few previously was a 5'6 2nd baseman that was a slappy hitter. No one thought this team would do anything significant. However, they'd go on to bigger and better things. Jose Altuve and George Springer are the two holdovers from the previous regime that were building blocks for the title contender that they are now. Altuve was AL MVP in 2017 and Springer was World Series MVP in 2017. Who would've thought that was possible back then?
Humble...and cocky
While guys like Altuve and Springer have proven to be very humble in interviews, others (like Alex Bregman) have proven opposite. Bregman has been the red-ass that this team needed. The exception is that he can back it up. He's been one of the guys that can be arrogant, but will ball out. While I'm all for the the nice guy act, every team needs a dose of asshole. Bregman is the perfect dose.
Analytics approach
Analytics have been used in baseball more effectively and for a longer period of time than any other sport. The Astros have taken analytics to a different level. From shifts on defense, to spin rates when pitching, and the way they approach at bats while hitting, this team has truly taken a liking to and usage of analytics. How much you ask? So much so that they've been accused of cheating. Opposing teams/players have accused them of underhanded tactics because they've hand the upper hand when pitching, playing defense, and while hitting. They've simply used statistical analysis to their advantage better than most other teams.
Us vs all yall mentality
When Bregman saw a pitcher tipping his pitches and shared it with his fellow Astros, they were accused of cheating. When pitching coach Brent Strom transformed some unknown/forgotten about/or non-factor pitchers into killers, they were again accused of cheating. This team looks for different ways to gain an advantage over their opponents. If (when) they find something, they share it with one another. In the past, some pitchers and/or hitters would hold things to themselves. This team makes it a point to share the wealth of knowledge.Pitchers and hitters alike also crittique one another for added eyes on any potential advantages. For example: if Bregman sees Gerrit Cole tipping his pitches, he lets him know. Or, If Justin Verlander notices Yordan Alvarez is taking a bad approach at the plate, he helps correct it. They're the epitome of "us vs yall" in every sense of the phrase because everything is a collective effort.
This may seem like a homer type of article, but I've actually talked to other fans of other teams and they truly like and/or appreciate the Astros. Another common theme amongst other fans when it comes to the Astros is respect. Outside of the obnoxious Yankees fans that treated Astros fans like crap, other fans have thought of the Astros as a solid group of folks simply trying to enjoy rooting for their team. Other recent dynasties (the NFL's Patriots and NBA's Warriors come to mind) have been universally despised. The Astros have their missteps (the Osuna signing and Taubman debacle), but they've also found themselves getting out of fire of those situations relatively unscathed. Hopefully by the time most of you read this, the Astros are on their way to a second World Series title in three years. They're set up to compete for more over the course of the next few years. Here's to them staying a likable bunch of guys that can keep on winning titles while bringing pride and joy to Astro fans everywhere.
Rockets' Alperen Sengun recently was a guest on Paul George's podcast and spoke about a conversation he had with James Harden.
He said Harden told him he was proud of him. This led George to saying he thinks this means the torch has been passed from Harden to Sengun.
Which made us wonder, is this now Sengun's team? Or is that a little premature and the true leader of the team is head coach Ime Udoka or Fred VanVleet?
Plus, Jalen Green has responded positively from being benched. Is this proof that Ime Udoka has the team taking more accountability and heading in the right direction?
Be sure to watch the video above as we break it all down!
If you enjoy the videos, subscribe on YouTube for our latest content.
Related Articles Around the Web
SportsMap Emails
Are Awesome