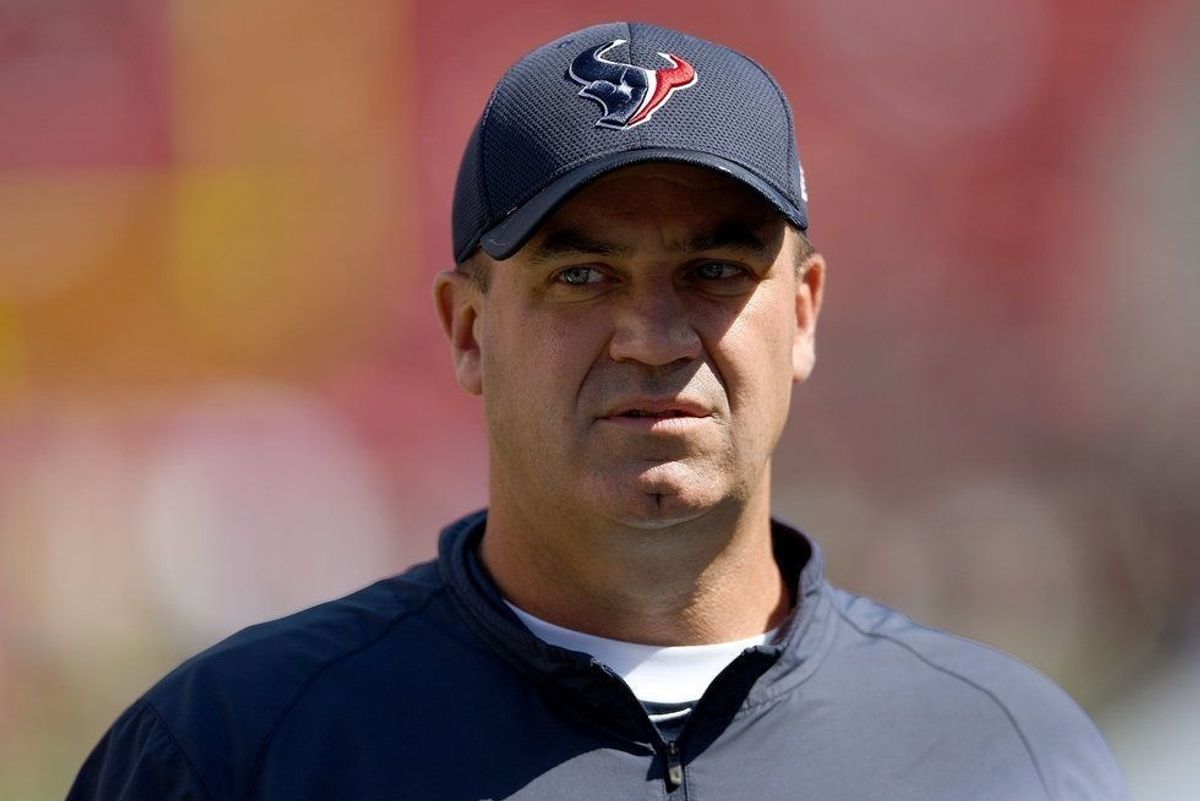 Photo by Thearon W. Henderson/Getty Images
The Texans are in control of their playoff fate after besting the Titans Sunday. Their 24-21 win over their chief rival for the AFC South crown this year was a microcosm of this season for them. A lot of highs, some lows, head scratching, and barely eking out a win. When you look at good teams, they share several qualities. Perhaps the key quality they all share is consistency. Consistency in football is the ability to play at a high level often enough that opponents know they're in for an uphill battle. That does not describe the Texans.
The game against the Titans was a perfect example of this. Deshaun Watson made three boneheaded plays that could've cost them the game. Some will argue that Bill O'Brien shouldn't have called those plays. However you see it, the interception in the end zone to Duke Johnson, the torpedo pass from inside the five yard line that was intercepted, and the throwaway on 3rd down with about 3:30 left in the game when the Titans had no timeouts were all potential killers. On the flip side, Watson's two touchdown throws to Kenny Stills, his darts to DeAndre Hopkins, Zach Cunningham's All-Pro performance, and Whitney Mercilus' heads up interception at the goal line returned to the Titans' 12 were all great.
What do the Texans need to do in order to be more consistent this year? How can they make a run in the AFC playoff picture? Here are a few things I believe they need to do, that they can do this season, to improve consistency in and try to make a run:
Rush the passer more effectively
There were too many times in the Titans game, and others, that the Texans have not been able to effectively rush the passer. Benardrick McKinney is a good rusher for an inside linebacker. He should be used more either as an edge rusher, or a blitzer up the middle. He's better at rushing the passer than he is in coverage. Also, Whitney Mercilus needs to show up with more than one or two pass rush moves. He too often is shut down when his primary move fails to get him to the quarterback. The Texans pass rush resembles a stalling car: it'll go for a bit, but ultimately gives out after minimal effort.
Manage the damn clock!
Clock management is not a hard thing to do. If you look at how O'Brien does it, you'd think it was akin to open heart surgery by classically trained pianist. Timeouts are precious, so are the seconds that tick off the clock when making a decision that should've already been decided before the game started. Too often the Texans let time fly by them because they seem ill-prepared. The times in which it takes plays to get called in to Watson, break the huddle, and hike the ball takes too much time sometimes. I'm not saying script more plays, but prepare in a manner in which you know what set of plays you want to call in certain situations. And for goodness sake, know the time on the clock and when/where to ise timeouts!
Penalties
Laremy Tunsil has been enemy number one when it comes to offensive line penalties. Lonnie Johnson Jr has been Tunsil's counterpart in the defensive backfield. Penalties have played too big of a factor in the Texans' season. Most of them have been self-inflicted. False starts, holding on both sides of the ball, and other drive killing or extending penalties have plagued them. This is a discipline issue in most cases. Tunsil needs to rely on and trust his athleticism and strength. the defensive backs need to cut out the grabbing past five yards of the line of scrimmage. I bet if they institute a hefty fine system for penalties, it would help. Accepted penalties weigh heavier than declined ones. The more yards and penalties you accumulate, the heftier the fines. Watch how quickly it dies down.
Don't get cute
This goes for O'Brien and Romeo Crennel. Stop getting cute with the play calling. The DeAndre Hopkins option to Watson worked, but was almost as disastrous as the "Watt-cat". Crennel needs to learn not to put his players in positions that ask them to do things they aren't capable of doing (ex: Jonathan Joseph getting beat deep up the sideline by A.J. Brown or any time McKinney is in coverage). Knowing your personnel and what they're capable of is key in calling plays and knowing formations and groupings. K.I.S.S.
Health
When this team is fully healthy, specifically the offense, they are fun to watch. But this is football. Health at this part of the season is relative. This is when coaching up your talent and depth building by the front office comes into play. The next man up mentality and ability to play through pain are crucial. Being hurt and injured are two different things. Guys who are hurt play, while guys who are injured don't. The guys I'm looking at: Will Fuller, J.J. Watt, and Justin Reid. Fuller opens up the offense when healthy. Reid is fighting a shoulder injury and is a key contributor to a maligned secondary. Watt is the wildcard here. If he can come back from the torn pec and provide anything to the pass rush, it'll give the defense a much needed boost.
Will this team make the playoffs? Yes. Will they advance past the first round? It's possible considering they could be playing at home. Can they make an AFC title game? I'm highly skeptical. Is a Super Bowl run or win possible? I wouldn't bet the lint from my laundry on it. This team has enough talent to compete with anybody, but it's the intangibles that can put them over. Can they put it together? Will they put it together? Hate all the questions I'm asking? I do too. Unfortunately, this Texans team has too many questions to be consistent.
When Bryce Young and CJ Stroud were drafted with the first two picks of the NFL Draft, we knew they would be compared to one another for years to come.
And here we are just 11 games into the season and one quarterback has already seen his head coach fired. Panthers owner David Tepper spoke to the media on Wednesday and discussed his decision to fire Frank Reich, and also set the record straight on how they arrived at the decision to draft Young.
In so many words, Tepper basically blamed the Texans for how the top of the draft played out. He mentioned Stroud by name and said the Panthers were ready to draft him at No. 2 overall until the Texans backed out of the three-team trade with the Bears.
Tepper made a point of saying everyone in their building had Bryce Young as the top player on their draft board, despite rumors about Frank Reich preferring Stroud.
CJ Stroud and the Texans have been so much better than Bryce Young and the Panthers that Tepper clearly felt it was necessary to defend himself, and the decisions he's made for the organization.
In the end, the person that gets the worst end of the deal is Bryce Young. Coaching changes can be very difficult on young quarterbacks. And it looks like he'll have to learn a new offense in his second year when the Panthers hire a new coaching staff.
How fortunate we are as Texans fans to have DeMeco Ryans and CJ Stroud leading the team moving forward.
With all of this in mind, is there a reason Texans fans haven't fully bought in to the new-look Texans? JJ Watt was a guest on The Pat McAfee Show this week and was asked about the team's inability to fill the stadium on Sundays.
As a former player for the Colts, McAfee always thought Houston had the loudest and best fans in the NFL. And while the Texans are 9th in attendance this year according to ESPN, even CJ Stroud has asked for the fans to fill the stadium.
So there is something to it. You can see the empty seats in photos. So why aren't the Texans packing NRG with a shiny new franchise QB?
We believe the recent history of the team is why fans are slowly coming back. McAfee wasn't here for:
Bill O'Brien cussing at fans during games
Trading DeAndre Hopkins away for next to nothing
The Jack Easterby disaster
Deshaun Watson allegedly blaming ownership for why he wanted out
The Deshaun Watson scandal
Firing back-to-back coaches after one season, and the list goes on.
Don't miss the video above for the full conversation!
If you enjoy the videos, subscribe to SportsMapTexans on YouTube!
SportsMap Emails
Are Awesome