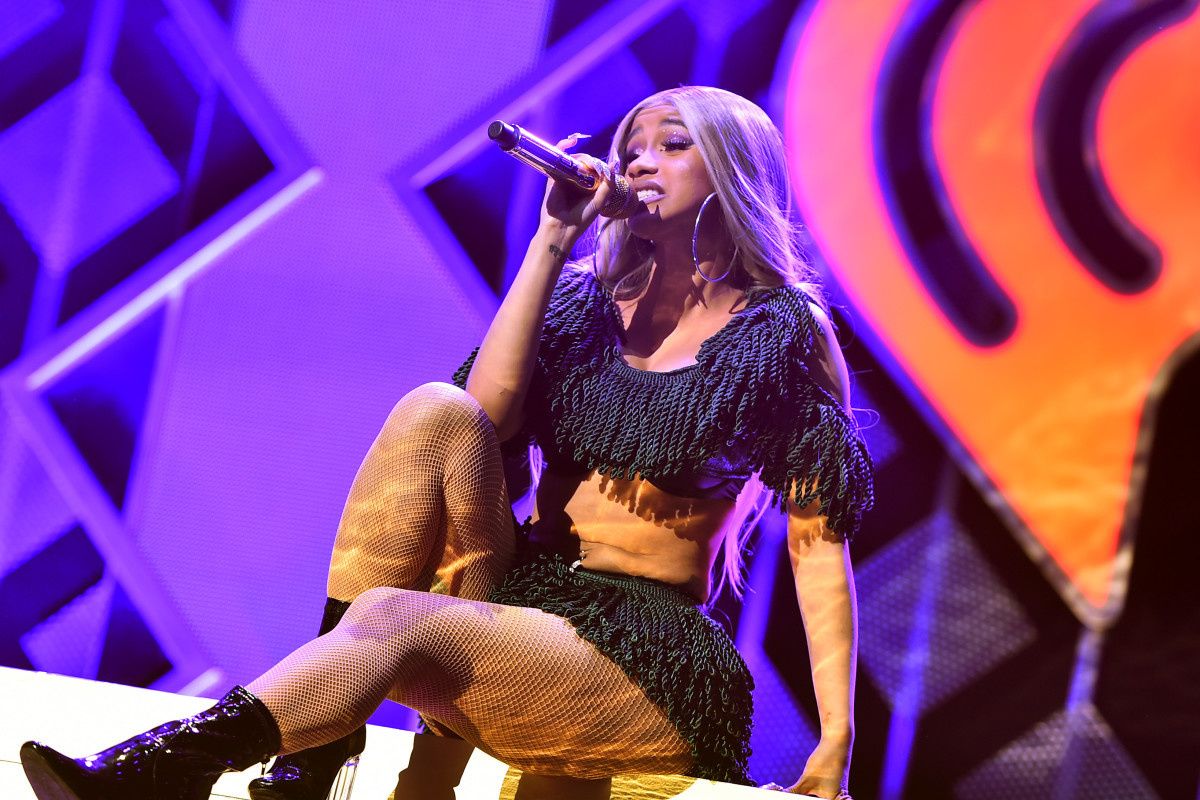 No. 2 Cardi B - Friday, March 1 Photo by Theo Wargo/Getty Images for iHeartMedia
This article originally appeared on CultureMap and was written by Johnston Farrow.
Elvis Presley, Garth Brooks, Dolly Parton, and even LL Cool J.
RodeoHouston is the definitive annual concert event in the Bayou City. Anyone who is anyone in the world of country and pop music played the rotating center stage over the years. This year's line-up is stacked with the most diverse artists assembled in the history of the event, covering pop, rock, classic rock, Latin, EDM, and of course, country.
The following are the top 10 shows CultureMap is most excited to see during the 2019 edition.
Brooks & Dunn - Wednesday, February 27
The high-selling country duo hasn't performed a lot together over the last decade and it's been awhile since their "Boot Scootin' Boogie" heyday in the '90s, all of which makes this appearance special. Their last album of original music was the 2008 collection, Cowboy Town, but after their career of 20 No. 1 country hits, who can blame them for taking it easy. That said, this one will draw a huge amount of fans that grew up on their music, hungry to sing along to the countless hits this talented pair produced over the last 30 years.
Chris Stapleton - Thursday, March 14
The Nashville star Chris Stapleton makes his third straight appearance at RodeoHouston and while he hasn't put out anything since 2017's Room with a View, Vol. 2 in 2017, he remains one of country music's best performers. Very few acts at the event this year encapsulate country values better than the full-voiced Stapleton, whose music incorporates the wood and wires sound and classic gritty storytelling of old school C&W classics.
Kings of Leon - Tuesday, March 12
There's no denying Kings of Leon's staying power. While this booking would have made a bigger splash five years ago, the Nashville band of three Followill brothers and their cousin are more than established as a rock music powerhouse, having headlined the biggest festivals this country offers. The band's humble beginnings as a Lynyrd Skynyrd-meets-The Strokes soon gave way to a much larger mainstream sound that found major radio play with singles, "Sex on Fire" and "Use Somebody." And if you're wondering if they are big enough to play center stage, the group opened for U2 after the release of their first album, so they know how to fill big spaces.
Panic! at the Disco - Sunday, March 3
Emo kids, rejoice! RodeoHouston finally recognizes you as a viable moneymaker! Yes, we say that in jest, but if there is any act to come out of the early-2000s emo-rock movement, Las Vegas band Panic! at the Discodeserves to be in the spotlight. Led by the talented Brendon Urie, Panic! comes in hot on the heels of a huge tour behind the release of No. 1 album, Pray for the Wicked, a critically acclaimed jaunt that filled international arenas, showing that the band has the skills to play to the rafters. If there is a dark horse for best show at RodeoHouston this year, this is it.
Brad Paisley - Saturday, March 16
Brad Paisley makes his sixth consecutive appearance and 13th overall RodeoHouston appearance, largely because he remains one of the biggest country artists in the game right now. He continues to sell out arenas wherever he plays and while the only thing new he released since his 2017 album, Love and War, is his new single "Bucked Off," he's stayed relevant through the many Nationwide insurance commercials, playing the straight-man foil to former NFL MVP Peyton Manning's comedic persona.
Zedd - Friday, March 8
In 2017, RodeoHouston entertainment director Jason Kane experimented with bringing an EDM act, The Chainsmokers, to RodeoHouston. While it could have gone awry, the performance was an overall success, attracting a once hard to crack demographic - the youth. That experiment continues with the Grammy Award-winning Russian-German producer/DJ, Zedd, who worked with some big names in pop music, including Ariana Grande, Lady Gaga, and former RodeoHouston performer Alessia Cara. Will Zedd make the Rodeo rave again? We'll definitely be there to find out. Bring your glowsticks!
Continue reading on CultureMap to see the rest of the performers.
The Houston Astros were in need of some serious help in the bullpen with Phil Maton, Hector Neris, and Ryne Stanek likely leaving this year in free agency.
While some fans were getting concerned about the quiet offseason, the club has made two moves this week to get the ball rolling.
First the team signed Victor Caratini to be the backup catcher, and now they have added some relief pitching.
The Astros traded pitching prospect Carlos Mateo to the Royals for RHP pitcher Dylan Coleman.
Coleman appeared in 96 games in the past three seasons for KC, including 68 games in 2022 and 23 games last season. He has a career 3.88 ERA and 1.37 WHIP. He's fastball (95 mph), slider (81) and cutter (90) and walked 57 batters and struck out 99 in 92 2/3 innings.
— Brian McTaggart (@brianmctaggart) December 6, 2023
Coleman is under club control for the next several years, and made just over $700,000 in 2022. With the Astros right up against the tax threshold, this is a good way to add to the bullpen without having to hand out a large contract.
The Royals had a tough roster decision to make with Coleman, and the Astros made the decision easy for them by making the trade.
Something to note
There's a reason Kansas City wasn't determined to protect Coleman from the Rule 5 Draft. Despite his decent numbers over the last three seasons, 2023 was a rough year for him, posting an 8.84 ERA over 23 games.
In fact, Coleman pitched more innings (30.2) for the Royals AAA team than he did for the big league club (18.1) in 2023.
Hopefully, the Astros can get him back on track this season with some help from their highly touted player development program.
You can watch some of his 2022 highlights above.
SportsMap Emails
Are Awesome