These are the cars professional athletes gift their moms once they get rich
Dec 16, 2019, 2:46 pm
Story originally appeared on AutomotiveMap. For more great content check out the site here.
She worked hard to get them where they are today, often sacrificing hours of "me time" and wear and tear on the car making sure they got back and forth to practice. When professional athletes sign their big contract, their moms are often rewarded for their years of inconvenience with a new car. Other moms, like MLB player Josh Donaldson's, get a new vehicle as a congratulatory gift for a life event years after that first contract has been signed.
Here are some of the cars professional athletes have recently bought their moms.
Chase Winovich, DE, New England Patriots
Chase Winovich✔@WinoI can never repay you, but here's a start. I love you mom
16.3K8:11 PM - Nov 20, 2019Twitter Ads info and privacy
1,041 people are talking about this
New England Patriots rookie defensive end and Michigan alum Chase Winovichpurchased his mother, Nina, a Mazda MX-5 Miata according to a November 20, 2019 tweet. The Jefferson Hills, Pennsylvania native signed his first NFL contact in June 2019. The four-year deal is worth $3.83 million.
Deandre Baker, CB, New York Giants
Deandre Baker surprised his mom with a Bentley Bentayga in Miami in 2019. The caption on his Instagram post featuring the moment reads, "I told Mama we straight. Remember we used to be in a Nissan. Watched her struggle and sacrifice to make sure I'm straight. Now it's my turn to take care [of] her." Baker signed a contract with the Giants that will pay him $10,525,716 over four years, including a $5,675,064 signing bonus.
Alex Bregman, 3B/SS, Houston Astros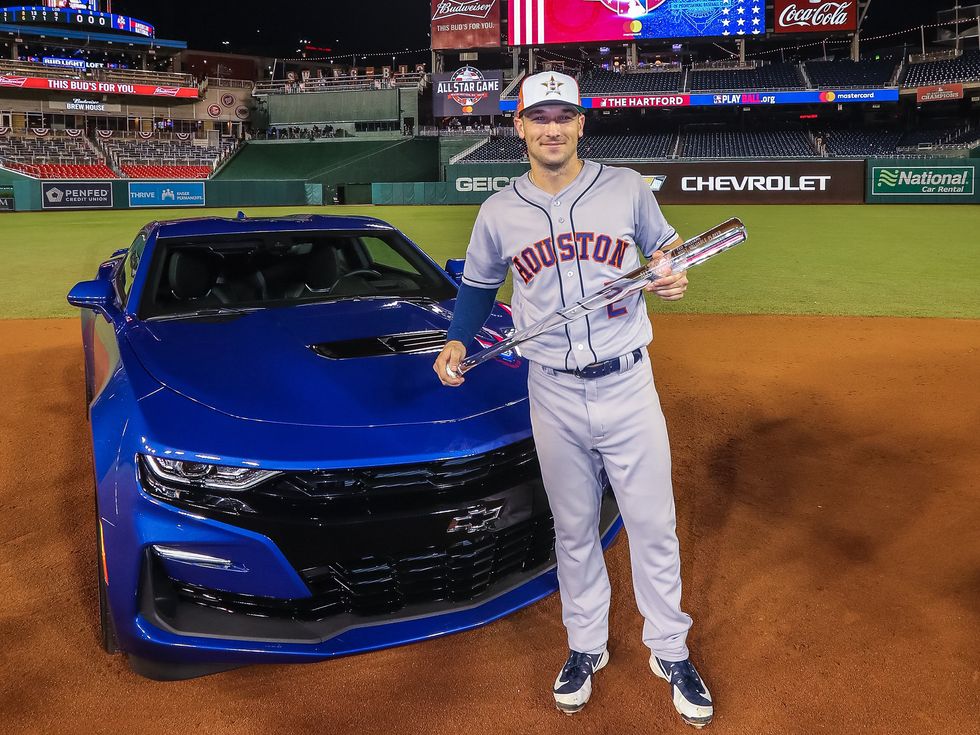 Photo courtesy of Chevrolet
Houston multi-position player Alex Bregman earned the Ted Williams Most Valuable Player Award during the 89th MLB All-Star Game at Nationals Park in 2018. With that came the winner's choices of a ChevroletCamaro SS or a Colorado ZR2. Bregman chose the Camaro and gave it to his mother Jackie. In July it was announced that Bregman and the Astros had agreed to a six-year, $100 million contract extension.
Alize Johnson, PG, Indiana Pacers
Williamsport, Pennsylvania is the home of the Little League World Series and Alize Johnson, a point guard who was drafted by the Indiana Pacers in the 2018 NBA Draft. The 6-foot-9 player is guaranteed to make $1.4 million for the 2019-20 season. In 2018 he surprised his mother with a new Chevrolet Suburban, her self-described "dream car."
Norman Powell, SG, Toronto Raptors
Former UCLA Bruin Norman Powell was selected in the second round of the 2015 NBA Draft by the Milwaukee Bucks. He was instantly traded to the Toronto Raptors, where he has stayed ever since. In 2018, Powell signed a four-year, $41.9 million contract. He used some of that coin to buy his mom a 2020 Land Rover Range Rover this August at a San Diego dealership.
Mitchell Robinson, C, New York Knicks
The Knicks Wall@TheKnicksWallThe best thing you'll see all day:

Mitchell Robinson bought his mother a car

(Via @23savage____ IG)
2,0682:00 PM - Aug 10, 2019Twitter Ads info and privacy
362 people are talking about this
Mitchell Robinson, the 7-foot-1 center who famously withdrew from college to spend a year training for the NBA before he was drafted, dropped a few bucks on his mom this summer. He gifted his mom a white Chevrolet Impala. Last year Robinson signed a three-year, $4.71 million contract with the Knicks. There is a club option for the 2021-22 season that would get him an extra $1.8 million.
Johnathan Abram, S, Oakland Raiders
Mississippi State alum Johnathan Abram recently surprised his mom with a new Toyota Camry. Abram was the 27th overall pick in the 2019 NFL Draft. He was chosen in a pick that was given up by the Dallas Cowboys as part of the Amari Cooper trade. Abram's contract is worth $11.45 million over four years.
Marquise Brown, WR, Baltimore Ravens
Hollywood Brown✔@Primetime_jetSince I was 7yrs old this the moment I been waiting for, bigger than any moment I ever been apart of.. Everything I do is for you momma I love you You wanted a house and a car and you got it , I got you Forever Ever !!!
50.5K12:11 PM - Jun 29, 2019Twitter Ads info and privacy
10.6K people are talking about this
Marquise Brown took the gift giving even further, getting his mom a car and a Land Rover Range Rover. Brown, who is a first cousin of NFL free agent Antonio Brown, was selected 25th overall by the Baltimore Ravens in the first round of the 2019 NFL Draft. His contact is for four years and worth $11.787 million.
Deshaun Watson, Houston Texans
Deshaun Watson✔@deshaunwatsonHappy Birthday Mama! I love you & you deserve your first official car! Enjoy it! "Had to cop her the '17 Jag"
127K3:28 PM - Apr 29, 2017Twitter Ads info and privacy
36.8K people are talking about this
In 1997 Deshaun Watson bought his mom a car '17 Jaguar F-Pace for her birthday. The Gainesville, Georgia native played quarterback at Clemson before being drafted by the Texans 12th overall in the 2017 NFL Draft. His first contract was a four-year, $13.84 million deal.
Anthony Duclair, F, Chicago Blackhawks
Duclair took a moment from leading his line down the ice to lead his mom into a Mercedes-Benz dealership in Laval, Quebec where he surprised her with a new black Mercedes-Benz C300 sedan. Duclair currently plays for the Ottawa Senators and will earn $1,650,000 this season.