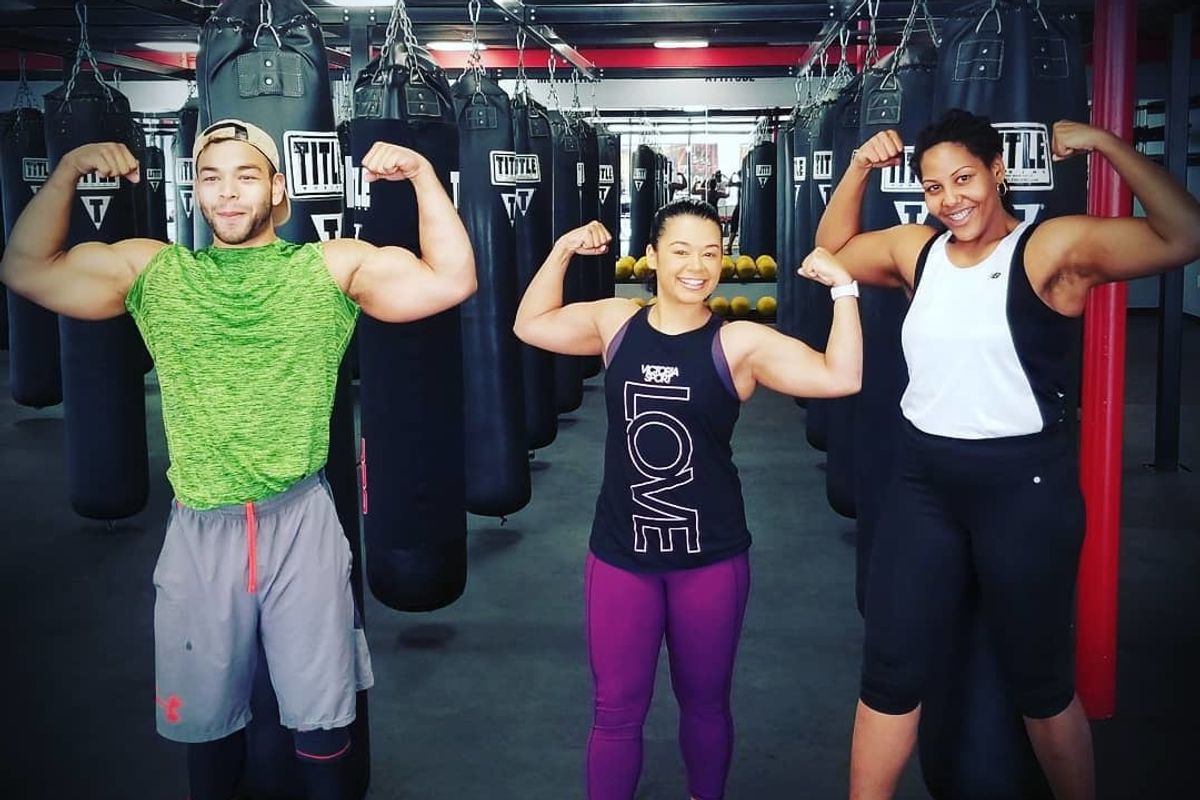 We got our boxing on. Courtesy photo.
Jovan Abernathy is an international marathoner and owner of Houston Tourism Gym. To claim your free tour, contact her at info@tourismgymhtx.com
So I am taking a break from running (remember my article from a couple of weeks ago). I'm looking for a new activity to get into. Sometimes, when you are passionate about a sport like running, it becomes part of your identity. I felt like maybe I am a quitter. Maybe I lost my mojo. At first, it was hard to reconcile not wanting to run, but here are my reasons:
I'm going to be honest. I need to lose weight (there is a good reason why you have not seen my finish line photo from Iceland).
I have noticed that my balance and posture have been off.
Like I said, I have been super stressed and haven't been feeling running.
I want faster running times.
I've been peeping the Title Boxing Gym that is around the corner from my house. I've always been curious about what went on there. Well, I'm going to find out.
As I opened the door and stepped in, I surveyed the room. Lined up heavy bags were hanging throughout the room. There was a rack of medicine balls along a mirrored wall. In the corner, there was a full sized boxing ring. About 10 MMA bags were tucked behind the ring. It looked serious.
"Hello, how are you?" I turned my attention to a lean man holding his hand out waiting for me to shake it. "I'm Totrek. What is your name?"
"Jovan. So, what's the deal here?"
As Totrek leads me into the gym, he explains Title Boxing.
"We offer hour long boxing, kickboxing, and MMA classes we call the Power Hour. Each class starts with 15 minutes of calisthenics, eight rounds of three minutes of punch/kick combinations, and ends with 15 minutes of core for a cool down with stretching. This is no contact boxing, we just hit heavy bags. There are 55 of them to be exact."
I'm a little intimidated. How many women exactly belong to the gym? What is the age range? Totrek assures me that I would fit in and to just go at my own pace. Also noteworthy is you can burn anywhere from 600-1000 calories in an hour. Totrek is now showing me the schedule of classes. "So when can you come in to try your first shot on us?"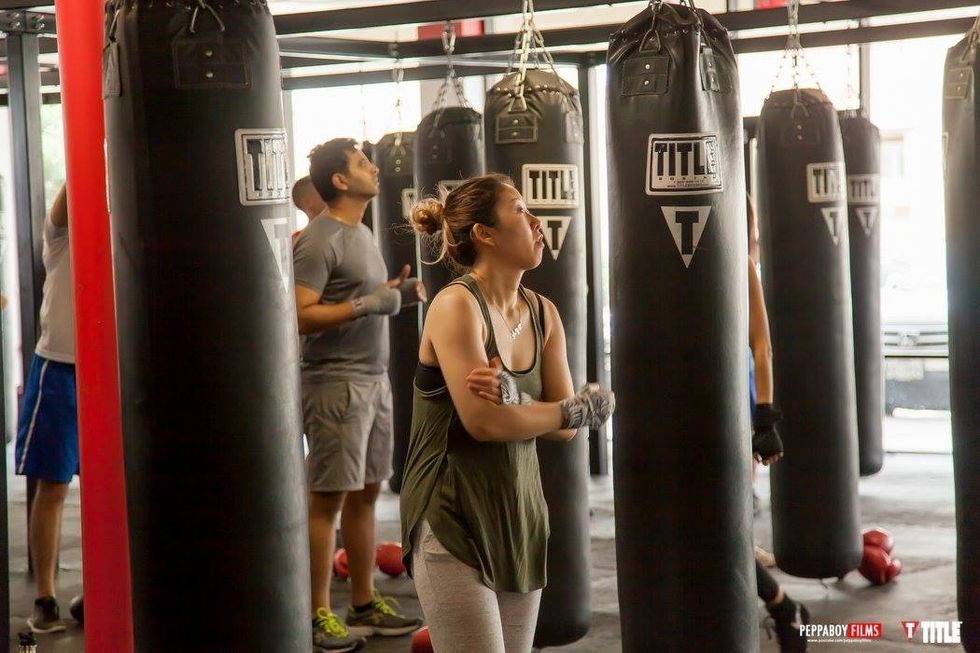 First timers getting instructed.
I chose the 9:30am class on Monday morning. "You're instructor will be Chris. Just make sure you bring $11.90, the day of class for your hand wraps, which are a must, and arrive 15 minutes early to get registered and wrapped. We will loan you boxing gloves. See you then!

Monday rolls around. I make sure I'm there at 9:15am. Kate, who works the front desk greets and rings me up. Kate is a beautiful, blond amazon woman from the Czech Republic who stands about 6"2 without heels. She wears stilettos because everyone else should be taller. She gets me registered and wraps my hands. Afterwards, she introduces me to Chris. I have needed an obnoxious black man in my life to get me motivated. I took one look at him and knew he would do just fine. Chris goes over a brief tutorial on how to breath and the different punches we would be doing. I chose my bag and take my place.
The music starts. It is a blend of modern day rap and from the early 2000's. Think Luda meets Drake. Chris is energetic and unapologetic. Chris leads us through 15 minutes of damn, I lost my fitness. Squats, lunges, jumping jacks, high knees. All with no rest. I think I burned 400 calories within the first 15 minutes.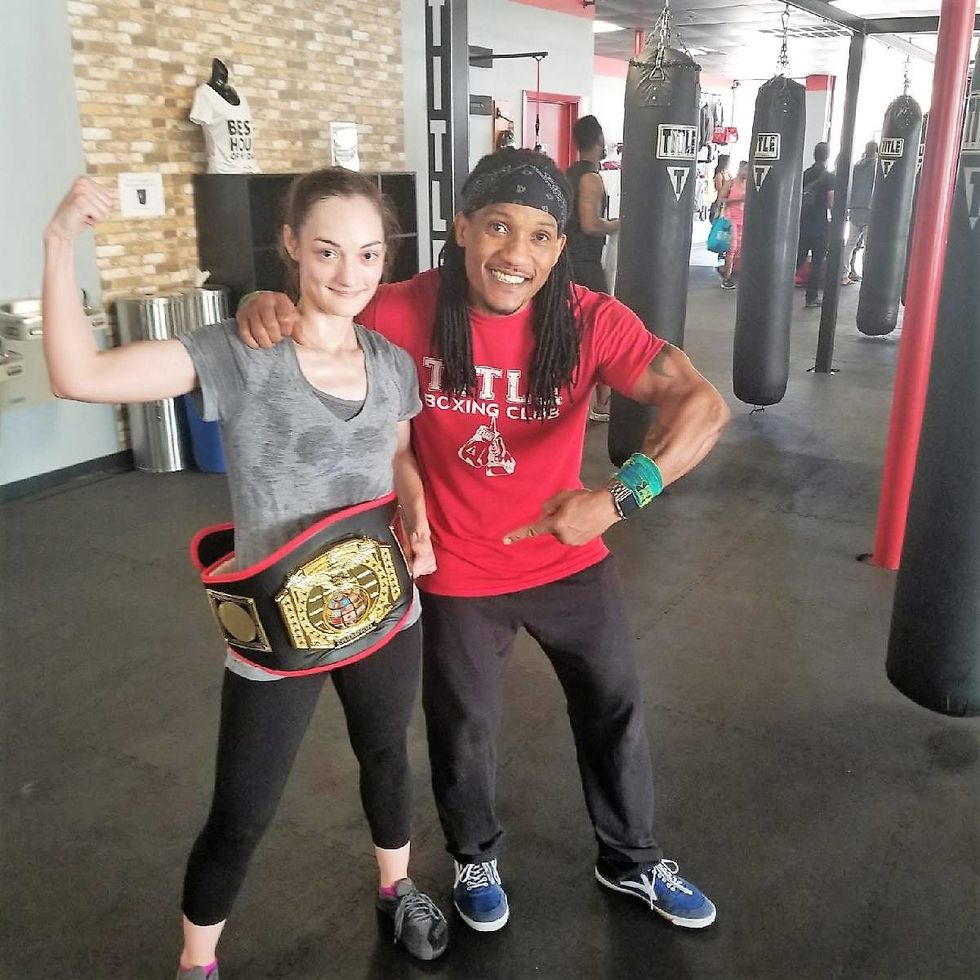 Feeling like champ with Salutu
He tells us to take position in the front of the room. Our assignment is to jab. jab/cross. hook. down the line of bags. The music starts. It's Tyga. As I punch each bag, i feel like Mila Jovavich on the Fifth Element. Each bag is my opponent. They can get a TASTE....TASTE. I was having so much fun. I thought of all the people who deserved a TASTE.....TASTE.

"Will you stop smiling? You have been cheezin this entire time." says Chris. Here I was wanting to get out all that frustration and it turned out I was so happy to hit something. I thought I would be angrier, but I'm just not an angry person, I guess. That's a relief.
The class ends with 15 mins of core and stretching. Everyone is soaked in sweat. The music ends and so does the class. I can't wait for the next class. This is definitely my new activity.
If you want to try your first shot from Title Boxing Gym, visit Title Boxing Club Westchase or call 713-637-4246.
Rockets' Alperen Sengun recently was a guest on Paul George's podcast and spoke about a conversation he had with James Harden.
He said Harden told him he was proud of him. This led George to saying he thinks this means the torch has been passed from Harden to Sengun.
Which made us wonder, is this now Sengun's team? Or is that a little premature and the true leader of the team is head coach Ime Udoka or Fred VanVleet?
Plus, Jalen Green has responded positively from being benched. Is this proof that Ime Udoka has the team taking more accountability and heading in the right direction?
Be sure to watch the video above as we break it all down!
If you enjoy the videos, subscribe on YouTube for our latest content.
Related Articles Around the Web
SportsMap Emails
Are Awesome